Marcus Allen has a small rack of clothes in the middle of his East village bedroom. Sitting on that rack is one of the most well-edited personal wardrobes I've ever seen. All menswear staples, all well made, and all beautifully broken-in.
As a graduate of the Massachusetts college of art and design, Marcus has worked with Ralph Lauren, Hermes, Ford Models and is currently part of the creative team behind  Brunello Cucinelli. Needless to say with a background like that, understanding style is a big part of what he does and who he is.
"I'm in this industry because I value visual communication. That is, communication through dress. It's always fascinated me that a person can decide who they want to be, or which character they want to portray, based solely on the clothing and styling decisions they make."
We caught up with Marcus last week to see how he puts it all together. His strategy for this time of year: "early Fall is all about knitwear". We couldn't agree more.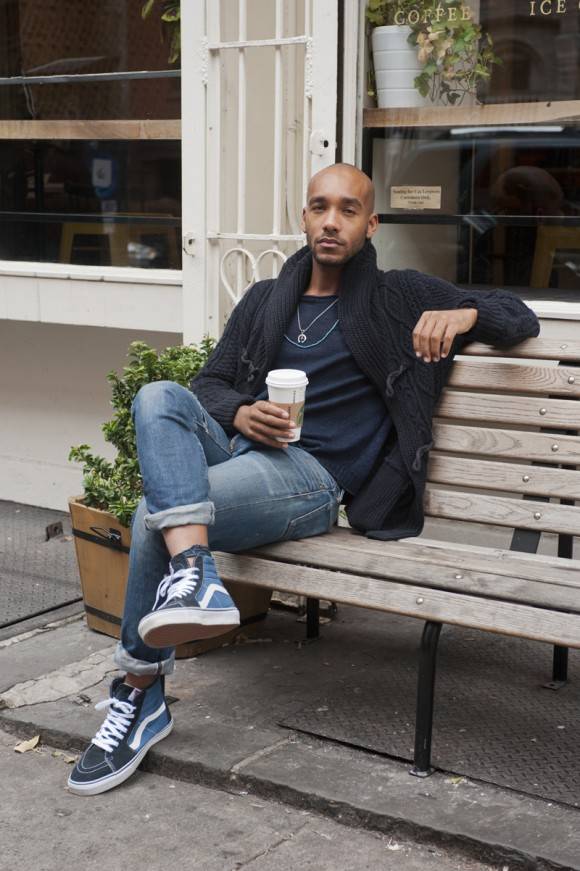 "Any designer that works with linen/silk/cotton blend...get at me."
Linen-based knits, like this crewneck, are perfect for this time of the year. They stay warm and comfortable without getting hot or sticky.
They also have an awesome texture that gives them a little life of their own.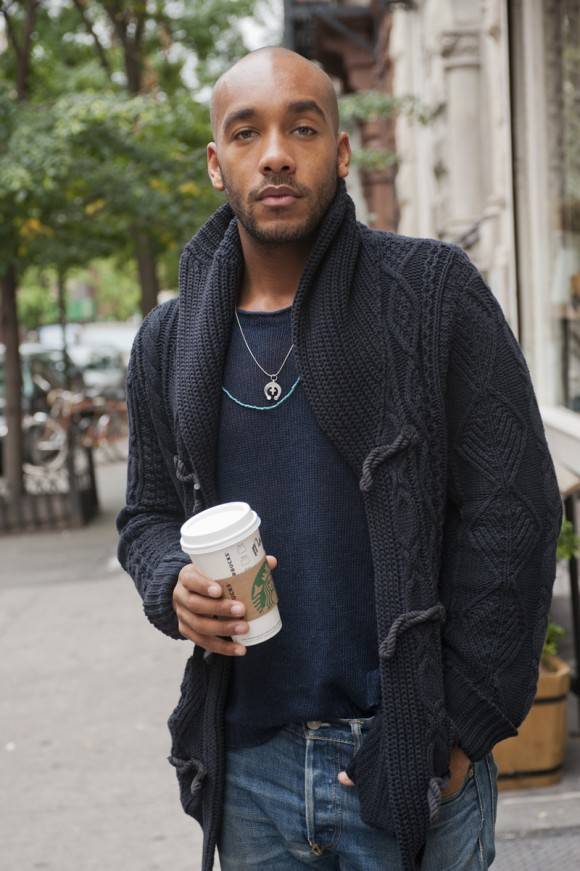 A chunky shawl cardigan is a must-have for Fall. This one, hand-knit with a heavy yarn and immaculate attention to detail, will only get better with age.
A toggle closure makes it feel more like outerwear - wear it like a coat and throw it over just about anything.
On jewelry: "Anything having to do with Native Americans (like this beaded necklace) that will somehow connect me to nature and making art...I'm for it. Melet mercantile (in Soho NYC) is a great source for pieces like this."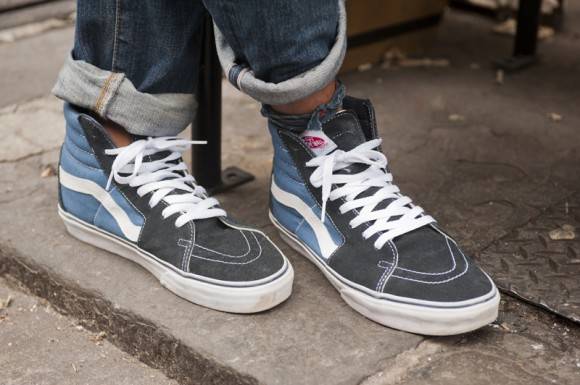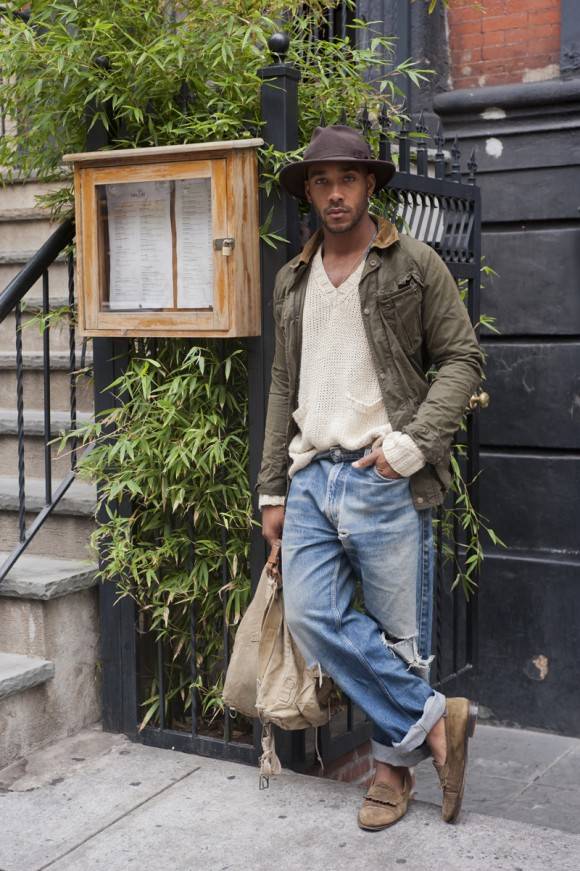 Some sweaters, especially linen blends, are meant to be worn on the skin.
This flowy textured number, for example, is not meant to be worn at the office with a shirt and tie, it's meant for a relaxed weekend with broken-in denim and vintage suede loafers.
"I collect vintage Levis 501s in any and every size... I sometimes wear them with a tuxedo blazer and a t-shirt."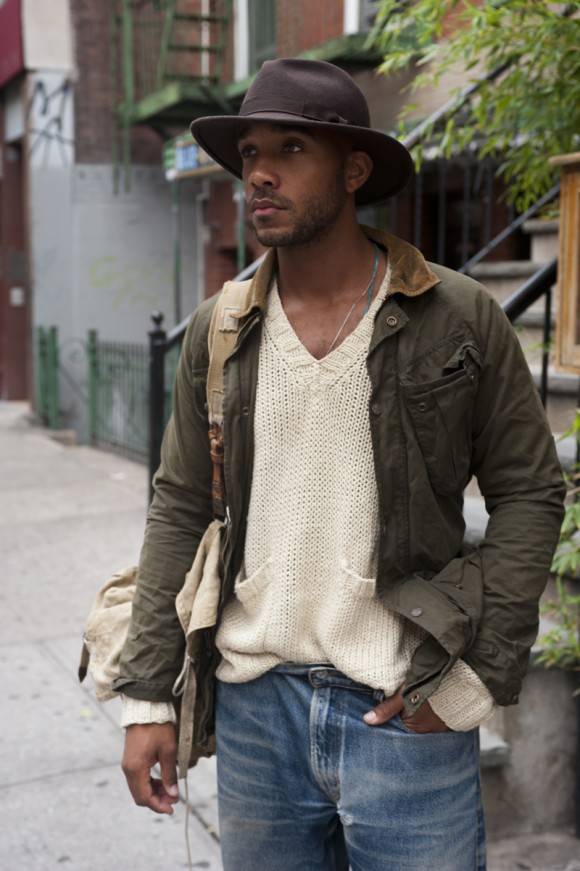 Not everything has to fit super slim.
When it's time to kick back on the weekend, learn the art of relaxed and flowy layering.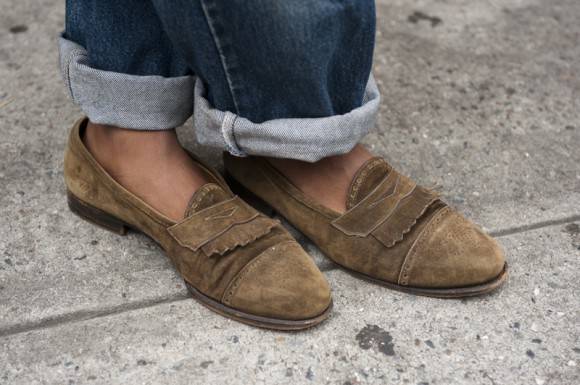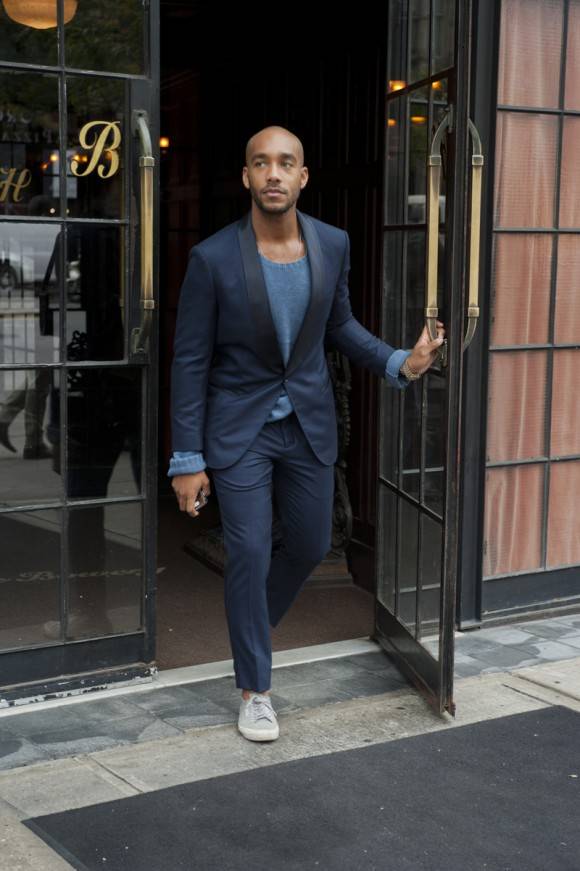 It takes a lot of balls, and style, to rock a tuxedo casually.
"I'm big into creating a juxtaposition. Nice and clean with old and tattered, evening with street, classic with unorthodox, etc.
Mixing formal wear with casual pieces that have a rough sensibility is one of my favorite ways to do it."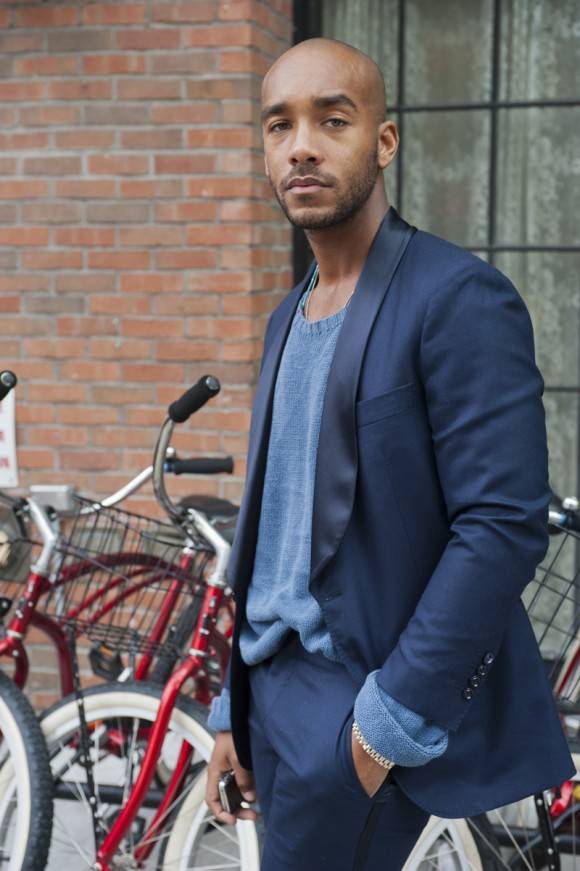 At the end of the day, once you find your taste and aesthetic (which takes time and practice), it's all about confidence and attitude. (Sure, it helps to be really good looking too)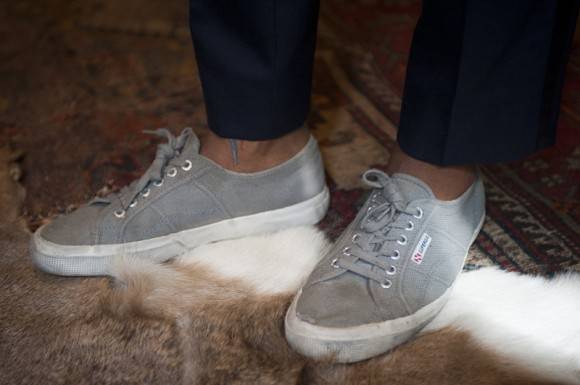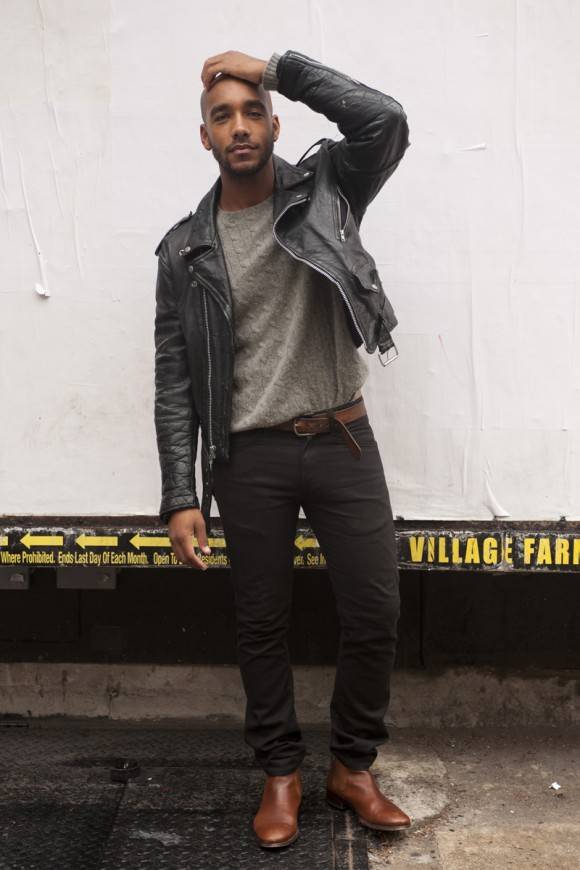 Another example of using juxtaposition to create a visually interesting look: tough rebel leather jacket, soft preppy cashmere sweater.
"The cashmere cable knit sweater is a prep classic, which is why I like to pair it with something more edgy like a vintage biker jacket and worn leather belt."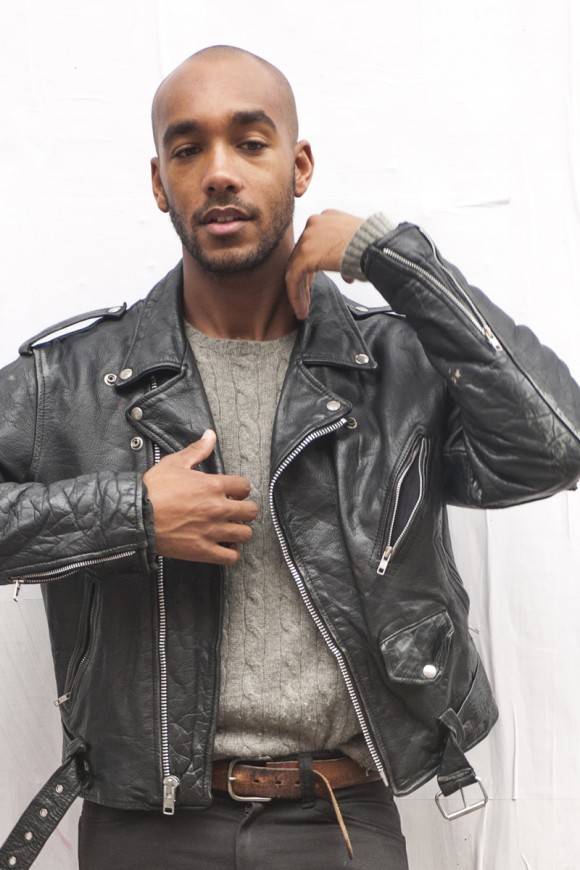 Black and brown together?
Like wearing white after labor day, once you understand and respect the "rules" you can break them gracefully.
Hint - it's easier with a lighter richer brown, and heather grey can help pull them together nicely.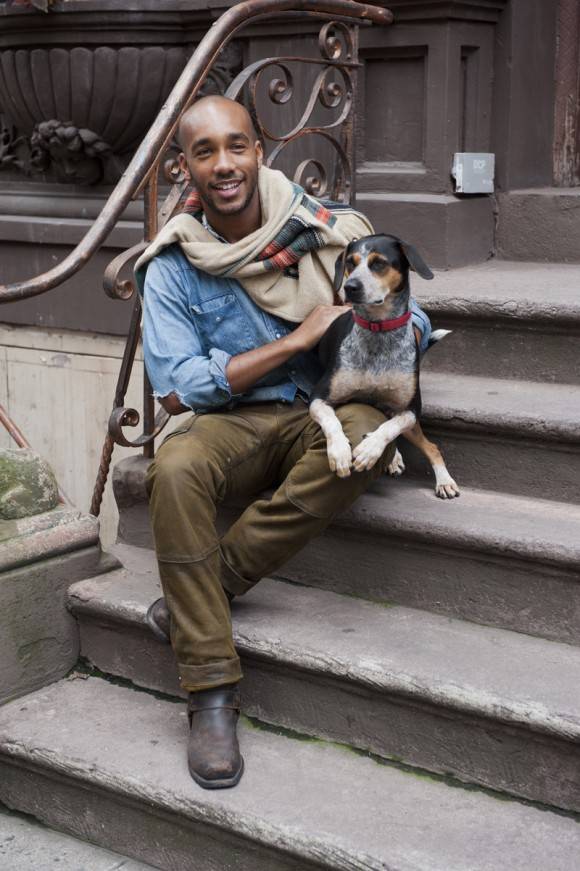 "I got this Baja hoodie for traveling to California and Montauk. It reminds me of the song Dreadlock Holiday by 10cc...
In the city I find myself wearing it more as a scarf."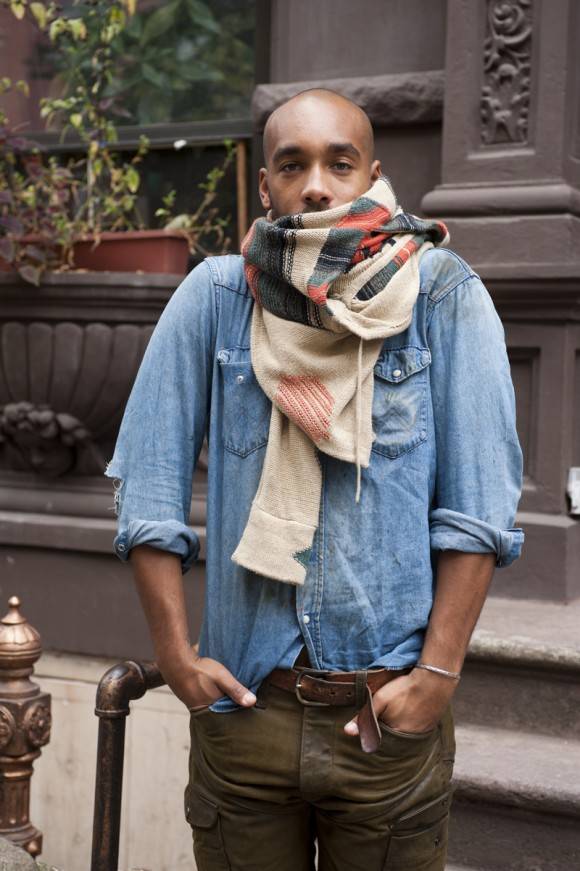 Here's a simple look, brought to another level by the details.
Not just a denim shirt, a vintage tattered Wrangler (which Marcus also collects). Not just cargos, tough-as-nails leather riding pants. Not just boots, beat-up leather harness Frye's. Etc.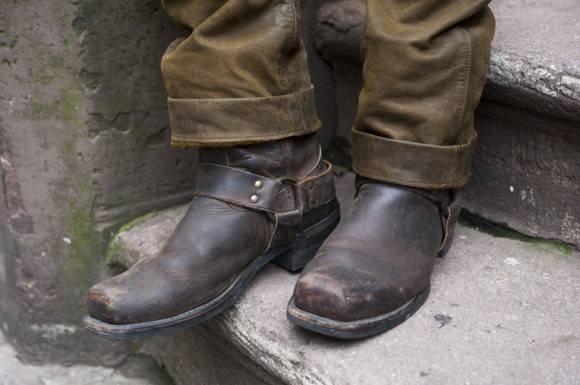 Thanks for reading - and special thanks to Marcus for participating!
Yours in style,
Dan
Photography by Alex Crawford.