Some people decide they want to be designers and travel the world looking for inspiration. Nick Fouquet did it the other way around. He traveled the world seeking adventure and experience, what he found was a distinct aesthetic and an unexpected passion.
Nick, a self-described free spirit, was born in NYC, raised in France and Florida, and spent two years fearlessly backpacking alone through South America, Brasil, Thailand, Australia, and many places in between. He eventually settled into a bungalow on Venice Beach and opened a studio/shop on Abbot Kinney where he practices the old fashioned art of hat making.
"Becoming a hat maker was definitely not planned. It was a series of life events that made me realize my true passion... I graduated with a BA in Environmental Science and Sustainable Development, so my future was looking more like forestry or a recluse in the high mountains of Colorado as a field worker... But I often found myself designing in my free time, making one-offs, and working with designers in the different countries I traveled to."
Today, Nick uses 100% Beaver fur felt which is sustainably harvested in Tennessee - few hat makers use it.
What I love about his personal style is that everything he wears is thoroughly broken-in. He keeps a minimal wardrobe of pieces that he's been wearing for years, many of which have trekked with him to multiple continents. He's living proof that clothing with worn-in character can speak volumes about the character of a man.
Here's three examples of Nick's "Bourgeois Bohemian" personal style.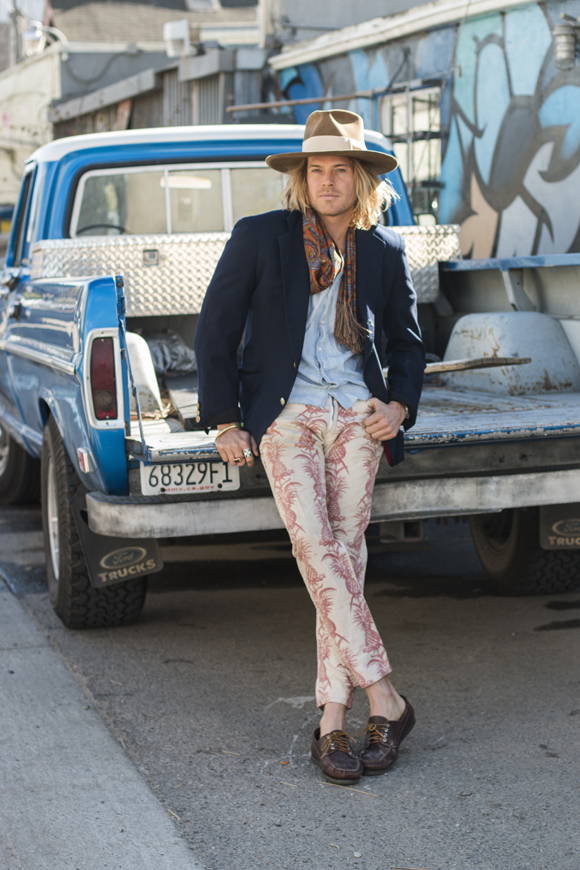 We've had our share of blue blazer + khaki looks on Articles of Style, but this is one of my favorites. Every piece has it's own story.
The blazer is vintage (Nick had it tailored and changed the buttons himself), the RRL denim shirt is tattered and frayed across the bottom, the pineapple print jeans were a thrift store find in NYC, the silk scarf was purchased passing through Italy, and the jewelry is a collection from various travels.
One of the distinct qualities of Nick's hats is the wide stiff brim.
It's not meant to be shaped or floppy, it's meant to retain it's rigid straight shape.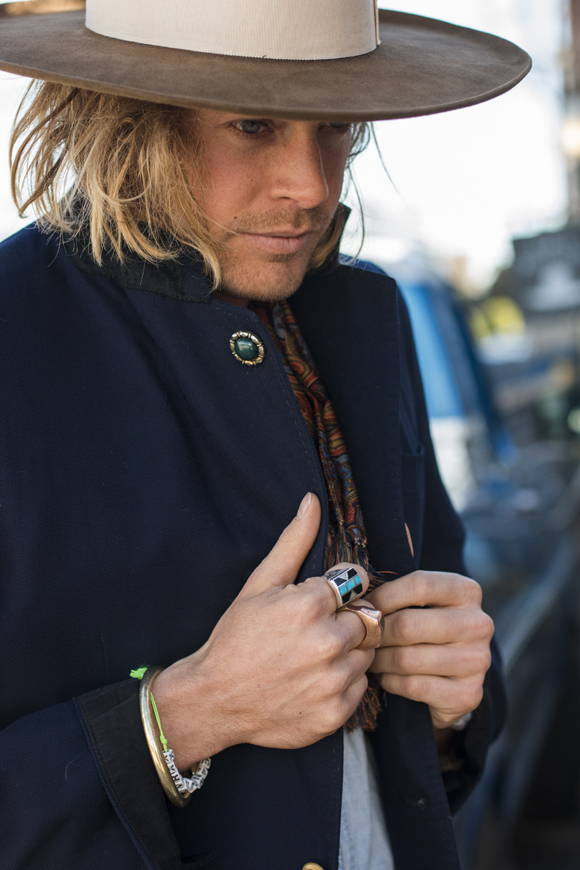 And just in case somebody tries to steal your jacket on the late night train to Peru...
Some shoes look better with age and wear - these brown leather mocs are a great example.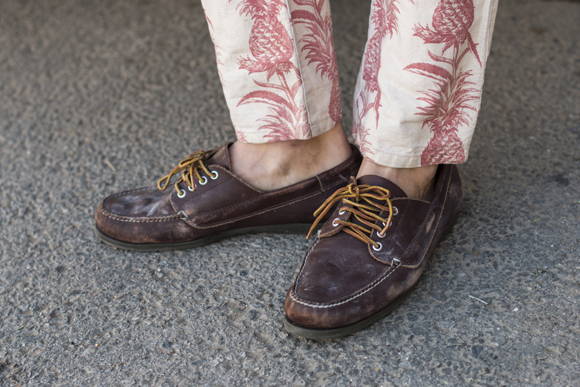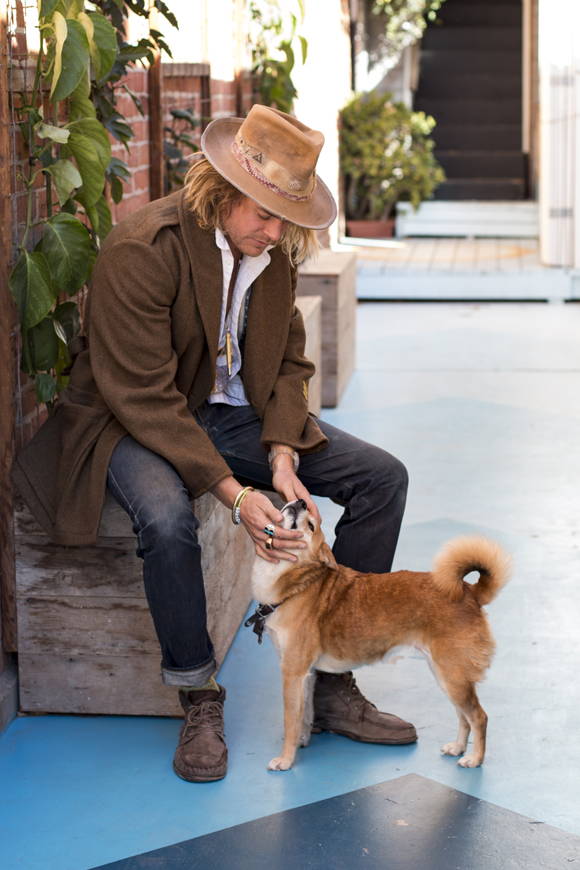 Looking at his brand and design aesthetic, which he describes "a psychedelic bourgeoisie bohemian experience", it's hard not to appreciate the authentic stylistic touches that come along with living in indigenous countries.
Take this hat for example. The vintage fabrics and ribbons are thoroughly distressed to create the appeal of a well traveled piece.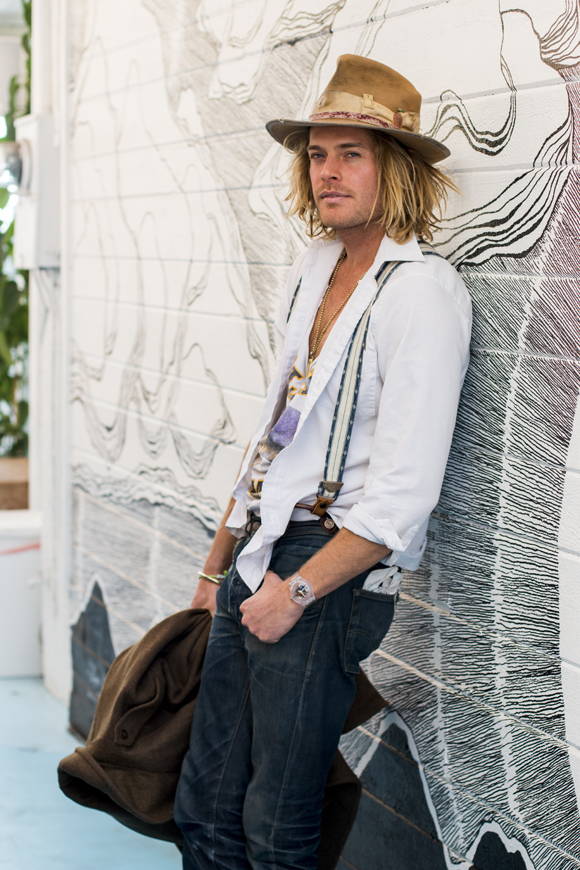 When asked who his inspirations are, Nick gives credit to:
"Travel, gutter punks, Tom Sawyer, Keith Richards, The Sappeurs in the Congo, and my Dad's Style and love".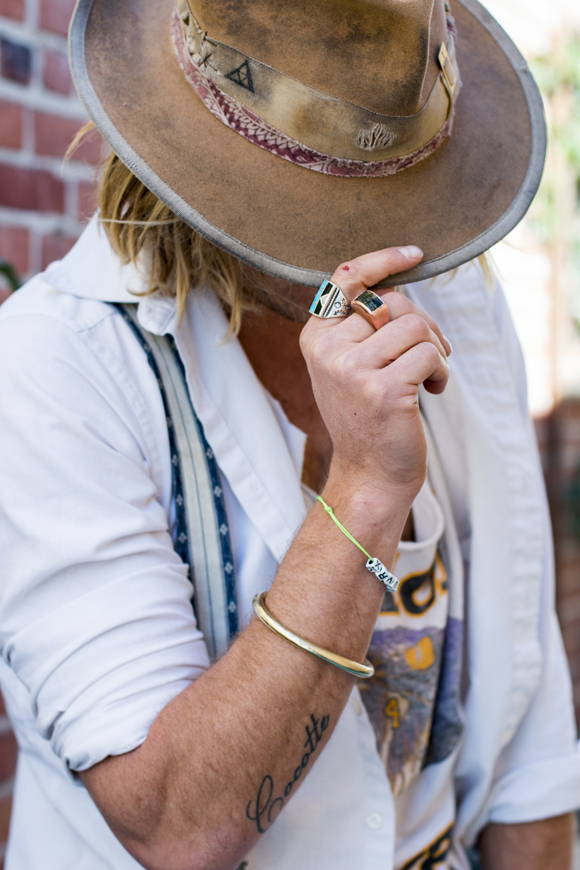 This is a very "LA Winter" way to to dress.
A lightweight sun-friendly base (like a tank top or low cut t-shirt), a middle layer that's easy to remove (like an oxford), and a coat for the chilly mornings and nights (like a vintage military coat).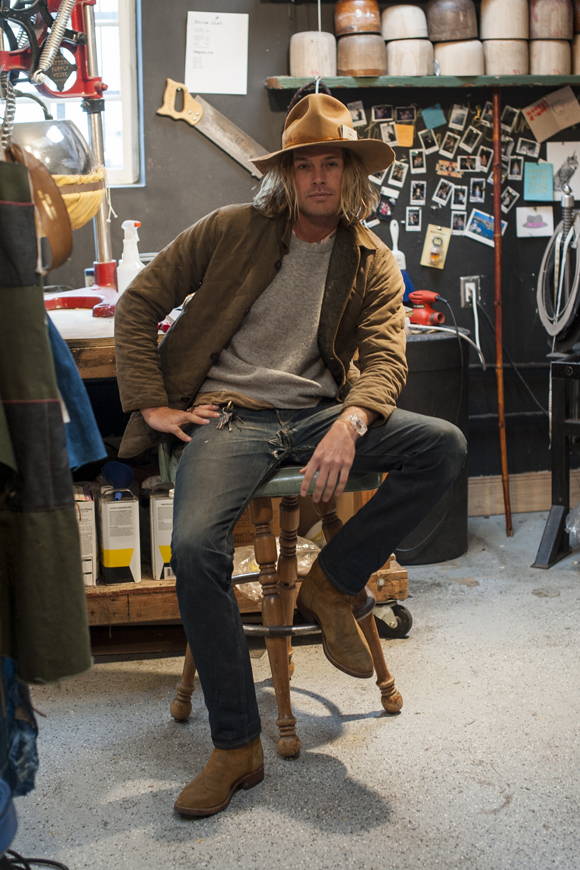 Nick's studio is an awesome mix of headwear inspiration photos, lighthearted style & travel quotes, and old world hat making equipment like shaping blocks and industrial presses.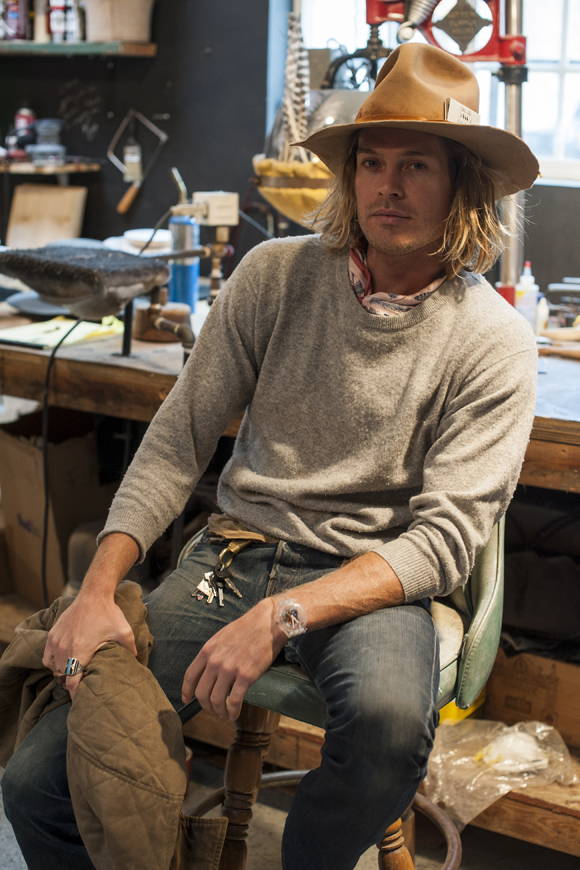 Maybe it's because he was raised in France, but you gotta love Nick's usage of silk scarves in this post.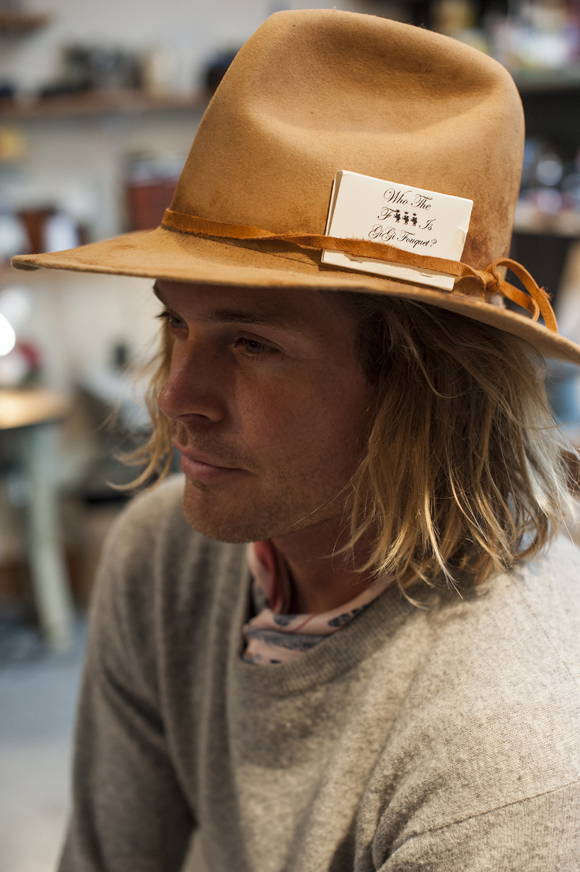 A little pilling on the sweater, a few repair patches on the jeans, some paint splatter on the t-shirt...all in a day's work.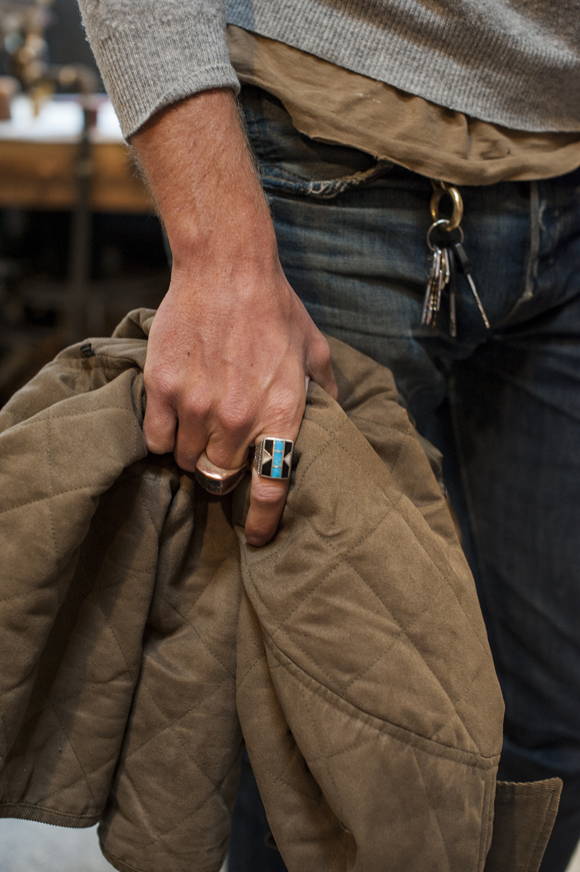 What did we tell you about cowboy boots?
Keep them subtle - avoid pointy toes, crazy python skins, or anything multi colored. Go with a simple round toe in a chestnut suede like Nick here, and don't be afraid to kick a little ass in them.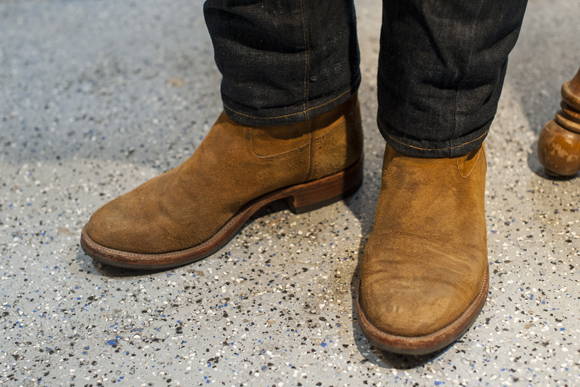 Thanks, as always, for reading.
Yours in style,
Dan