Meet Nathaniel "Natty" Adams, one of the dandiest and most well-versed gents in the game.
The general manager of the Against Nature custom menswear shop has a truly unique and endearing sense of personal style. His wardrobe centers around artfully-designed pieces that are full of hidden inspirations and his outfits are a blend of his old-school flair, worldly point-of-view, and love of culture & literature.
"I'm also the co-author of the forthcoming book I am Dandy, which will be published this Fall. The book is based on Rose Callahan's excellent photo blog The Dandy Portraits, with photos by her and text profiles by me.
Essentially, I've spent the past several years travelling and interviewing the best-dressed men in the world. So this Articles of Style feature will probably have more name-dropping than any other...hopefully I won't trespass on your reader's patience."
We caught up with Natty last week and he gave us a taste of his new outfits for this summer - fresh from the tailor with all of his personal touches.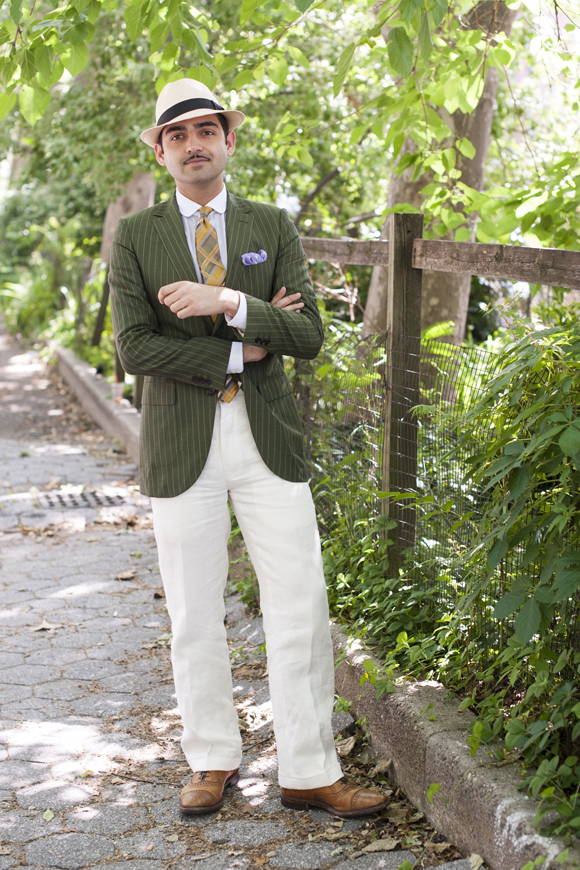 "The items I design and the outfits I put together usually convey or embody some kind of story - even if I'm the only one who knows what that story is. I get a lot of my inspiration from literature - the quotes hidden around my suits are only the most obvious example of that."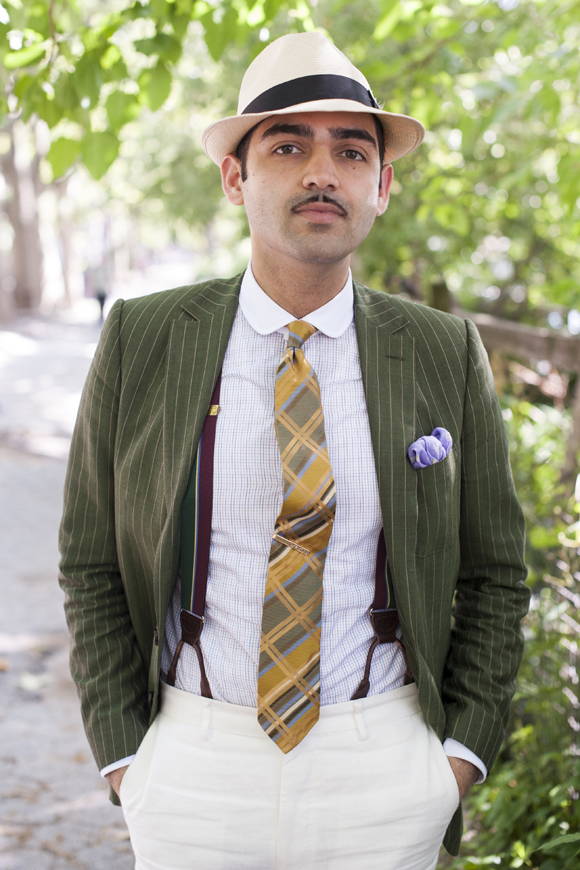 "I designed this jacket and pant together with, for some reason, the image of a spectator on a cricket pitch in mind – I was probably reading P.G. Wodehouse or something.
The quote embroidered under the lapel, Falling is the essence of a flower, is actually from the death poem Yukio Mishima wrote before committing seppuku. Perhaps that's a bit macabre to put on a jacket, especially such a colorful summer one, but I found that line particularly beautiful, and I stuck with the idea of flowers by using a cream-colored jacquard lining showing falling blossoms."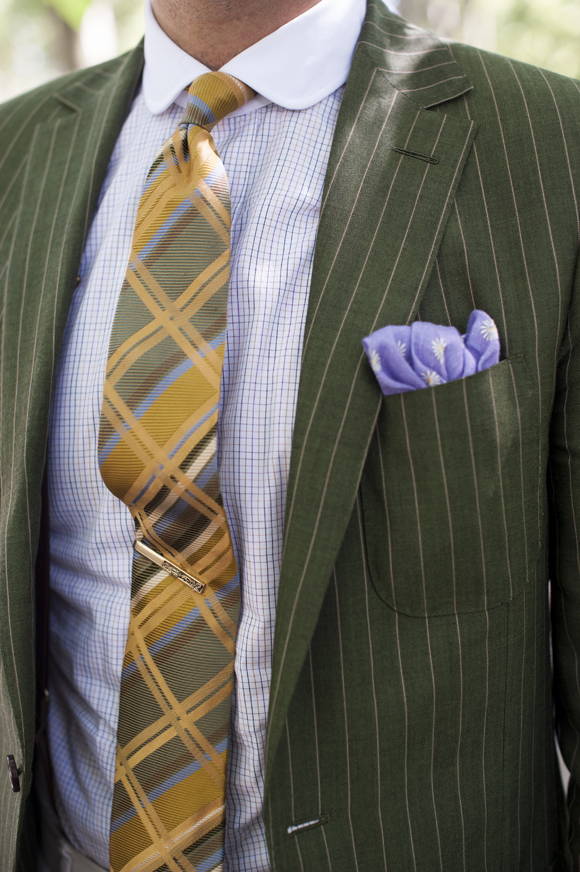 "The pocket square, which has little daisies on it, was a gift from my friend Barima, author of the excellent blog Mode Parade.
The tie clip has crawling vines on it, so I suppose this whole look has something of a vegetable or garden theme."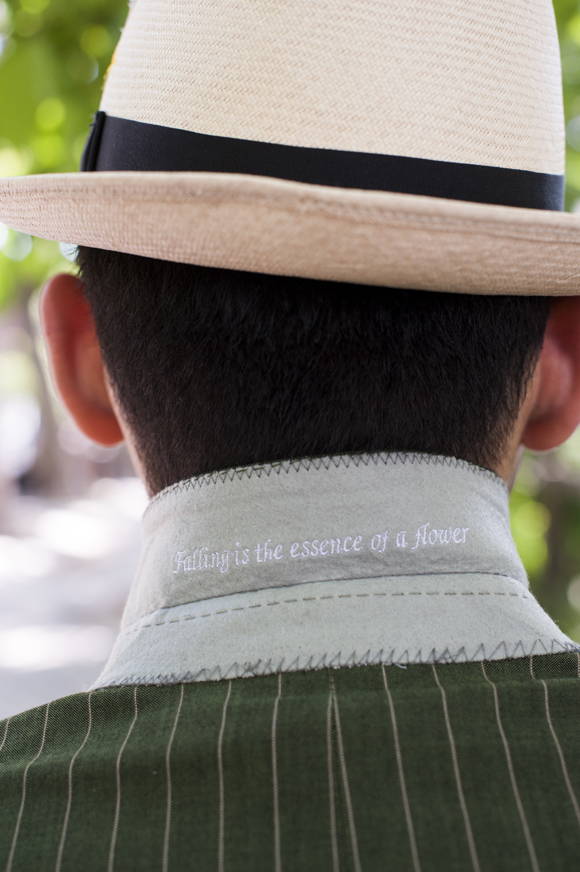 "I got the hat from J.J. Hat Center in midtown.
The writer Gay Talese showed me how to wear it with the back brim flipped down, and Domenico "Mimmo" Spano, former director of tailored menswear at both Bergdorf Goodman and Saks, insisted that I should mash the front brim down to be perpendicular with the floor...but I don't do either.
I suppose I still haven't figured out my trademark hat style."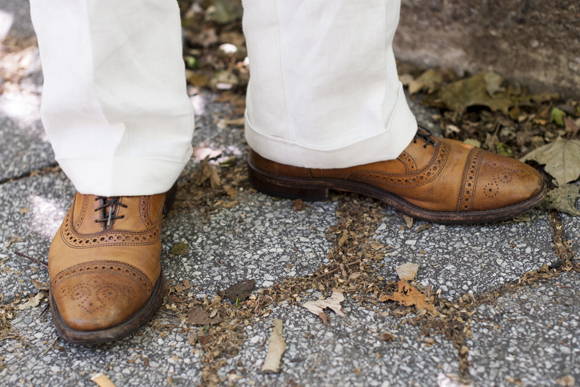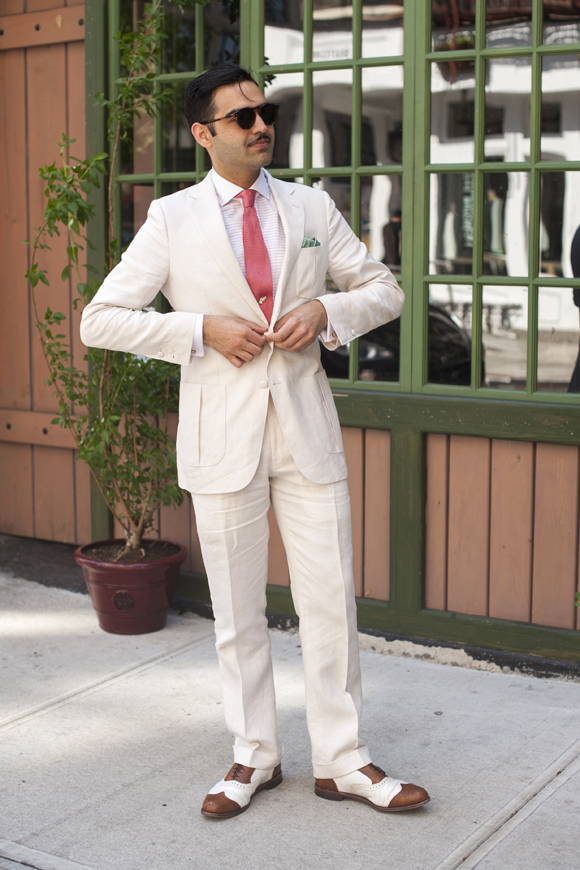 "The second look is one of two white linen suits I did this summer. This one is actually a bit off-white. The other is a bright optic white one-button three-piece with narrow pants, rounded peak lapels, and a double-breasted vest with shawl lapels.
I tend to think of white linen suits in two different categories: there's the slick suit that people wear in Miami or to white parties or to summer weddings, which is what my three-piece is. And then there's the sort of romantic, more casual, off-white linen suit you might find on a war correspondent in a Graham Greene novel. That's how I thought of this suit, although it's still new so it isn't as scruffy and rumpled as I'm sure it will be eventually."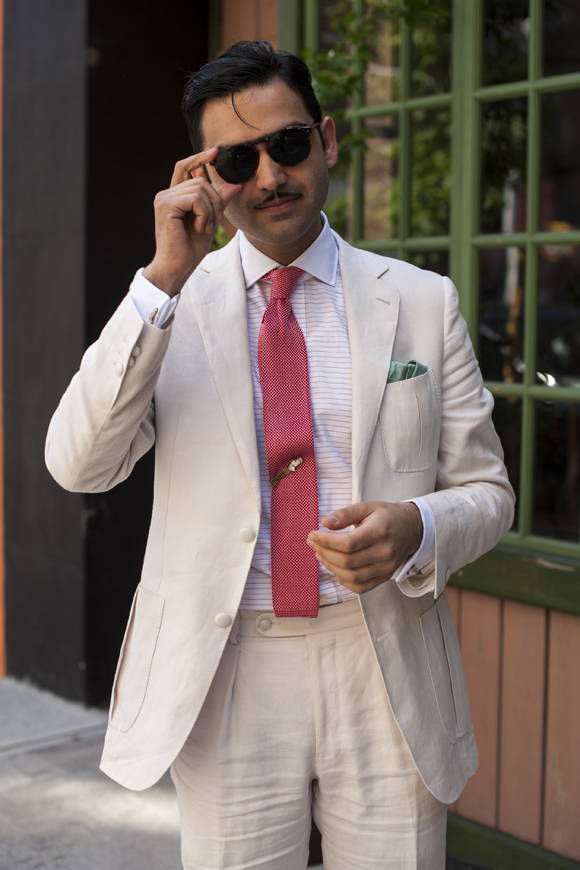 "I used to have cheap white linen suits made every time I visited family in India. By the end of one summer month in New Delhi they were pretty battered.
When I travelled to Brazzaville in Congo to meet and interview the incredibly stylish Sapeurs, I had nothing but a box of Cuban cigars to give out as gifts, two liters of vicious Ugandan moonshine, a French phrase book, and a white linen suit... I also had fifty bucks but I had to give that to a very sexy female soldier with a machine gun in order to get my passport back and be allowed into the country."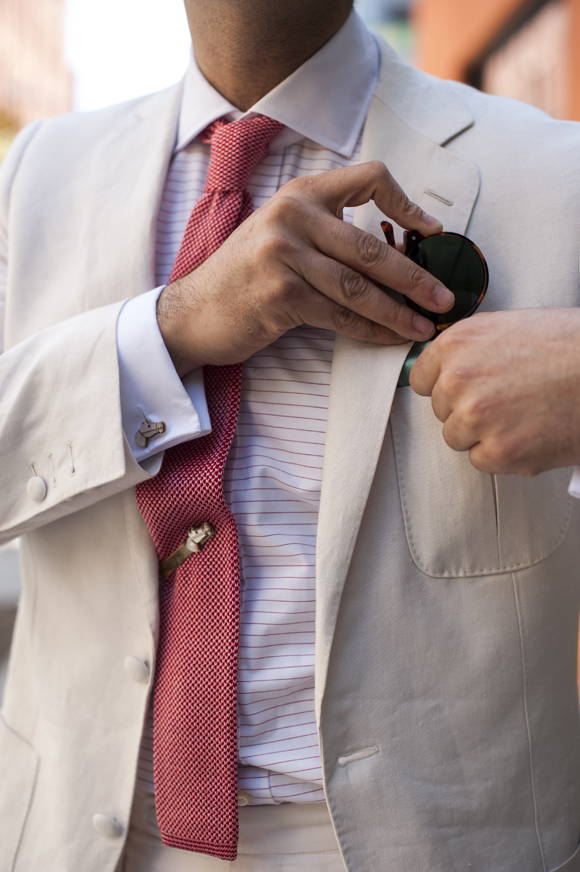 "So this suit, with its reverse-pleated pants, bellows pockets, and covered buttons, conjures up those adventurous images and feelings of far-flung former colonies."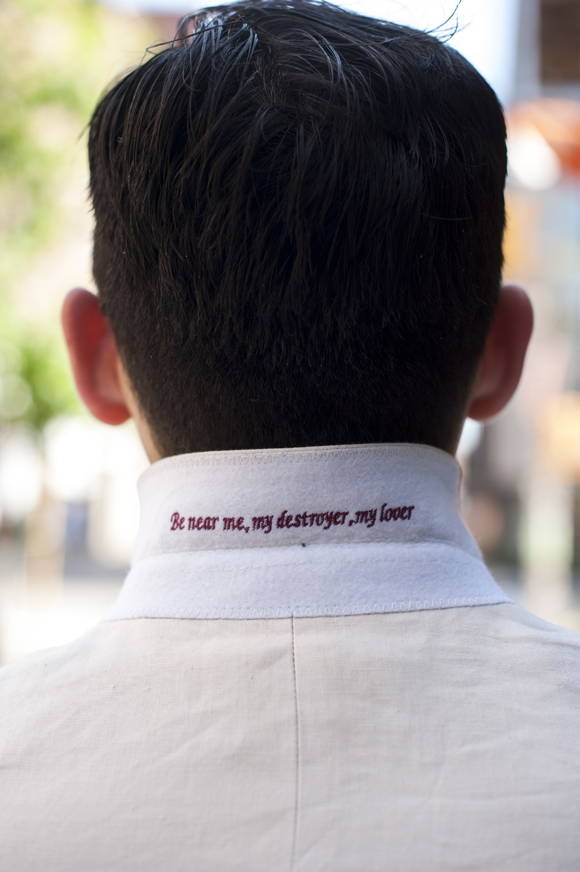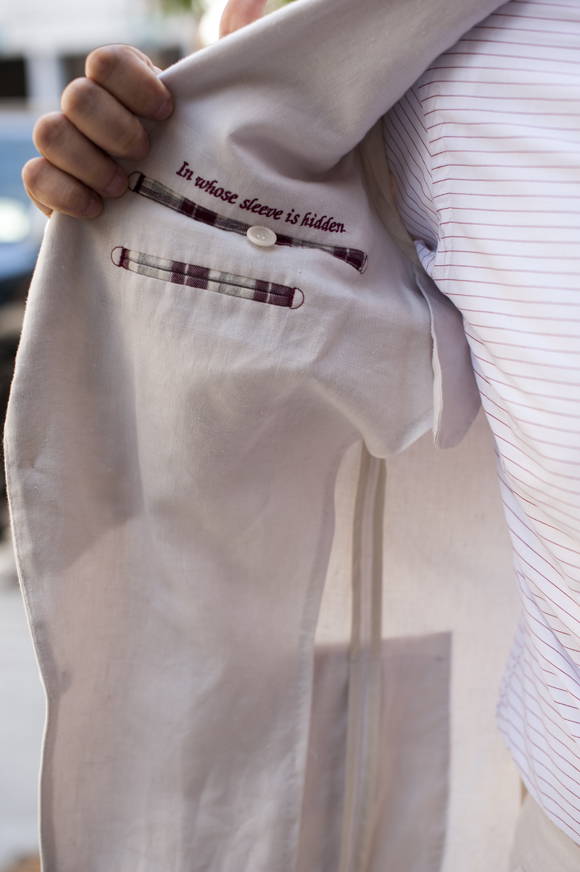 "The entire poem can be read here."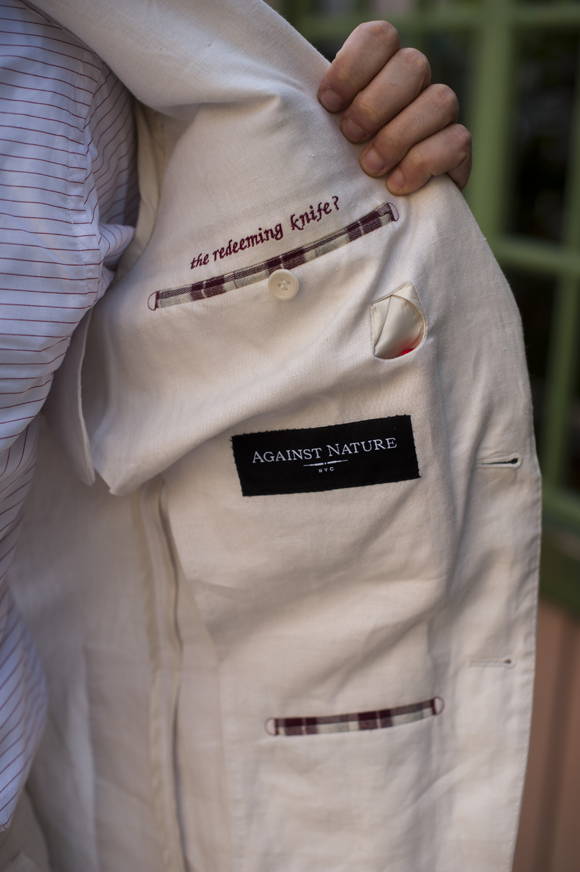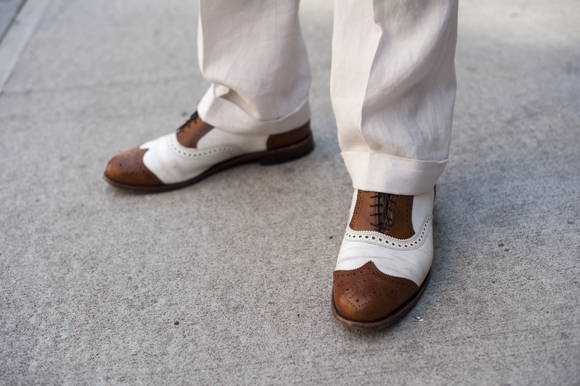 "The original inspiration for the third look came when I met the artist Paolo Canevari and he was wearing a black low-buttoning double-breasted jacket with mother of pearl buttons.
I loved the contrast and the keystone shape which emphasized the angles between waist and shoulder. He's six-foot-something and very broad-shouldered, so I dare say it looks more impressive on him."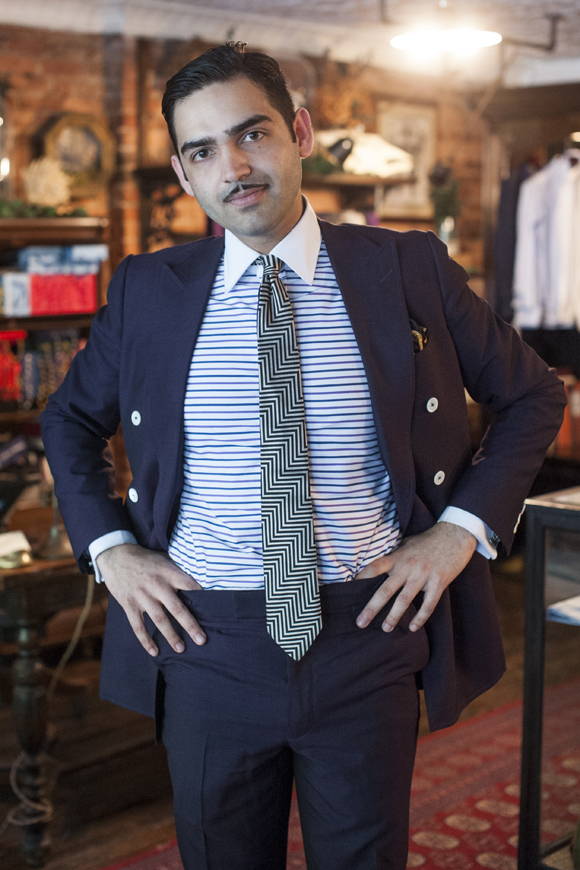 "I was originally going to get it in navy but the director of fashion events at the National Arts Club, David Zyla, gave me one of his expert 'palette readings' and the next thing I know I was ordering three and a half yards of eggplant-colored mohair/wool.
In the sunlight it's very purple so it tends to work better indoors or at night."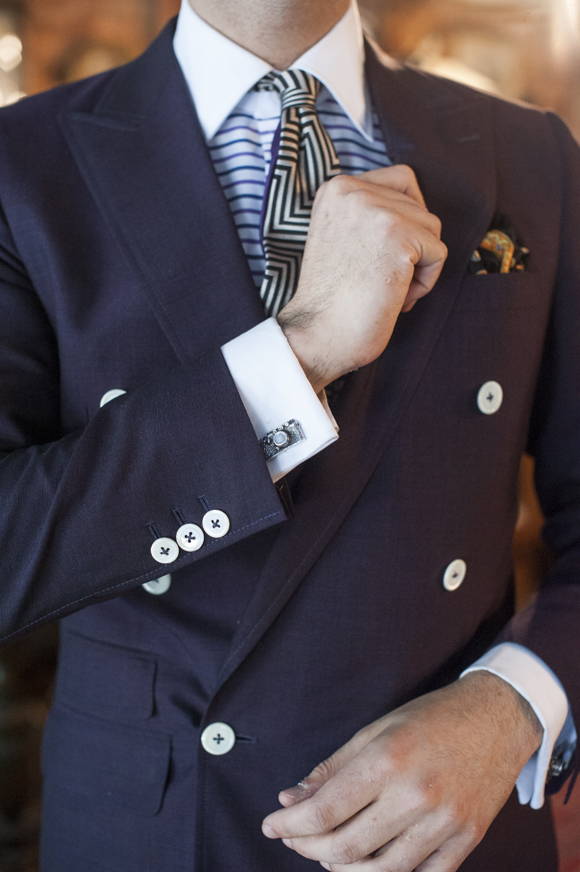 "The pocket square was a gift from Ed Hayes, the legendary New York trial lawyer and friend of Tom Wolfe who was the inspiration for the character of Tommy Killian in Bonfire of the Vanities."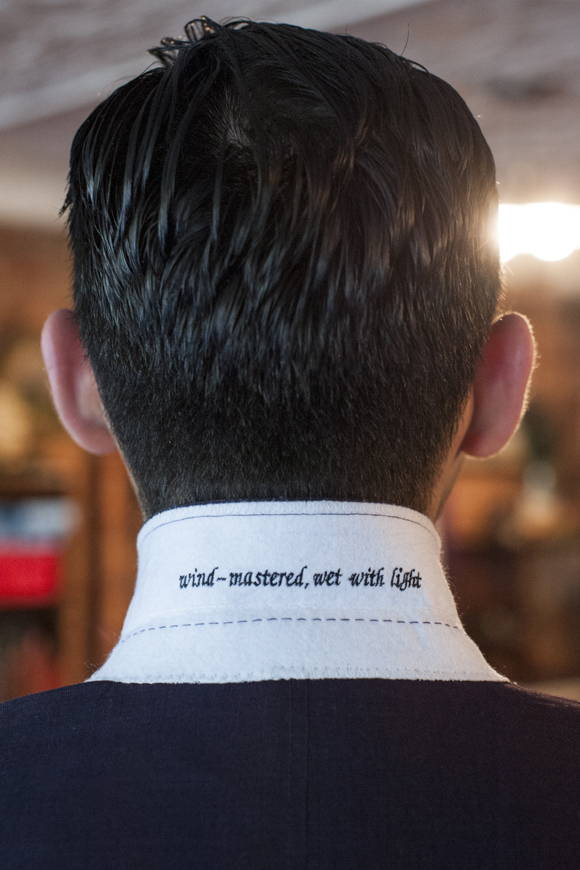 "The quote under the lapel, Wind-mastered, wet with light, is a line from a Philip Larkin poem that reminds me of a woman of whom I'm very fond, which seems to be reason enough for me to do just about anything."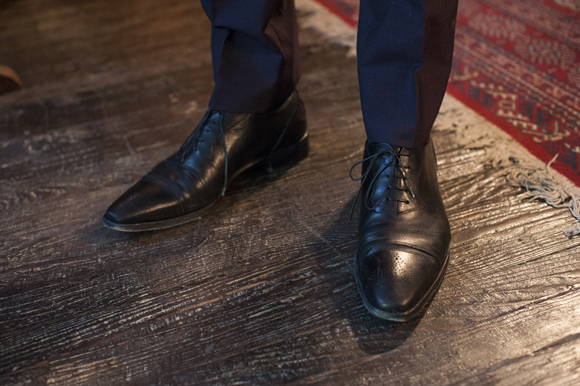 Thanks for reading, and special thanks to Natty for participating!
Yours in style,
AOS
Photography by Alex Crawford.