Kimble and Melinda Knight must have some serious southern swagger. They raised three boys in their home in Nashville Tennessee, and all three of them are down-to-earth gentleman with incredible style who are making names for themselves in the menswear world.
You might remember our friend Grayson who also recently moved from NYC to LA to manage the Saint Laurent store on Rodeo Drive. Recently, his youngest brother Wesley was visiting the west coast from Nashville and we had the opportunity to meet him, talk style, and learn about the old-world craft of bespoke eyewear making. He might be one of the most interesting people we've met. He's a soft-spoken, well-read intellectual who studied philosophy and has been crafting things with his hands from a young age.
"My name is Wesley Knight, and I am a bespoke craftsman. I was born in Texas but raised in Nashville, Tennessee. I am the youngest of three boys raised by Kimble and Melinda Knight. We were instilled with manners, work ethic, and style. Since before I can remember, my mother dressed us to the nines in full Sunday regalia that she had made. Genuine hospitality, creativity, and attention to detail all served as cornerstones in our home. At an early age, I was innately attracted to how things were made, and with encouragement from my parents, I first learned how to crotchet. I made everything: hats, gloves, scarfs, hoods, boots, and even a heraldic family crest, all without patterns. At 14, I discovered sewing with my cousin. We tapered our jeans to absurdity in order to look like our skateboard idols.
My love of sewing led me to garment construction and almost into a bachelors of fashion design. After much debate, I chose to attend the liberal arts and philosophy school in town, New College Franklin. We read over 40 books a year tackling the classics, the ancients, and the moderns. This education was difficult, but the most enriching thing I have ever accomplished. Amidst the mountains of books, I supplemented an overactive brain with hands-on projects. For example, my sophomore aesthetics final was a challenge to create something 'aesthetically beautiful'. So naturally, I chose to make horn rimmed glasses... That was the beginning. My senior year, I dug deep into the process of eyeglass making with my applied thesis entitled 'the art of bespoke eyeglass making'."
Here, Wesley gives us a glimpse of his Southern-inspired personal style, and shares a little about the rare craft of bespoke eyewear.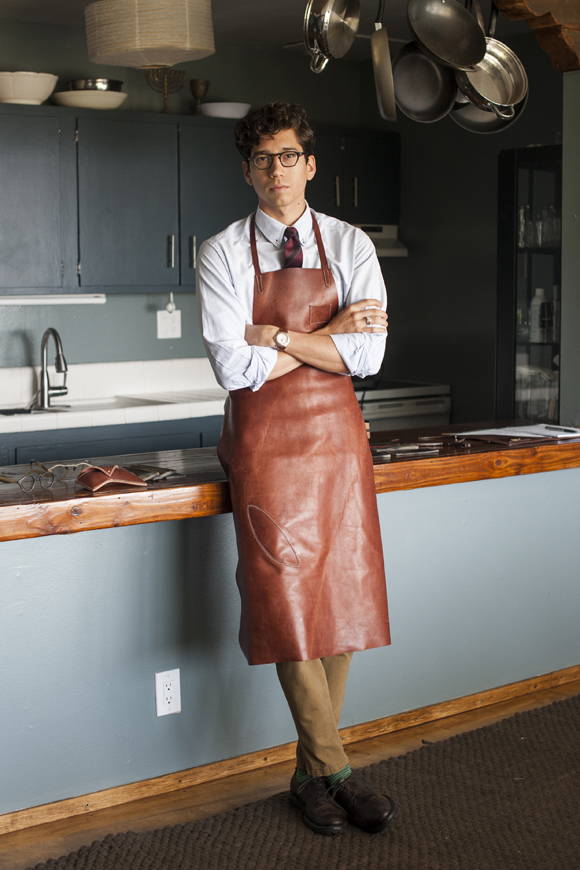 "The word bespoke represents a relationship between man and maker. I fell in love with bespoke (and simultaneously with shoemaking) in 2008 when I stepped foot into the John Lobb shop on St. James Cr. in London... The first person I noticed was on his hands and knees recording the curvature of a jovial man's foot seated in a chair to my left. Next, I saw a last maker rasping away on a new last, and then another man dissecting a paper pattern for an upper. Then, on my right my eyes were pulled to a soaring glass case filled with the most beautiful shoes harkening back to tradition, style, quality, and royalty.
When I build bespoke, I always tell my clients we build it together. Bespoke is an intimate process of creating functional art that you wear 12-14 hours a day. It has to be perfect. During my initial fitting for bespoke glasses I record the dimensions of the eyes, brows, ears and take a plaster mold of the nose. We will talk about style, comfort, color, purpose, everything you hate about your old frames and everything you dream about in new ones. Next, I sketch a few patterns in different styles built on your face that you will then approve. Once approved, I build a plywood prototype making 100% sure that we have a proper fit. Next, I cut the real frame by hand from a piece of water buffalo horn of your choice and build a custom hand-sewn leather case for travel.
This is why I love making bespoke. We take your idea, combine it with my inspiration and skill, and use the most amazing material available in order to create a fully functional and fully aesthetic heirloom product that you will love and wear with pride for many years."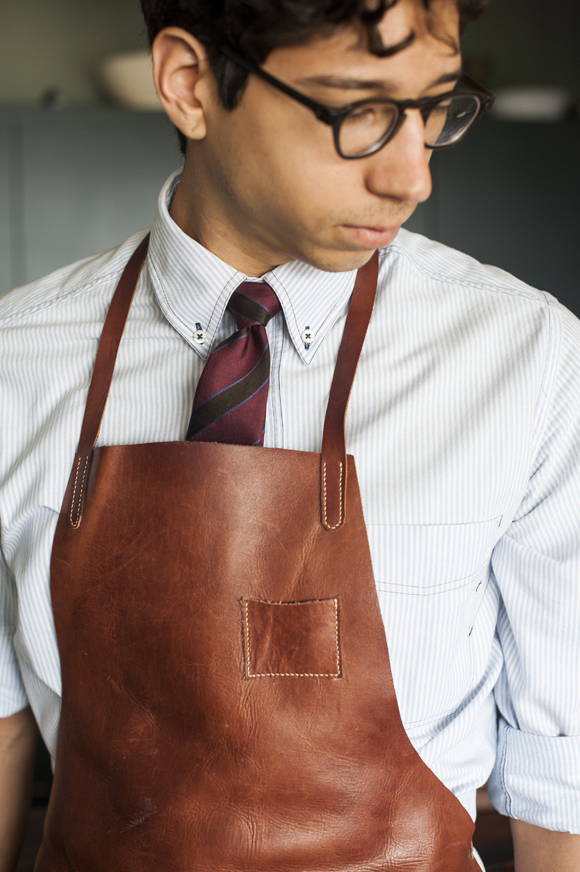 "My personal working definition of bespoke:
Bespoke –'biˈspok'– Appearing in the 1800's in reference to a specific method of suit making and shoe making. The term represents a method synonymous with the royals. A bespoke maker takes an individual's measurements and cuts a specific pattern to one client. 'Bespoke', is derived from the Old English verb, 'bisprecan'- "to speak up, speak out". The method of bespoke is not to be confused with the process of "made to order". The term bespoke in fashion is reserved for the finest method of making, which is an individually cut pattern by a craftsman in house in contrast to made to order or mass-manufactured goods."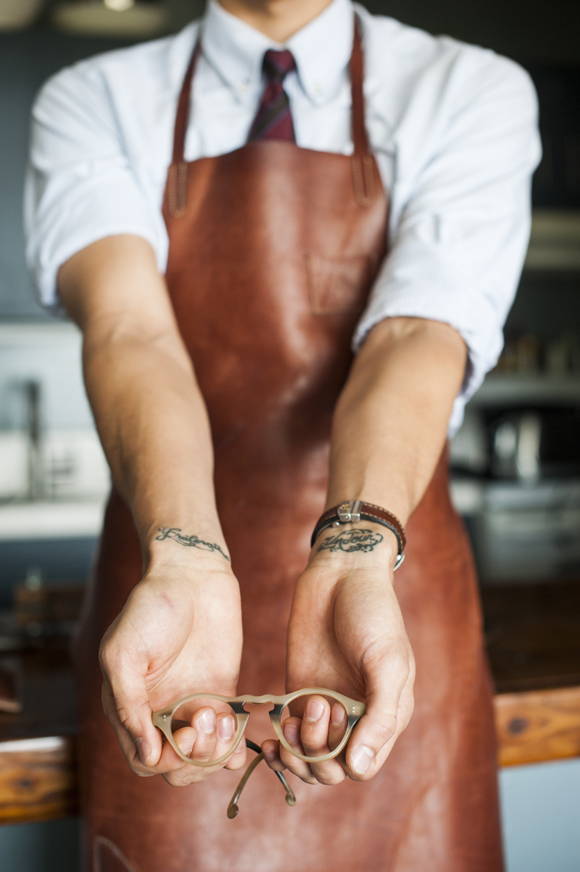 "For more than 4 years, I have dreamed of an amazing leather apron. I searched for one but nothing met my standards of style, function, and budget. So last winter I found a large piece of scrap hide and took the time to make my first one.
The ring on my right ring finger was my 21st birthday present from my parents. It's the wedding ring my father wore for twenty years. When my dad upgraded his ring, he passed this one on to me. I love large rings because he always wore them. Looking down at my hand reminds me of my father and his legacy."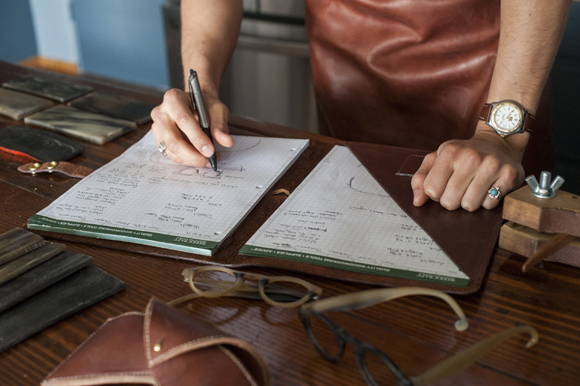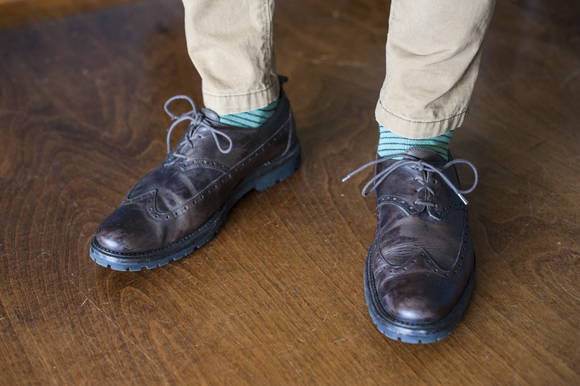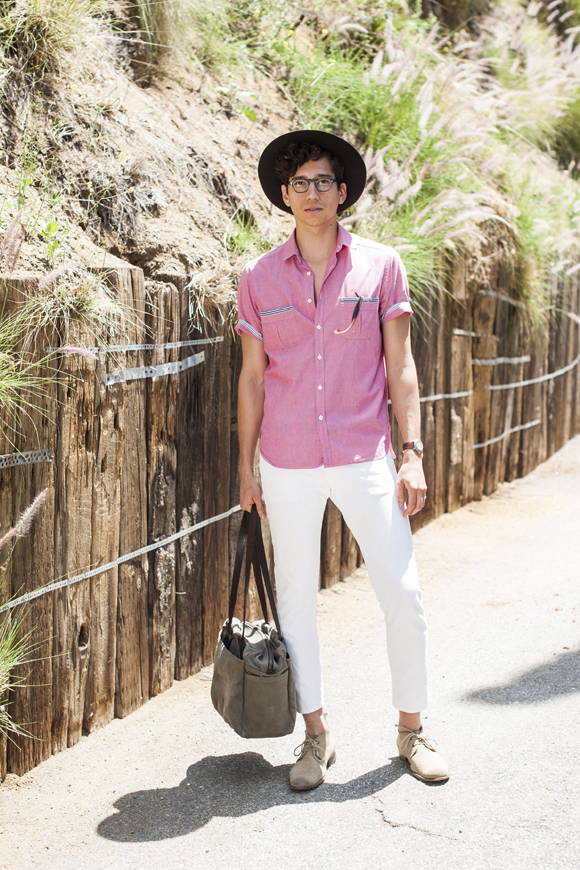 "My first recollection of developing my personal style was an experience of terror, pride, and color. The day before my first day of 7th grade, I went thrifting with my oldest brother for the first time. The outfit I chose was so foreign to my level of comfort that I got a rush as I looked in the mirror before I walk out the door, like the split second before you jump off the side of cliff into murky lake water. In good fashion I arrived late, but found no one in the halls or the cafeteria... I heard a muted rumble from behind the gymnasium doors. Walking over I grasped the handle, took a deep breath, made sure my shoulders were back, and confidently stepped in with my black hightop Chuck Taylor's, high water and high waisted bright yellow Dickies, and a skin tight red tee with a yellow worm graphic (This might be a normal scene in California, but in suburban Brentwood, TN anything besides khakis and polos was out of the norm).
The rumbling ceased as every head craned toward the door. The only sound that escaped was the echo of the latch behind me. I peered into the sea of teenagers and managed to spot a smiling friend, my beacon of light. In an out-of-body lightness and my brightly colored trousers, I made my way over. He used his butt like a duster moving kids over to create a gap just big enough, I sat down with a sigh of relief.
Surprisingly, my bold self expression earned respect of every clique in the school. I got nods, smiles, high fives, and even some vocal compliments as I passed through the halls... It was an eye opening and inspiring experience."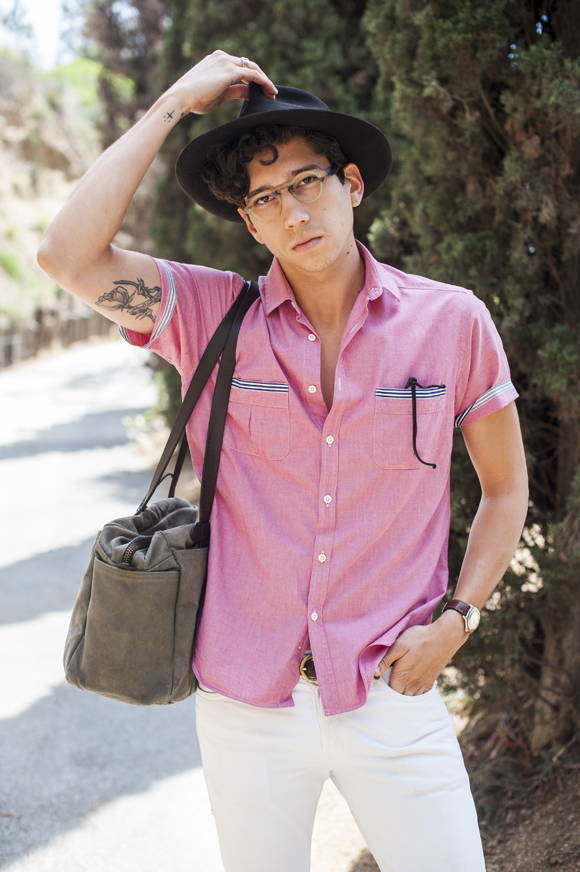 By request, here Wesley is wearing the first pair of genuine horn glasses that he ever made by made.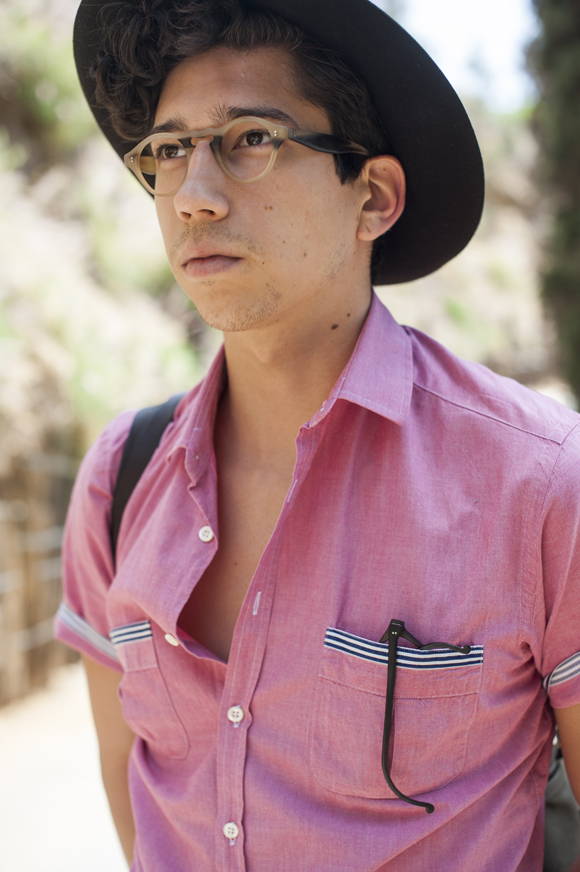 "I am currently my family's third and harshest owner of this Filson bag. It's tattered with dyes, glues and gold leaf, but it soldiers on with at least 15-20 pounds of fitting equipment when I travel."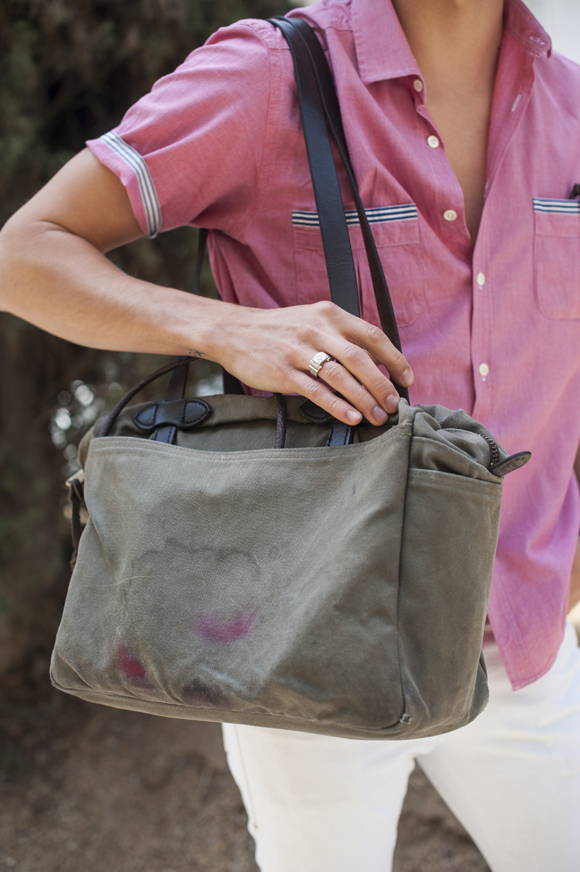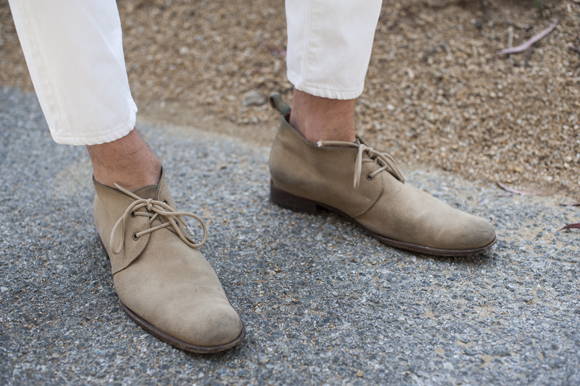 3. For the Love of Creating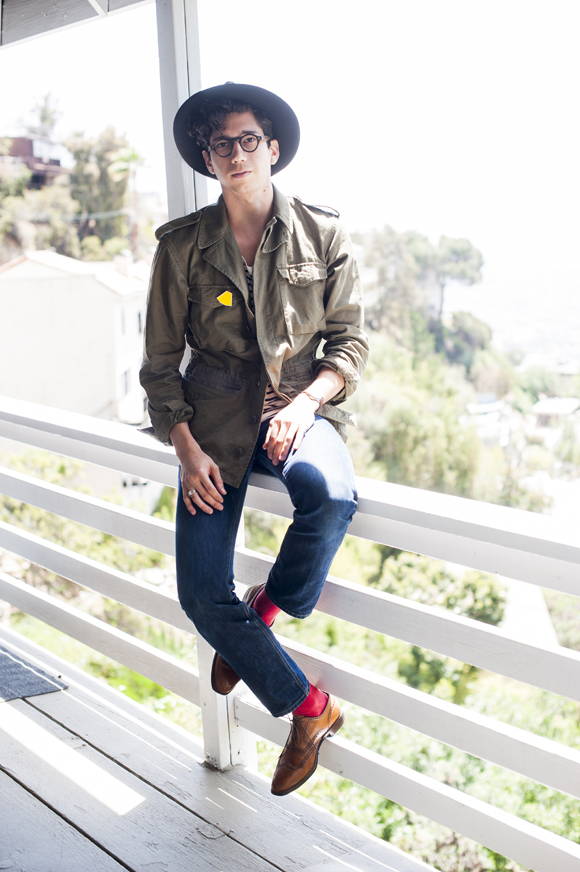 "During my years at college, I was able to identify why I love creating. For me, learning to make something is the greatest puzzle in the world. After you learn how it's made, you yourself can make a table, or re-upholstery a couch, or make glasses. The entire process is why I love creating. Taking something from non existence, then figuring out how it works, making a pattern, finding beautiful material and then constructing that idea into a tangible, functional piece of art. The joy is overwhelming.
After my college graduation in 2012, I nearly moved to Barcelona to apprentice with a shoemaker, but the timing was not right. Instead, I came home to Nashville and chose to start a business with what I knew best, bespoke eyeglasses. I launched my bespoke company in January of 2013. I gained traction in November of that year with the release of Garden and Gun Magazine's "Made in the South Awards". The recognition from Garden and Gun gave me the right platform to sell a niche, luxury, heirloom product that not many people knew about.
My dream is to keep growing my craft and eventually offer a full bespoke wardrobe. My company is based in Nashville, Tennessee with clientele coast to coast. I offer personal bespoke fittings in New York City, Los Angeles and my workshop in Nashville. For anyone with questions about the bespoke process or inquiries you can reach me at: wesley@wesley-knight.com."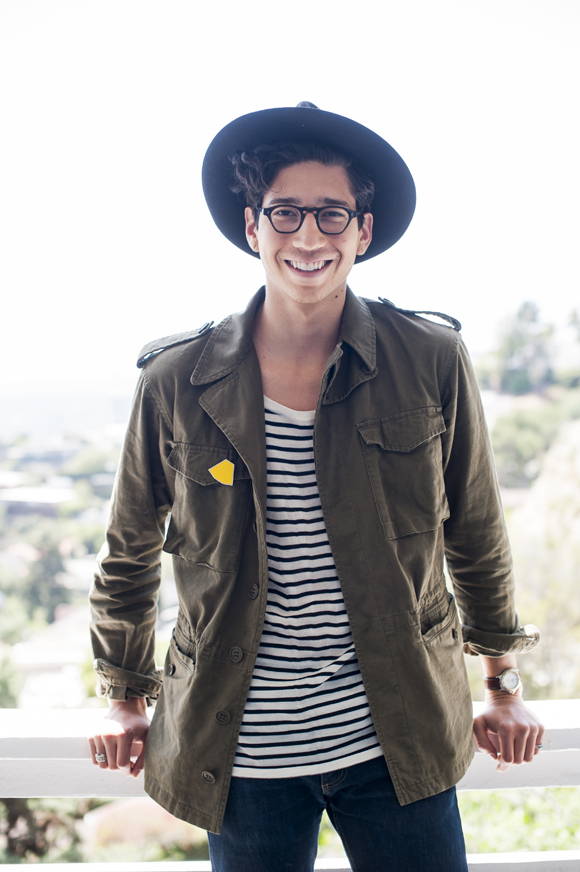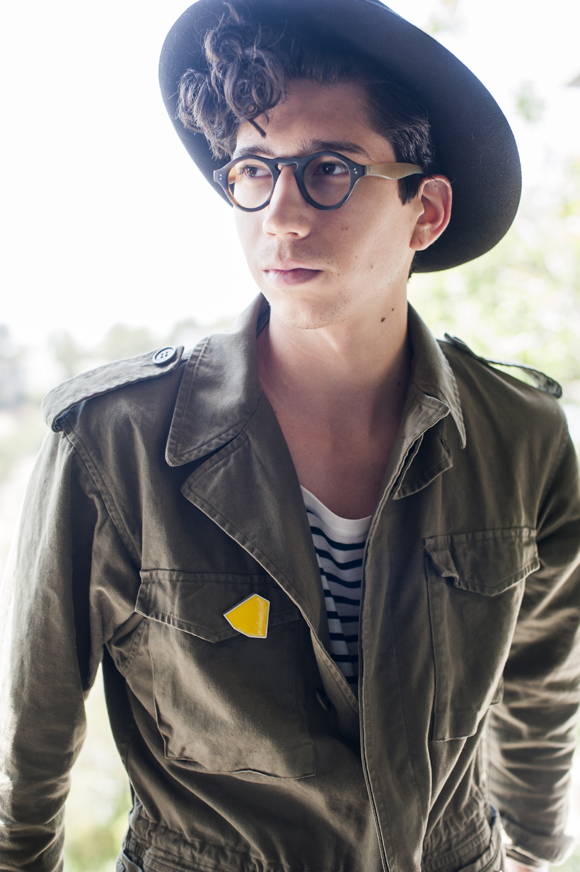 An investment can also be an inspiration...
"I bought my F.M. Allen full brogue wingtips my Sophomore year of college. I justified and saved for the $900 shoe as an investment toward my love, my dream, and my motivation to pursue hand sewn shoemaking."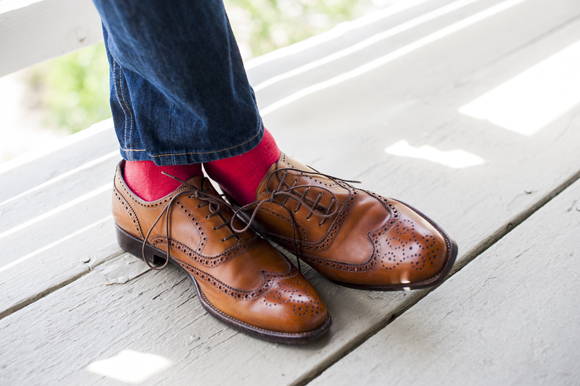 Thanks for reading and special thanks to Wesley for participating!
Yours in style,
Dan
Photography by Alex Crawford