Gabe Stein is a web development genius and the mastermind behind the original Articles of Style digital strategy.
Since hiring him, he's taught our team a ton about web development. Consequently, he's also learned a ton about clothing and style.
You've already seen the impact Gabe has had on the Articles of Style digital brand. Now we show you the impact Articles of Style has had on Gabe's personal style and wardrobe.
---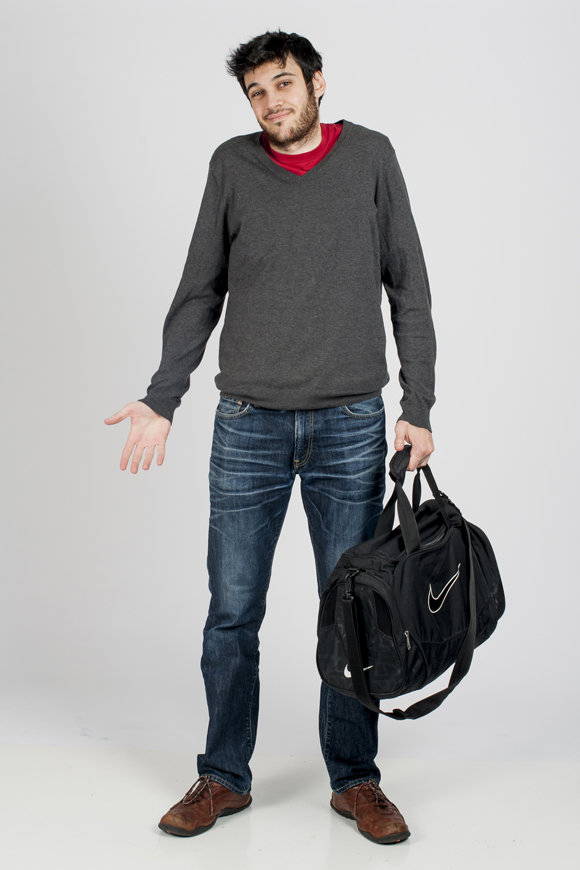 A web developer by trade, Gabe typically works in the most casual of office settings. I'm talking no dress codes at all, where t-shirts and sweatpants are fair game. With that said, just because you can wear whatever you want doesn't mean that dressing sloppily will have you performing at your best (in any area of your life).
---
What we can learn from Gabe's transformation:
Don't wear a t-shirt under a v-neck sweater. That's what casual button-down shirts are for.
Avoid jeans with fake factory-induced distressing, especially those with hard contrast lines. They look cheesy, unnatural and cheap.
"Hybrid" shoes, like these leather sneaker/loafers, are the footwear equivalent of a tuxedo-printed t-shirt. A "practical" combo in theory, but not appropriate or flattering in any situation.
A nylon gym bag is for pick-up basketball games, not for commuting to the office.
---
This is a great before & after because I often see men dressed like this. The basics are down (classic khakis, belt and shoes match, proper scaling of shirt/blazer patterns) but a lack of attention to detail throws everything off.
It takes a little more effort to pull it all together. By effort, I don't mean that it should take more time to get dressed in the morning. The effort comes in the form of wardrobe planning, smart shopping, and developing a relationship with a good tailor. Put in the work to curate and tailor a versatile wardrobe for your lifestyle and you will reap the benefits for years to come.
---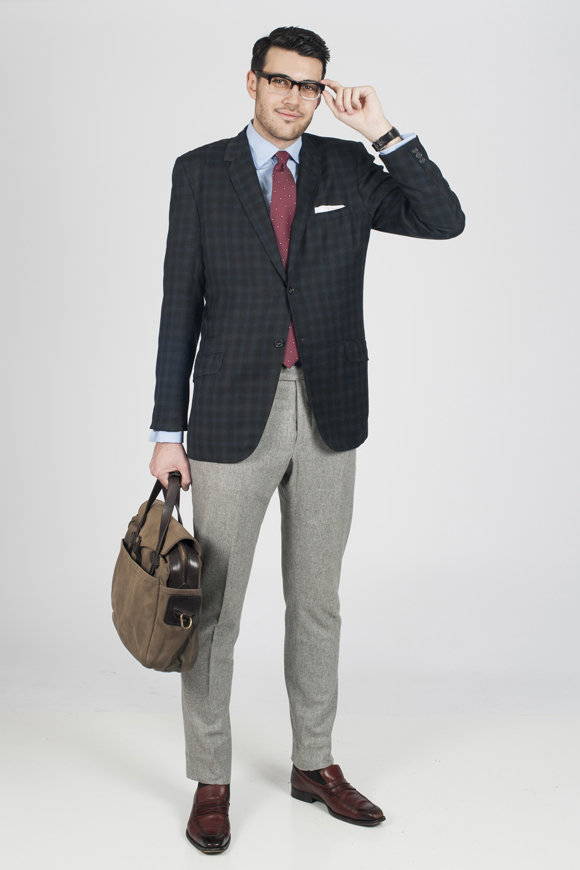 What we can learn from Gabe's transformation:
A backpack is not an appropriate bag for a blazer. It's not elegant enough and not good for the lifespan of your jacket.
Another example of "hybrid" shoes. Avoid these at all costs.
The chinos here fit fairly well through the hips and thigh, but are a little wide toward the bottom. This looks sloppy and gives his silhouette unnatural "cankles".
Don't be afraid to wear a tie for "business casual". It looks put together, not necessarily "too formal".
To upgrade your look you don't need to overhaul your entire wardrobe. Remember that some pieces can be revived by a tweak at the tailor. We had the fit of Gabe's vintage blazer updated by our friends at The Tailoring Room.
---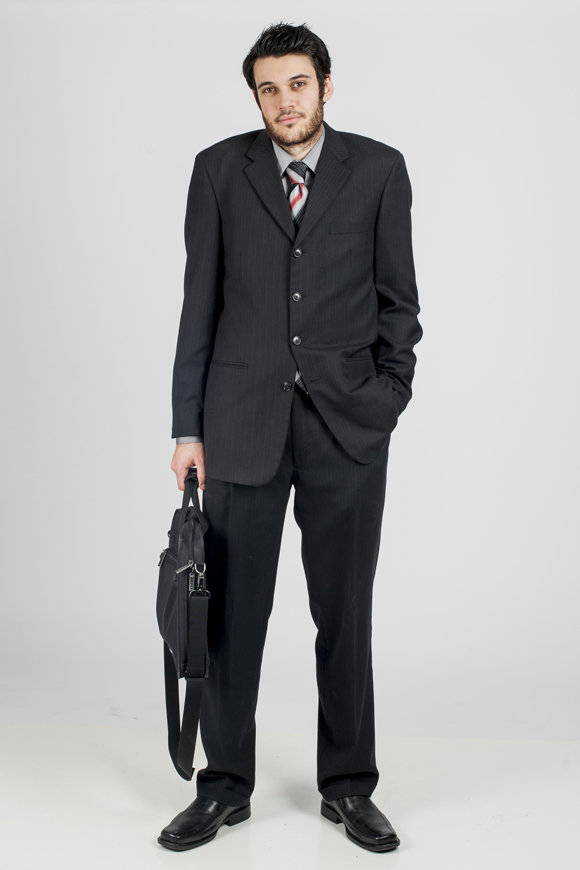 When guys don't "care about fashion" (meaning they haven't put in the effort to learn about clothing that flatters them) it really shows when they have to wear a suit.
---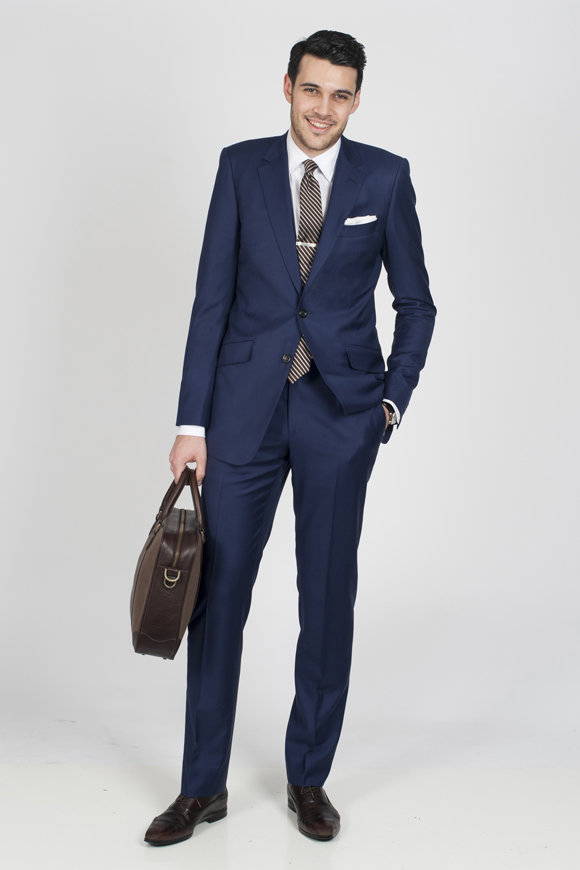 Gabe's price just went way up!!!
What we can learn from Gabe's transformation:
A four-button suit? C'mon! Gabe is tall and lanky, but you don't even see these things at the NBA draft anymore.
An over-sized suit doesn't make you look bigger or tougher, it makes you look sloppy.
Black suits are not office appropriate, whether they have a "shadow stripe" or not.
Avoid square-toed shoes. They are the most obvious sign of low-quality, mass-produced footwear.
A nylon briefcase is not technically an oxymoron, but it's pretty close.
Black/grey/red is a good color combo for a WWE wrestler, but a little aggressive for an office meeting.
Avoid fat/loose tie knots. Keep it right, keep it tight.
A little scruff can work in a business environment, but it should be neatly trimmed. Also, most guys can benefit from a haircut that is short on the sides, longer on top, and parted with a little pomade.
Thanks, as always, for reading and special thanks to Gabe for participating!
Yours in style,
Dan Trepanier