Dre and Wes have been best friends since elementary school.
After seeing the transformation we did for our web developer Gabe, Dre's girlfriend Samantha suggested that he be the subject of our next makeover.
Being gentleman and all, we couldn't turn down the young lady's offer.
Here is Dre before and after...but of course, still Dre.
---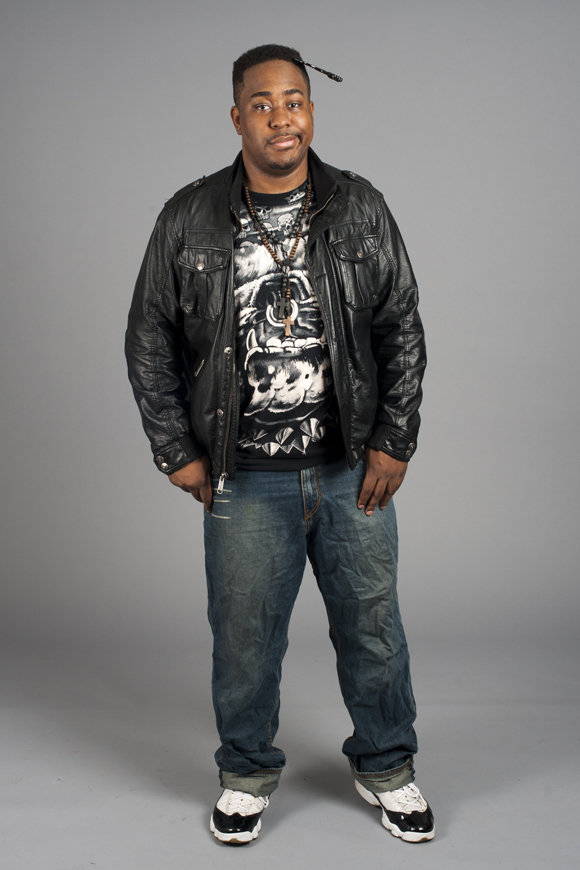 Dre is an ex-football player (6′ 235 lbs) with a friendly, laid-back disposition. Since his days on the gridiron he's always gravitated toward casual, loose-fitting clothes with "lots of personality".
We thought he could benefit from simplifying his look a little, allowing his charming personality to shine through.
What we can learn from Dre's "before" look:
A broad guy in a bold graphic tee can look overwhelming. A busy pattern, like this one, widens out his frame and distracts the eye.
A leather jacket should be simple in design and, more importantly, made from genuine leather. You can find full-grain vintage pieces, like the one below, for roughly the same price as those over-designed "pleather" numbers you find in stores like Urban Outfitters or Express.
A henley offers more elongation at the neckline than a crewneck tee. It's a very subtle slimming effect that also conveys confidence.
Baggy jeans offer no shape or silhouette, making a broad guy look heavy (and sloppy).
A subtle "front tuck" not only shows off the belt, but breaks up the torso and legs. This gives his body a more balanced proportion and gives him the illusion of longer, slimmer legs.
Save the patent leather gym shoes for the gym. The weekend calls for a classic sneaker or a simple desert boot.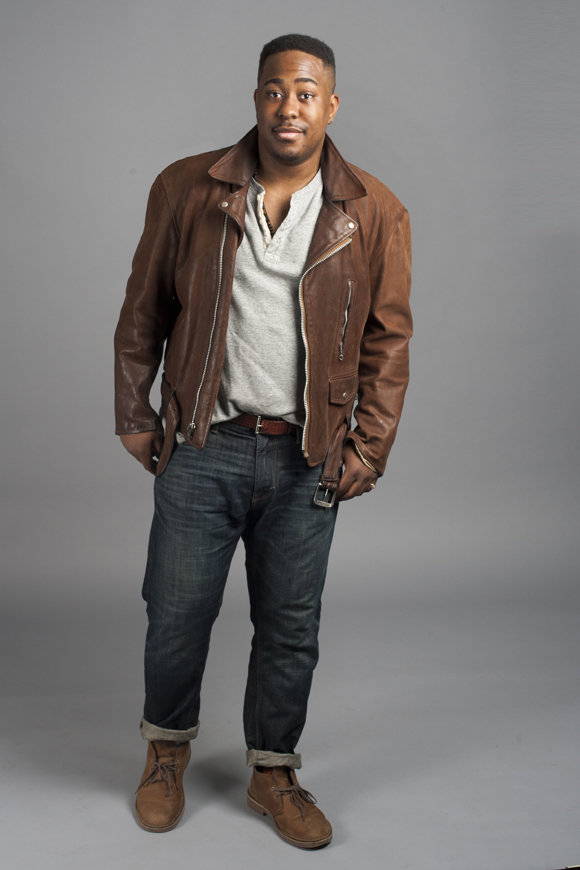 ---
Dre and Wes spend plenty of time at happy hour, and most of the time it spills into a late night out in NYC.
What we can learn from Dre's "before" look:
If it's a college dive bar, a plaid shirt and runners are fine. But if you're a grown man hoping around late-night spots in NYC, you'll be better served in a tailored jacket and loafers (literally and figuratively). 
An untucked plaid shirt is not the most flattering shape for a broad guy, especially one where the pattern is flipped diagonally. Notice how the dark tailored jacket below really slims down Dre's overall physique.
Loose fitting jeans that pool around the ankle tend to look sloppy and unkept.
Again, a deeper neckline here (this time with a v-neck instead of a crewneck) looks fresh, clean and confident.
Dre may not be overly particular about his clothes, but he keeps his grooming on point. This is one of the best things a man can do to look approachable and confident.
Even though he's dressed more maturely, we kept the "after" look simple and breathable. He's still only wearing four basic pieces.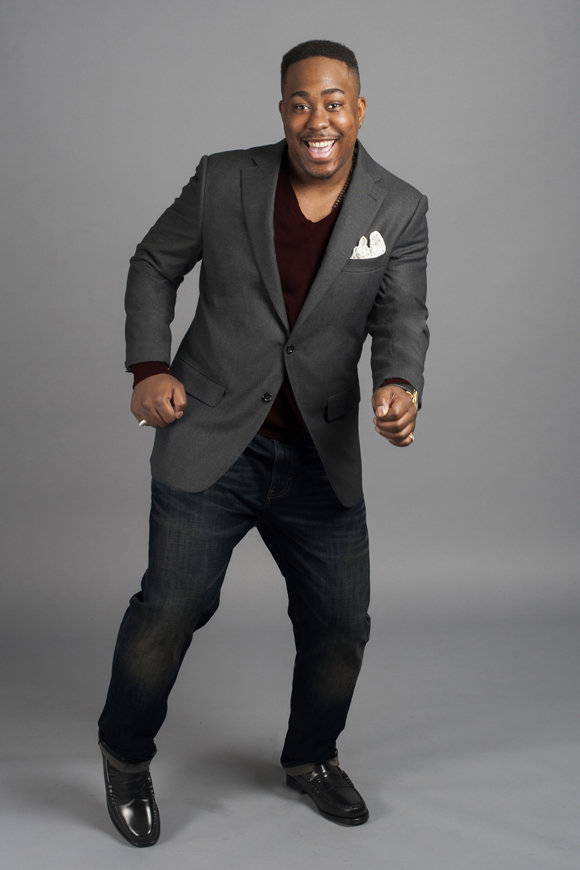 ---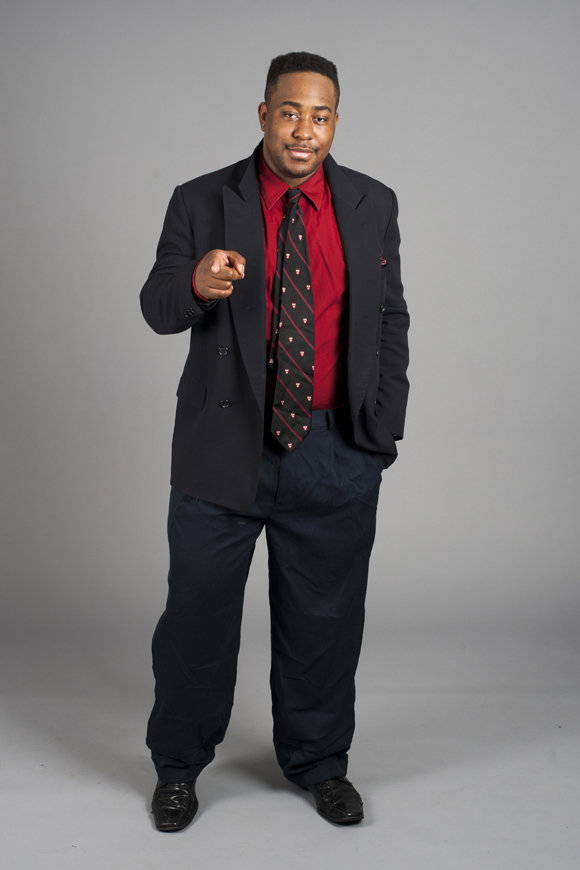 In fairness to Dre, he doesn't often wear a suit. Regardless of your lifestyle, though, sometimes you have to look professional.
What we can learn from Dre's "before" look:
It's either a matching suit, or a jacket and trousers that complement each other and have a noticeable level of contrast. Avoid pairing a blazer and trousers that are different shades of the same color. 
Looser fitting clothes do not make a broad man look slimmer. They make him look wider, and sloppier.
A solid red shirt is not business appropriate, or particularly flattering.
Black and red is also not the most approachable colorway for a necktie.
For a go-to suit, make it single-breasted. Keep it buttoned to keep your silhouette in check.
It's a myth that larger guys shouldn't wear patterns. Just keep them subtle, with a noticeable contrast (like a faint windowpane, tight micro-check, and wide rep stripe).
Adding a waistcoat is a mature touch that's also functional – it keeps the shirt, tie, and midsection streamlined (especially with the jacket open).
Patent leather shoes are not the best option for business, especially after they're worn-in and hard-creased.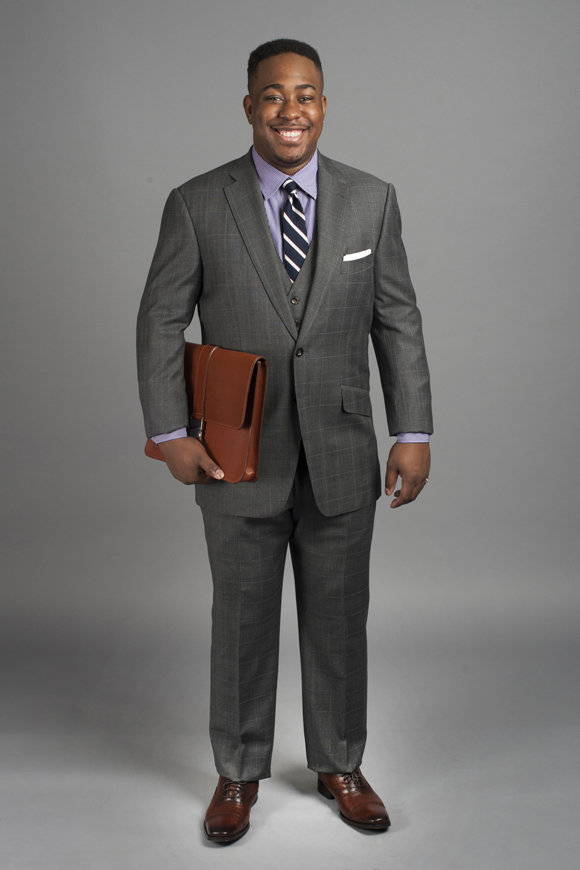 Thanks, as always, for reading and special thanks to Dre for participating.
Yours in style,
Dan Trepanier