Fine tailoring is a family tradition for entrepreneur Khaled Nasr.
"I grew up seeing my father always dressed in a suit and tie regardless of where he went. From the work suit to the double-breasted blazer when we went to dinner, dressing well was always important to him. Even my mom would go to work in tailored women's suits everyday.
My parents came to Los Angeles with nothing when I was one year old, started their own Semiconductor business and worked very hard to make a name for themselves. Their work ethic and how they presented themselves with integrity has always been an inspiration in my life... I followed in their footsteps and started a Semiconductor automation company with one of my brothers."
When he's not engineering electrical conductivity, Khaled is indulging in his other passion: high-quality menswear. He's spent several seasons at Pitti Uomo networking with the style elite and researching exclusive products, and has traveled around the world seeking the perfect bespoke suit for his athletic frame.
Here, Khaled gives us a taste of his heavily Italian influenced personal style.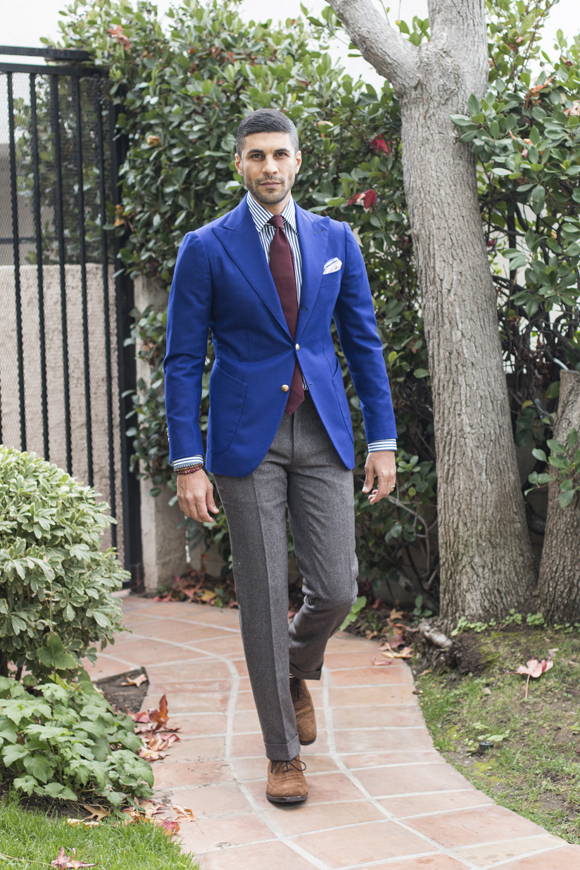 "If I had to define my personal style I would call it 'Composed Flair'. There is a certain edge to my looks with the wide lapels and strong roped shoulders but at the same time I try to stay composed and not overdone... Call it classically influenced with an updated silhouette... But ultimately the key is to feel good and have fun with your style!
My style inspirations are Cary Grant, Lapo Elkan, Matteo Marzotto, as well as Nicola & Valentino Ricci of Sciamat."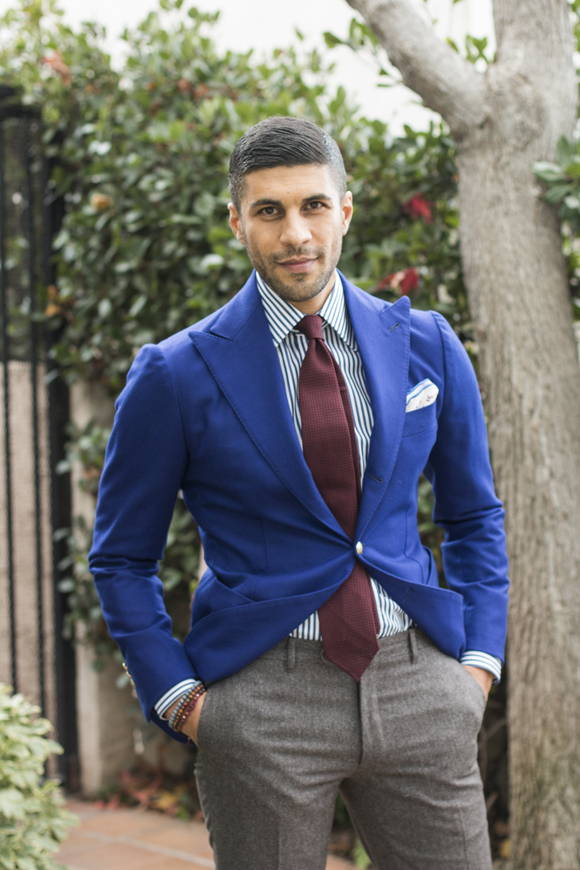 When he came across Sciamat, a small entirely-handmade production founded by ex-lawyer Valentino Ricci in Bari Italy, he found exactly what he was looking for: tailoring for the strong, confident, menswear connoisseur.
The Sciamat style of tailoring is not for the faint of heart, however. It's characterized by a high collar, heavily roped shoulders with puckered sleeve heads, aggressively 3-dimensional peak lapels, a very tapered midsection, and accentuated shoulder slopes. The idea is to create a jacket that is noticeably handmade by accentuating elements that cannot be cheated by a sewing machine (details like the puckered sleeve heads and soft rolled lapels can only be done properly by a skilled tailor's hands.)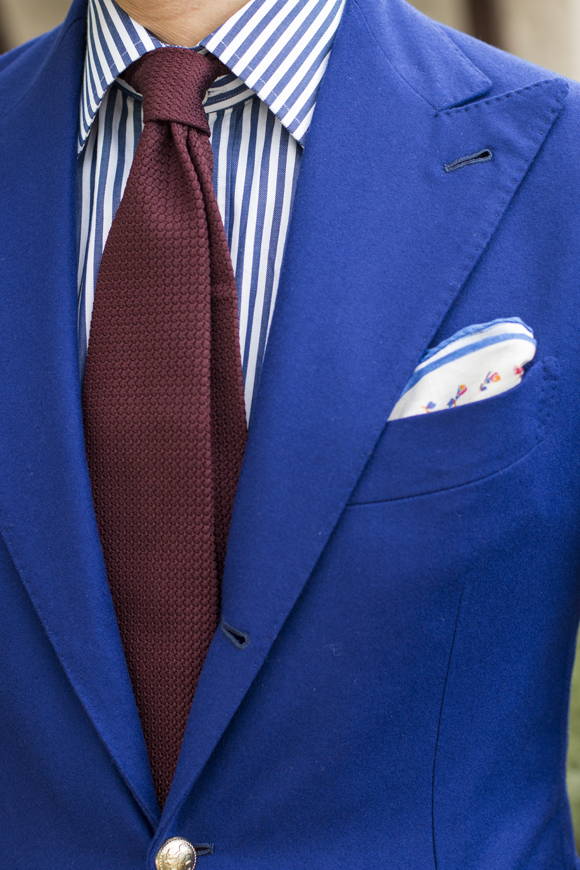 Khaled also prefers to wear separates rather than suits. It's slightly less formal, and also gives him another chance to add a complementary contrast in color and texture.
"I have broad shoulders, so I am really big fan of unstructured jackets with no padding and wide aggressive peak lapels like the ones here... I like pairing this royal blue jacket with this dark blue striped Angel Bespoke high collar shirt and burgundy grenadine tie to add contrast. I think it's a fun dressy look without being too serious."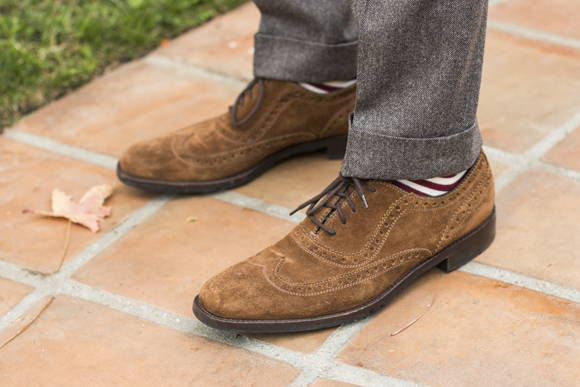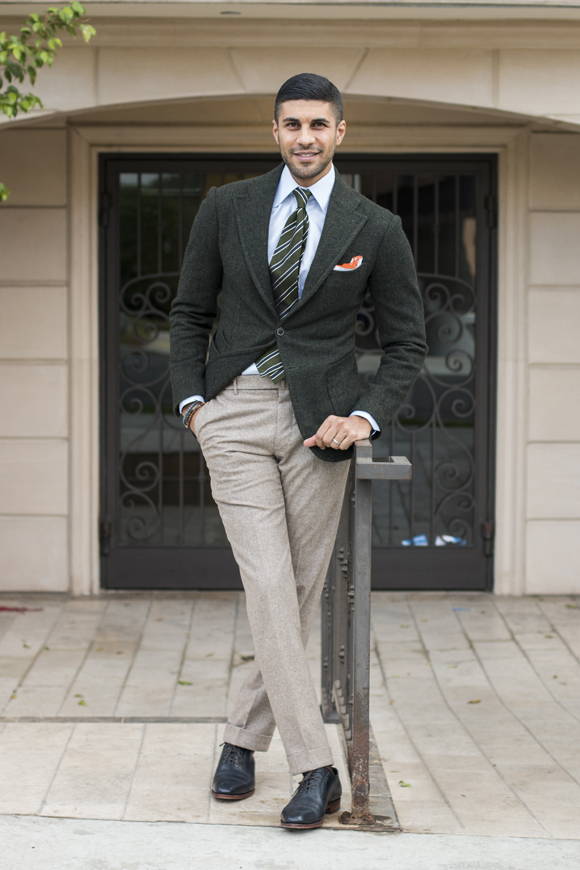 "I'm a big fan of green and navy together, as they are my two favorite colors.
This herringbone tweed Sciamat jacket has a great soft cut with wide notch lapels. I also love the patch ticket pocket inside the exterior patch pocket. It looks cool and functions well as a phone pocket.
For me, the key to pulling-off a power jacket like this is a great shirt with a higher collar. I haven't found any better shirts than the power collar shirt by Angel Bespoke."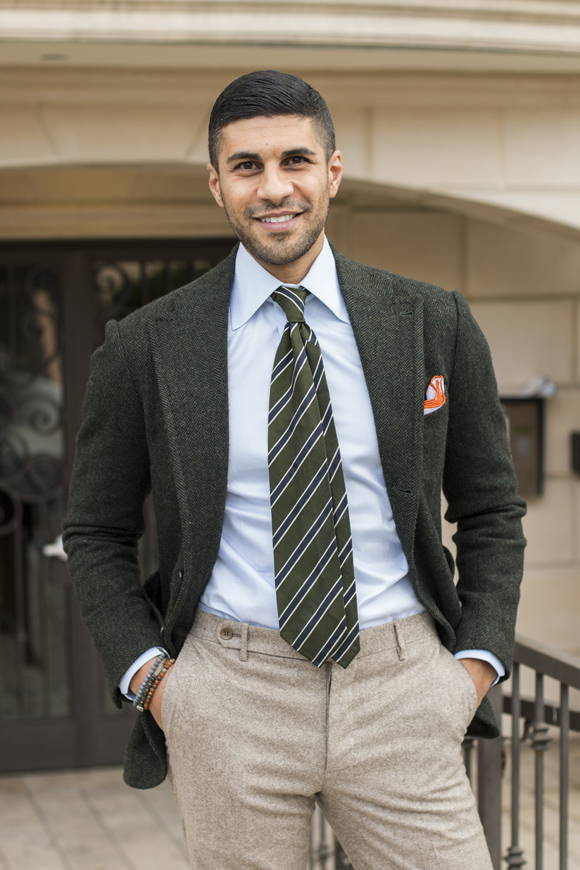 "On a separate note (no pun intended), I'm also a huge perfume collector. One rare perfume line i wanted (Xerjoff) was not available in America so I decided to start importing the line myself... I'm always on the lookout for new and rare items to bring to the USA.
One of my favorite places to do that is Pitti Uomo men's clothing show. You get the best of both worlds there. You get to look for new and exciting products as well as dress-up and celebrate men's style with individuals from all over the world who share your passion."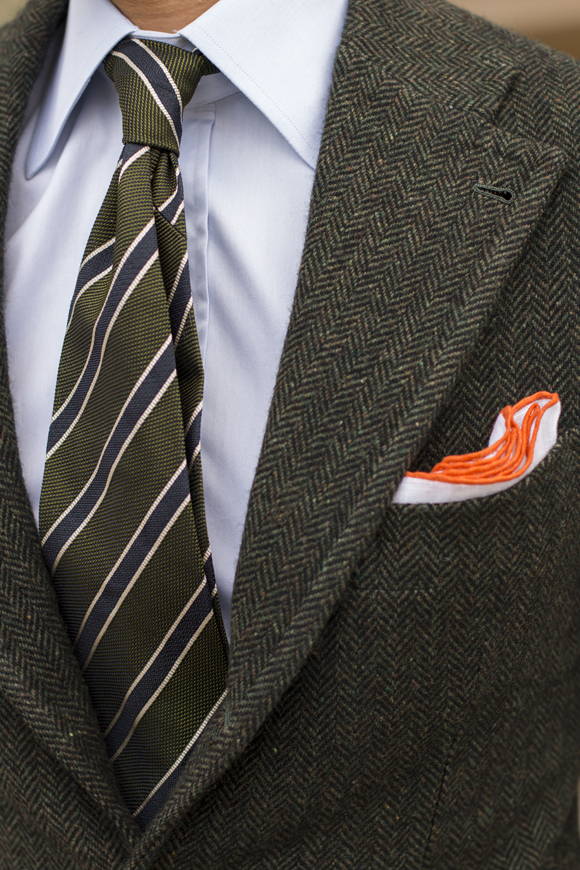 "It would be easy to go with brown shoes with this outfit but I like these navy calfskins from Meermin to play off the navy in the tie."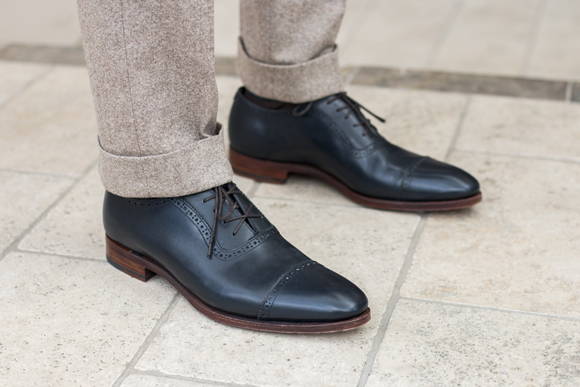 3. Lasting First Impression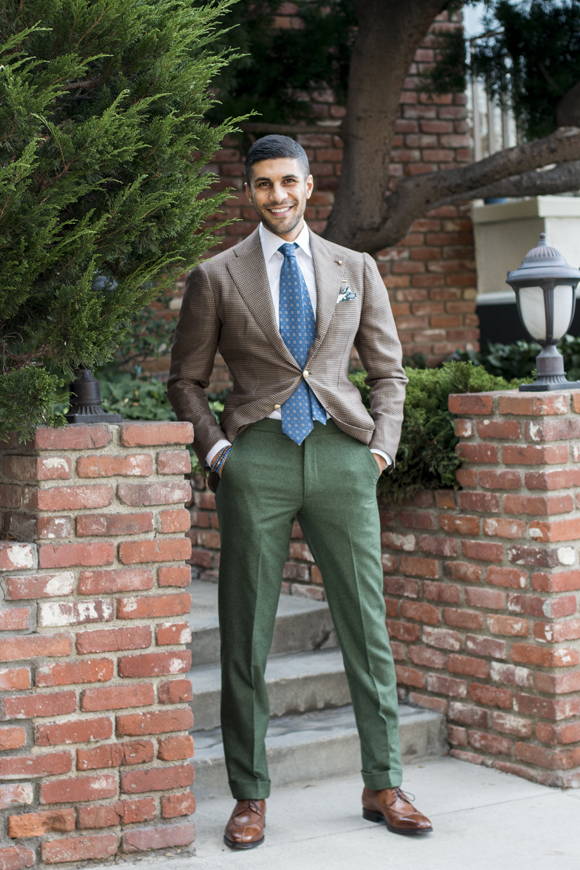 Considering Khaled's build - broad shoulders, barrel chest, very slim waist - he needs to go the bespoke route to properly flatter his physique (he's probably a 44 in the shoulders and a 38 in the midsection). The Sciamat cut really accentuates his physique by emphasizing the shoulders and tapering aggressively at the waist.
"This is one of my all time favorite jackets. It's a retro inspired cut with vintage Holland & Sherry fabric. The color and pattern are so spot-on that I can wear it with pretty much anything... Here, I kept it simple and Fall-inspired with a white Angel Bespoke shirt, blue/orange/grey tie and some green wool trousers by Howard Yount."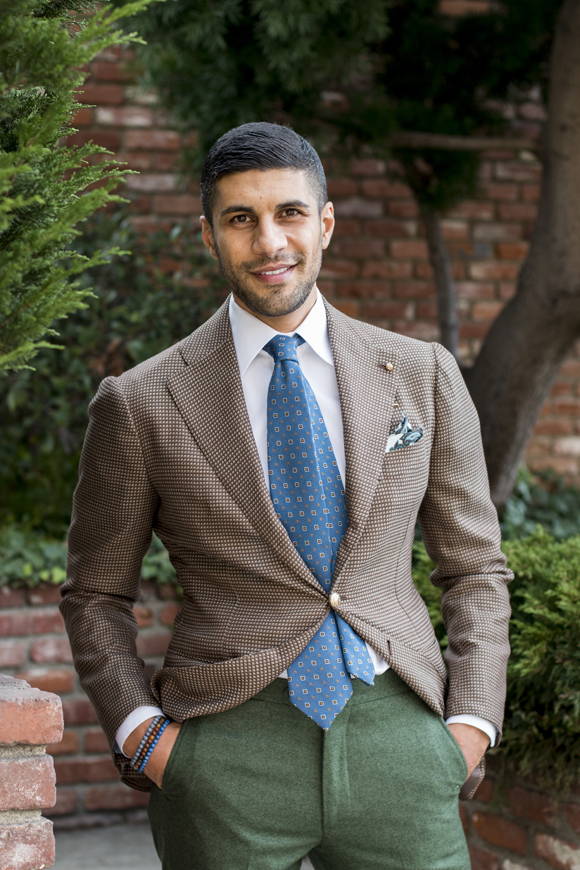 "Living in LA of today, it's a much more laid back style. Even going out to dinner or clubs, people always tend toward the very casual way of dress. I am always nostalgic for the old days when people took pride in dressing well for a night out to dinner or a show.
The way you dress says a lot about you. It's your first shot at making a lasting impression and marketing yourself to the people around you."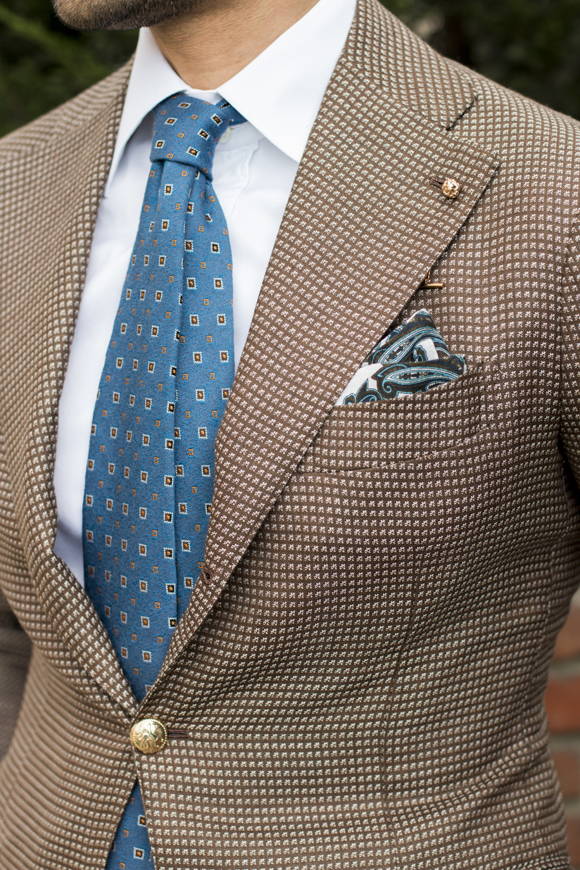 Make sure you look closely to notice the subtle details at play in this post, such as the gold lapel pin to match the gold jacket buttons here.
"These are unique split-toe shoes from Santoni as the split goes a little longer than usual, giving the shoe a less round, more lean look."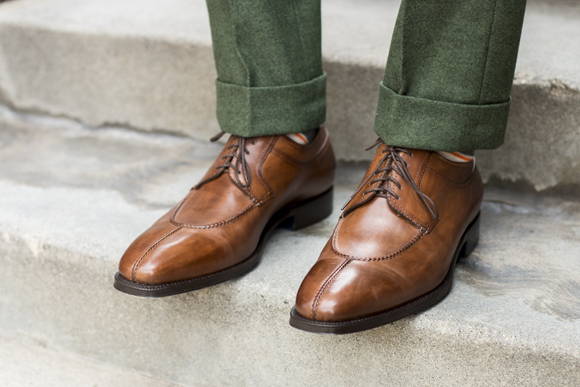 Thanks, as always, for reading and special thanks to Khaled for participating!
Yours in style,
Dan
Photography by Alex Crawford.