Ever since Will left his job at Google and moved to Los Angeles to pursue his modeling and acting career, I've been helping him develop his wardrobe, one well-made staple at a time.
We're trying to build out his bi-coastal wardrobe on an up-and-coming actor's budget, so we've been digging through vintage shops, consignment stores, and flea markets, mostly. What we've learned is that there's some real treasure out there, if you're willing to search for it and know what can be altered by a tailor.
A couple weeks ago, we were at the RoseBowl Flea Market in Pasadena, which brings together some of the best vintage dealers in the country. We stumbled upon this booth with some incredible French and German military garments, along with some random handmade pieces from European theatre warehouses and film sets.
As we flipped through racks of heavy vintage garments, one piece in particular stood out right now. It was a black wool topcoat unlike any other I've ever seen. It looked handmade, due to its impressive craftsmanship and uniquely sartorial lines. The proportions looked right for Will, so I wondered if this could be the go-to dark overcoat that we've been searching for.
It was an almost perfect fit, and it was only $80. Now that's a flea market come-up.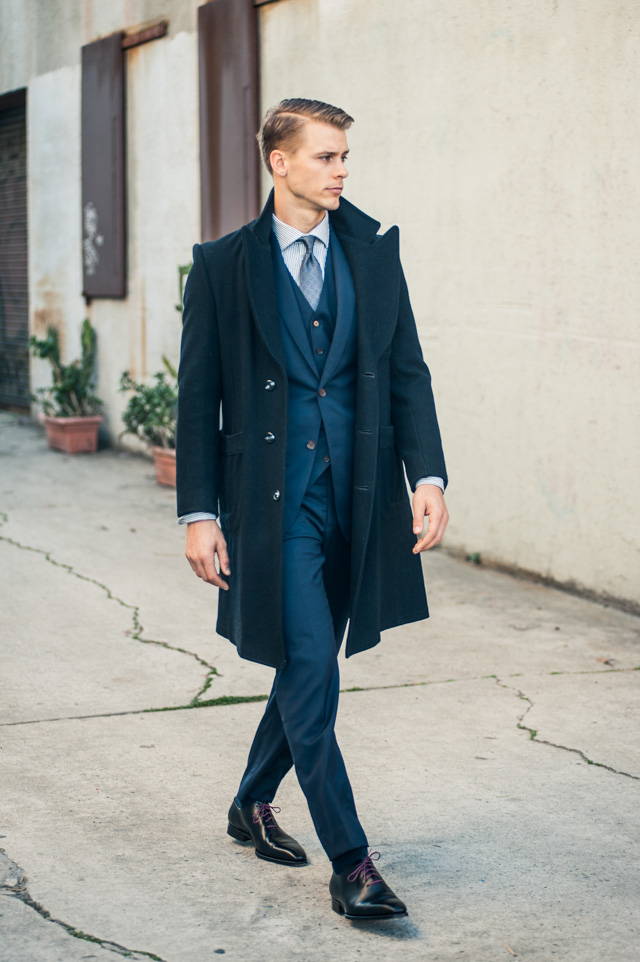 There were several handmade details on this jacket that made it an immediate stand-out for me. First, the curvature of the lapels. The shape is very sartorial, almost theatrical. They're a little bit in-your-face, but that's what I like about them.
Second, the tuxedo-pleated patch pockets (at the chest and waist). This type of work is almost certainly done by hand, and is very rarely seen on ready-to-wear menswear.
Third, the subtly roped shoulders. Another one of those subtly-theatrical details that makes me wonder where this coat is from, and why it was originally made.
Lastly, the back is belted, shaped with darts, and vented from the waist down.
Simple, Suave Eveningwear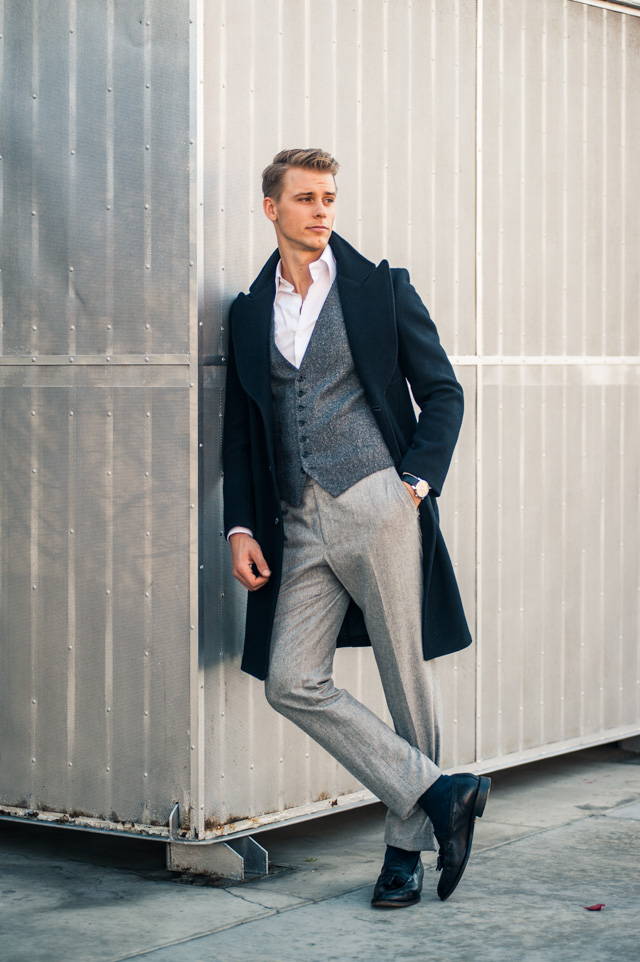 With a coat this tailored, you have the options to skip the jacket. Go straight from tailored waistcoat to tailored overcoat.
We haven't had a chance to take it to the tailor shop yet, but Will's new go-to doesn't need much work. Just a couple quick fixes to take it from good to great: lengthen the sleeves by a half inch and take in the lower third of the coat at the side seams, to cut-down on some of the "skirting" that's happening due to Will being wide through the shoulders/upper back and slim through the hips.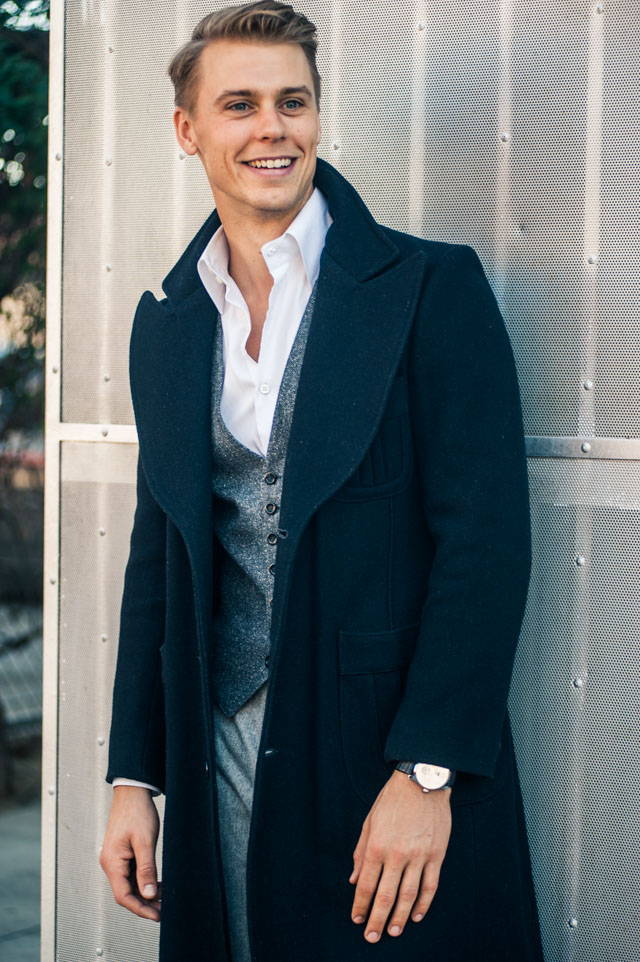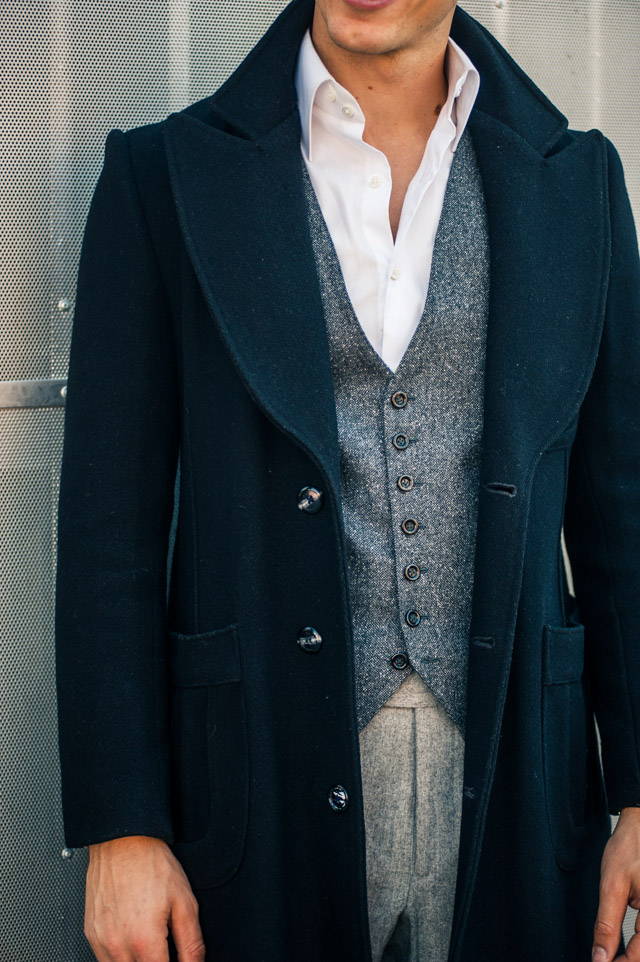 The beauty of a coat with this level of handwork and detail is that you can pair it with simple basics, like a t-shirt and jeans, and have a complete outfit.
Sometimes simpler is better, especially in black and white.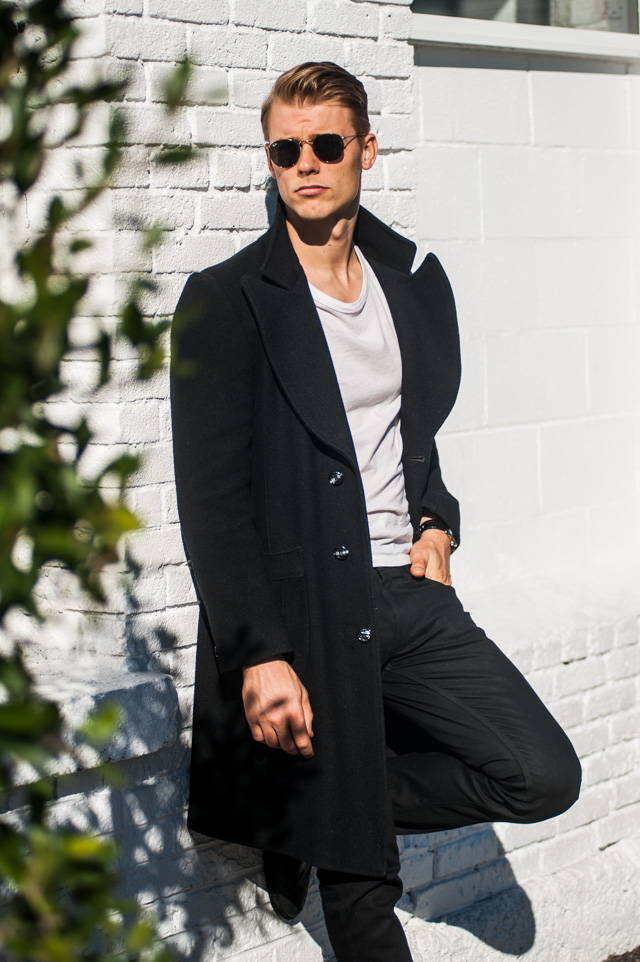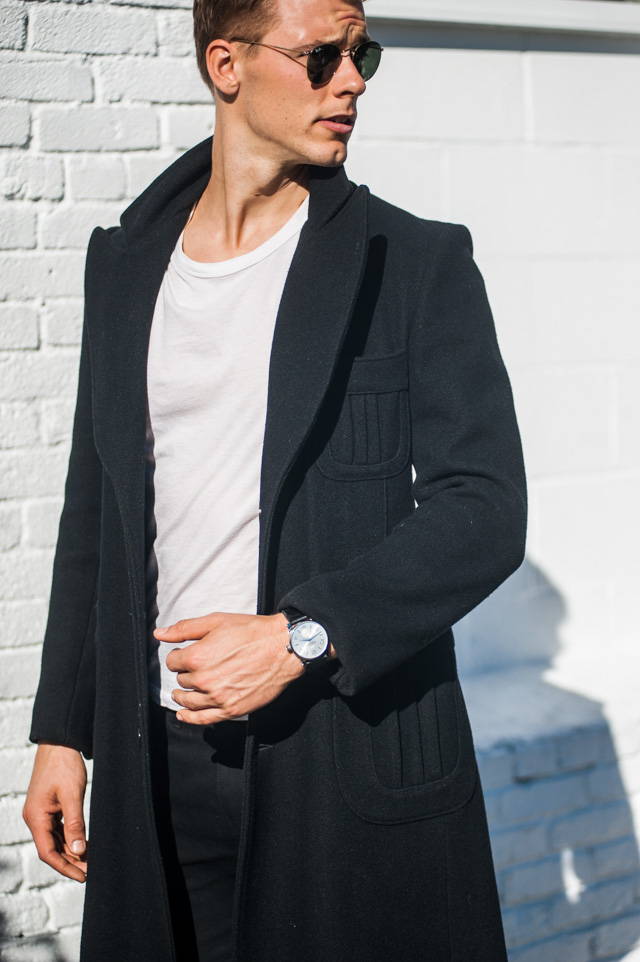 The take away message here: if you don't have the budget for bespoke or high-end designer clothing, you can still find beautiful handmade pieces, if you know where and how to look. It's a matter of training your eye, putting in the effort to dig, and knowing which alterations are possible (in this case, having enough fabric under the sleeve hem to be let out).  With roughly $30 in alterations (for a total of $110) Will found himself a handmade overcoat that could easily retail north of $1,000 in boutique shops.
Thanks, as always, for reading.
Yours in style,
Dan