For all it's potentially life changing benefits, being a well-dressed man can be expensive. But it doesn't have to be. One of the best ways to save money on quality menswear: shop on eBay! There is no store with a greater selection or better deals.
Ebay was my first exploration into menswear. As a youngster, I always loved clothing and style, but growing up on a farm in St. Joachim Ontario Canada, I had few local options for shopping, and even less money to spend. So one winter, I used my Christmas cash to bid on a pair of coveted Jordan sneakers on eBay. A few days later, I won the auction (at a fraction of retail price) and it felt like wining the lottery, especially considering the speed and reliability of our dial-up internet connection at the time.
I wore those Jordans a few times to school but eventually decided that I wanted them in a different colorway (to match my new fitted hat and Enyce sweater, of course). So, naturally, I sold them back on eBay (after scrubbing them with a toothbrush and whitening toothpaste). I took high quality pictures, described how rare these particular Jordans were, offered international shipping, and even uploaded a picture of Mike himself wearing the same pair in a game. They ended up selling for more than I bought them for and a lightbulb went off in my pre-teen broke-as-a-joke head. I only made a few bucks, but what if I could do this over and over again?
Long story short, over the past fifteen years or, so I've bought and sold thousands of menswear items on eBay; sneakers, dress shoes, outerwear, suits, watches, accessories, you name it. In college, I was making 2-3K a month from my dorm room and re-investing most of it back on eBay, constantly updating my wardrobe as my style slowly evolved. This was how I built the foundation of my wardrobe and how I was able to win the Esquire "Best Dressed Real Man in America" contest during my senior year of college (90% of the clothes I wore in those contest photos were purchased from eBay). Anyway, I digress. All this to say that I've been in the eBay game. It was the platform that gave me an opportunity to experience quality menswear first-hand and eventually develop a career via TheStyleBlogger.
Ebay is a hustler's paradise, but it can be a confusing land to navigate. Therefore, I put together some of the best tips and tricks that I've learned in my years of scoring quality menswear, along with some of my favorite purchases that I've held on to since my early days in the game.
Hope this helps you as much as it has helped me.
Search Broad & Dig For Deals
Just like in a vintage store, to find the best deals you have to be willing to spend time digging. Start with a broad search if you want to find the auctions that slipped through the cracks. For example, rather than searching for "Burberry Trench Coat" try simply searching for "Burberry" within the "Men's Clothing > Outerwear" category, because what you call a "trench coat" some sellers might mistakenly call an "overcoat", or "topcoat", or just "coat", "jacket", etc.
Sort by Price & Watch Items with Potential
After you've figured out your search criteria, sort the items buy "Price, Low to High" to start from the cheapest. You might have to skip over a couple pages of bullsh-t listings, but every once in a while you might find that one Gucci leather jacket starting at $0.99 in a 1-day auction. Sometimes people are desperate for quick cash and rush a listing.
Try Less Sought-After Designers
Brands with cult followings like Dior Homme and Burberry Prorsum rarely fall through the cracks. Fashion heads are searching these terms all day, every day. The lesser-known the brand, the less competition there will be on the auction.
Save Searches
If you're looking for something rare or specific that only offers a few results at any given time, you can save the search to receive email notifications whenever new products are listed within the criteria (rather than going back every week to search again). Right now, for example, I have a saved search for a "vintage tailored rain/snow cape"...more on that later. I also sometimes keep saved searches for my favorite designers (those that I know will fit me well and aren't too heavily searched for), filtered by my size only.
Know Your Measurements
It's one thing to know your size, it's another to know your measurements. Tag sizing can vary greatly from one brand to another, or even from one year to the next within the same manufacturer.
Take a garment that fits you very well, lay it flat and use a soft measuring tape to find the following measurements. Memorize them. Most good sellers are aware of these measurements and can provide them. If one is not provided, ASK FOR IT! If it's a tailored garment, you might also want to ask how much fabric is available to be let-out.
Jacket/Shirt/Sweater
1. Chest
2. Stomach
3. Front Length
4. Sleeve Length
5. Shoulder
6. Back Length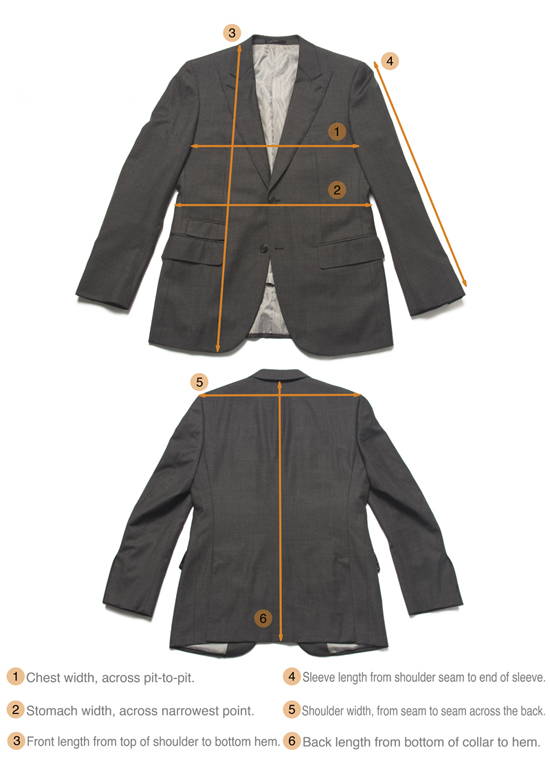 Pants/Jeans/Bottoms
1. Waist
2. Outseam
3. Inseam
4. Front Rise
5. Thigh
6. Knee
7. Leg Opening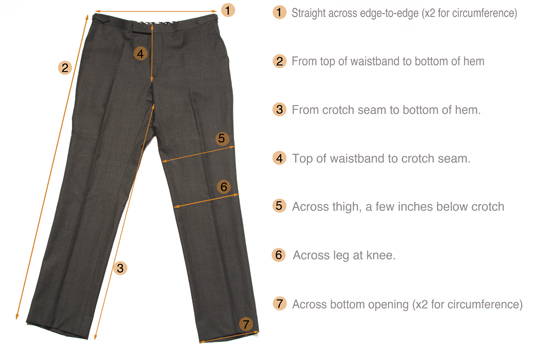 Make No Assumptions - Ask Questions!
If you're unsure about any aspect of the item (condition, color, sizing, is that real leather?, etc) ASK THE SELLER. If it's not in the listing, assume the worst.
Check Return Policies
In addition to reviewing a seller's feedback (that's eBay 101: you should know that already), check their return policy. Even if you're the most careful and thorough eBay shopper alive, there is always a chance that you're going to want to return an item (I've bought items with unpredictable faults such as fabric elasticity that's completely stretched out, or sweaters that reek of cigar smoke). Double check their policies and think about the purchase again before pulling the trigger.
Cut Side Deals
If somebody is started an auction at $0.99, they're looking to get whatever they can get for it. Sometimes I message a seller directly and make them an offer they can't refuse, and offer to pay them directly and immediately via Paypal. I remind them that this way they get guaranteed money right now (removes the risk of non-paying bidders) and they won't have to pay final value fees to eBay (eBay charges the seller a percentage of the sale price for every auction that ends in a successful sale). Of course, this is technically against eBay's policies, but eBay hustler's do it every day.
Be a Sniper
If you take away nothing else from this article, remember this: eBay auctions are all about the last 5 seconds. The winning bids are almost always placed just before the timeout of the auction, so competing bidders don't have time to react. I used to literally set alarms for myself to remember to run to a computer for the last minute of an auction, no matter what I was doing. I would leave class for a "bathroom break", run to the library (this was before smartphones) and login as quickly as possible to outbid someone on a pair of gently worn Gucci wingtips. Now, thankfully, they have websites that will place a bid within the last few seconds of an auction on your behalf. Gixen and Auction Sniper are examples of these. You can set the maximum price you're willing to pay and forget about the auction timing until you receive an email with "you won" or "you were outbid".
The More You Spend, the More You Save
There is a cap on how much clothing will sell for on eBay. For that reason, you can score great deals on high-end products. For example, a brand new peacoat from J.Crew might sell for $150 (regular $250, for savings of about 40%), but a brand new peacoat from Gucci might sell for only $400 (regular $1,995, for savings of 80%). Ultimately, you can spend about the same amount you would drop in-store at places like J.Crew or Club Monaco, but be wearing designer brands like Paul Smith and Helmut Lang. All it takes is a little more effort, strategy, and patience.
Go Vintage: Some Items Look Better Used
Not everything on eBay is used, but we all know that some products/brands look better with age. Distressed raw denim like APCs, broken-in waxed jackets like Barbours, worn canvas luggage like Filsons, etc. Ebay is a fantastic place to buy broken-in vintage gear. There's an endless selection, especially if you're more concerned with the product itself rather than the heavily-searched brand name. 
Get To Know Your Favorite Sellers
Check their other items for sale and save their future listings for email notifications. You never know who these people might be, or what connections they might have. One of my favorite dealers back in the day was the "cousin" of a celebrity stylist who was in charge of selling designer gear that was only worn for one event by A-list clients. I made a ton of money off that "cousin" and even bought several of her items directly through email communication (saving her listing fees and allowing me to be the first to bring the item to market).
Poor Pictures + Good Information = Great Deals
If the pictures are poor but the description sounds great (and the seller seems reliable), you may have hit the jacket. Low quality pictures will scare off most buyers, allowing you to squeeze out a good deal. I made a living on this in college; buying poorly listed items and re-listing them with better pictures, more compelling descriptions, accurate measurements, etc.
Avoid Stock Images
Make sure you're looking at images of the actual item for sale. Some sellers will use stock images, which tells you nothing about the current condition, distressing, coloring, etc. Sometimes the design details aren't even the same and the seller didn't notice subtle differences.
Make Sure It's Authentic
There's knock-off everything. From Nikes and Timbs to Ralph Lauren and Versace. If it has market value, someone is willing to knock it off. Get to know what the real tags/packaging looks like, and beware of the country of origin (not so much where the item was manufactured, but where it's being shipped from). If the package is coming from somewhere like China or Vietnam, I would be cautious and ask for a money-back guaranteed regarding authenticity.
Be Patient. Never Settle
If you're not 100% about an item, forget about it! The eBay cycle never stops and there will always be other chances to buy something for an equally good deal. The market equilibrium is actually quite surprising.
Lastly, what's a Articles of Style Post without some images for inspiration?
Here are some of my favorite scores from eBay that I've held onto over the years: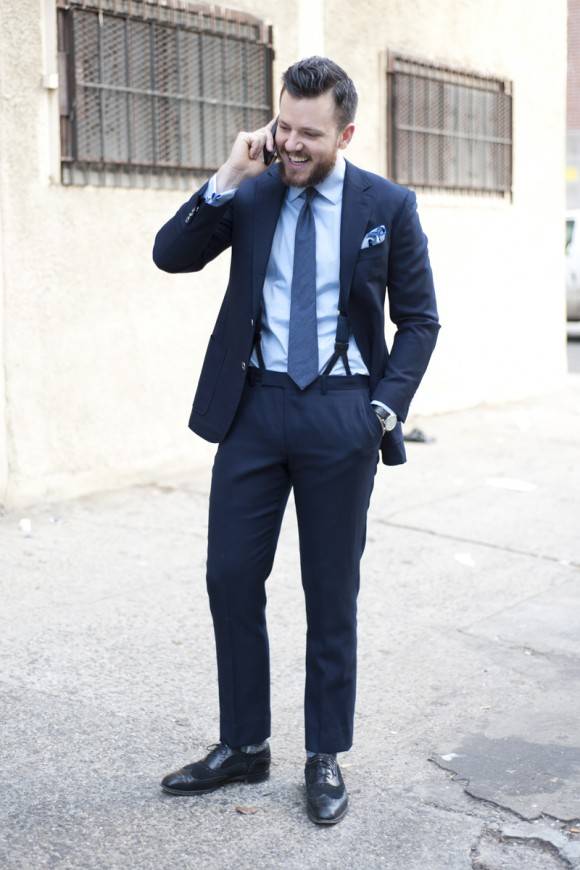 Barker Black Spectator Wingtips (purchased brand new on eBay for $220, retail $900+)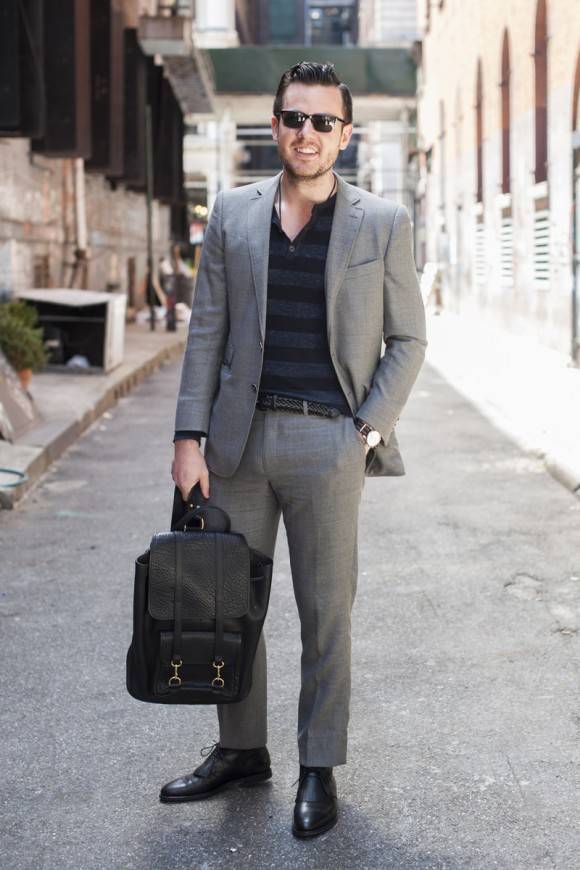 Cashmere Henley by John Varvatos (purchased on eBay for $58, retail $398). Montblanc Timewalker Automatic watch was also purchased on eBay.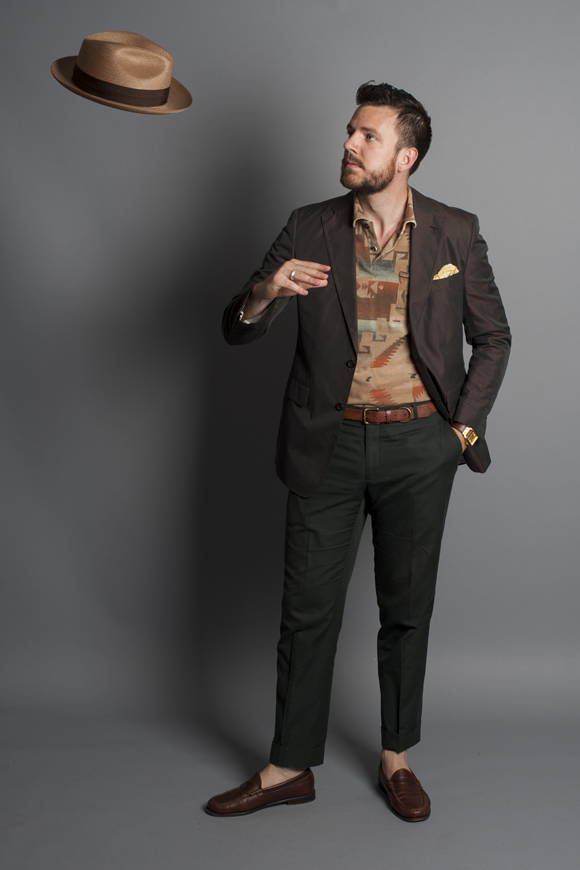 Vintage Ralph Lauren Southwestern Polo Shirt (purchased on eBay for roughly $65, no longer available in stores). Bass loafers were also purchased on eBay.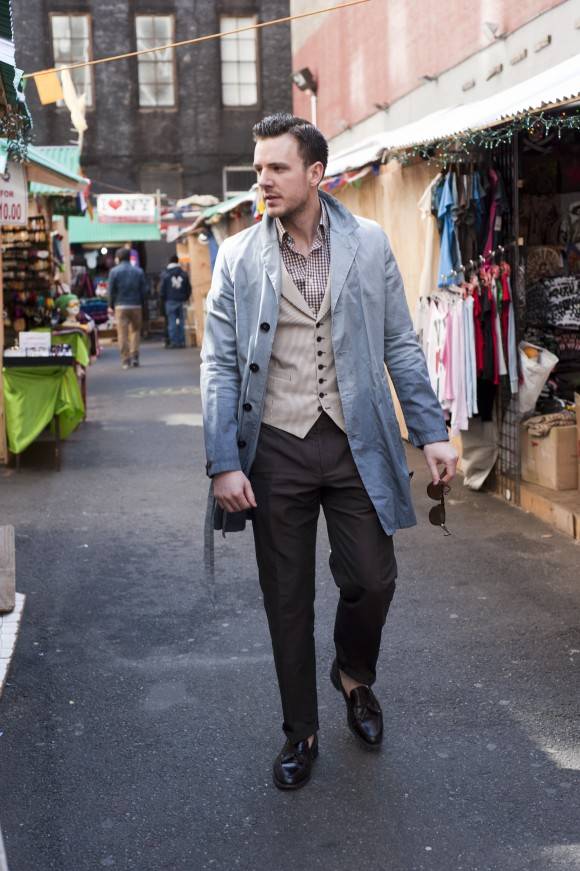 Burberry Prorsum lightweight cotton trench (purchase on eBay for $250, retail $1,200). Pants are also from a Hugo Boss suit I bought new on eBay for roughly $200, then had tailored.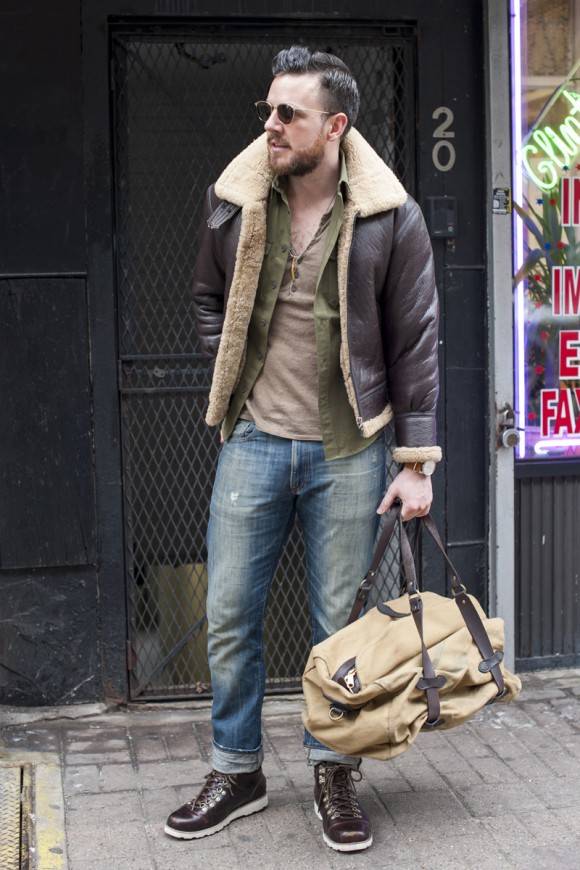 Vintage Shearling B3 Bomber Jacket (purchased on eBay for $200, not available in stores)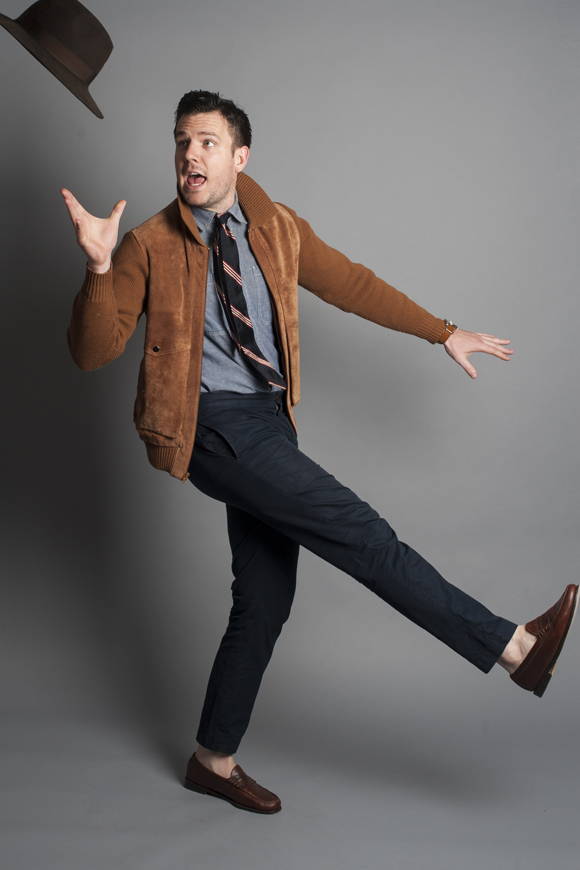 Vintage suede & knit sweater/bomber jacket (no brand, purchased on eBay for $15.99). Vintage tie was also purchased on eBay for $0.99!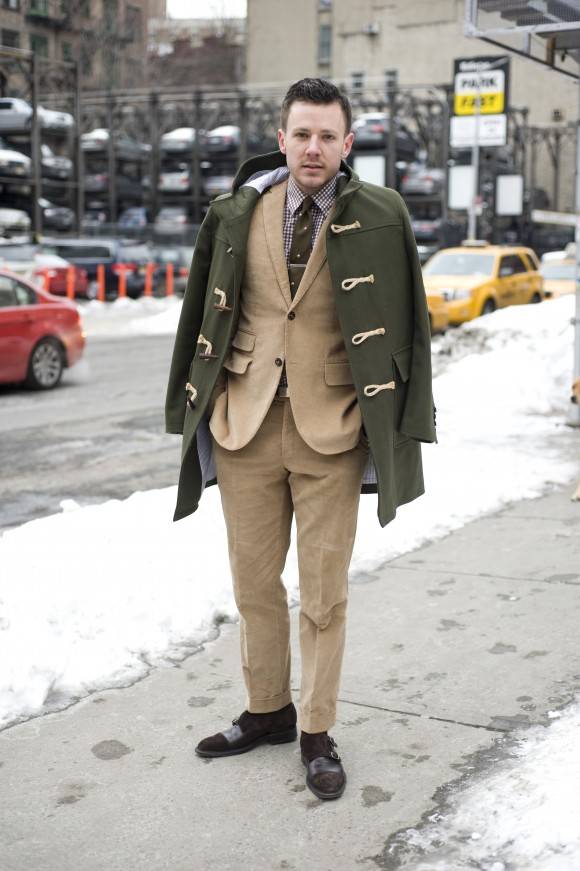 Olive wool toggle coat by Club Monaco (purchased on eBay for $85, retail $350)
Got any eBay buying tips from your experience? Please share in the comments below! 
I hope this helps you save some money, or at least invest in some higher quality menswear. Our next post dedicated to eBay will be how to sell menswear and make money while trading-up your wardrobe.
Thanks, as always, for reading.
Yours in style,
Dan