Every garment here at AOS is designed to help you build a versatile wardrobe.
The "1 Piece/X Ways" series shows you how to style the same garment in multiple different ways—so you can expand your style and get the most out of your wardrobe. The added benefit is, by using the same items more often, you are helping save the planet by cutting down on your consumption. Read more about how to shop more sustainably.
In this edition, we show you 6 ways to wear our Seersucker Suit in Black. 
---
Seersucker was popularized by the British and Americans in the 18th and 19th centuries for those classically hot summer days when it was too sweaty to wear traditional (wool) tailoring.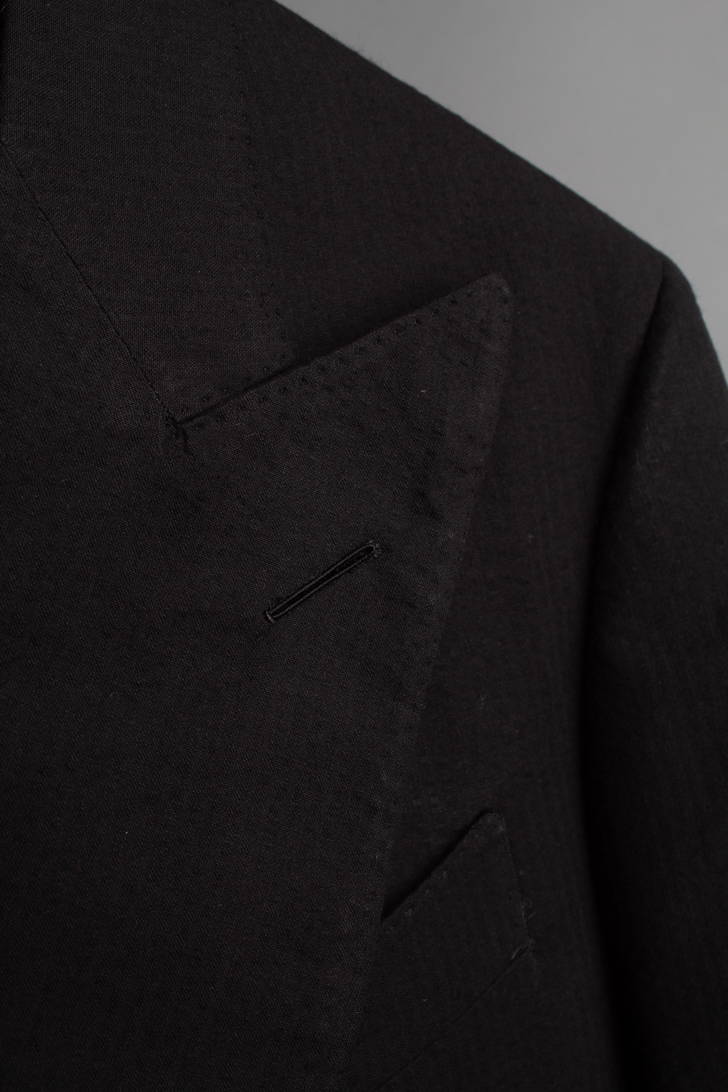 The fabric is typically composed of 100% cotton and has a "puckered" or "crinkled" texture due to the unique way it's constructed; by pulling some warp yarns tighter than others.
This effect not only makes the fabric appear casual and leisurely, but it also gives it a dry hand (doesn't stick to the skin) to keep you cool. 
Classic seersucker is typically "striped"; composed of alternating stripes in white and a light color (like blue or red).  Some guys shy away from the striped seersucker, because it can feel too "dandy" or "old school". 
That's why we love it in solid black (and solid navy). It's like the younger, sexier cousin of your grandpa's old seersucker. It still has all the qualities we love about classic seersucker (lightweight, textured, breathable) but it's more versatile - allowing you to wear it during the evening, style it more easily as separates and even wear it longer into the Spring and Fall seasons.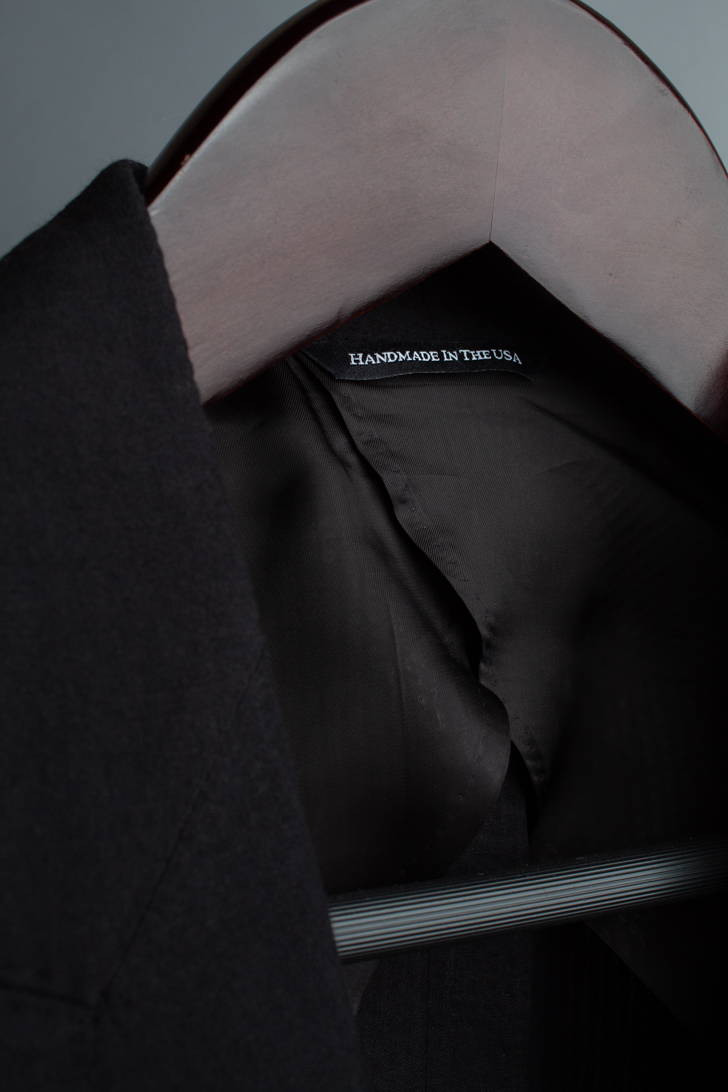 Handmade. In the USA. The most important tag in the game!!
And now, 6 ways to wear this beauty: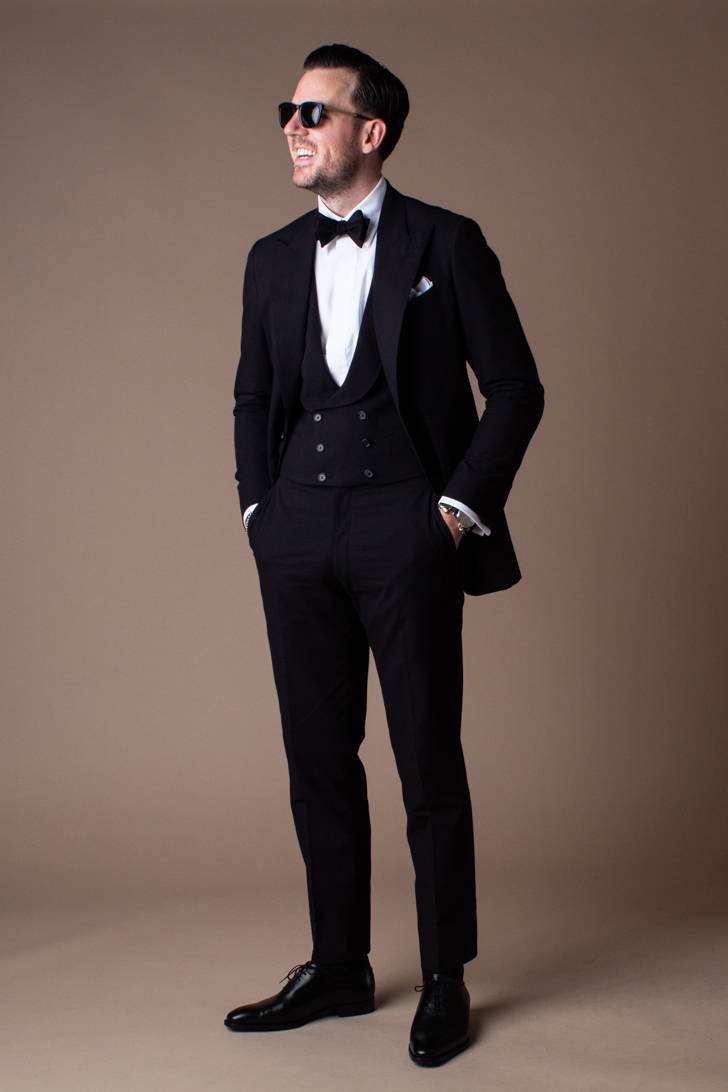 I often advise clients to think about getting a suit that can double as a formal garment rather than jumping straight to a tuxedo. When a fabric is this beautiful, simply adding a white shirt, a black bowtie, and (freshly shined) black shoes can make a killer look. It's not traditional, of course, but formal attire is becoming more adventurous. Plus, think about how much more you will get out of the suit than a tuxedo.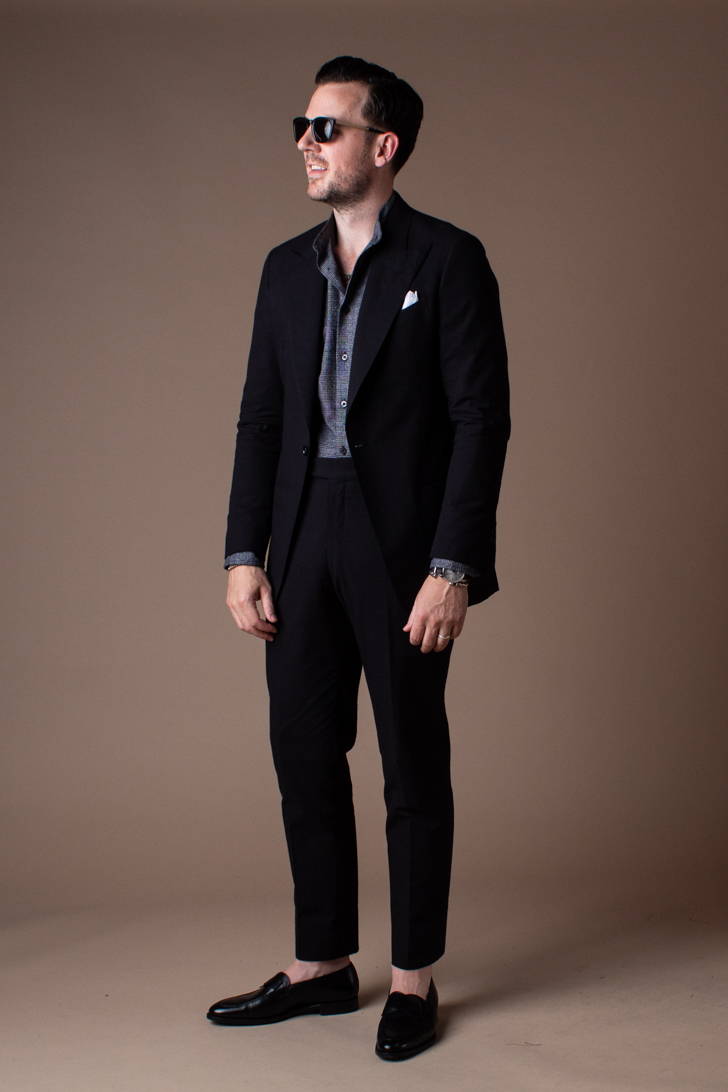 This Summer is about to be a PARTY.
With the population finally vaccinated, and the warm summer air keeping you out for hours past sundown, you'll definitely want to use this suit for those nocturnal outings.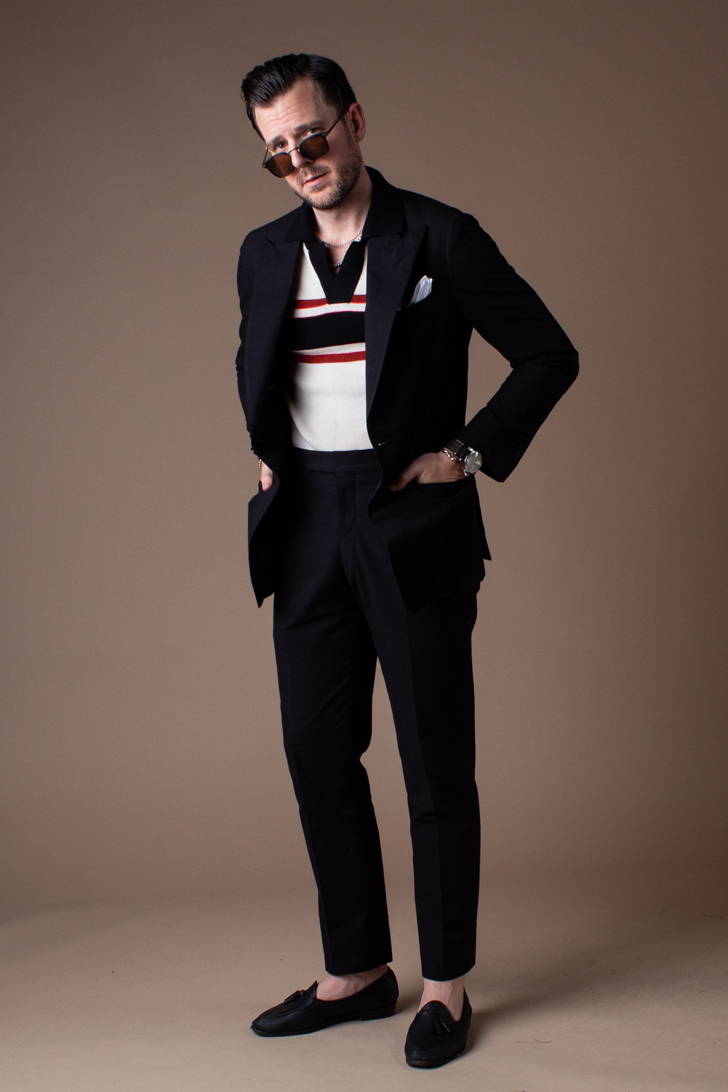 Black can be a strong frame for a statement shirt, like a vintage polo. Super easy to take this out for a spin - day, night, even day to night.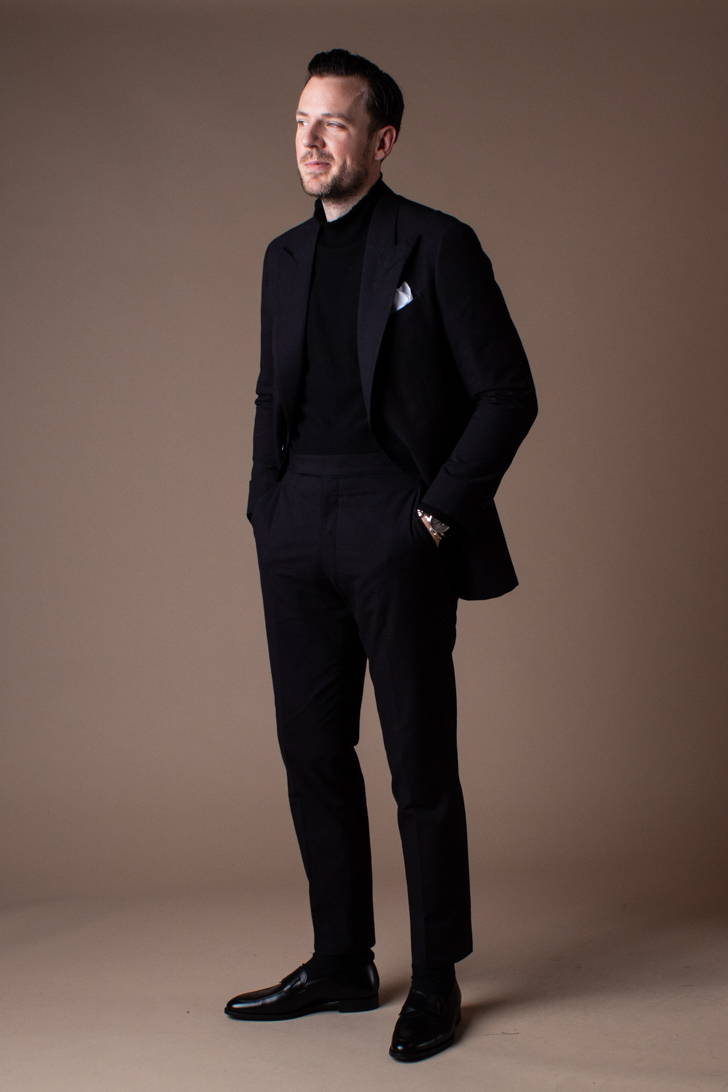 Sometimes one color is all you need.
This is one easy way to extend the season of your seersucker: pair it with a cashmere sweater. In all-black this is very elegant, and perfect for an evening out. Could even pass as semi-formal.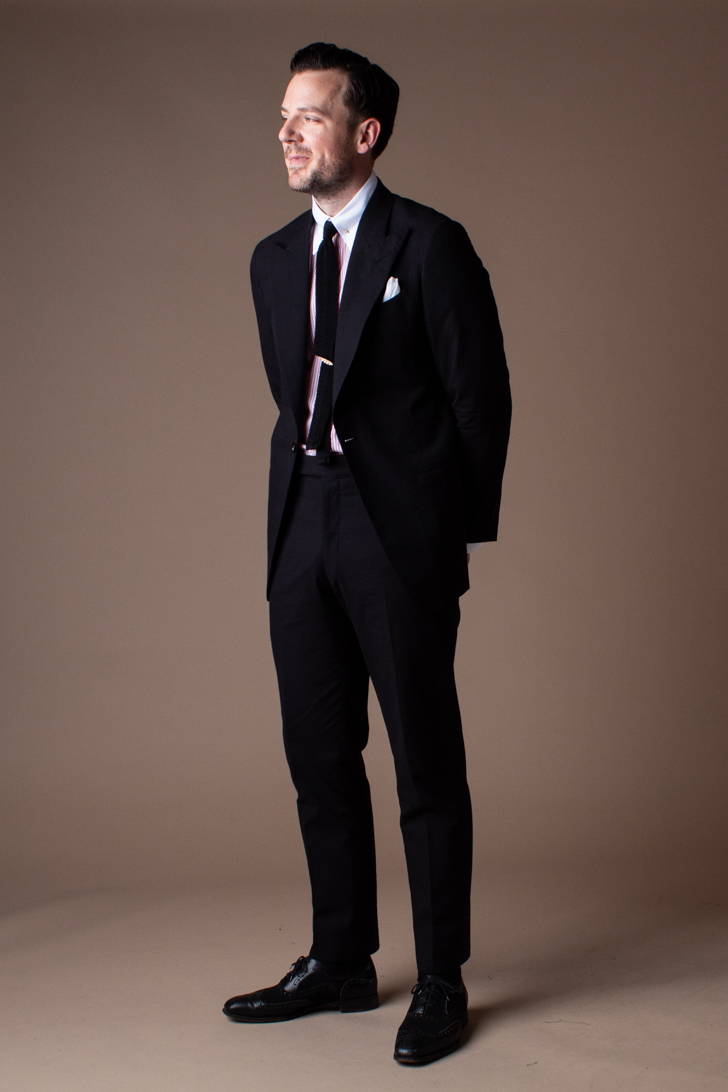 Reservoir dogs, with a twist.
Old school, retro, classic...but also modern.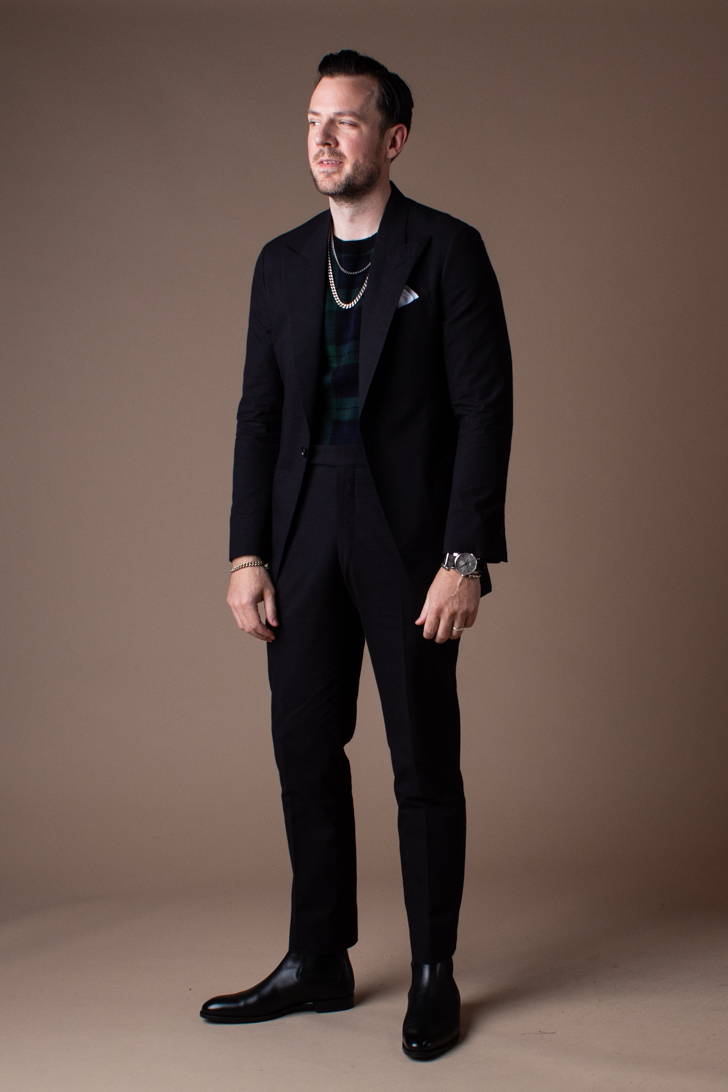 Here's another example of a simple look (suit + crewneck) that straddles the line between "casual" and "formal" - which means you can wear it almost anywhere.  
This is also another example of extending the season for seersucker. I wear this suit for warmer days deep into Fall, no problem. It's perfectly appropriate for the climate, and in all black, nobody would dare call me out for wearing seersucker after the Summer.
I never wear jeans in the summer. 
Jeans are heavy and best for the Fall and Winter. 
Instead, I wear my seersucker trousers. With just about everything. Thank me later.
---
Here's some suggestions to build a capsule wardrobe around the black seersucker suit: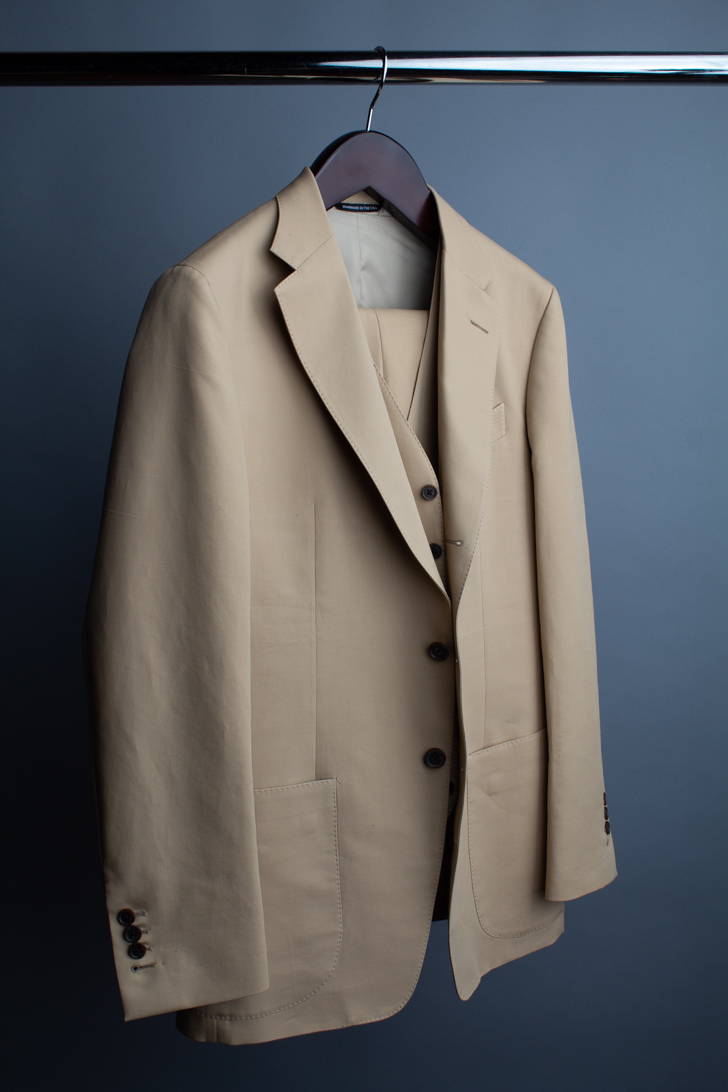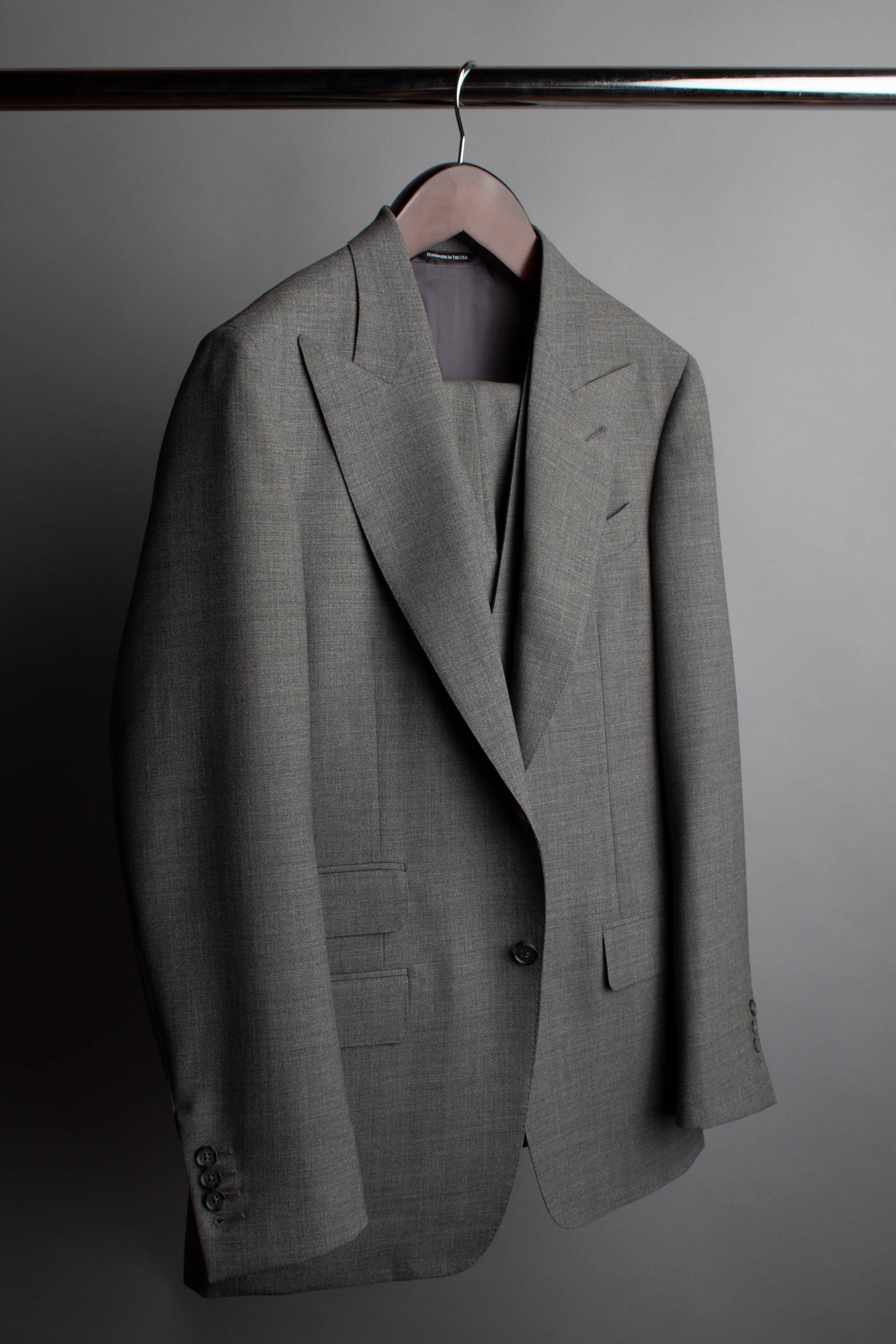 Above: two suits that would be "perfect pairings" for the black seersucker (meaning all the pieces - jackets, trousers and vests - can be mixed-and-matched to create many different outfits). 
The Cotton Suit is an American menswear staple, perfect for the Spring, Summer, and parts of the Fall. When it comes to comfort, versatility, and laid-back style, it doesn't get much better than this. Suggested in Cream color, with the black seersucker.
Our Fresco Suit is a great summer choice for those who like the traditional feel of wool. Fresco is a lightweight fabric made from tropical wool with a porous weave designed for maximum air circulation.  They are also known to be naturally wrinkle-resistant due to their crisp fibers and open weave. If you're worried about getting hot but don't want the crinkle of linen, go with fresco. It won't make you sweat, it won't wrinkle on you, and it will be ready to go anytime day or night. Suggested in Gray color, with the black seersucker.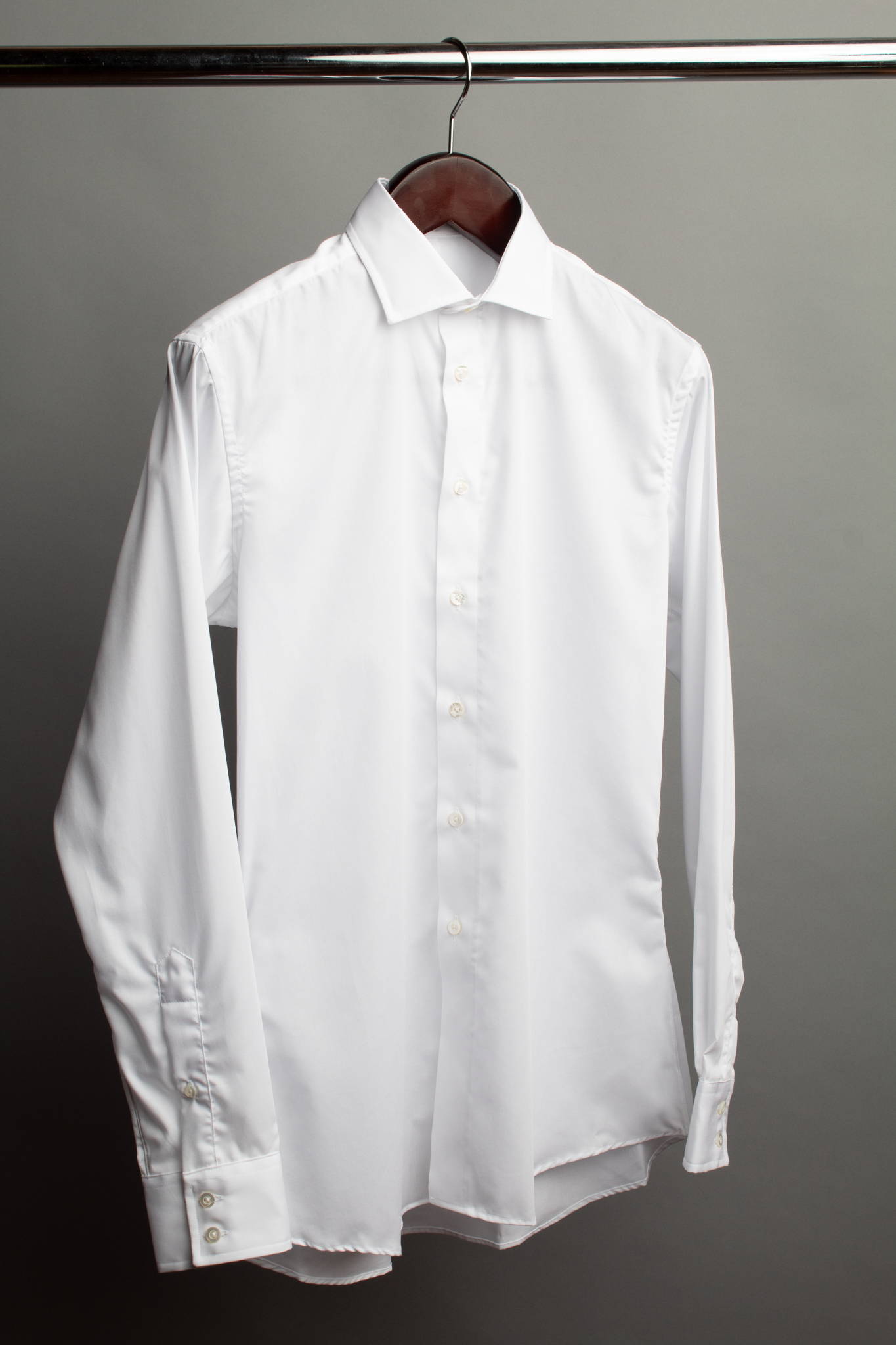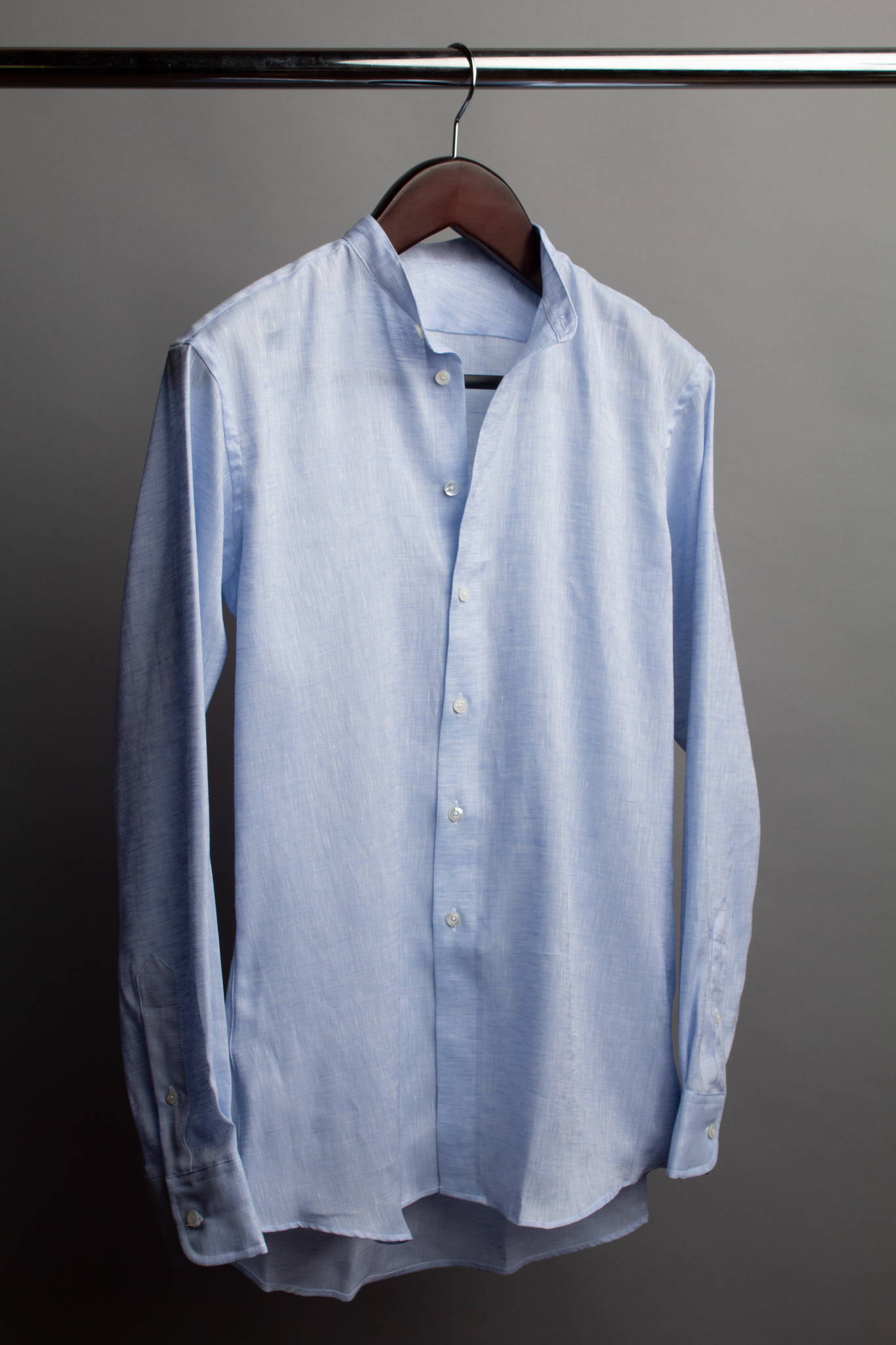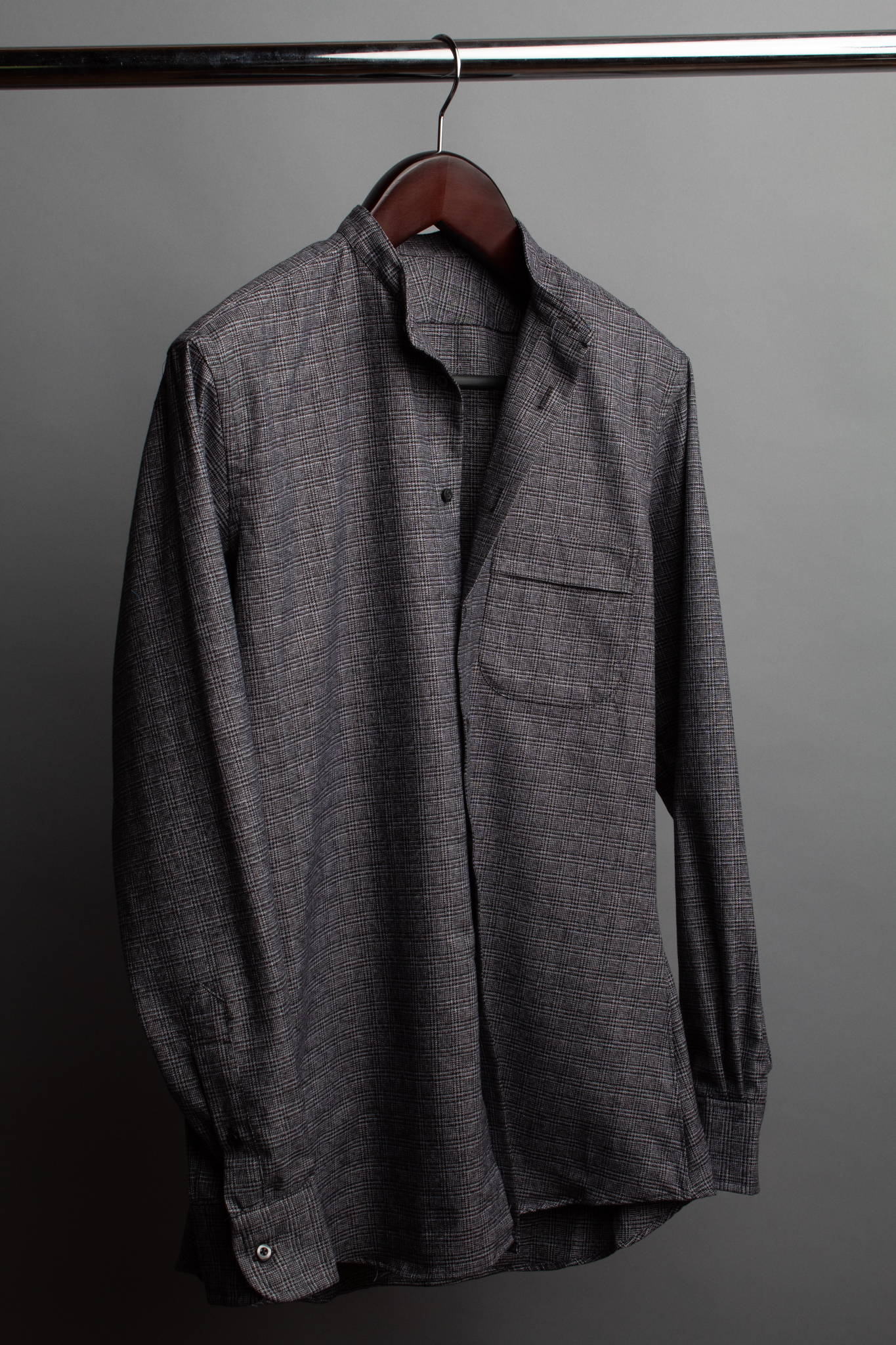 And here are three shirt suggestions for the black seersucker suit (which also work with the cream cotton and gray fresco):
Our Action Stretch Shirt in White is wrinkle-free, made of cotton (96%) and elastic (4%), designed for maximum range of motion and minimal wrinkling. If you're looking for a shirt that you can feel totally unrestricted in, this is an excellent choice. It's like a traditional suiting shirt, but with the extra mobility and comfort for the summer season.
Next up, our Linen Shirt in Blue. There's nothing more stylish, charming, and comfortable than a pure linen shirt in the Spring and Summer months. This premium pure linen fabric is milled in Italy and is a dream to wear when the sun is shining. Dress it up, dress it down, pair it with virtually anything from your lightweight wardrobe
Finally, our Glenplaid Twill Shirt in Charcoal gives you textured full-body cotton rendered into a monochromatic glenplaid pattern. This fabric has a strong hand and an unusual amount of depth because it incorporates yarns in many different shades of the same color. 
These are just a few ideas to get your imagination flowing. It's time to rethink your wardrobe - and re-think what you know about the classic seersucker suit. 
Thanks, as always, for reading.
Yours in style,
Dan Trepanier