Ethan Wong (aka the teenage gentleman) is a blast from the past. The nineteen year old accounting student (who is about to graduate from college two years early) has a burning passion for menswear from the 1920s-1950 and wears head-to-toe vintage down to the most accurately researched detail.
"Although I do experiment with more modern menswear, I would say my favorite style is one of a typical man (not necessarily a Hollywood actor or anything) from the 1930s-1940s. It's very dapper and stylish, but nothing too crazy.
So how does a nineteen year old student get into 1930's period tailoring? As his inspirations he names a number of early experiences including dressing up for church, watching old Looney Tunes cartoons, and joining a Facebook group comprised of die-hard vintage enthusiasts, traders, and dealers operating throughout Southern California.
Here, Ethan shows us some of his favorite vintage finds and shares with us how he got into accurately wearing menswear from almost a hundred years ago.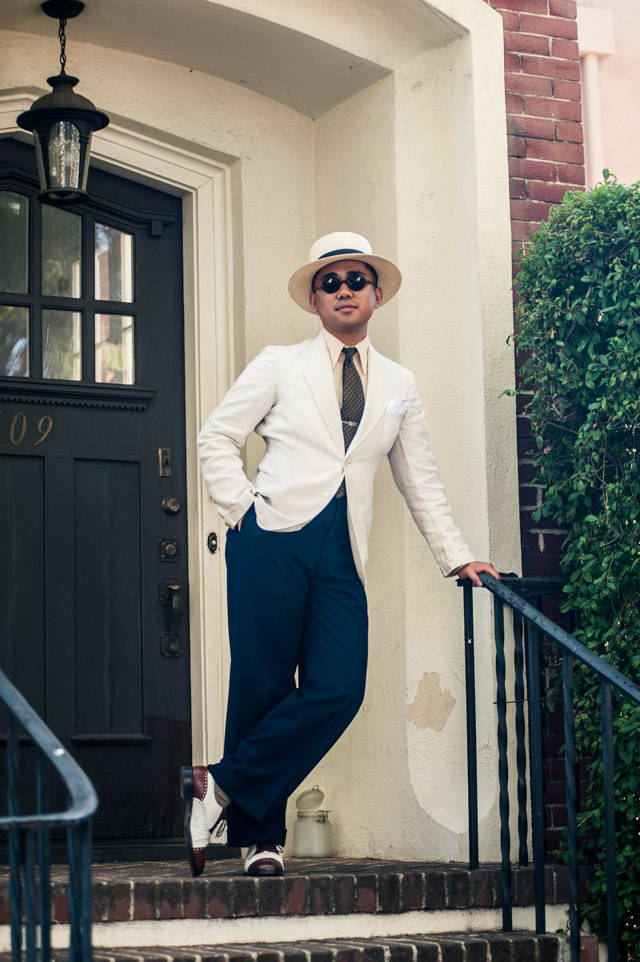 "As a Christian, dressing up was second nature to my family; it was necessary to wear a suit to church. I think I really fell in love with classic menswear from watching old cartoons. I remember seeing those old Looney Tunes films with gangsters wearing double-breasted suits and fedoras… Then I started getting into old films like Casablanca and Shirley temple films…. Even the way they talked, the extinct Trans-Atlantic accent used by newsreporters and actors - it was like music to my ears. 
For a while, I tried my hardest to emulate the look, but to no avail. I tried using modern tailored clothes to emulate the vintage styles, but something was wrong; it didn't feel accurate. Modern clothes just didn't give me the look I wanted. It wasn't until I attended "Dapper Day" at Disney Land that I was introduced to this whole new world of vintage enthusiasts. I met a men wearing a gorgeous double-breasted windowpane suit. I figured it was custom made, but he told me it was a 1940's suit that he bought at a thrift store! As I got to know him better, he revealed to me that there was a whole community in Southern California that is dedicated to all things vintage. 
Soon I immersed myself within the community, meeting many people who wore true vintage items almost everyday. Asa a new member of the group, and the youngest, I strived to learn as much as I could [Ethan has always been a 4.0 student, hence why he's graduating college at the age of 19]. I studied closely what made the look of each era accurate. The early 20's is very sleek and slim, the 30's has wider legs and tapered jackets, and the 40s-50s got more pleats, more fullness, and a much larger gorge."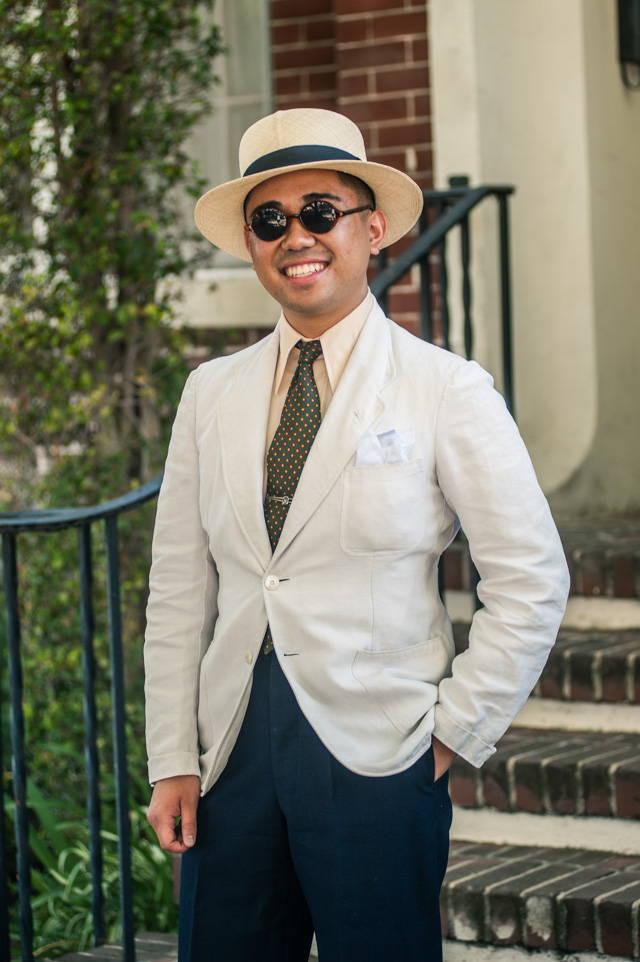 "Here, I'm wearing a vintage off-white linen jacket with a bi-swing, belted back from the 1930s. This design offers a great deal of flexibility and mobility...you can swing dance in it, or even comfortably swing a golf club. The shirt is a light peach spearpoint (the long Goodfellas collar) - it's from the 70's but it can pass. The trousers are from a 1940's navy suit. Sunglasses are 1940's and the shoes are 1980's Stacy Adam spectators. (Good quality 1930s-40s shoes are hard to come by and my 1930's spectators aren't in the best condition)."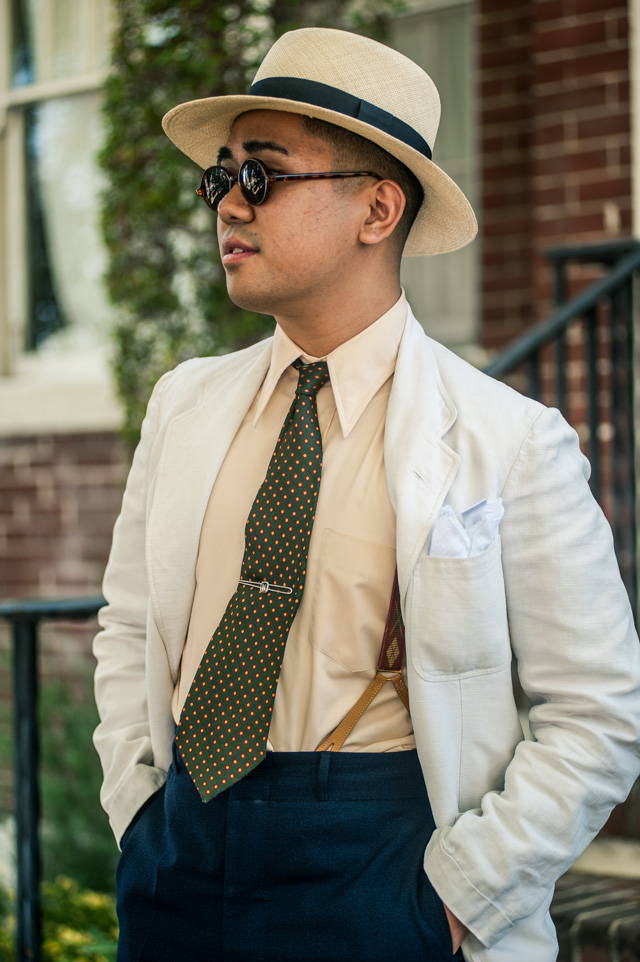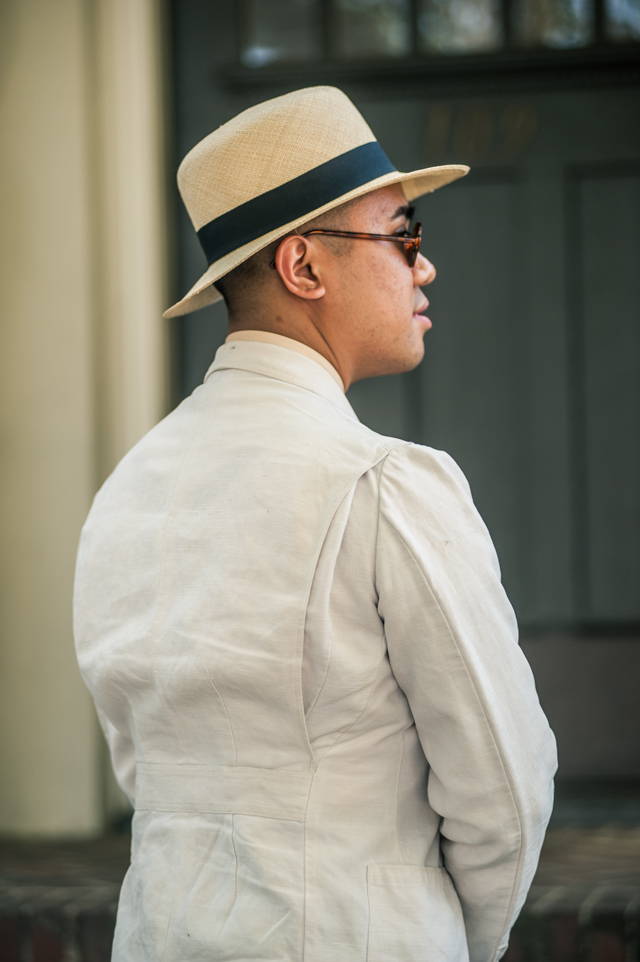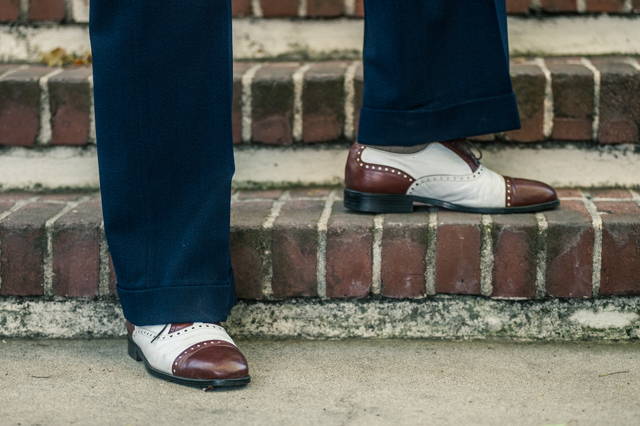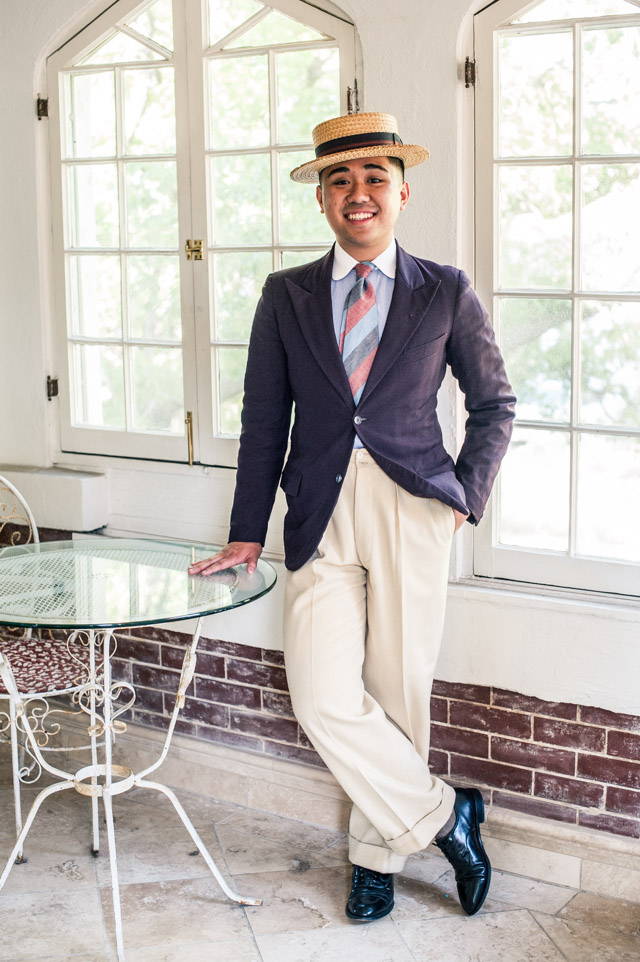 "To find vintage, I mainly stick to purchasing within the community.  Many of these sellers go on purchasing trips throughout the United States, attend estate sales, or simply get lucky at thrift stores and resell things that don't fit them to the members of the community first before throwing them up on eBay (another great place to search for vintage).  There are different community meet-ups where a few vendors will attend to sell and trade pieces from their personal collections.  Two guys in the community even went to an auction where all the pieces were from the archives of golden-age movie studios!  I have one jacket from the 1940's that has a Paramount Studios label on it.
Most of my vintage stuff is all different sizes (according to the labels). I usually disregard the tag size and try it on, knowing that it will probably have to be tailored. Because fit is so important to pulling off the vintage look, almost everything I have is tailored after I buy it.  I've had to sacrifice many cuffs from the pants because they were too short..."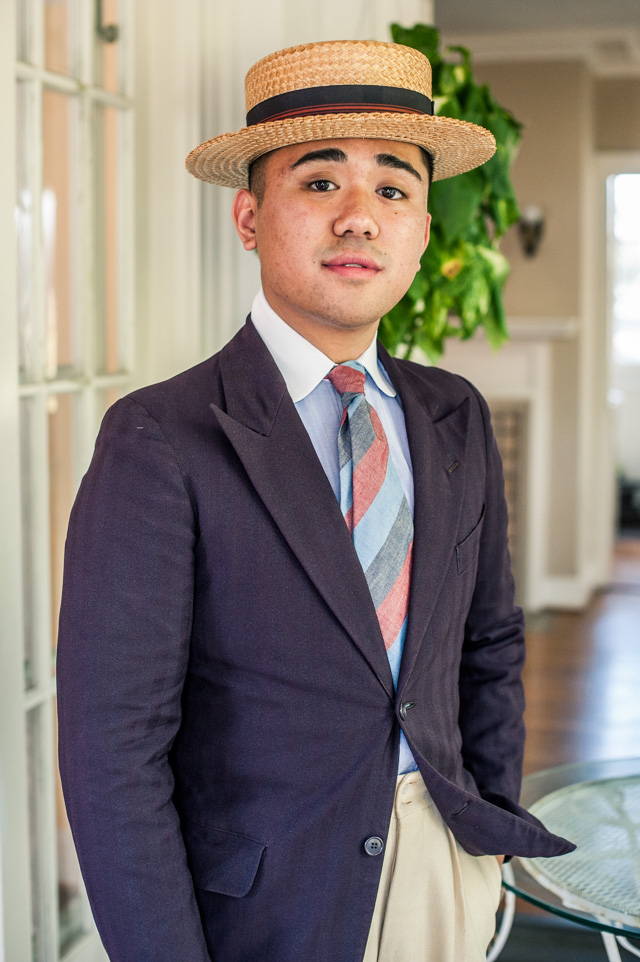 "The purple herringbone wool jacket is from the 1920's (which you can tell from the upturned peak lapels, but also more so from the internal labeling). The contrast collar shirt is actually a more modern piece by Ralph Lauren.  The cream flannel trousers and vintage captoe shoes are from the 1940's. The Palm Beach fabric striped tie is a 1930s pieces, and I'm not quite sure the era of the vintage boater (I have been told it is from the 1950s, as many 1920's boaters have not survived or are extremely expensive)."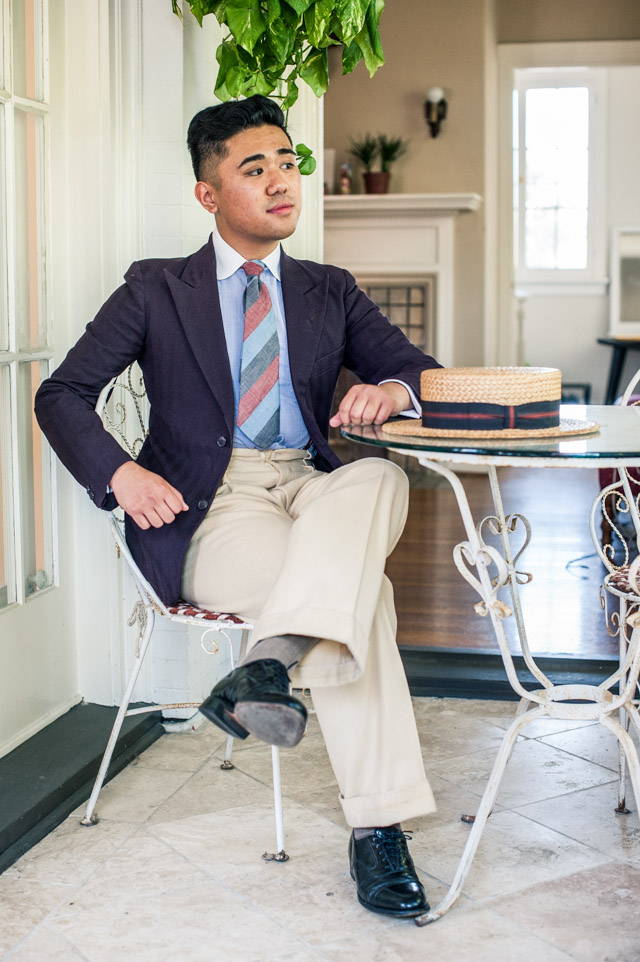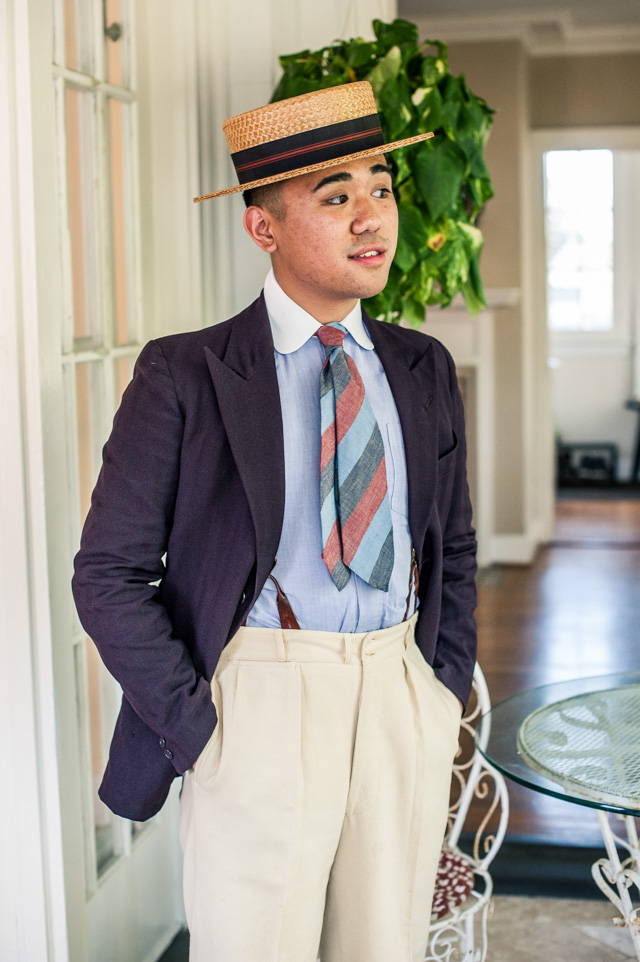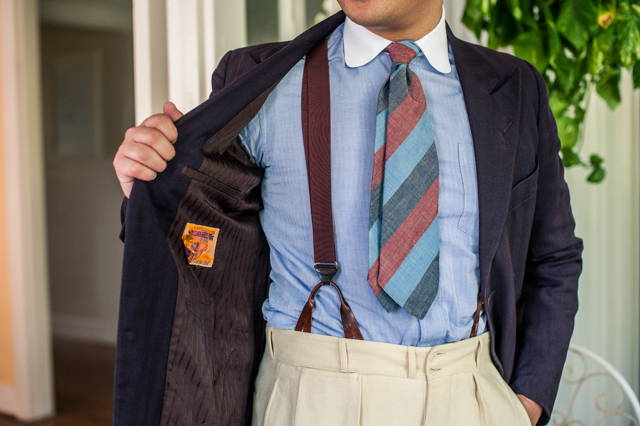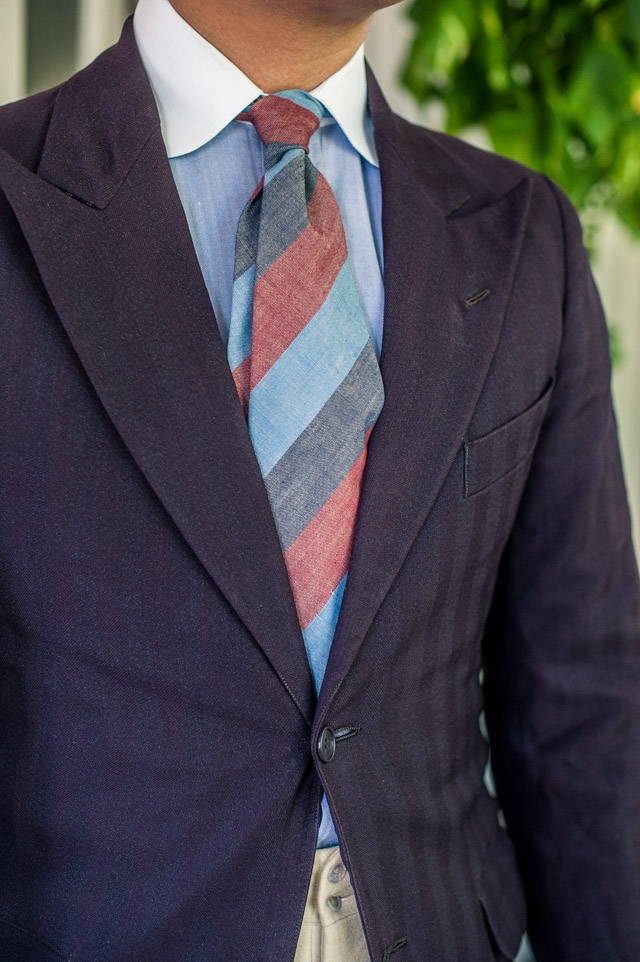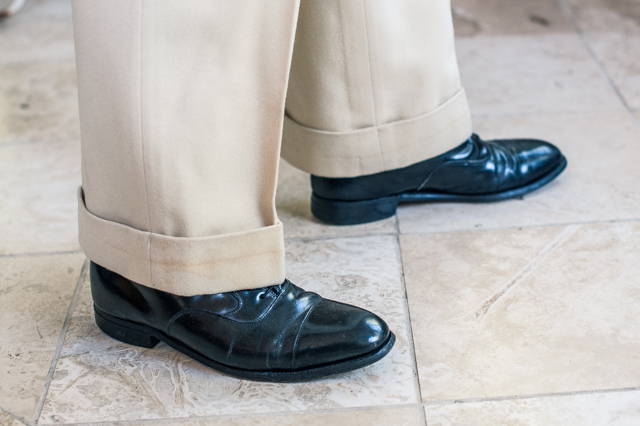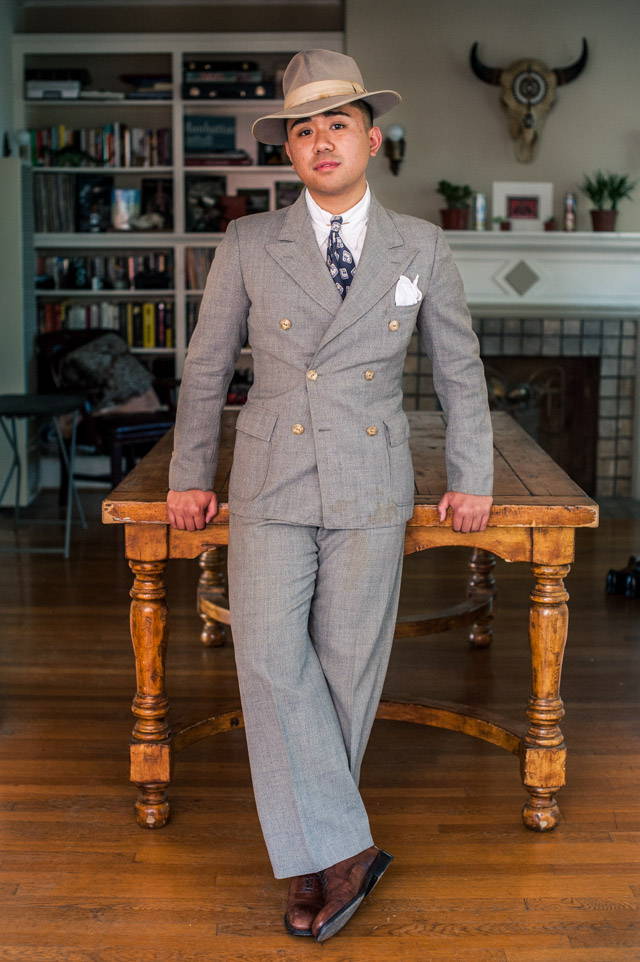 As Ethan was explaining to Alex and I, it's nearly impossible to find pre-worn vintage items in perfect condition - but that doesn't bother him. For many vintage collectors and period dressers like Ethan, fit and historical accuracy are much more important than pristine condition. A little stain here or there, or even a minimal tear, only adds to the mystery and character of the clothes.
"I also find the cut of vintage trousers to be more flattering for me body type [Ethan is about 5'8", 160 lbs]. High-waisted trousers really accentuate and lengthen the legs. When combined with a light break, it can give you a whole new silhouette and physique. Additionally, I find that suspenders look a little 'too stretched out' when worn with modern low-rise pants."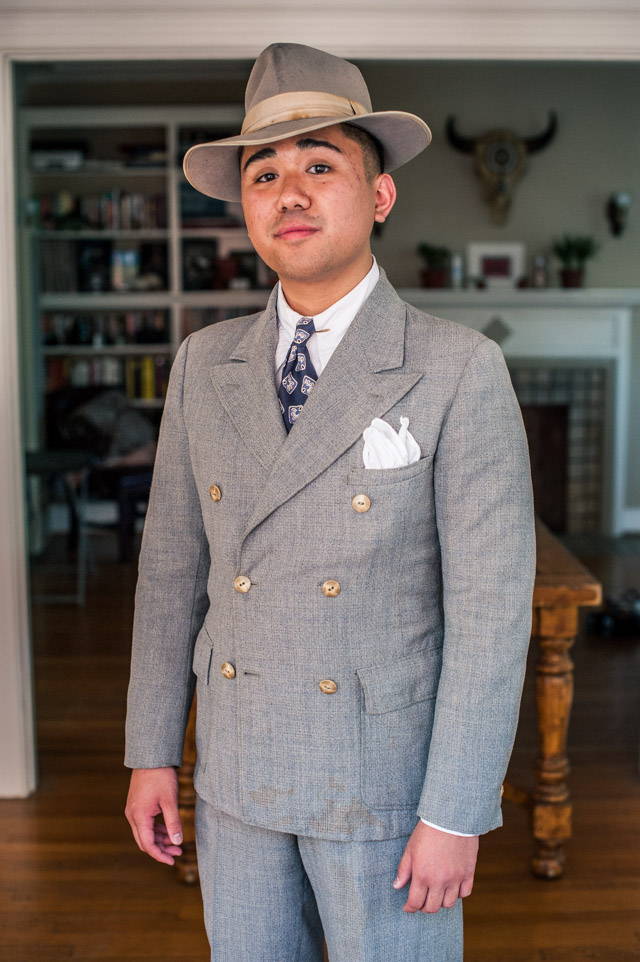 "Here I'm wearing a British double-breasted summer suit from the 1930's. It's a children's suit (or "teenager's suit" as it reads on the label), which has been one of my secrets. Clothes cut for younger people from past eras are usually cheaper and the cuts are usually more appropriate for my size. This jacket also has a belted and vented back - one of those rare functional details that you don't see often on modern jackets because of its difficulty to properly manufacture."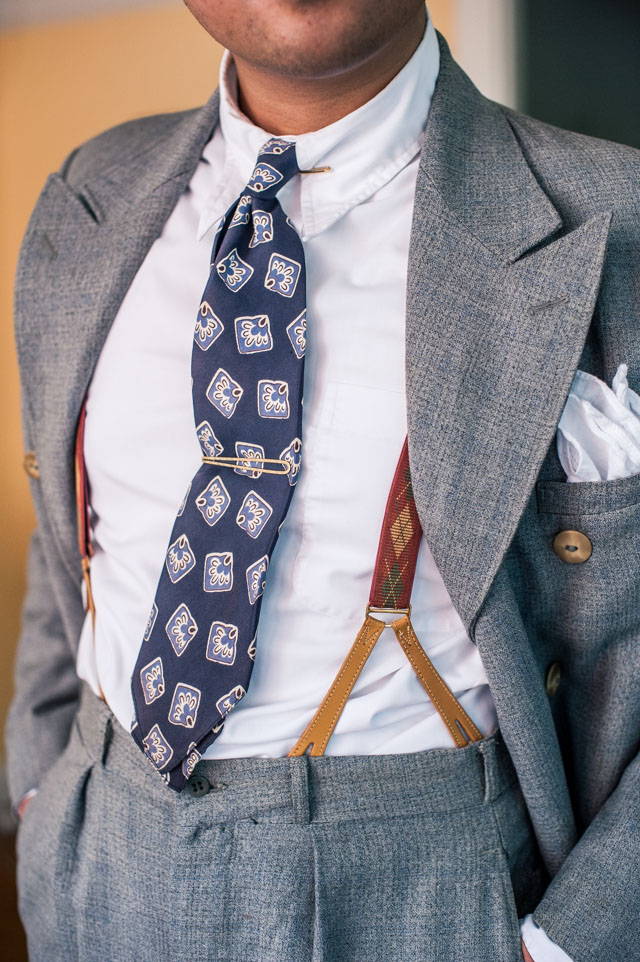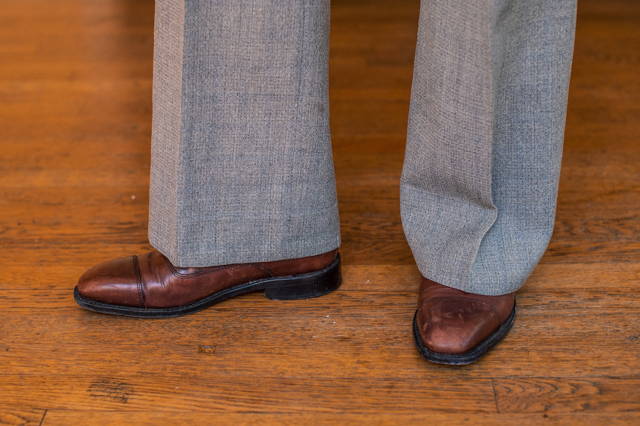 Thanks, as always, for reading and special thanks to Ethan for participating!
Yours in style,
Dan