One of our favorite menswear presentations from this past NY Fashion week was a collection of prohibition-era-inspired tailoring by HVRMINN (pronouced Hur-Minn).
"It's actually my full name. My heritage is Korean, and in Korea your first name becomes your last name. So my name in America is Minn Hur, but in Korea I'm called Hur Minn. [For the brand name] I just changed the "U" into a Latin "V" to show my appreciation for the classics."
Shortly after graduating from the Parsons school of design in NYC, HVRMINN was born as a sartorial made-to-measure brand produced in Martin Greenfield's legendary Brooklyn workshop. Two years later, Minn expanded the brand by adding a ready-to-wear label under the name EPONYMOVS by HVRMINN, and man does it look awesome! On the side of managing his made-to-measure clientele and a full ready-to-wear line, he is also the creative director of the militaristic outerwear line VIETTO NYC. Needless to say, Minn is a very busy and hard-working designer.
What I love most about HVRMINN's designs is that they all clearly derive from his personal style and the aesthetic of his favorite time period.
"[My primary inspiration is] 1920s and 1930s American menswear. I've always romanticized the Jazz Age era, when suits were everyday wear. There was no concept of 'casual attire' with jeans. Everyone wore tailored garments; a three-piece suit with a fedora and a walking cane, stuff like that. [It was a time when] people cared about class and culture... My collections are more about reviving the true American classics and highlighting the elegance of man, rather than dandy-ness."
We caught up with the softspoken prohibition-gangster-looking menswear designer in NYC to give you a taste of his personal style (which, in my opinion, is among the best we've ever featured).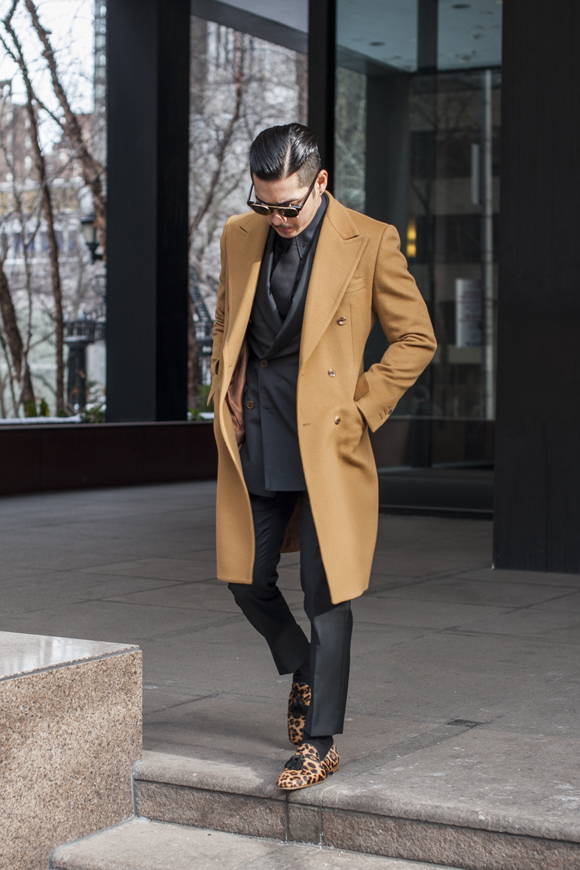 It's one thing that Minn has already perfected the "slim but not tight, with a little drape" fit that reckons back to the classic gentleman era. But then he puts together a lethally sharp camel & black color palette and finishes off the look with some unexpectedly modern touches (such as the black/gold chunky frames, the geometric rings, and those crazy leopard loafers).
On a side note, camel and black is one of the sharpest color combos a man can wear. Daytime or evening.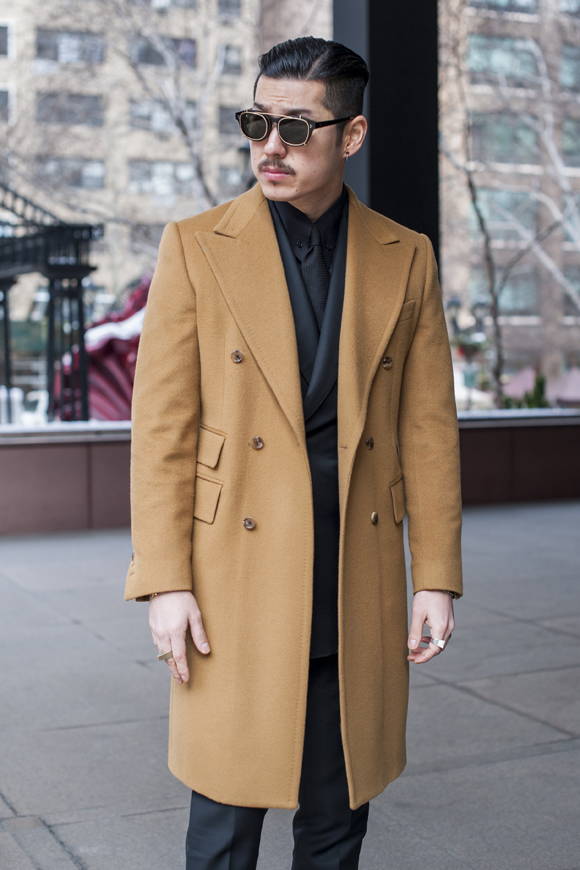 "Large lapels and elongated coat lengths are the key constituents of my clothes to revive and reinterpret the 1930's Jazz Age aesthetic.
I'm not a big fan of wearing too many colors at the same time. For harmonious styling consider the textures, weights, and saturations of the clothes."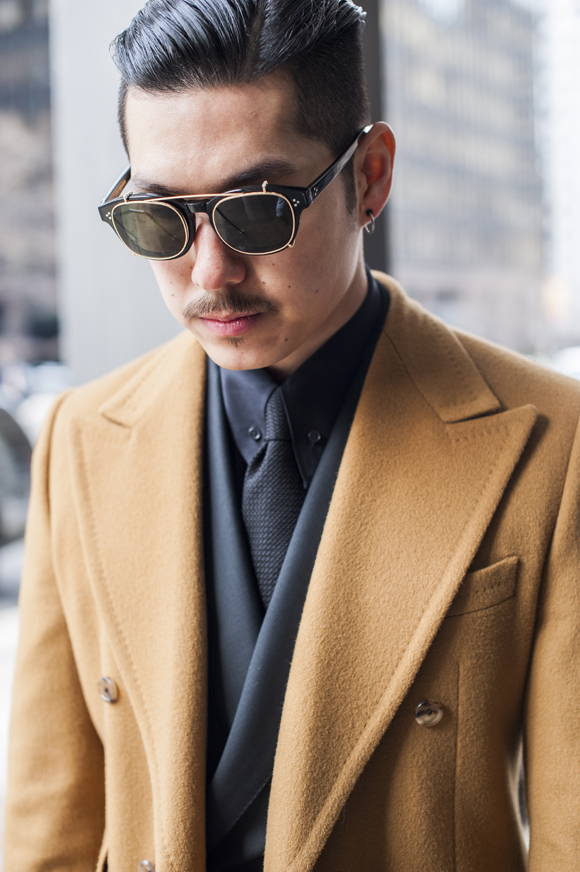 I love that he made this entire look strikingly more modern with the leopard print tassel loafs, all while keeping in the camel/black color story! 
That move is not for beginners.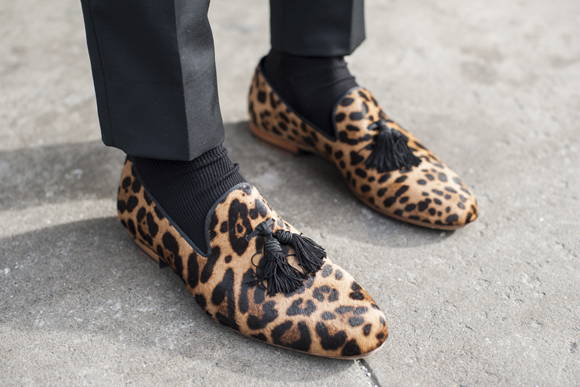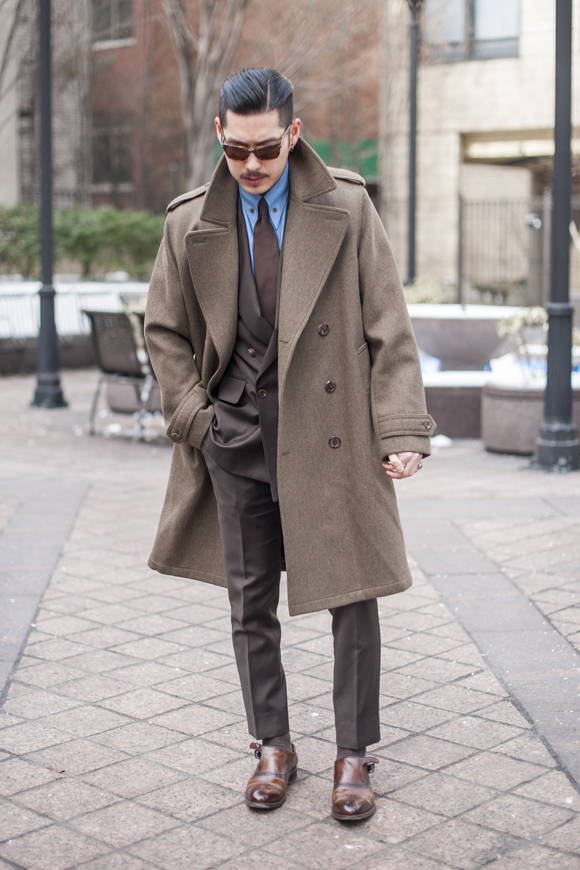 "I design outerwear pieces (like this army inspired wool trench) for Vietto NYC with the aim of providing the 'ultimate masculine aesthetic'. I refine the quality of genuine military uniforms by using high-end fabrics and craftsmanship, while maintaining the authentic details and oversized silhouettes."
One thing that is noticeably consistent across all of HVRMINN's designs is that they are remarkably, and perfectly, minimalist. He acknowledges the subtlety of clothing design and doesn't force the issue. His goal is simply to create beautiful, versatile pieces that will last the test of time.
"My motto is: Less is More."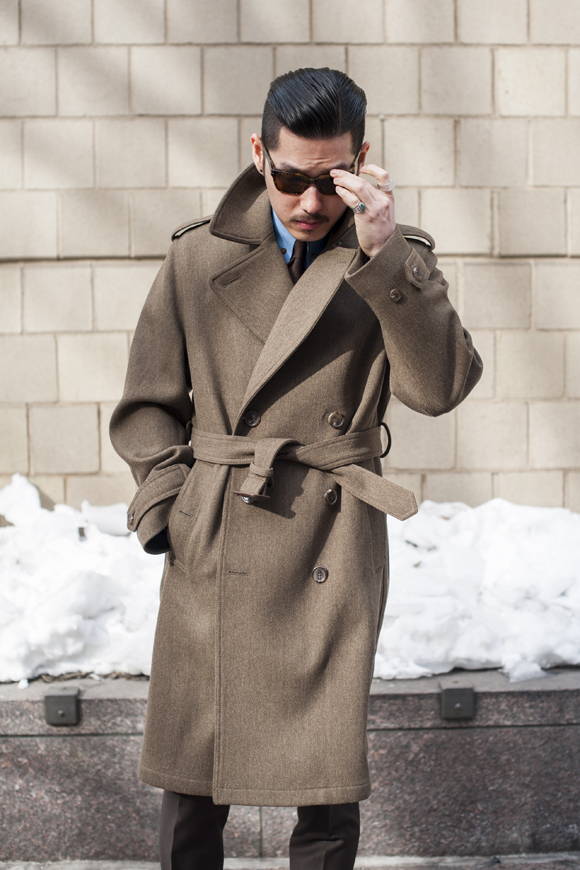 "The denim shirt is by EPONYMOVS. It's our signature shirt that has the buttons in the middle of the collar which function as a collar pin [just another one of those clever details that pays homage to subtly modernizing the best of the old-school]".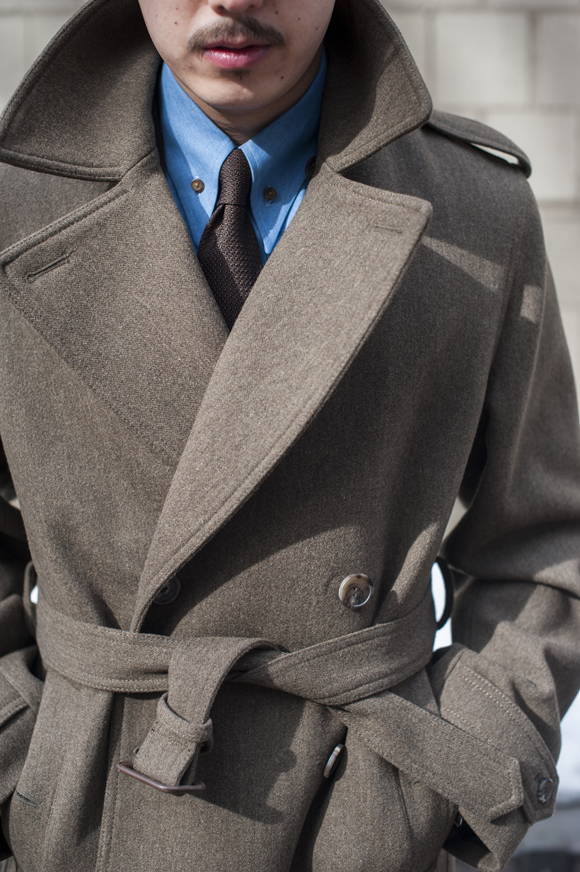 A strong case for the single monkstrap here. He makes these loafers look like a million bucks.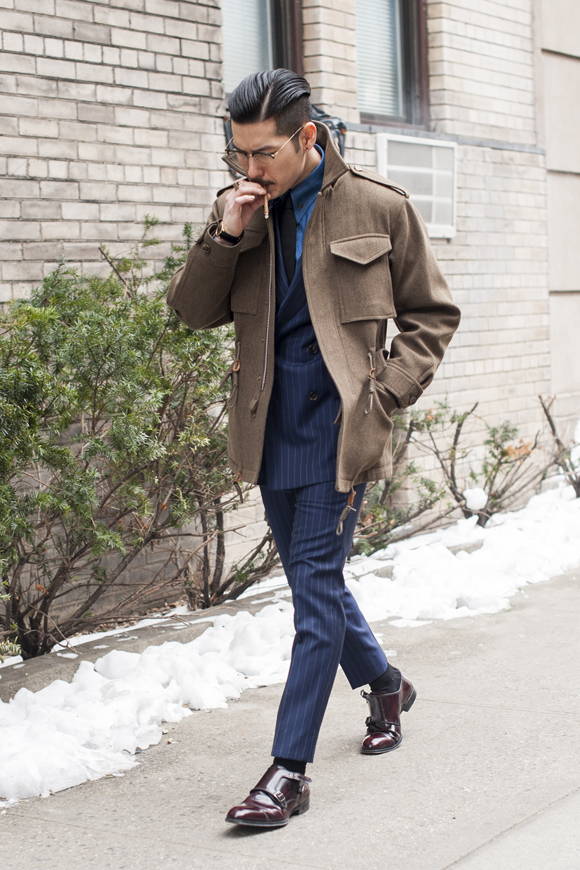 You know you've honed your aesthetic when you can combine two very different pieces (like a handmade double-breasted pinstripe suit and a M51 military field coat) and look this seamlessly put-together.
"Via the two brands EPONYMOVS and Vietto NYC, I aim to find a perfect place to balance aesthetics and practicality."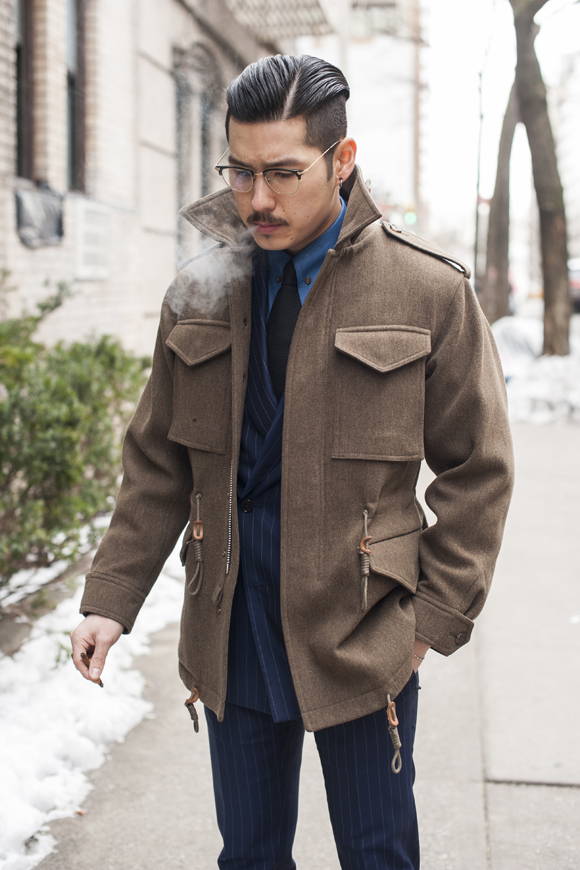 The key to pulling-off a casual coat over a suit is making sure it's long enough to cover the hemline of the jacket. Here, for example, the M51 coat is roughly an inch longer than his pinstripe suit jacket - which I would bet was carefully planned from the early design stages.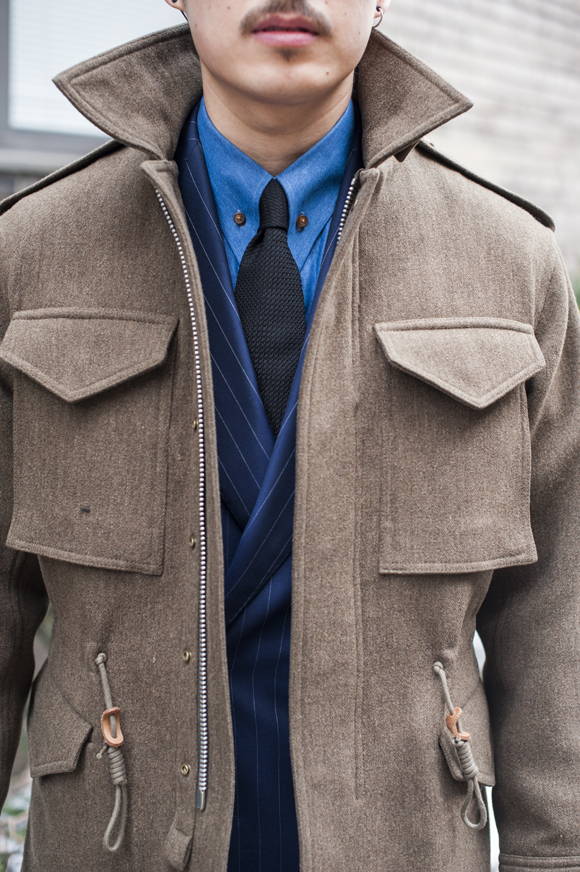 Finally, take one last tip from a true military-inspired gentleman: always keep your shoes freshly shined.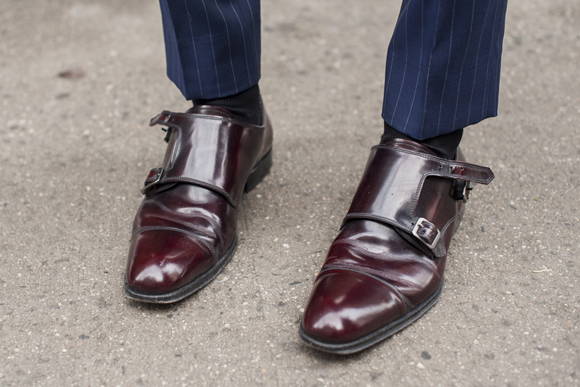 Thanks, as always, for reading and special thanks to HVRMINN for participating! You can keep up with HVRMINN by checking out his blog/inspiration board at www.newamsterdamboys.com.
Yours in style,
Dan