If you keep up with menswear blogs, chances are you've come across Put This On.  Founder Jesse Thorn is considered an expert in many things, including scoring big discounts on quality menswear and foreseeing the next wave(s) of new media. He was one of the first guys in the clothes blogging game (PTO was founded in 2006), as well as the booming world of podcasts, of which he now manages about 20 shows under his network MaximumFun.org.
Jesse understands good content. When it comes to menswear advice, he's less interested in "fashion" and more interested in helping his readers score great deals on garments that are made with integrity. Oftentimes, they even do the searching for you, by way of their intensive eBay round-ups which Jesse still pulls together himself using a list of saved searches that he's been developing for almost a decade.
"Put This On started years ago as a video project. My friend Adam Lisagor and I were hanging out at the dog park a lot, and he's a brilliant filmmaker. I'd always wanted to do something about clothes, but didn't think audio was the medium, and didn't have the production skills to make great video. I pitched it to Adam, and we ended up make a series of six long-ish form videos. I started the blog as a sort of compliment to that, but it immediately took off much more than I ever expected. I think people were (and are) really hungry for an inclusive, fun, smart look at clothes. We're not really a how-to, not really fashion. We try to be practical, thoughtful, and pleasant."
Last week we caught up with Jesse at his recording studio in Los Angeles to learn a little more about his story and take a look at what he puts on.
1. Italian Tailoring for the Low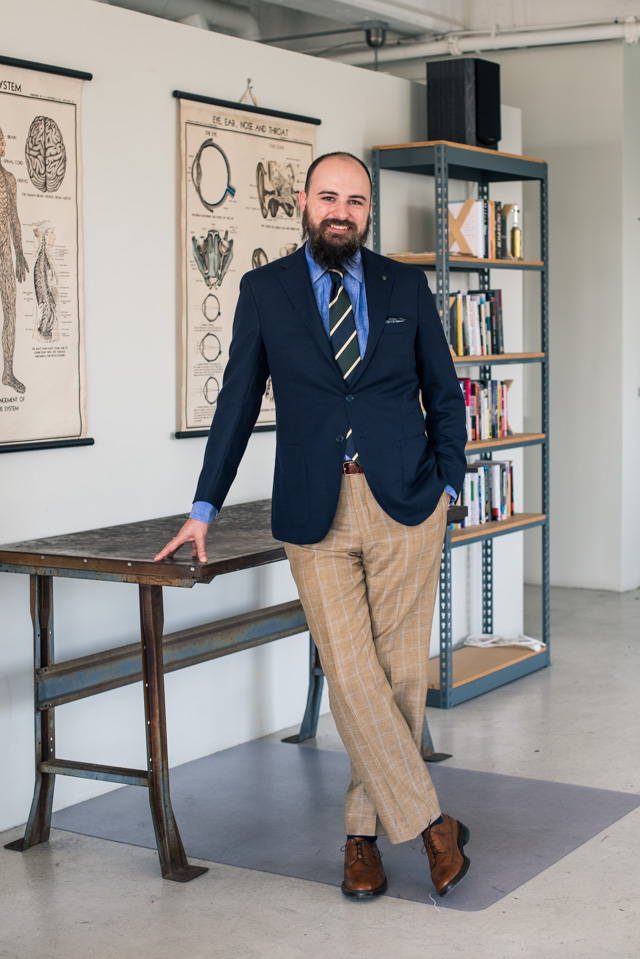 "I grew up in the Mission District of San Francisco. These days it's sort of tech central - Mark Zuckerberg lives there. It was very different when I was a kid. A vibrant, mostly Latino neighborhood. There were rough and scary things about it sometimes, but I would never choose to have grown up anywhere else.
My mother has my first style influence. She has incredible taste in almost anything - she's been at least a part-time antiques dealer for most of her life, she was a weaver, a textile conservator, a college professor, had a store in Washington DC, made clothes for Miles Davis. She's quite literally an intellectual and a very practical person, but she really values the aesthetic and loves clothes."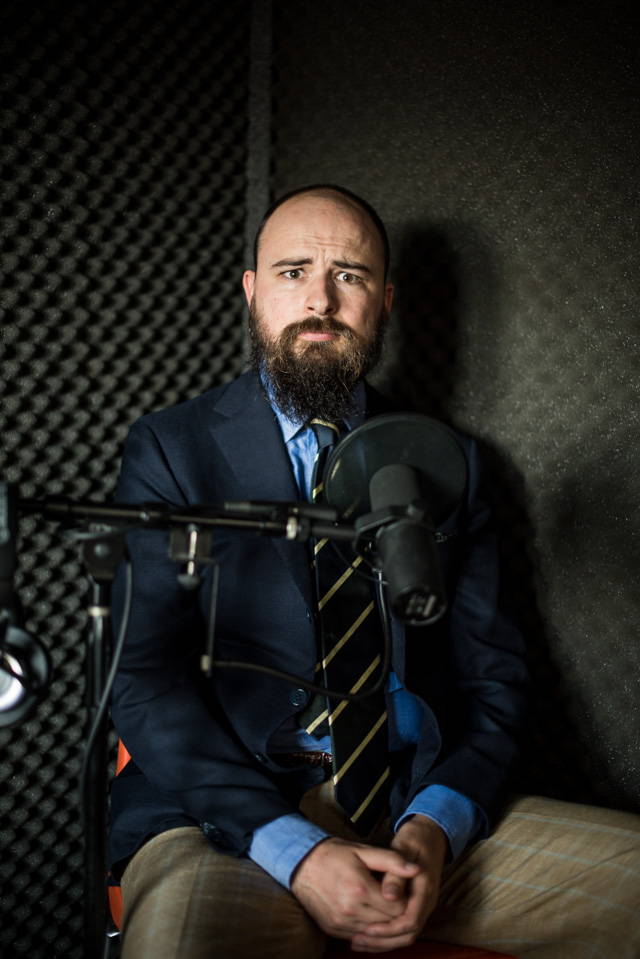 "The navy blazer is Cantarelli - I bought it on eBay for like $40. It's really open-weave wool, with almost no lining, so it works great for LA. The shirt is by my friend Carl Goldberg of CEGO shirts in New York. I started a custom shirt wardrobe when I hosted a TV show and they let me choose how to spend the wardrobe budget. It's a really pretty blue linen with a little bit of white slub in it. I hate summer weather but I live in LA, so I have to deal with owning summer clothes. The pants are also Italian - Satoria Castangia. Bought those second hand, too, maybe $40, and they're very breathable and go well with a lightweight blazer. The belt is an old alligator - I think my mom bought it at an estate sale.
The shoes are Florsheims, pebble-grain, I got them on eBay. Used to be easier to buy those there, they've gotten more expensive. The tie is Drake's, it was a gift from my friend Matt who runs LuxeSwap - I consign a lot of stuff with him (and buy a lot from him, too). The pocket square I grabbed out of our closet full of Put This On pocket squares - it's made of old, probably 50s or 60s bleeding Madras, but in pretty muted colors. And I'm wearing a little scarab in my lapel - a stickpin probably from the Edwardian era or so. I really like stickpins, because I love jewelry but feel silly wearing it. We're about to relaunch our store, and there's going to be a pretty good amount of nice vintage accessories and jewelry. I probably bought the scarab at a vintage show or something."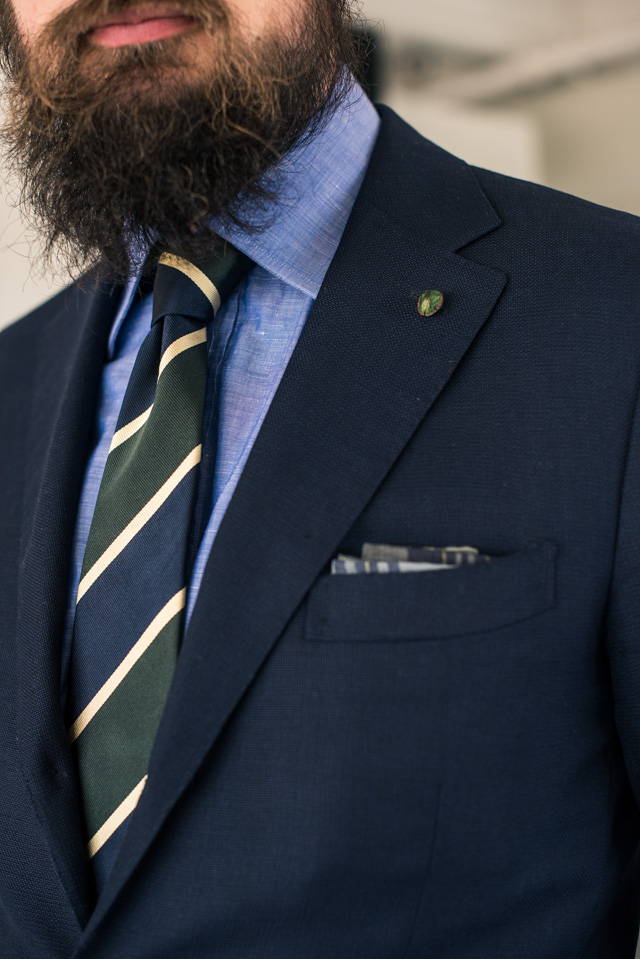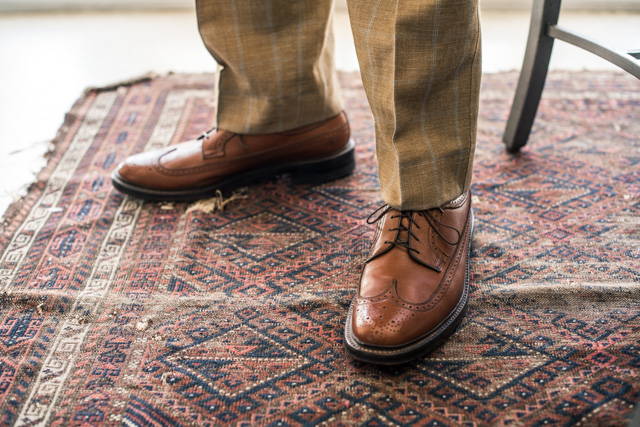 2. Cultural Garment Mash-Up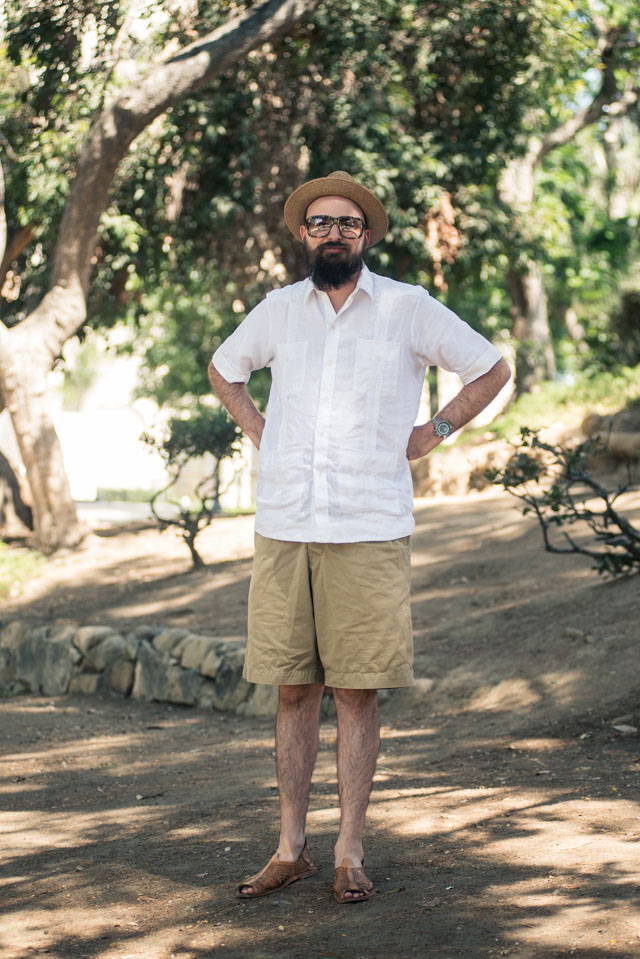 "As a little kid, I wore some ridiculous and crazy stuff, influenced in no small part by my mom. Usually topped off with a Giants hat. I wore mostly streetwear through college, though there were occasions when my eccentricity or what my friend Rebekah used to call "fancy Jesse" would show a little. I've always worn a lot of vintage and thrift store stuff.
Basically as a young adult, especially like middle school, early high school, I sort of had to dress to be inconspicuous in the neighborhood - not look like I was trying to be down or like I was trying to stand out. That changed after I got big enough to not have to worry too much about that kind of thing, and I also went to an arts high school where pretty much anything went. By the time I was out of school and moved to LA, in 2006 or so, I tended to dress more formally in part because I was a grownup, in part because I wanted to show guests on my radio show they were in a respectful, safe space, even though they were expecting to show up at a radio station and instead were operating out of an apartment in Koreatown."
"The outfit in the park is a little simpler. The shirt's by Ramon Puig. They make custom guayaberas in Miami - I visited them when I was in town for a day once. Mine's off the rack, but it's really hard to find guayaberas in natural materials, and this one's all linen. Definitely an old Cuban guy thing. The glasses I bought at the flea market from a company called Allyn Scura, which is based up in Northern California. The company that makes them is based up there too, they're called Kala. The style is called Chateau. I have them in black, light and dark tortoise. The shorts came from a military reproduction company called What Price Glory - they make stuff for re-enactors and whatnot. Prices and quality are both solid. They're Australian Gurkha shorts, circa WW2.
The shoes were made for me near Guadalajara - you can't buy huaraches off the rack in my size, because Mexicans have small feet. They stop at like ten, if I remember right. My mom spends a lot of time down there, and brought them back for me. The hat I bought at an old-school menswear shop in downtown Seattle. The brand is Mayser - it's honestly only a decent quality hat, but it suited me, so I bought it. Easier sometimes to have something you won't feel too bad about breaking or losing or whatever. And my watch is an Omega Flightmaster, circa 1970 or so. Rolled the dice a few years ago and bought it on eBay - my watch guy, who has a little kiosk in a Korean homegoods store near my office, worked for Omega for years so I figured he could give me a heads up if anything wasn't right. Been wearing it close to daily ever since."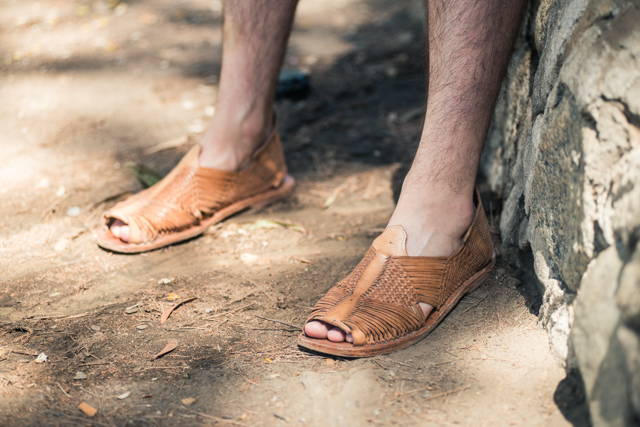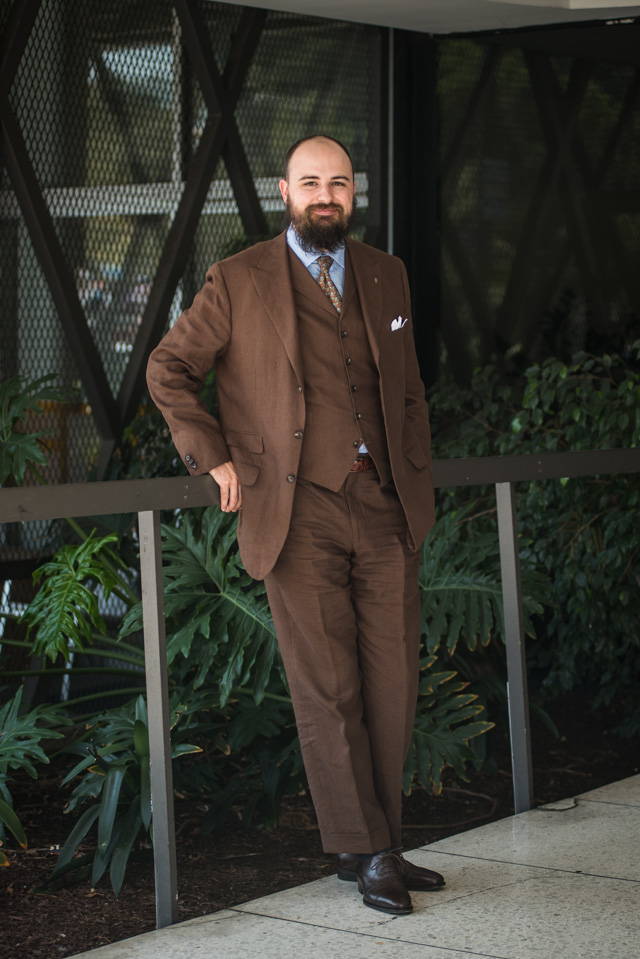 "I own Put This On, of course, which remains one of the more popular menswear sites, but I don't write for it as much as I once did. We have some great writers, so I just sort of steer the tone. I also own a podcast network called MaximumFun.org, which now has twenty podcasts. Of those, I host, co-host or produce a few, including the NPR radio show Bullseye and the comedy show Jordan Jesse Go. 
There's no formula for a great podcast, but the things that really appeal to me are a great host - someone you want to spend time with - some real passion and some consideration for the audience. If you've got those three, you can make a podcast about rocks interesting."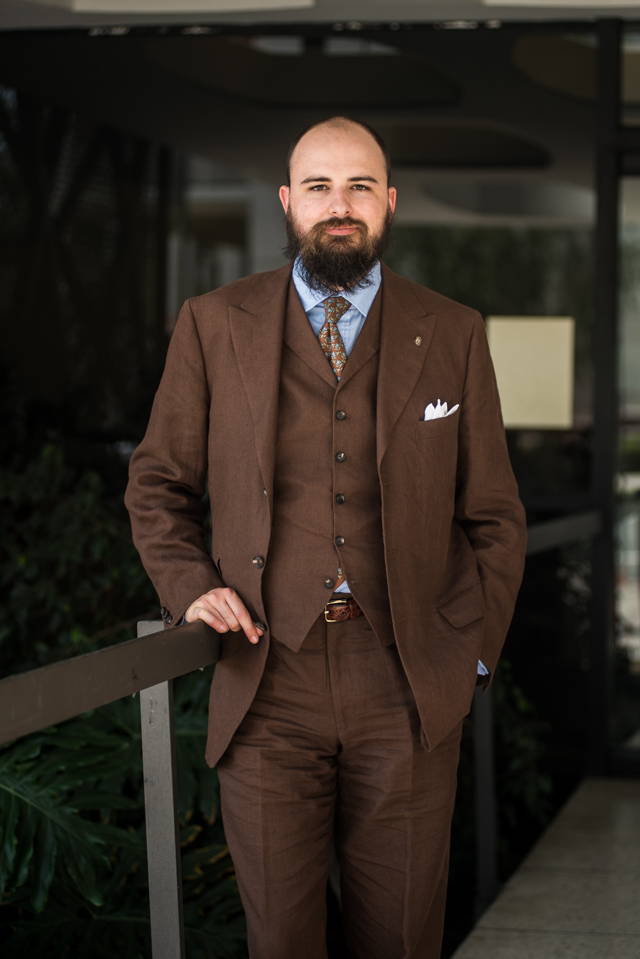 "The brown linen suit is by Luciano Barbera. I got it maybe four years ago at a consignment shop, I'd guess it's maybe ten years old. At the time, I thought, "can I really justify buying a three-piece brown linen suit?" Turns out, I wear it all the time. I look good in brown, it's a little more LA-suitable than gray or navy, and it's comfortable in the heat. When I can't figure out what to wear, it's what I grab. The tie's an old Arny's, which I think I got on eBay. I love their silk prints, as much as I dislike Hermes prints. The shirt is from Alan Flusser's custom shop, but not custom for me - I bought it from my friend Aaron, who was liquidating some samples that Flusser's old business partner had. Maybe I paid $35 or something.
The shoes are Borrelli branded, no idea who made them, a very good Italian maker, I presume. I bought them online because they're really plain, but reasonably shapely, and they're easy to wear. The pocket square is Put This On - I buy handkerchief linen from Ireland and a seamstress makes them for us a few dozen at a time. In my lapel is a little silver stickpin - you can't see but it's a Hermes or Mercury shoe, with wings on it."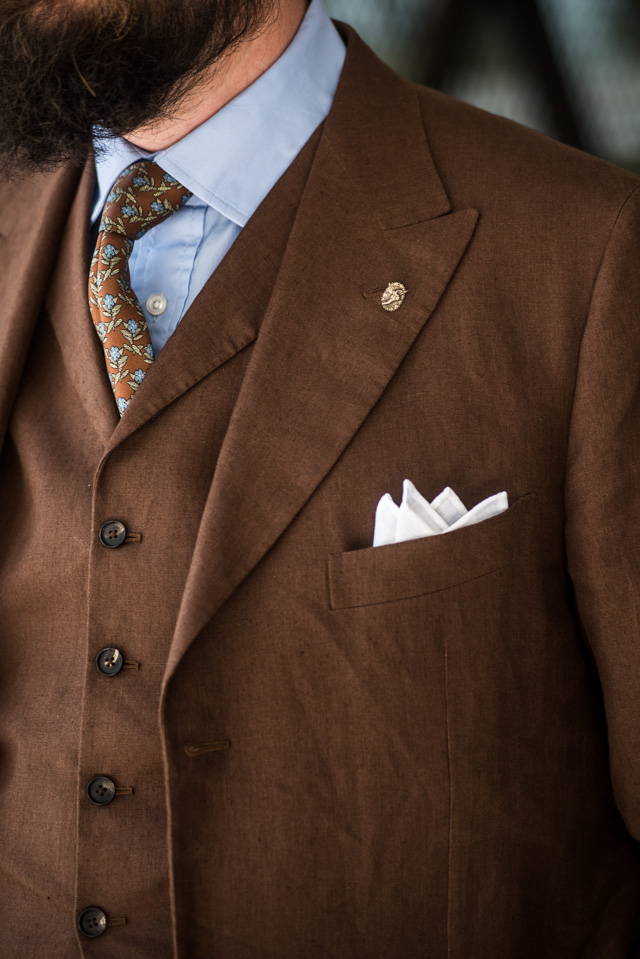 Finally, any advice for our readers looking to build a long-term wardrobe?
"Two or three or four or five years isn't a long period of time in your life, or for building a wardrobe. Especially for tailored clothes, which are expensive as hell.... A real small closet and budget go a long way if you take it slow and make good choices."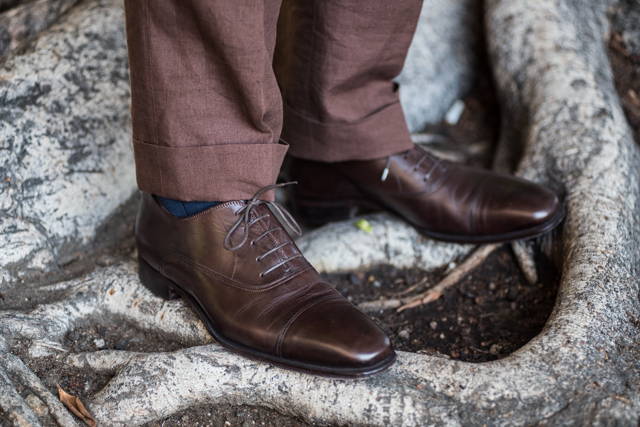 Thanks, as always, for reading.
Yours in style,
Dan