If style is the outward expression of an individual's lifestyle and personality, then those with the most interesting style should also have the most interesting stories. This theory certainly holds true for my new friend Ignacio Quiles. If you've spent time in NYC's East Village, you might recognize him - his style cannot be duplicated.
We met up with Ignacio to kick it, talk style, and share a bit of his story with you.
"I am a native New Yorker – born in Harlem, raised in Brooklyn – and proud of it. My mother was a seamstress so I learned about sewing and tailoring from her. I loved thrift shopping then and still do now.
As for my career, it has been a journey. I was a chef for thirty years, but my first passion was always fashion. My first job was working for Mr. Detulio in his bookbinding shop when I was a kid...that was where my sartorial aspirations begun. At that time, I wanted to dress like the Rat Pack so I saved and saved. After a few months at the book shop, I went down to Graham and Broadway where an Italian guy had opened a tailor shop in the hood... He sold these beautiful Italian Blythe Knits, and that is where I spent my savings.
My first real foray into fashion was designing belts for a company called Lee-Vic. Then, in the early 80s, I started importing fashions from Africa. But I was always working in restaurants, which left me less time to devote to fashion, but I always loved it. I kept my hand in the game selling at flea markets and such.
In 2010 – after building a 30 year career and earning a culinary arts degree – I had just come off a stint at Tavern on the Green in Central Park and I took its closing as a sign. I decided it was time to focus full-time on my fashion career. QP & Monty evolved from flea market to retail shop and now we're working on manufacturing. Our goal within the next year is to produce our capsule collection starting with my own personal style signifiers: vests, fobs and chains. But we're just at the beginning and always open to collaborate – it's just exciting to be working at something you love so much."
1. Classic Style from Classic Films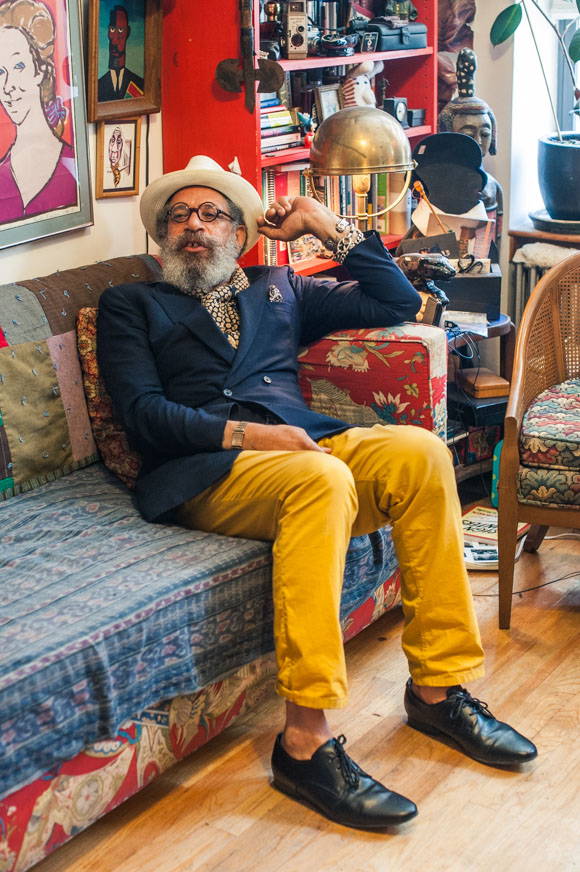 Ignacio is a pro at taking classic menswear items and spinning them on their head.  For example, how about a double-breasted navy blazer and a pinstripe waistcoat with a white tee, silk paisley scarf and canary yellow chinos.
He also often wears a nice balance of old and new, like a vintage jacket with chinos from H&M.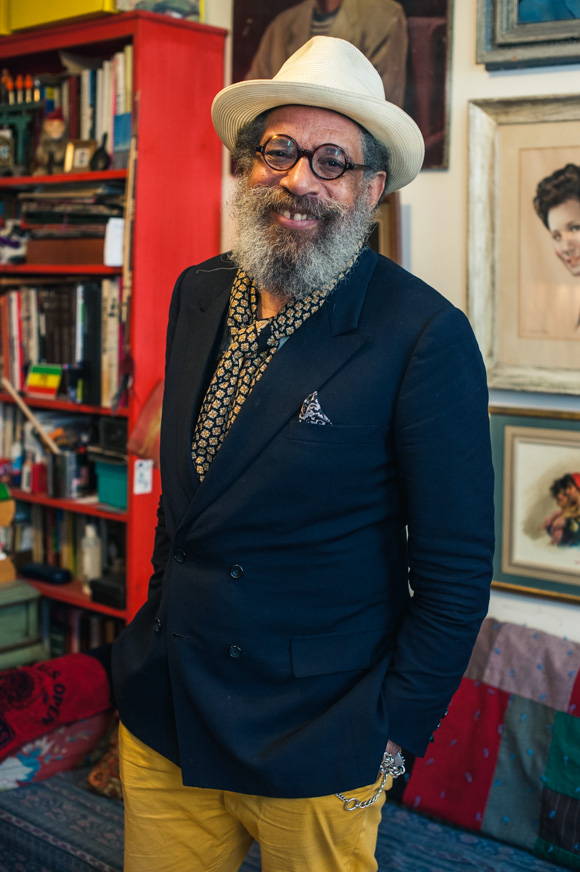 "My style was always eclectic; a marriage of periods and styles forged through a long sartorial journey. I've tried – and failed – many styles.  I've stumbled around in awkward footwear, sat uncomfortably in poorly designed slacks or ill-fitting jackets...you get the idea.
When I was a kid, the ladies at the thrift shop would let me spend hours in the store, time traveling... If I wasn't at school or the thrift shop I'd be home watching the million-dollar movie. They'd show the same movies on TV every afternoon for five days in a row – classics from the 30s and 40s. I'd watch them over and over. I'd watch for how things were worn then. I'd learn about fit and drape.
As a result, I was that kid. I didn't dress like a city kid. I dressed like I was from some other place. Or really from another time – a throwback to the 30s and 40s of old New York as viewed through a Hollywood lens. They used to call me a crazy mixed-up kid. Crazy because I'm Puerto Rican. Mixed-up because I dressed white and I'd hang out with all kinds of people. I hated cliques...even to this day I hate cliques. People liked me and wanted me to hang with their crew, but I'd rather change it up and hang with all different kinds of people."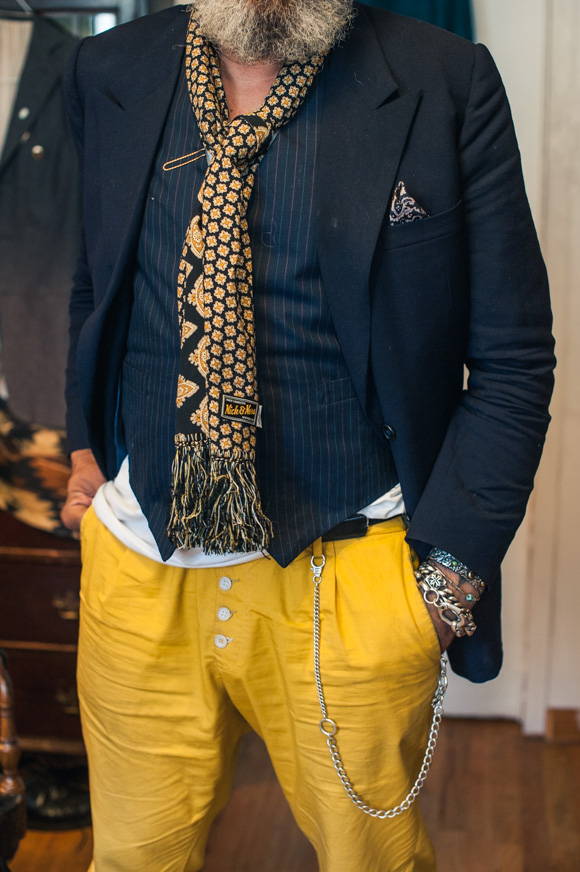 "The hat is not straw, it's actually plastic, and the shoes have rubber soles...this is a look I would wear in the rain."
Take a close look at Ignacio's use of accessories throughout this article. When it comes to styling, that's often what separates the men from the boys.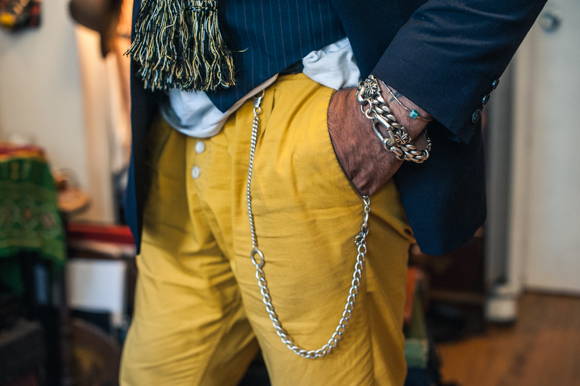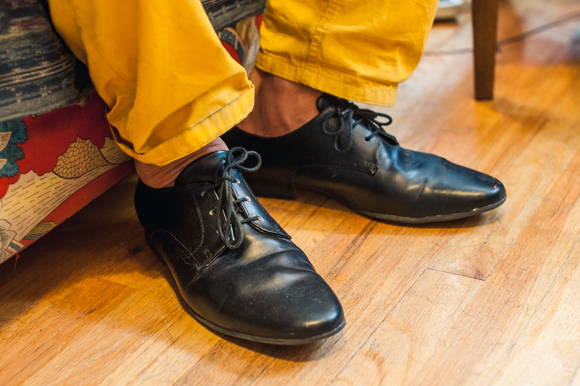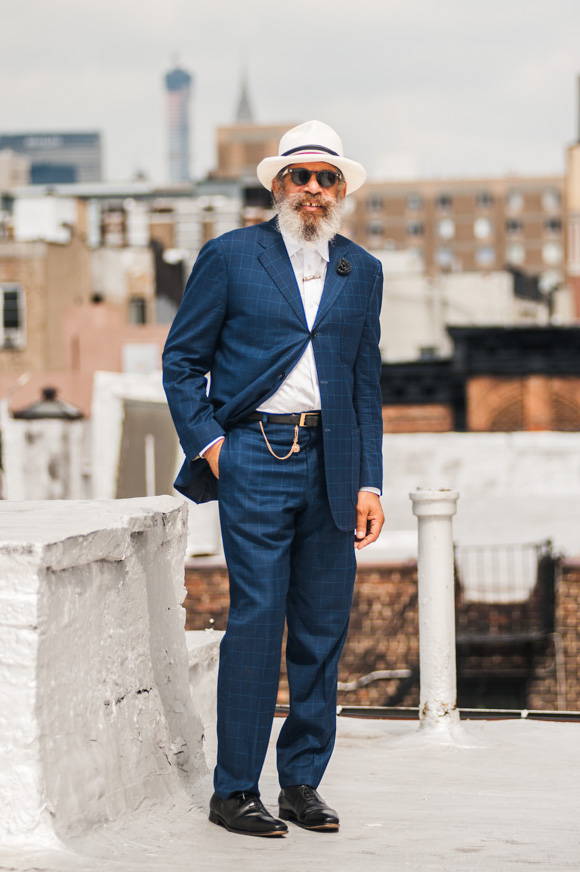 "At the bookshop, I started reading about fashion and upping my sartorial knowledge. Around then I started to understand my body and developed a confidence in my choices... This can be true for anyone. Learning about fit and drape will enable you to make better choices when it comes to your sartorial selections.
I also started making some of my own clothes early on, inspired by my Mom. With her help I learned the rules of tailoring and started re-shaping my vintage finds (from my cowboy outfit to my hippie or safari style) to fit my skinny body."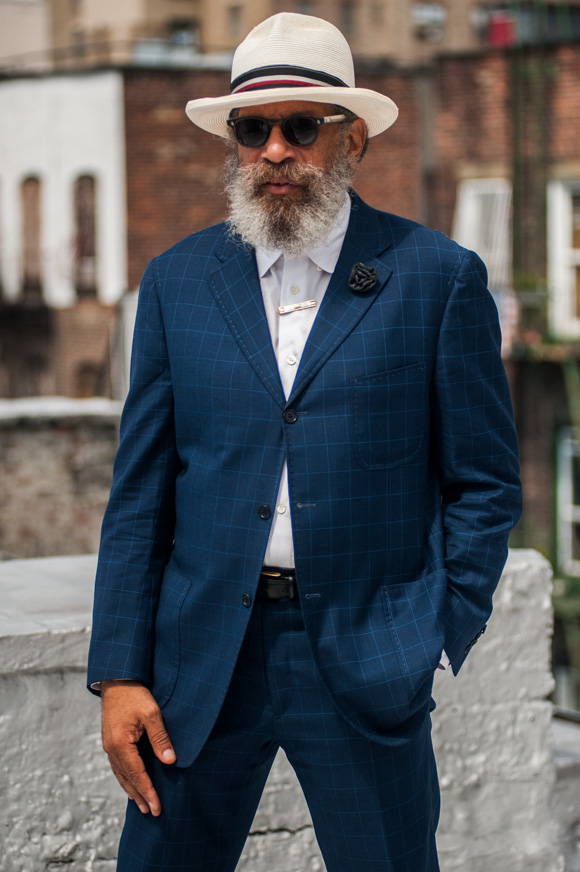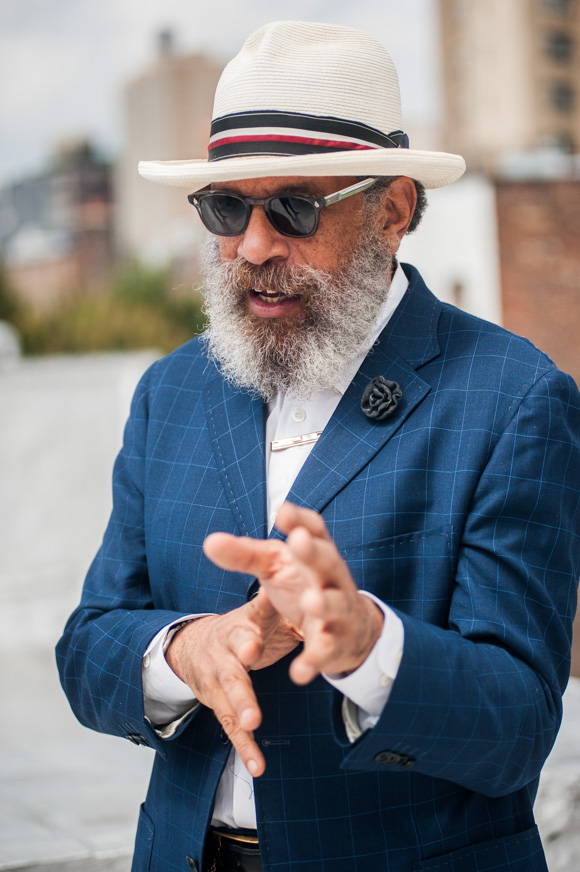 It takes a real confident OG to pull-off the tie bar without a tie. The same kind of OG who can button the top of a three-button jacket.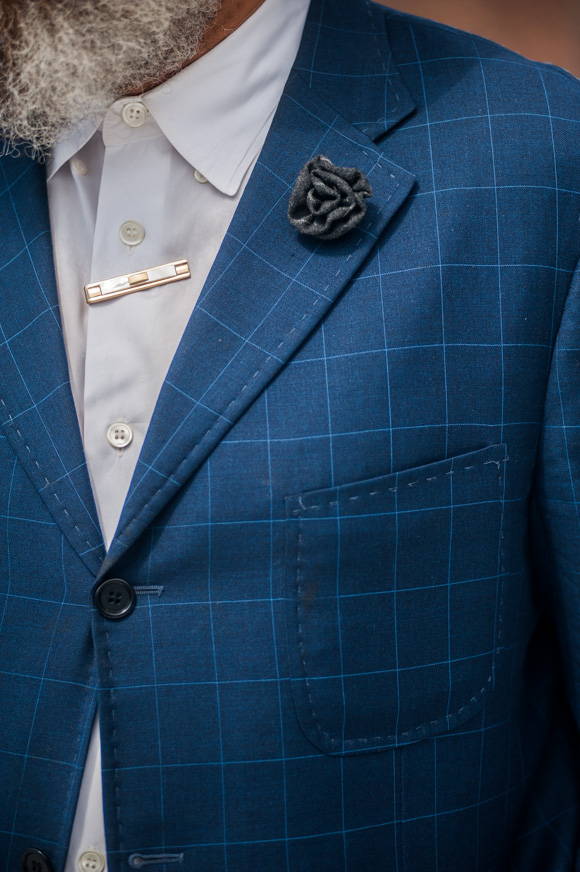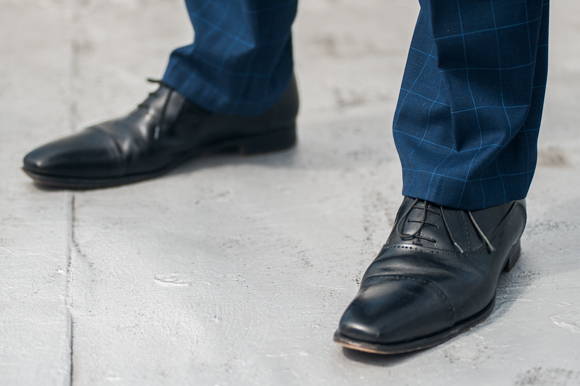 3. White Party, Year-Round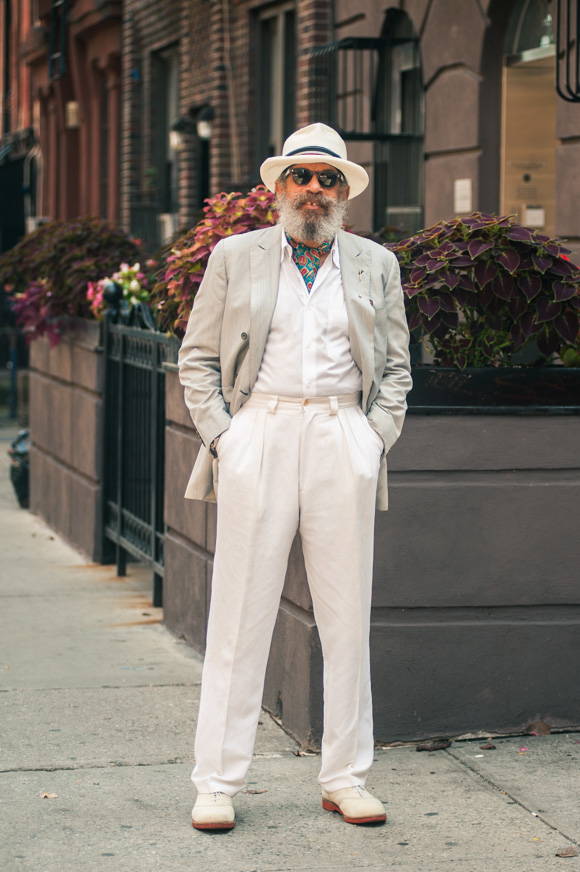 "Being presentable is important – it's a necessity for getting ahead in life. But having style...for me, it's my lifeblood: working on my style and being inspired by other people's style. But I don't know... Can you attain style? You can obtain knowledge that will enable you to develop the skill set that will make you aware of the components of style. You can gain knowledge of what best works for you – what colors favor you, enhance you, showcase your assets. What shapes elicit compliments when you wear them, for example. But I do believe true style is innate – in my case it's about having no boundaries between art and fashion for someone else it may be much more exacting.
My suggestion to someone just starting on this journey is to refine your sartorial selections. It's always helpful to start by having an ill-fitting garment altered by a local tailor. After that you'll want to make a custom suiting experience part of your journey forever.
The bottom line is that style is part good taste, part knowing the rules, and part taking the risk to make your own rules... Once you know the rules you can make your own choice to follow them or break them. My motto is: 'Enjoy what you wear. Wear what you enjoy. Then go out and show the world exactly what you are made of.'"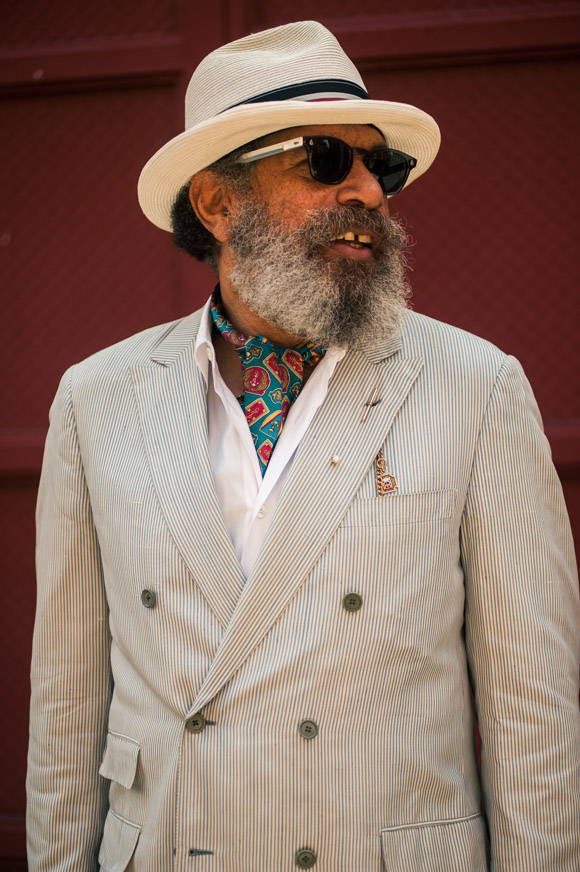 "The all-white is my nod to the rule breakers out there. I say wear white whenever you want. The "don't wear white after Labor Day" rule was created by the old money crowd to differentiate between them from the nouveau riche. I say old money, nouveau riche, no money, middle class – it's all good."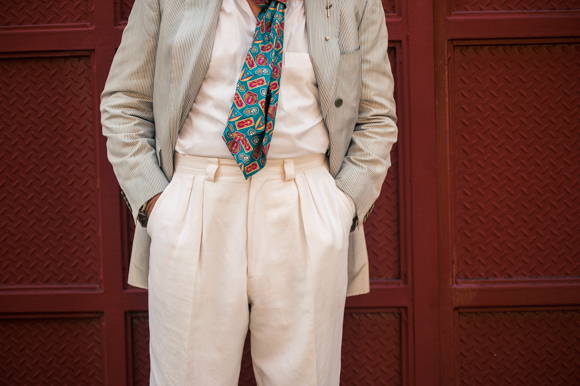 Look closely, inspiration is all around you. Try replacing your necktie with a silk scarf (or "long ascot") on an open collar, or better yet, think about a high-waisted trouser with some pleat detailing.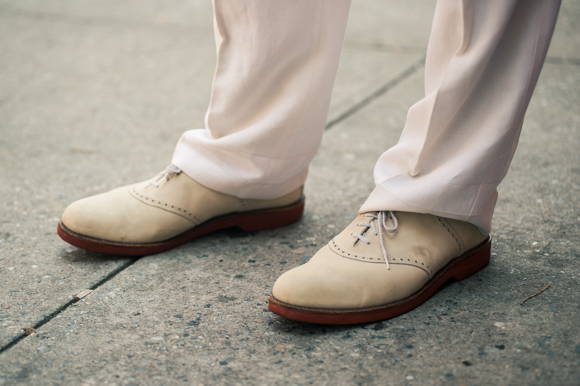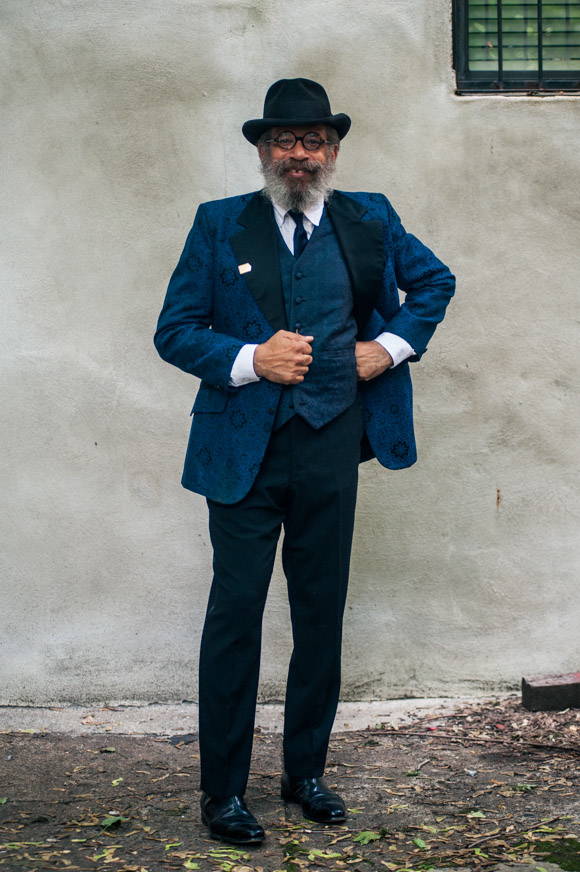 "While my personal style is always evolving (cultivated by my love of classic movies, 70s couture, and my eccentric nature), I have always been a  searcher of rare and obscure fashion items like Victorian and Edwardian fobs and chains I collect... Also, my wardrobe has gone through many changes, but my favorite item has remained constant: a vest. A vest can be used to express your style and flair.
Finding personal style is trial and error. In my case it required daring and bravado and blunders and triumphs. Every guy will find his own path to spur his growth... It's important to emphasize that sartorial growth can be accomplished regardless of your resources. People can look and feel good at all price points. Watching the big screen and consulting the library worked for me and these resources are available to everyone for free.
Most importantly, assemble your style team comprised of a tailor, a cobbler, and a barber. Once you have these trusted experts to back you up, you can do no wrong – sartorially speaking that is."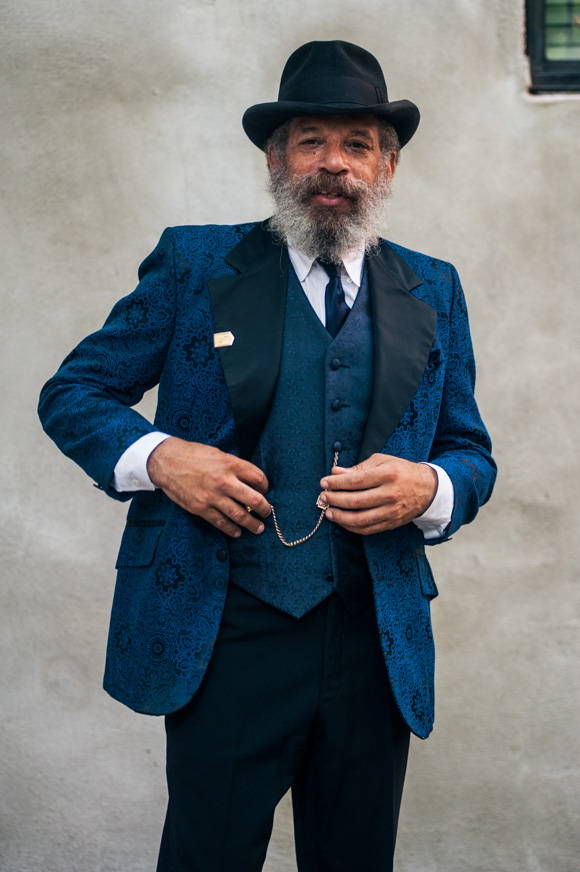 If you're a menswear enthusiast, you have to love tailored formalwear. It's menswear at it's finest. There are the most rules, and therefore the most ways to break them.
And, of course, it can always take it up a notch with accessories... What do you know about the lapel watch?!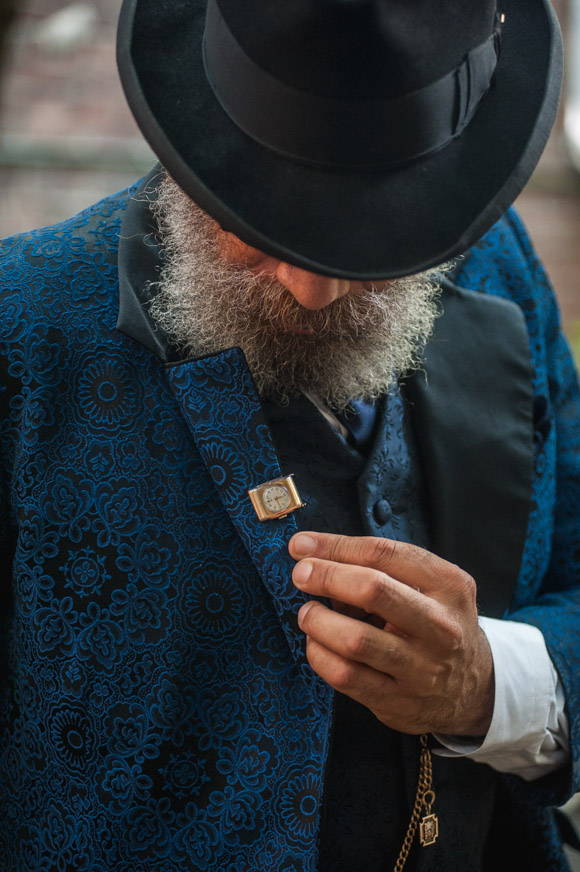 And he closes the show with another vintage/modern mix...in these sharp Prada chelsea boots.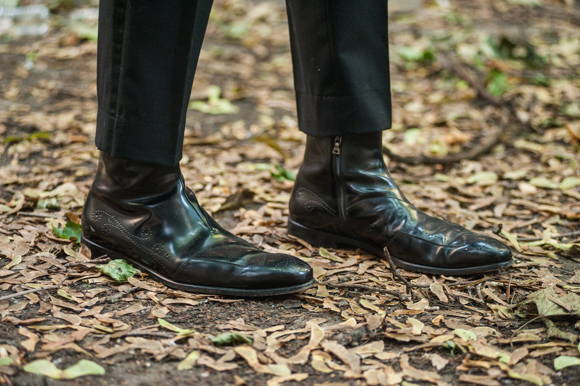 Thanks, as always, for reading and special thanks to Ignacio for participating.
Yours in style,
Dan
Photography by Alex Crawford.