Sometimes you meet a guy who doesn't work in the menswear "biz", but just gets it.
Alex Kosene came in as a client but quickly became a friend and a collaborator.
He's a filmmaker who, in our first meeting, gave me a better pitch for the AoS brand than I have ever been able to put together myself.
"AoS represents a new version of masculinity that draws on the past; it's about quality, integrity, consciousness…". I was sold already.
A month later we were story-boarding and shooting our first ever brand video.
It wasn't until I visited Alex's apartment to review a rough cut of the video that I realized we have the same affliction.
This guy has more clothes than I do – and I make clothes for a living.
His closet in Williamsburg is overflowing with incredible pieces, some of which have been passed down from his father, and some he will pass down to his unborn son.
He has a John Lobb oxfords piled on top of Edward Green loafers, hidden underneath Alden cordovan boots.
Not one piece of fast fashion in sight. Every piece is built to last, perfectly broken in, and either has historical significance or a personal story behind it.
And it's all selected with incredible taste….something I don't say very often. Almost never.
His taste level traces back to his father who, as I came to find out, is an absolute OG.
"This is nothing compared to my dad's wardrobe… His belt collection alone is up there with Ralph's".
Whoa…
I had to meet this guy.
So we set up a father & son photoshoot in NYC.
I told Alex to tell his dad to bring a "few of his favorite pieces".
He laughed and said "from what era?"…
This is Alex's story, told with the help of his #1 style inspiration.
---
ALEX'S CLASSIC CHALKSTRIPES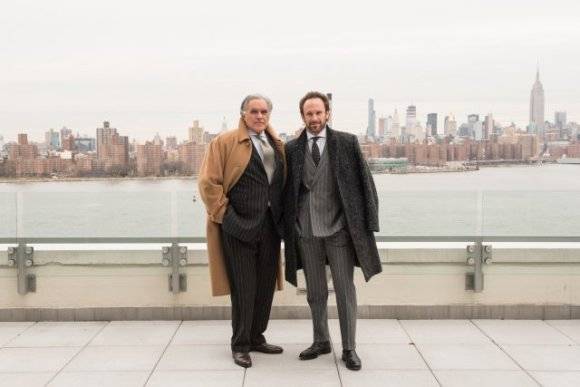 This one photo says it all.
The same classic chalkstripe flannel fabric, with two different tailoring executions.
Where did you grow up?
On 40 acres with many animals in Zionsville, IN. A suburb of Indianapolis.
What were the very first influences on the way you dressed?
My father. He passed down his sense of style immediately. Dad exemplified confident, classic men's style. He took me to the Ralph Lauren Mansion on Madison when I was 11 years old. I still have the Polo farm/work jacket he purchased for me on that trip… Other than dad, it was Indiana Jones and Michael Douglas in Romancing the Stone. Something about those characters got it in my head that masculine style is also about always being ready for an adventure.
How did your style change or evolve over time? Were there "phases"?
I don't think my basic style has changed much since high school. I am still attracted to the same textures, patterns and colors as I was then. My tastes are the same. What has evolved, I hope, is the way I choose to put those together. Nowadays, style is about accomplishing the unexpected color or pattern mix, the nuance that requires restraint (less is more), and living in my clothes rather than "dressing up." But I have a long way to go in terms of consistently dressing the way I want to dress. I still regularly see my father pull off style choices that make it clear that advanced style is about experience. It's humbling. This isn't shit you can learn from a decade of flipping through GQ. You have to try this stuff yourself and refine over time.
How did your dad's style affect your own? Did you inherit it? Adapt it?
Dad's style is really the basis of my own. I have both inherited and adapted it. Still today, I will look to him for ideas. A taste for things like cut-away collars and western belts I got from him early in life. More recently I started wearing Belgian shoes, which dad wore but I never really liked until I tried a pair for myself. I adapted dad's style to a large degree, but more important is his appreciation for style—that has really been my inheritance. And the same goes for him. His father, my grandfather Jack, had his own iconoclastic style. Dad and I will look at old pics of Jack and have the same thought: damn I want to look that cool!!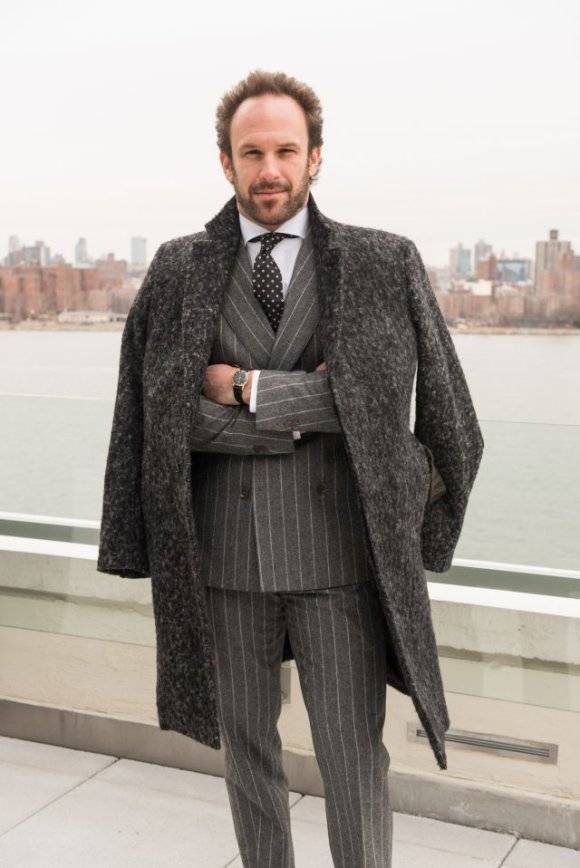 "This chalkstripe suit is Michele Negri. It's a $4,000 (retail) suit that dad spotted for 70% off… It fit almost perfectly off the rack. Dad took one glance at me and said "buy it." One of those times where I didn't have to pay for the level of quality I got. Thanks dad!"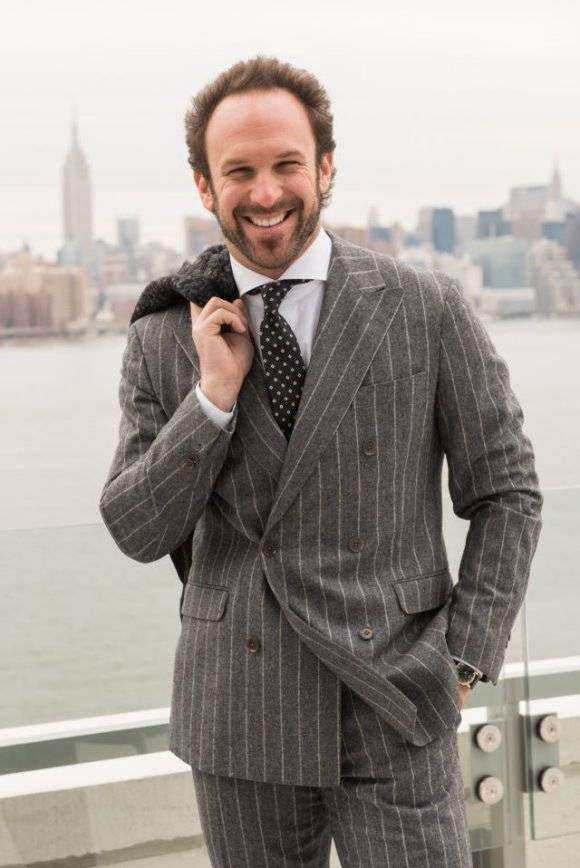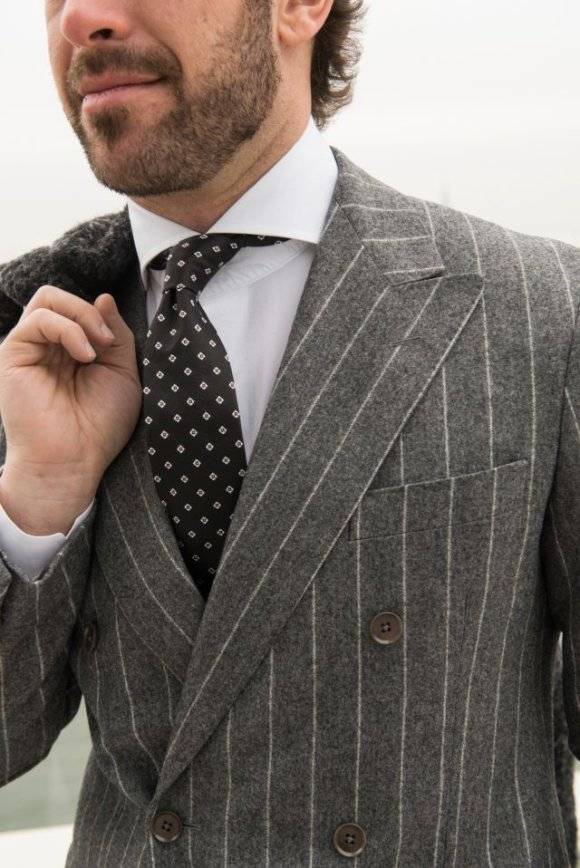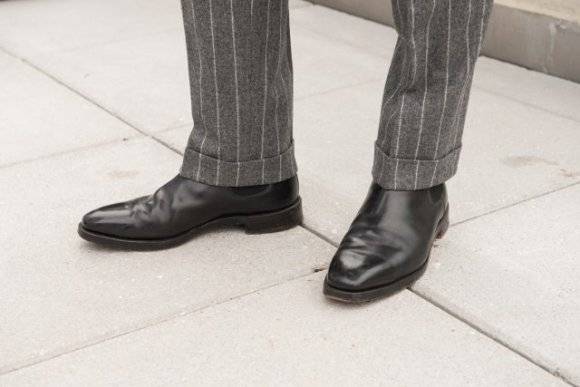 ---
GERRY'S CLASSIC CHALKSTRIPES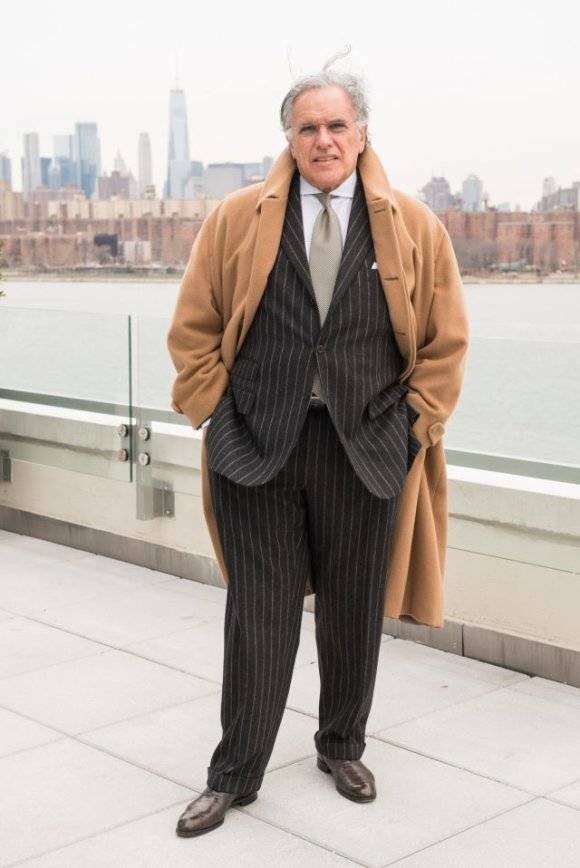 For a gentleman in his 70s, this is a much more flattering cut.
Longer jacket, fuller trousers, larger break…and how about the beautiful drape of that overcoat!
These cuts, along with the lush fabrics, create a sense of romance, experience and expertise. Like the gentleman himself, these garments have only gotten better with age.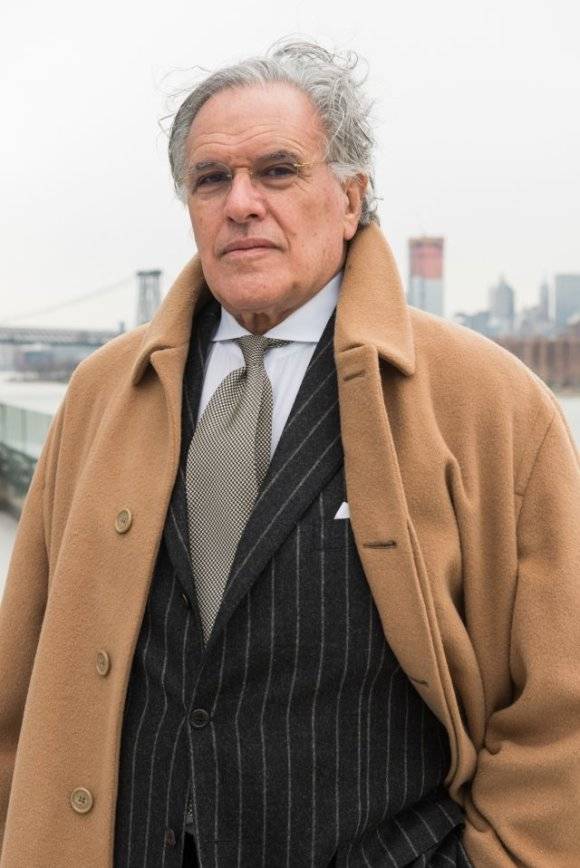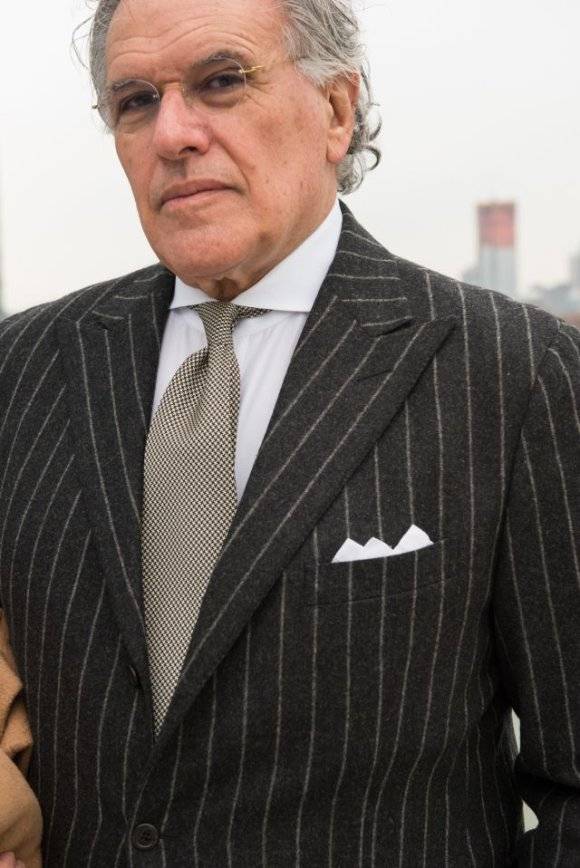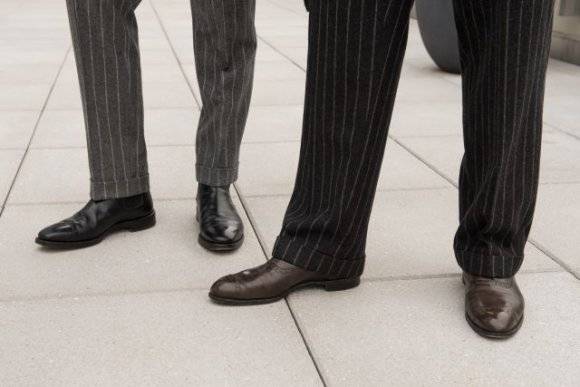 I could write a whole book about the image above!
The fabrics are almost identical in terms of weight, style and drape, but the cuts couldn't be more different.
Alex, who is 40 years old living in Brooklyn and working as a creative director, wears his trousers tapered with a 15.5″ opening and a minimal break.
His father Gerry, who is 74 years strong and works as a restauranteur (among other things) in Indianapolis, wears his trousers full cut with a 20″ opening and a classic full break.
I wish I could show you all of the amazing and unique pieces that Gerry has in his collection (including pieces that were passed down from his father)…but that would be literally impossible.
Take this Jaeger LeCoutre "reverso", for example. It's a rare and iconic watch made only for polo players – which Gerry was back in the day. Flipping it around protects the face of the watch during a match.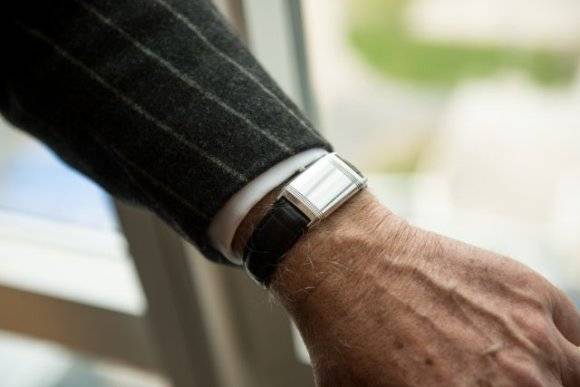 ---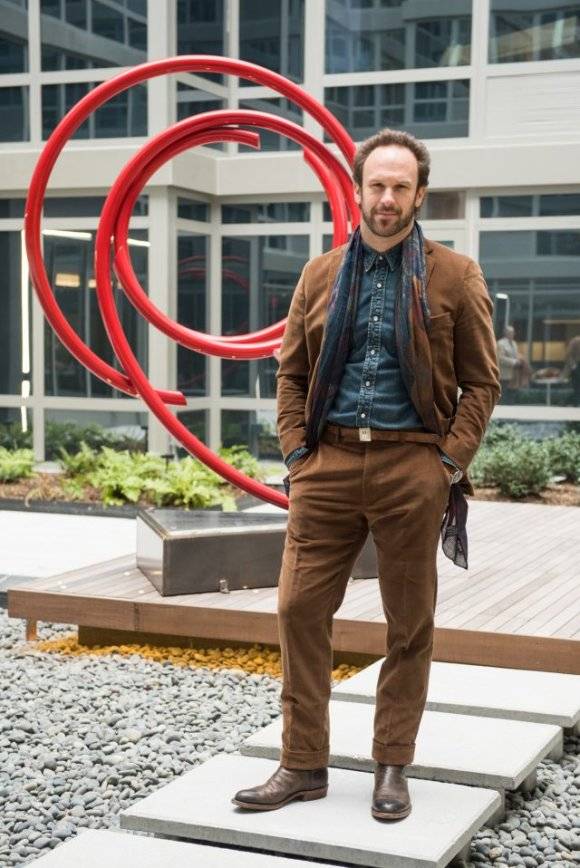 What is your occupation today? And your career path to get there?
I work as a writer and filmmaker and I own a production company (3rd Strand) that makes a lot branded content and ads. I didn't attend school (College) to learn to do what I do. I just started writing and shooting little stories in middle school and never stopped. I see my career path as a series of little projects that just got bigger and bigger. I have never had a "real job" or sent someone a resumé.
How has the way you dressed affected your career, or other aspects of your life?
I recently heard the actor Jeff Goldblum say in an interview that being a leading man required three things in equal measure: Masculinity, Intelligence, and Sensitivity. I think these attributes can be communicated in how you dress. I have aspired to become my own version of a leading man in my life. Part of this aspiration is not only to further develop those attributes, but also to communicate them in the way I dress. When I am dressed most like the true Alex, the leading man I want to be, I think everyone picks up on it (whether they care about style or not). In professional life, romantic life, and just everyday adventures, I know that certain people have taken me seriously at first glance just because of how I was dressed.
How would you describe your personal style?
Tough question! "Bookish-Cowboy"? "American Rake"? "City smart meets country comfort"? "Ralph Lauren minus the snobby country club shit"? I dunno!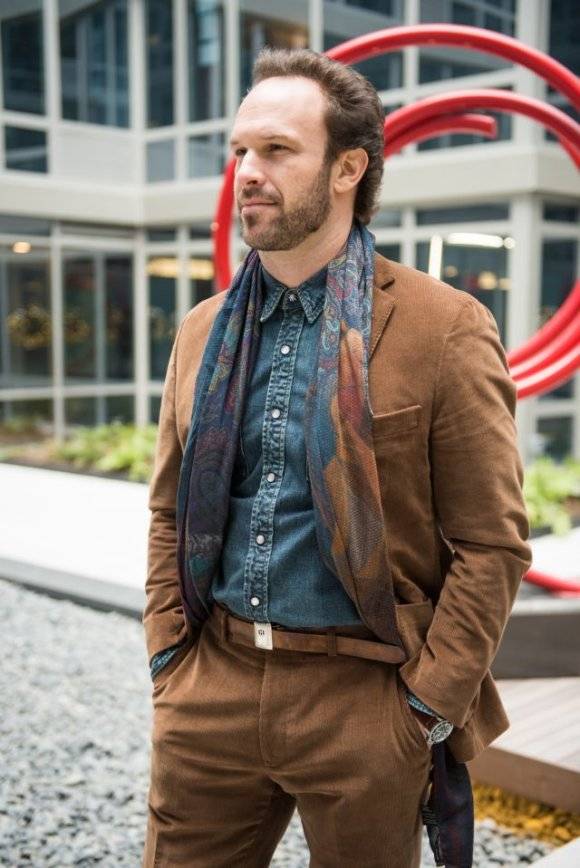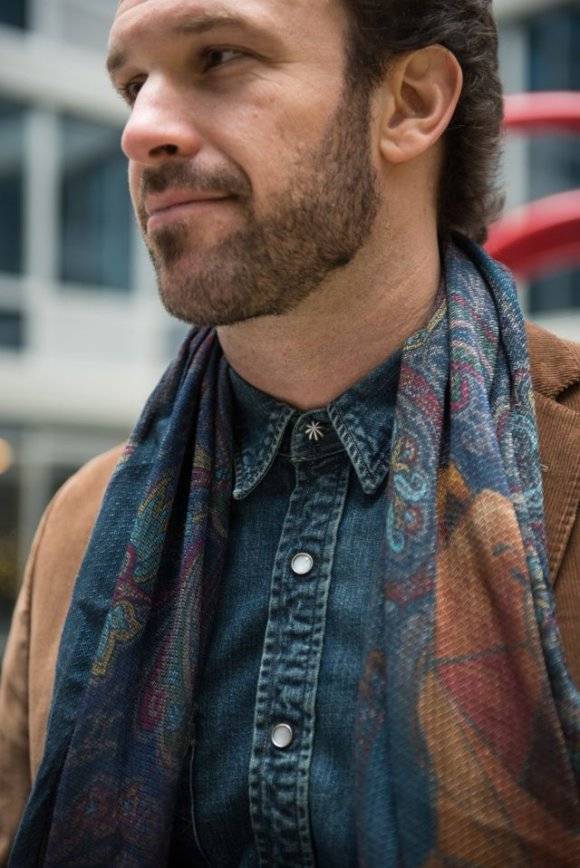 "The AoS cord suit is one of my favorite things in my closet. I love the idea of wearing a great tailored suit like it is a sweat suit. It's not precious. I am not "dressing up." For me, this suit is a great reminder that every day style (really living in your clothes) does not need the categories that many American men seemed to have made up."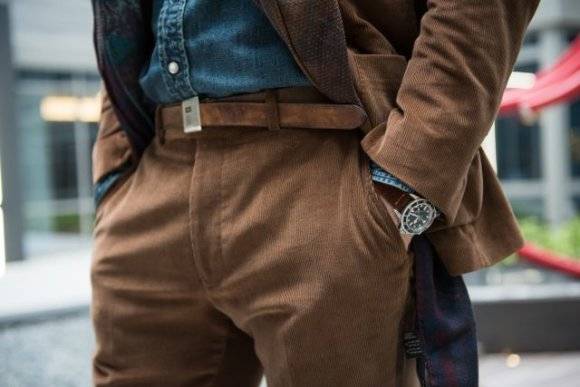 Alex's belt collection is the best I've seen (other than Gerry's)…and I've met quite a few leather collectors…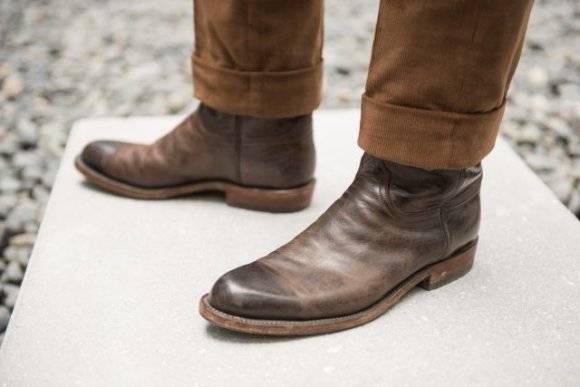 ---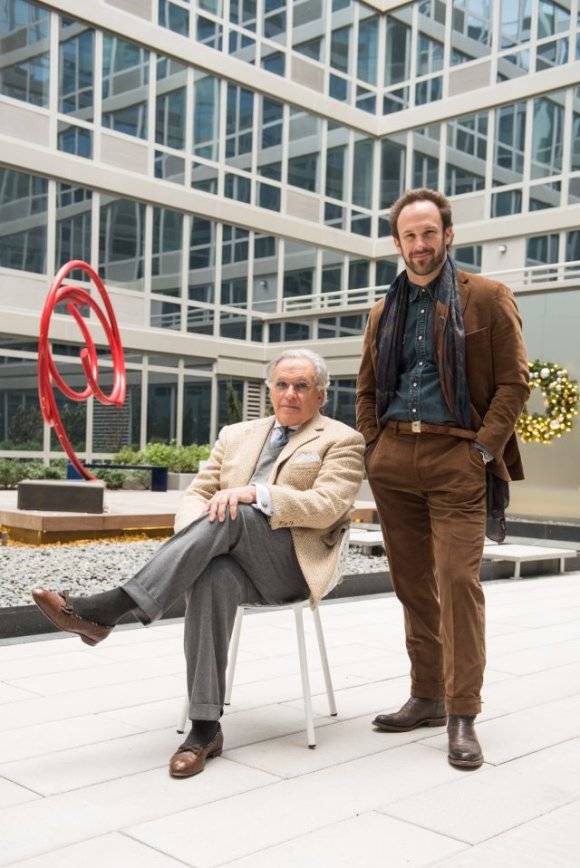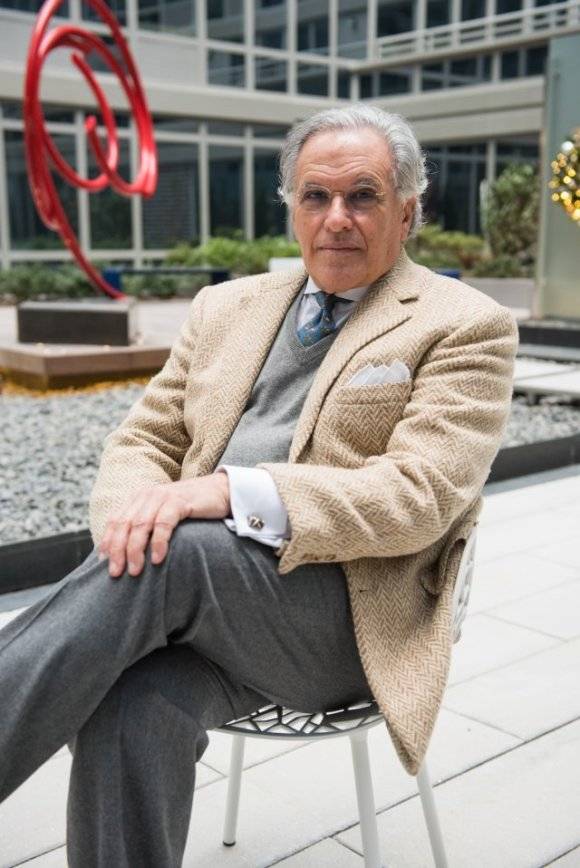 "This is the type of combination – the thin grey cashmere v-neck under the oversized camel herringbone jacket – that I would never think of putting together myself, but has become second nature to my dad."
As we always say – dressing is a skill, and like any other skill, it takes practice and experience to become an expert.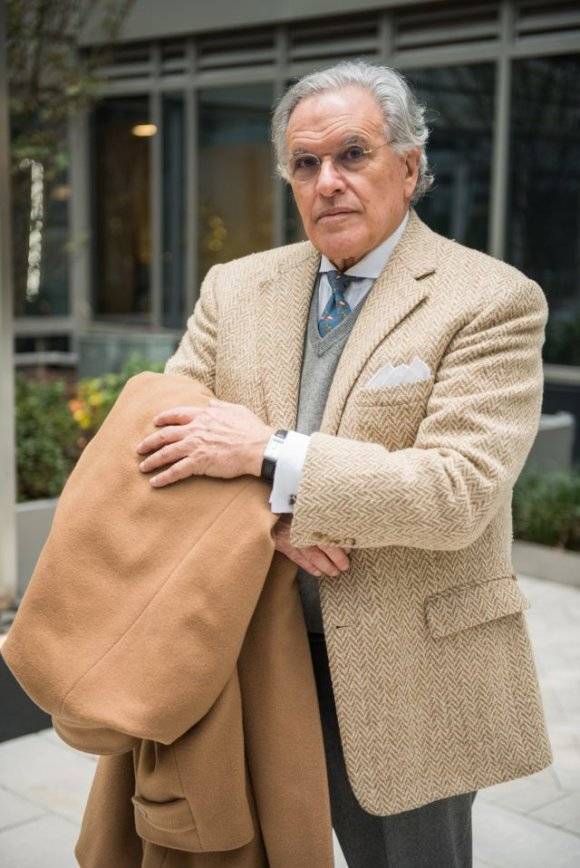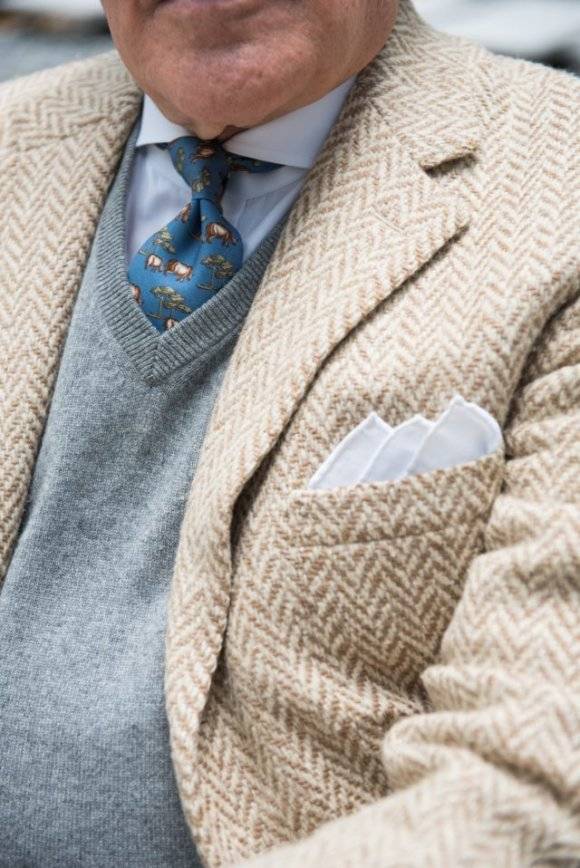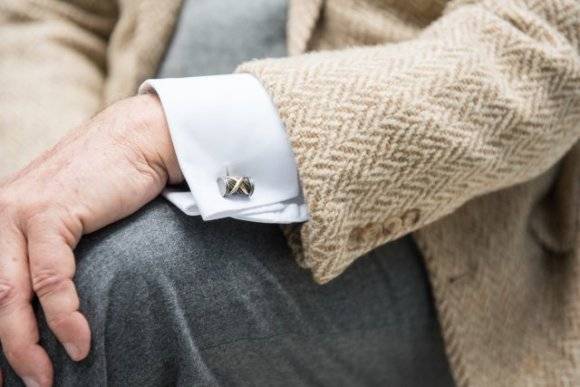 What do you know about ostrich skin ballet slippers under full-break flannels???
This might be the swaggiest shoe shot in AoS/TSB history.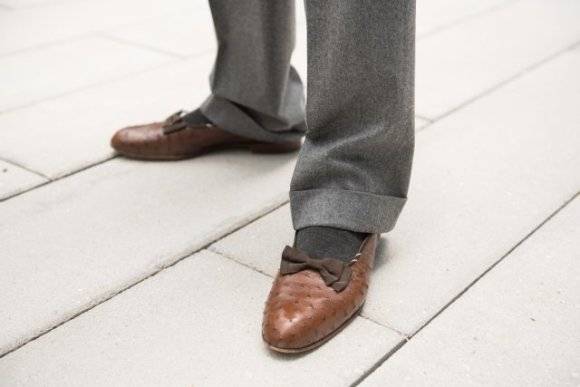 ---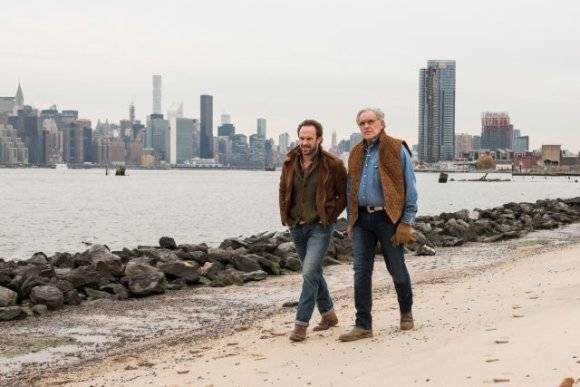 My favorite part of these gents' style is when they go fully casual.
This is when their country side, their Indianapolis ranch side, comes out.
Their wardrobes are full of beautifully broken-in leathers old and new…we're talking vintage western belts, exotic cowboy boots, suede jackets, lambskin gloves, etc, etc.
What is the most essential piece(s) in your wardrobe?
1) Suede moto jacket (featured here). Comfortable, sexy, better with age. 2) Roper cowboy boots (in various iterations). There is nothing more masculine than well made Cowboy boot. And nothing more comfortable (because cowboy boots are meant to bee roomy, they allow your foot to spread out and breath. 3) Denim western shirt (featured with corduroy suit). It goes with almost everything and is always flattering. It even looks great on your girlfriend.
Any tips you care share with our readers, in terms of buying quality items that will last the test of time?
A)  Buy less stuff, stay with classics. I have bought A TON of stuff over the years. I have given away most of it. You have to stop and think and ask yourself the right questions before you actually buy. Keep your impulses purchases cheap and put your money into well made classics. Get yourself a couple custom made white button up shirts in different fabrics, rather than a half dozen colorful shirts off the rack. One day years from now you'll look back at photos of yourself and wish you were just wearing a clean white shirt.

B)  Buy stuff you love. Clothes are like relationships. They ain't gonna last unless there is real love. My dad still wears a double breasted shearling coat he bought in the early 1980s. It makes him happier than any other jacket he could buy today. Real love grows over time.

C)  Know the make. Do a little research on the brand you are buying. Look for transparency by the designer. Many people may look at the label on a RRL piece of clothing and see "made in China" and assume that it is made cheaply and overpriced. But if you really know how they work at RRL, you know that particular item is made in china because the Chinese artisan/supplier was the best talent to produce that item.
Anything else you would like to share with our readers, from your experience with menswear?
Developing style, I think, is less about how you look than how you feel. It's the feeling that creates the look. Be guided by it. How do you want to feel about yourself? About life? That feeling will determine how you wear your clothes. And it is the only way to truly create your own style. Style is a statement about your beliefs. You have to respect those and be true to them, or else you end up with a wardrobe that is inconsistent with your character. There will be a dissonance between you and the way you appear. When you see a really well dressed man, it is not just because he knows about fit and color and all that. It is because, in some inexplicable way, he just looks right in his clothes. And that is because he feels right in them.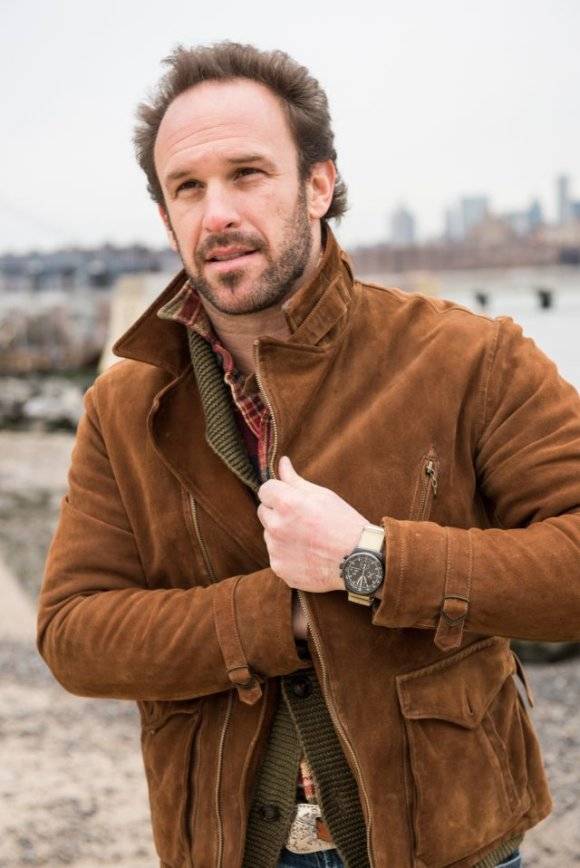 "The suede moto jacket I snagged for 50% off at a Ralph Lauren shop a few years back. The details are killer. The fit is perfect. Every once is a while some young designer (of many) at the RL empire just nails it and knocks out a little masterpiece."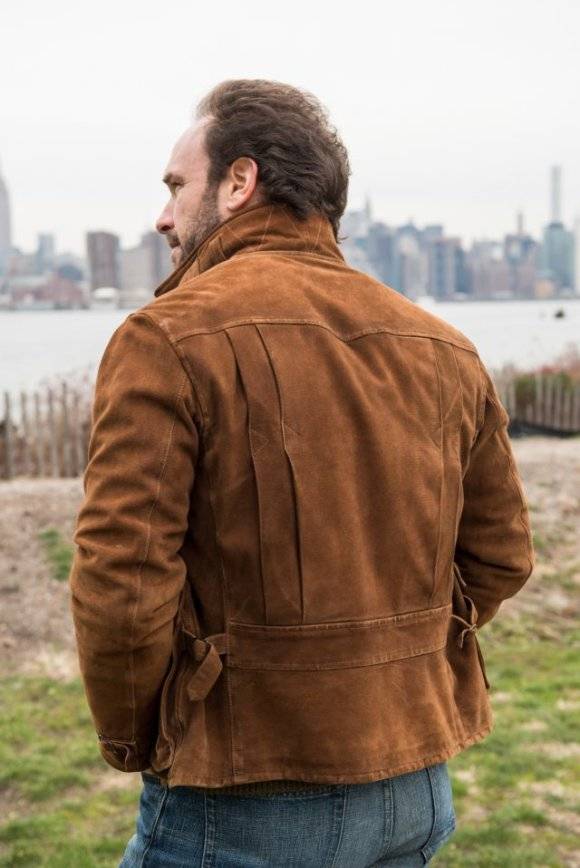 "The vintage Western belt and buckle I snagged at vintage store in Aspen. With a little help from google I got the belt shortened by the same guy who had made it 25 years earlier. If you notice the watch I am wearing with this look, it is a vintage Porsche Design my dad bought early 80s that I had restored. It's one of my favorite things I own of my father's."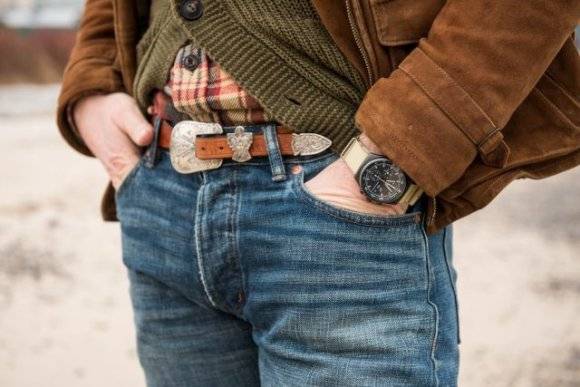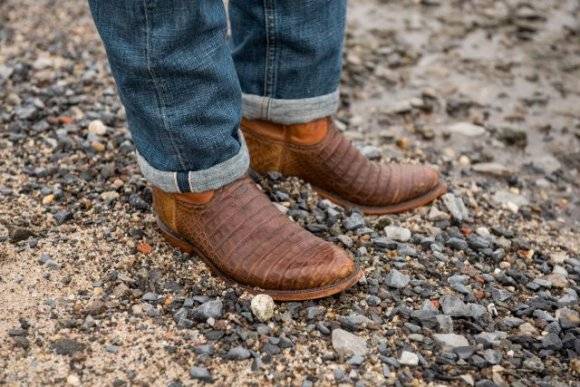 ---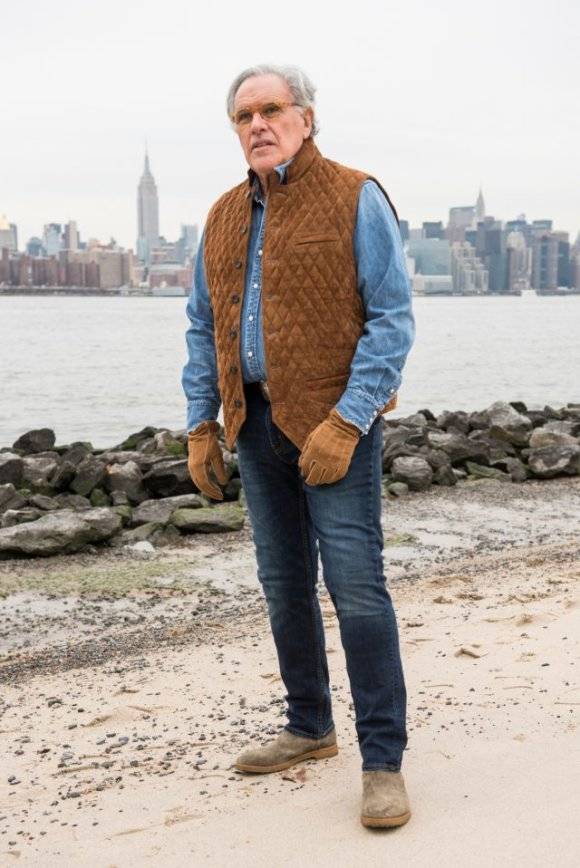 If you take nothing else away from this post (which I would find shocking if you read this far), here are some easy tips:
Denim and suede are a match made in heaven
If you're doing denim-on-denim, keep the upper light and the bottom dark
Accessories are the finishing touch that can take a look to the next level: note the glasses, belt, and gloves here. Without them, it's overly simplified and short of personality.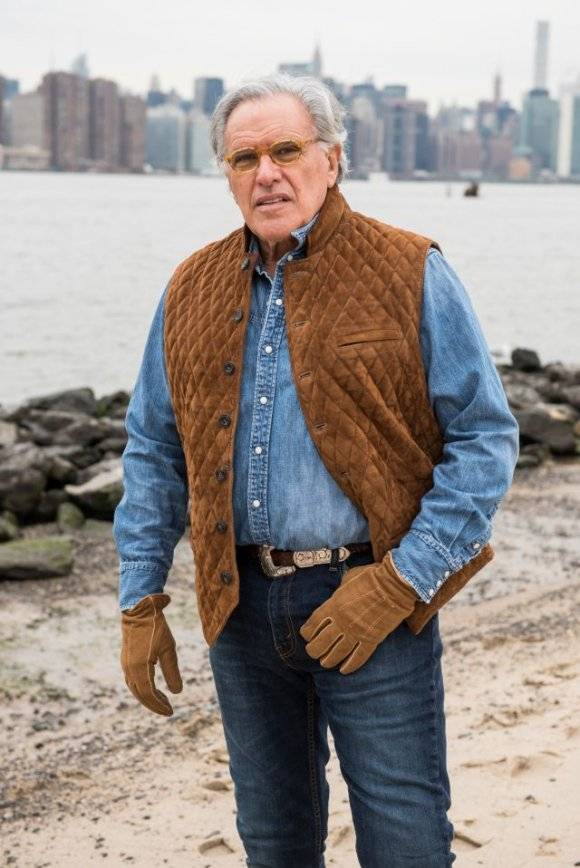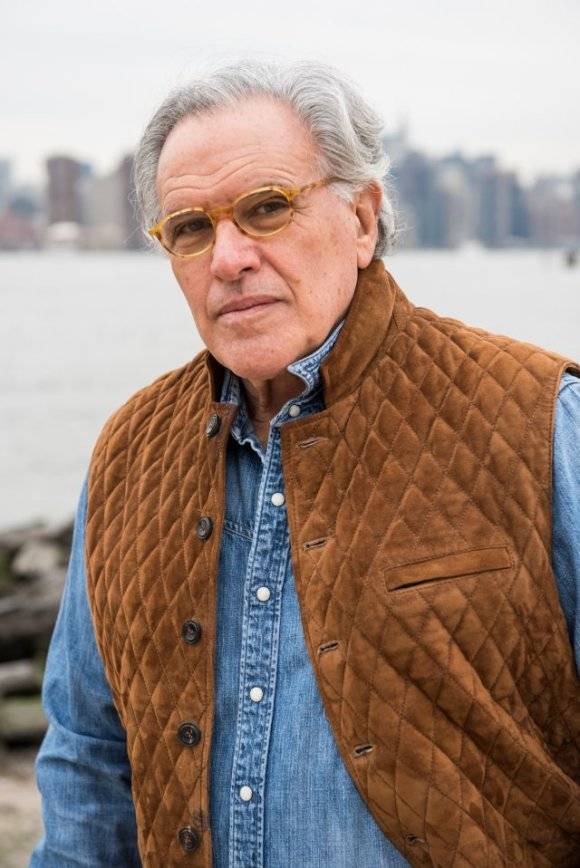 Every once in a while Gerry throws in an unexpectedly modern piece to update his look; like these chelsea boots by Common Projects.
"They're just so damn comfortable".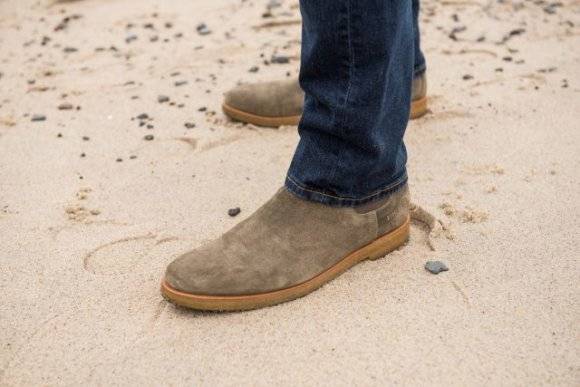 Finally, I'll leave you with some old pictures of Gerry throughout the years.
I hope this makes you think about your legacy, and what story your old pictures will tell when you become a 74 year-old man.
It's not an outfit, it's a lifestyle!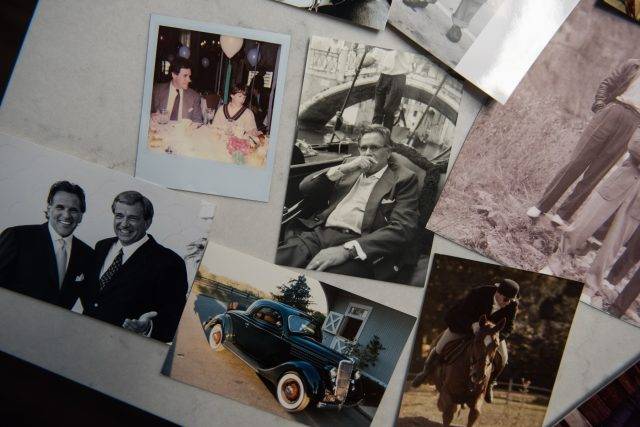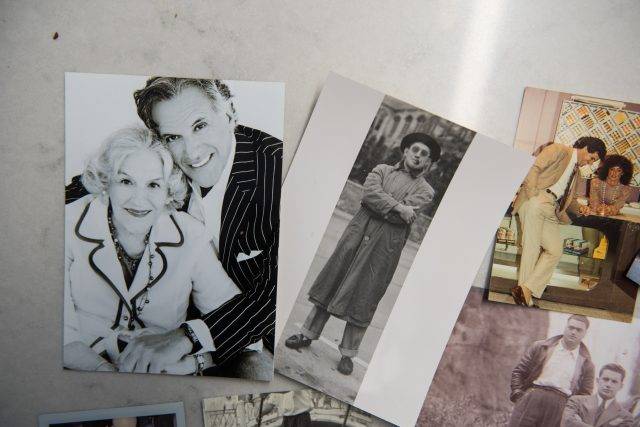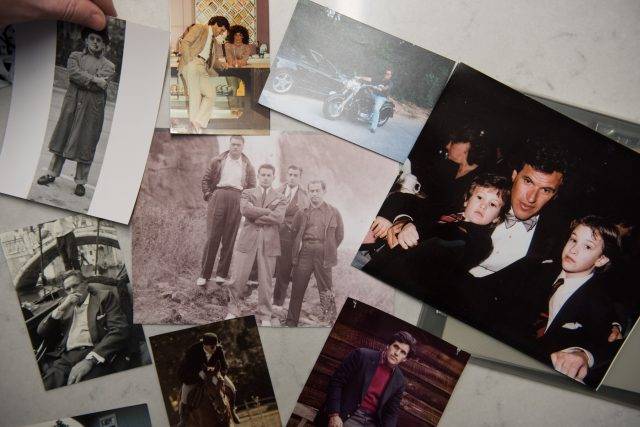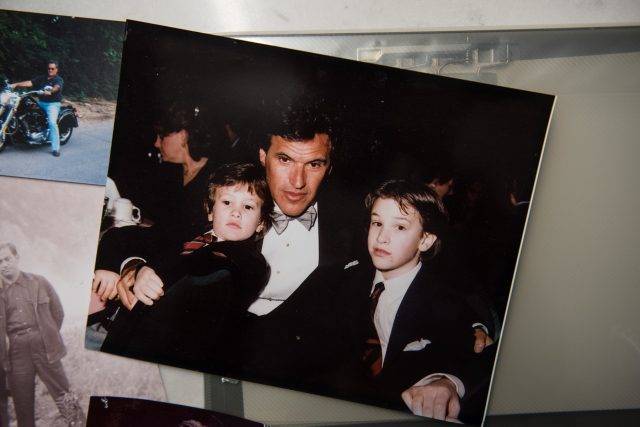 Thanks, as always, for reading and special thanks to the Kosene boys for participating. 
Yours in style,
Dan Trepanier