Antwan Davis was an early client who gave us some great feedback when we launched our online tailoring platform.
Like many of our first clients, he was a fan since way back in TheStyleBlogger days.
"My first experience with AoS was actually back in the TSBmen Days. I was doing a google search on boots and Dan came up wearing these smooth leather hiking boots. But what really caught my attention was the versatility of the outfit he was wearing. If I remember correctly he was wearing these indigo jeans, donegal tweed jacket, henley and a lightweight down vest over the jacket. It was like seeing Allen Iverson crossing over Jordan in 97'. If you can picture that reaction, that was pretty much what I looked like when I saw that outfit. Ever since then I've been a fan."
Also like many of our first clients, Antwan was making trade offs with off-the-rack clothing and had a mission to re-create his personal style by focusing on quality garments that fit properly and work together to form a versatile wardrobe.
"Most of my suits before I was introduced to AoS were from SuitSupply. Some of the SuitSupply suits have similar fabrics but when it comes to fit there's no comparison – most notably the feel of the soft shoulders and unconstructed jacket. I'm big
on comfort and no suit I've ever worn has been more comfortable than AoS. I wear all my suits as separates and I like that AoS provides a product that works seamlessly with jeans."
His first order was for a Cherrywood Worsted Suit; a great place to start and lay the foundation.
"When AoS launched their first collection, I was a little skeptical of the price as I was normally paying in the $500 range for an off-the-rack suit (+$100-$200 for alterations). So, instinctively I was a little hesitant to purchase a suit upward of $1000. My first purchase was a modest one. I went with the Cherrywood Worsted 2 piece suit."
When he placed his first order, Antwan described his typical fit problems in his AoS profile. 
"When buying clothes off-the-rack, there is no perfect fit for me. For example, I've had issues with shoulders pads, arm lengths, and pants rises. I'm a tricky size, so every suit I buy has to be adjusted quite a bit. I always thought the AoS virtual online process was cutting edge, and I trusted that Dan knew what he was doing. So I pulled the trigger…"
We dissected the information in his profile and created his custom fitting garments with his problem areas in mind.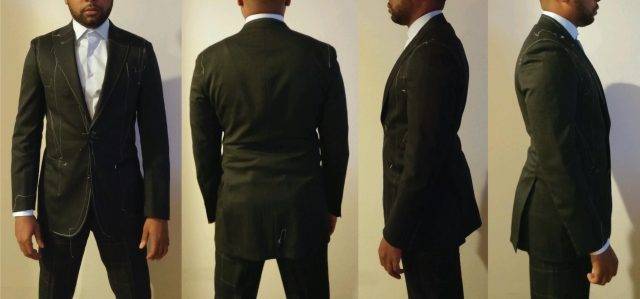 Antwan's initial basted fitting, from his home in Maryland
On a scale of 1-10, I would say Antwan is about a 7 in terms of fit difficulty.
He has very sloping shoulders, long arms, a short torso compared to his leg length, and a high athletic seat which causes intense pocket flare in his trousers, and a serious case of low-back bunching in his jackets. His biggest issue – which is common with athletic body types – is that his seat requires him to size-up in the trousers, which creates a problem with anything off-the-rack…especially since Antwan likes a slim fit.
"To my surprise, after the initial basted fitting, my first AoS suit arrived and was spot on. The fit was flawless. The material was stellar. The entire experience was incredibly easy and interactive… I thought: how could they nail it on the first try?"
Again, as with most of our clients, we used Antwan's first suit to lock-down his fit, then we began thinking about interesting fabric combinations and put together a long-term plan to build a wardrobe that would have him ready for any occasion.
"After that first purchase I started to understand quality over quantity and how a wardrobe is an investment. Every AoS purchase I've made to date has been incredible."
After two years of making garments for Antwan from his home in Maryland, we finally got to meet the man in person and showcase some of his favorite AoS pieces here in NYC.
---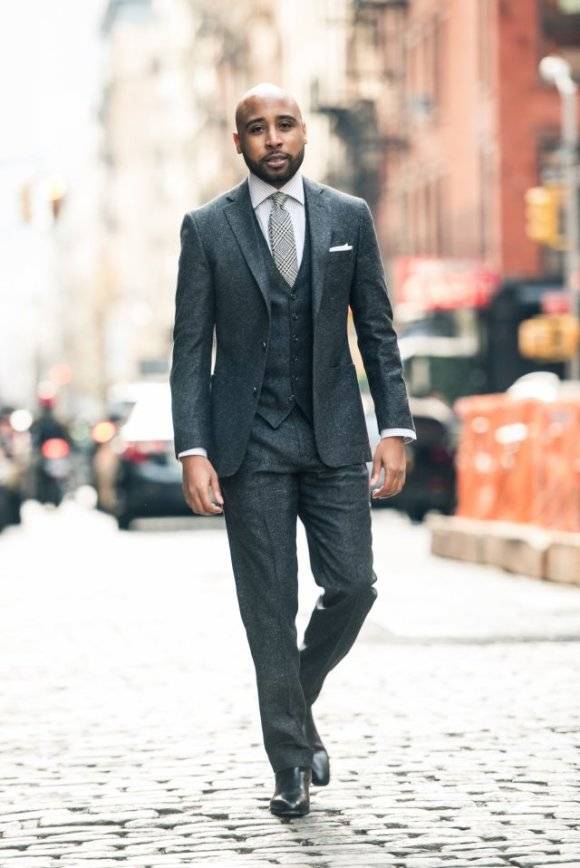 "My style has developed over time.
As a child my parents would dress me up like a prep-school student with turtlenecks, cardigans and khakis. One of my fondest memories is crossing up kids on the basketball court at recess wearing khaki pants, flannel shirts and timberland boots.
The Timberland boots, Nike Air Force 1's, baggy jeans and t shirts were like the uniform of the 90's. So I followed that trend just like everyone else in my teen years.
My style evolved once I received my first pair of wallabees (thanks Ghostface). This is when I began to incorporate the preppy look into my wardrobe."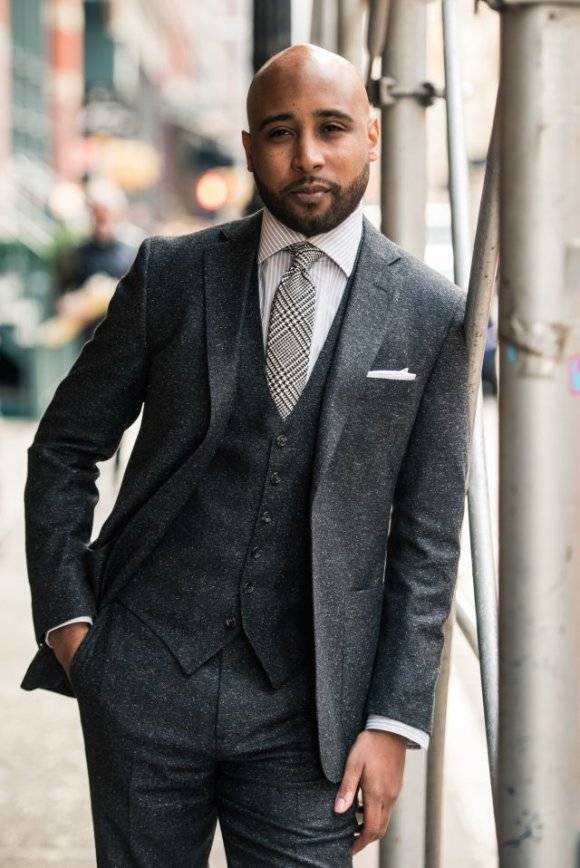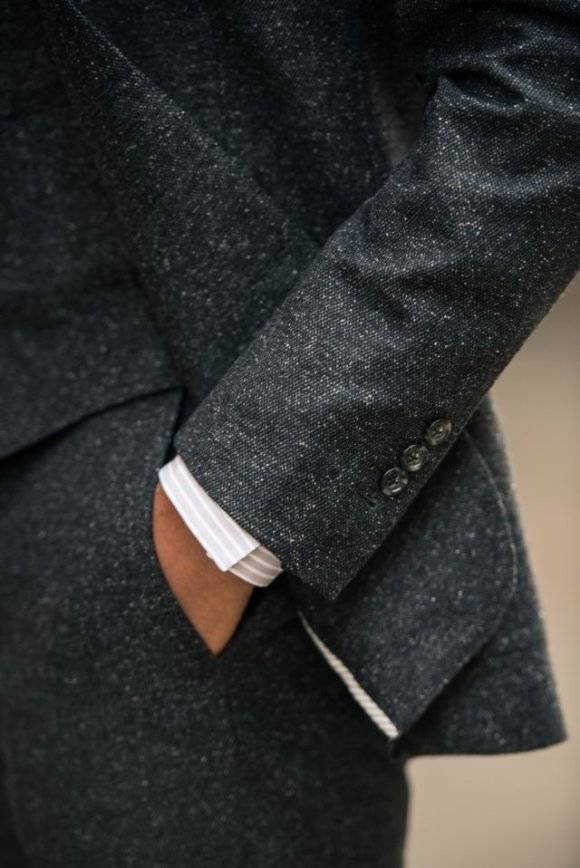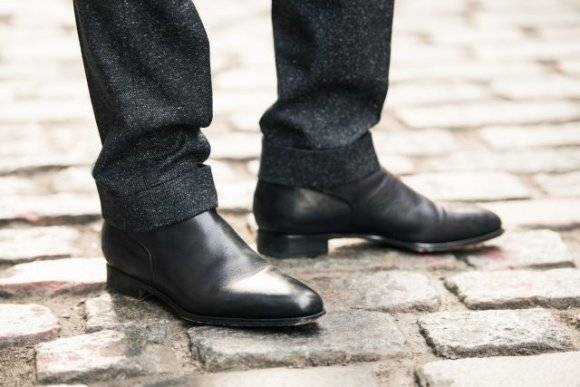 ---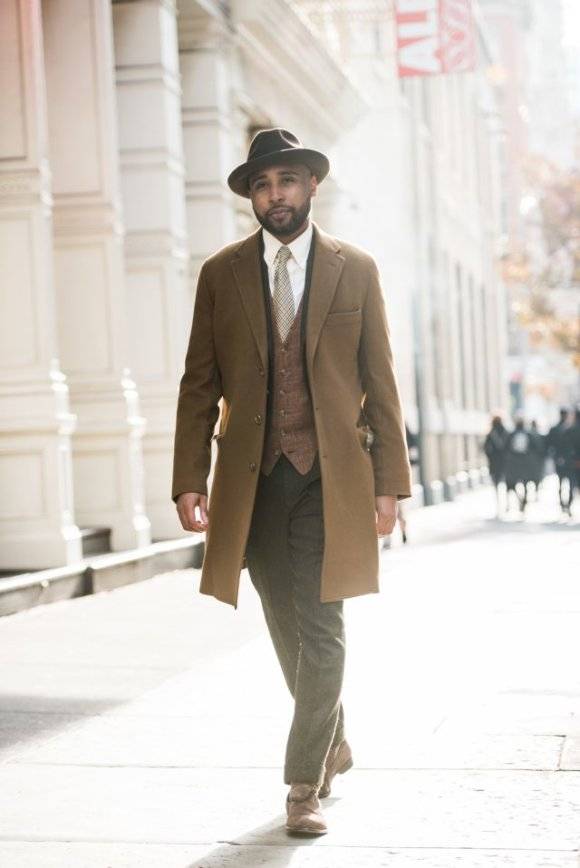 "Once I began my career in government contracting I started to play around with tailored suits.
For some reason I thought every man wore a suit to work. To my surprise my first day at the office was met with some strange looks. I was the Gordon Gekko of the mail room. There's nothing like organizing folders in a pinstripe suit.
The way I dress has had a huge impact on my career. I like to use my style as a psychological weapon. I've gained respect from many simply by the way I dress. I look at it like this; your first impression on someone is the most important, and its better when you're clothes speak the right first words."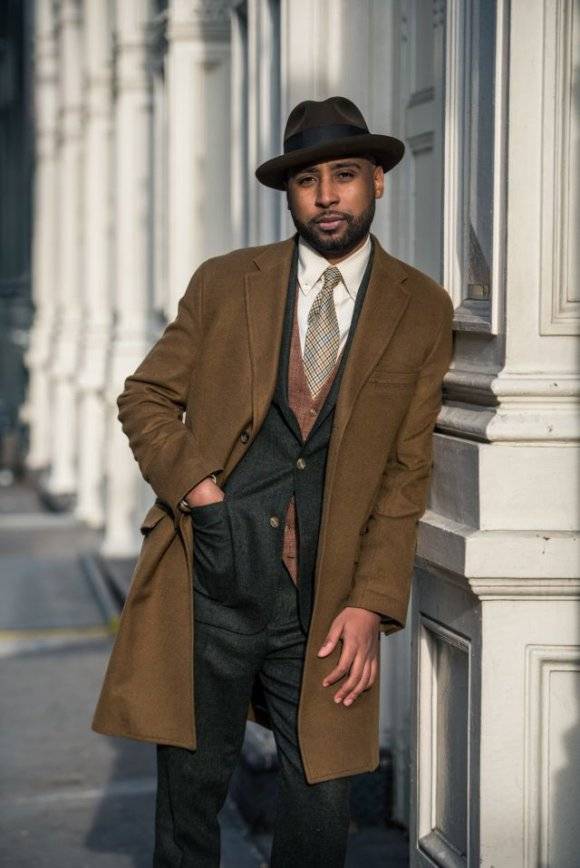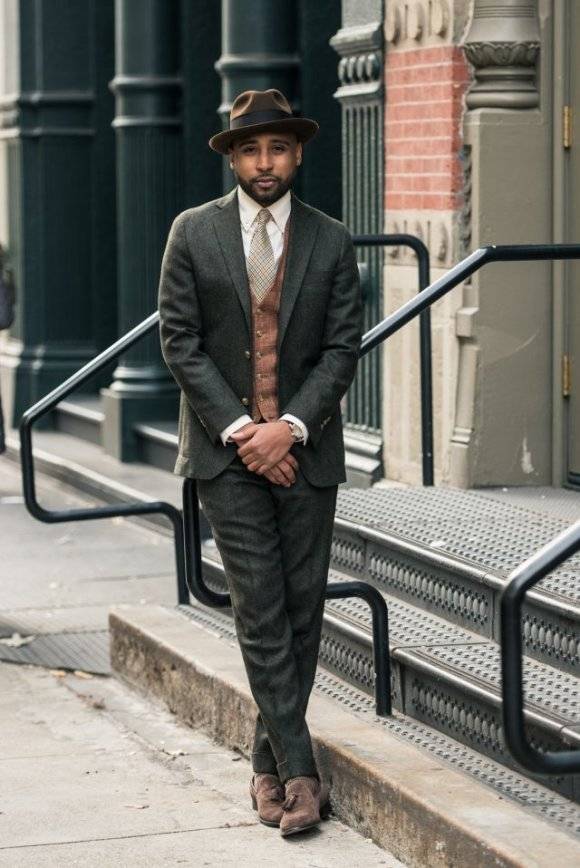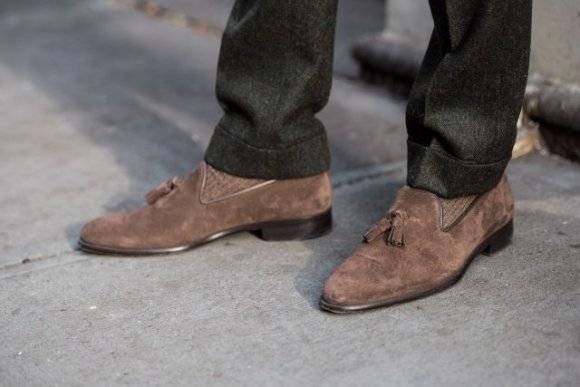 ---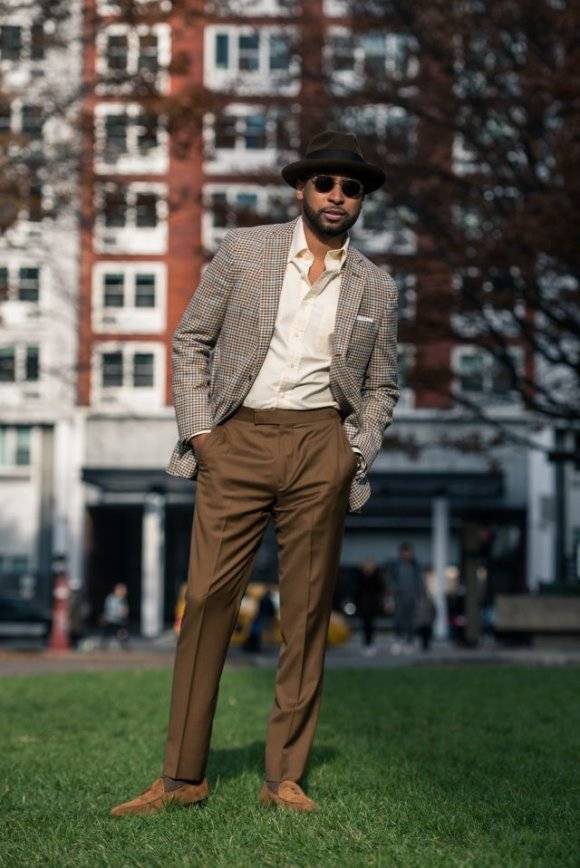 "I love mixing and matching, and dressing-down my suits. That's like a go to look of mine. 
One look I've been wearing a lot lately is a textured two-piece suit with a crew sweater or t shirt with either loafers or sneakers.
It's more 'effortlessly stylish' instead of getting stuck in the 'trying-too-hard' mode by adding too many elements."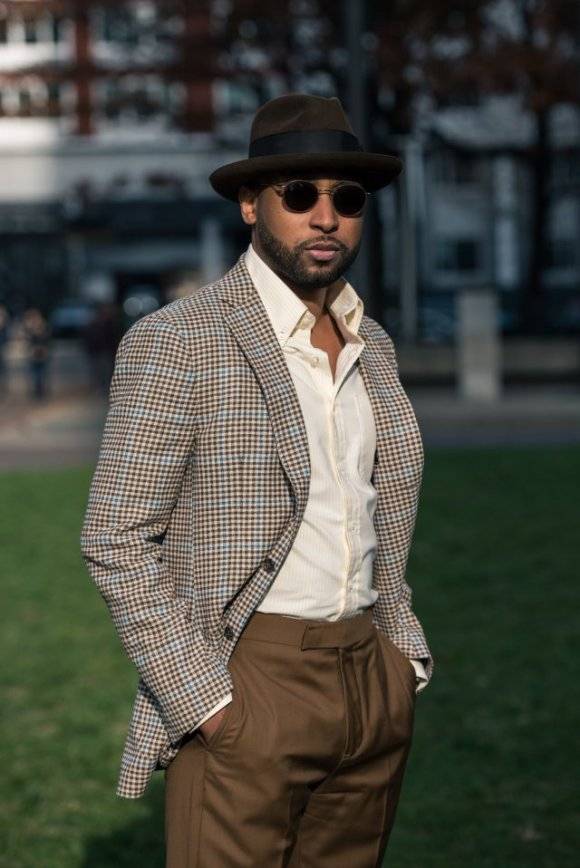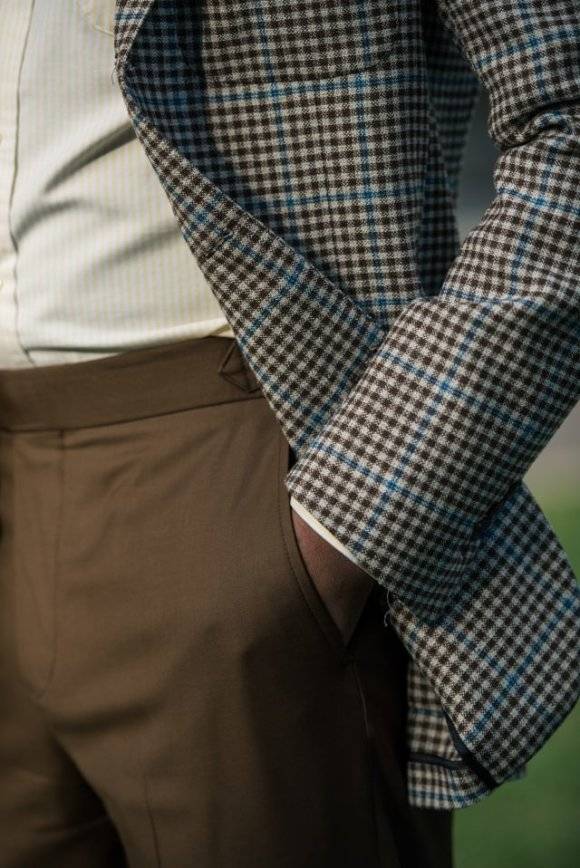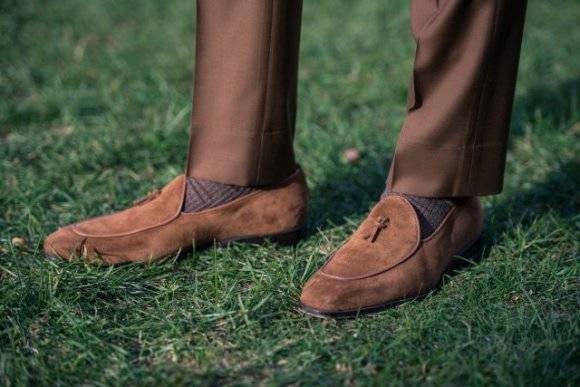 Thanks, as always, for reading and special thanks to Antwan for participating.
Yours in style,
Dan Trepanier