The Knight family in Nashville Tennessee has to be one of the most stylish families in America. We've already featured Grayson (twice) and his younger brother Wesley. Kimble is the oldest of the three boys and has been leading the style charge since they were young. I've always admired Kimble's style from afar, since back in the day when we were both clients at Michael Andrews Bespoke in NYC. He has this in-your-face, unapologetic, Bob Dylan meets Johnny Cash style, but done using beautiful designer menswear pieces from brands that he has helped develop.
"Growing up, my father was really into rock & roll from the 60's and 70's and introduced me early on to bands like Black Sabbath, Led Zeppelin, and Johnny Cash...the man in black. Discovering this genre and style at an early age left a lasting impact - music was always been a profound source of inspiration. In my opinion fashion and music go hand-in-hand, and this is where my sartorial love takes root... I think the way I dress is not necessarily something I'm consciously trying to achieve, it's just an extension of who I am."
Rock & Roll style is a very specific look; the long hair, the super skinny jeans, the tall heeled boots, the tough leather jackets... What I love about it is that it's the kind of style that you can't really fake. You can't just pick up a pair of skinny jeans and start pulling off "Rockstar Chic" in a believable way. If you're truly pulling it off then 1) your confidence is through the roof and 2) chances are you've spent years studying the rockstars who invented it (and probably partying hard to their music). In order for it to come off as authentic, it has to be a real part of your identity - which is rule number one when it comes to personal style at large. 
To show you what I mean, we recently caught with Kimble in freezing cold NYC to share a little more about his style and story.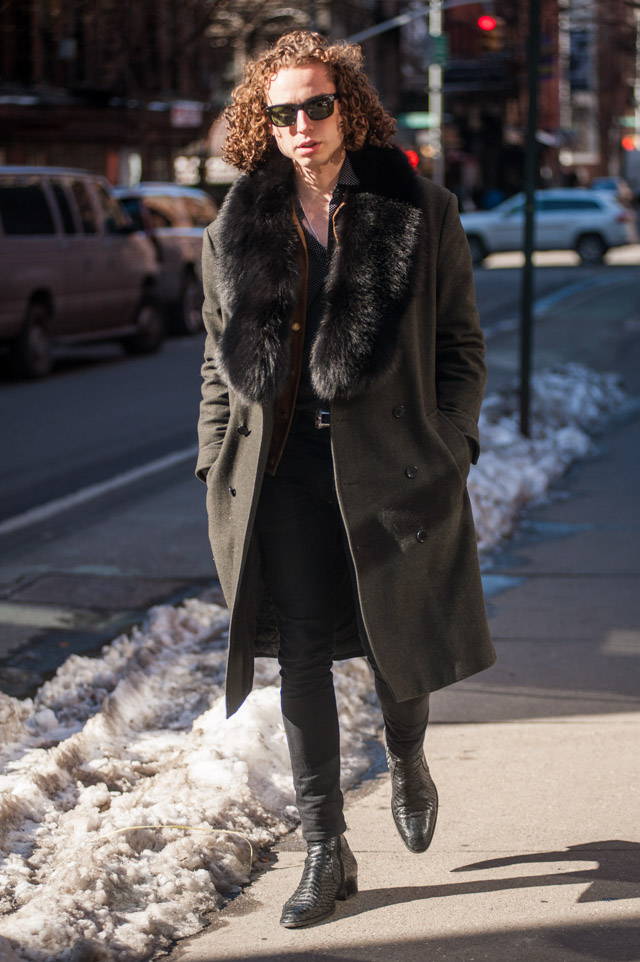 This is what I mean by unapologetic and in-your-face: a military green double-breasted overcoat customized with a Mink fur collar (you know rockstars love oversized furs), with a raw suede jacket, a silk print shirt, a pair of skinny waxed denim, and some black python skin boots. It's not a look that too many guys can pull-off, but Kimble does it with ease. It's one of the reasons he has become highly respected in the business for his aesthetic point-of-view and his ability to help brands better position themselves in the market.
He's worked with some top-notch brands, starting from the nightlife space and organically crossing-over to the menswear world:
"My career has always related back to newly starting ventures, with the first being the launch of the now infamous Boom Boom Room at the Standard Hotel in New York. From there, I was recruited by Johan Lindeberg to work alongside him, laying the retail groundwork to launch and run his downtown denim concept BLK DNM. As a result of the impactful launch there, the brand's quick growth and indelible presence on the fashion scene, I was in turn recruited by Hedi Slimane who was just beginning to rebrand Saint Laurent at the time. I moved to LA to spearhead the rebranding on the retail level there. After increasing my experience in the denim industry, I am now working to restructure and revamp bespoke denim brand 3x1."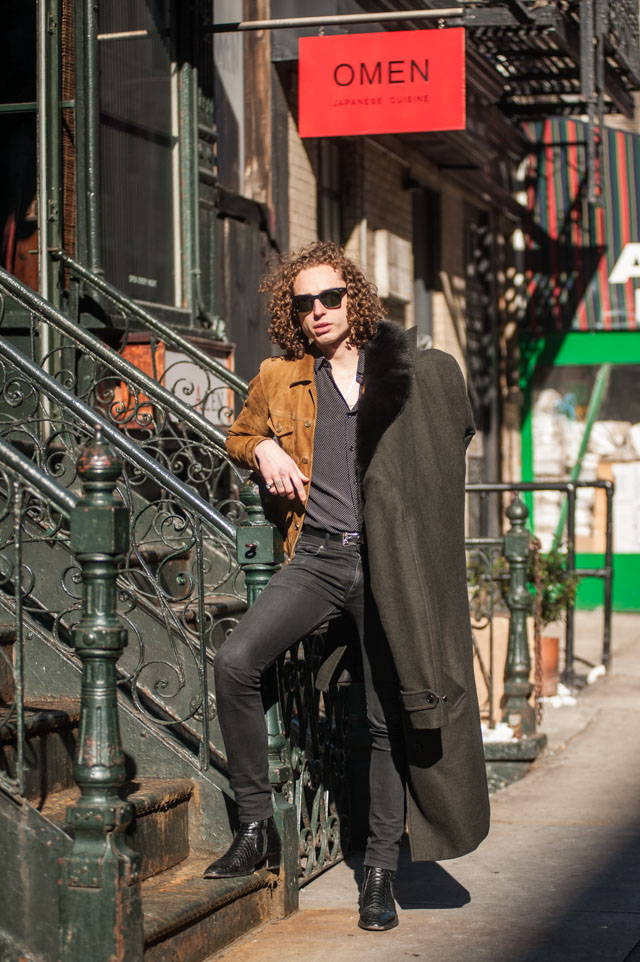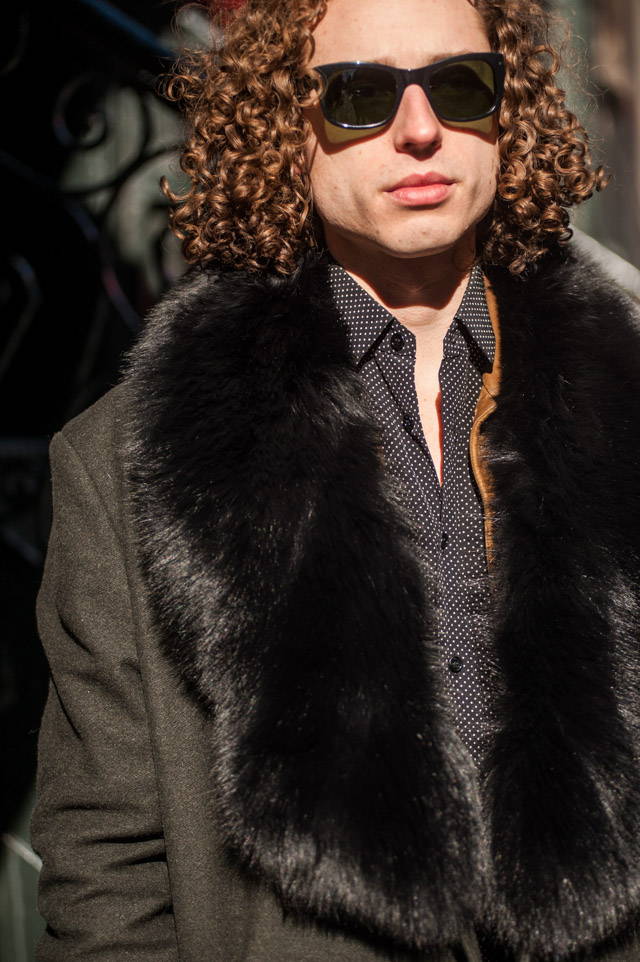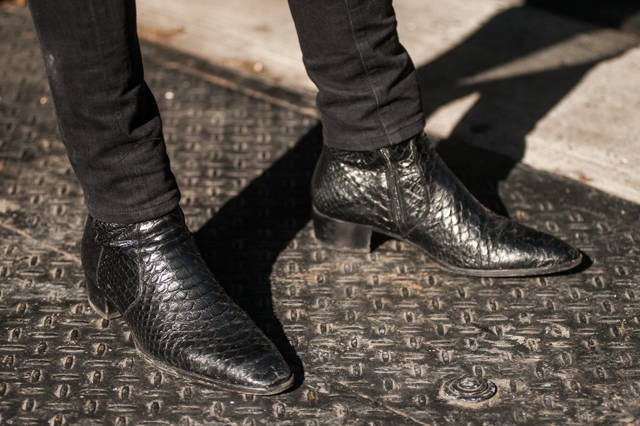 2. Leather, Cashmere & Silk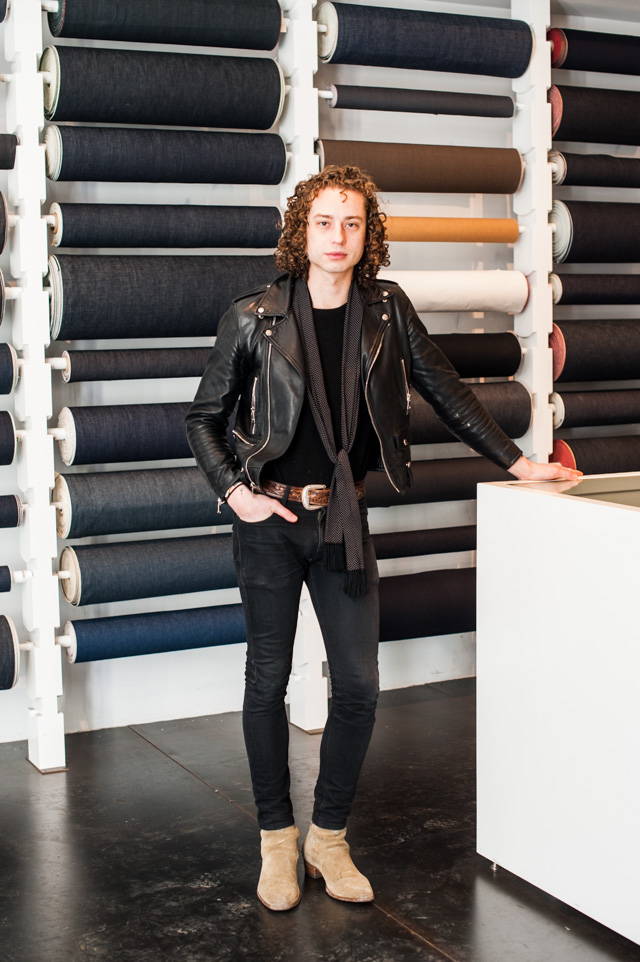 These photos were taken in front of the rolls of denim in the 3x1 shop in Soho. I'm excited to see the effect that Kimble will have with this brand which began as a bespoke denim house, with tailors hand-making jeans in front of clients live in the showroom.
Like most of the stylish gentlemen we feature on Articles of Style, Kimble doesn't have a huge wardrobe. It's about quality over quantity and investing in well-made pieces that accurately represent your personal style so they will last the test of time. Always better to have a few good expensive pieces, then a bunch of cheap crap.
"My Saint Laurent perfecto jacket is usually incorporated into my look every day. It's like a second skin. It fits like a glove and the lining has worn thin. When it's cold I'll layer it under an overcoat and in the summer I wear it over a broken-in t-shirt."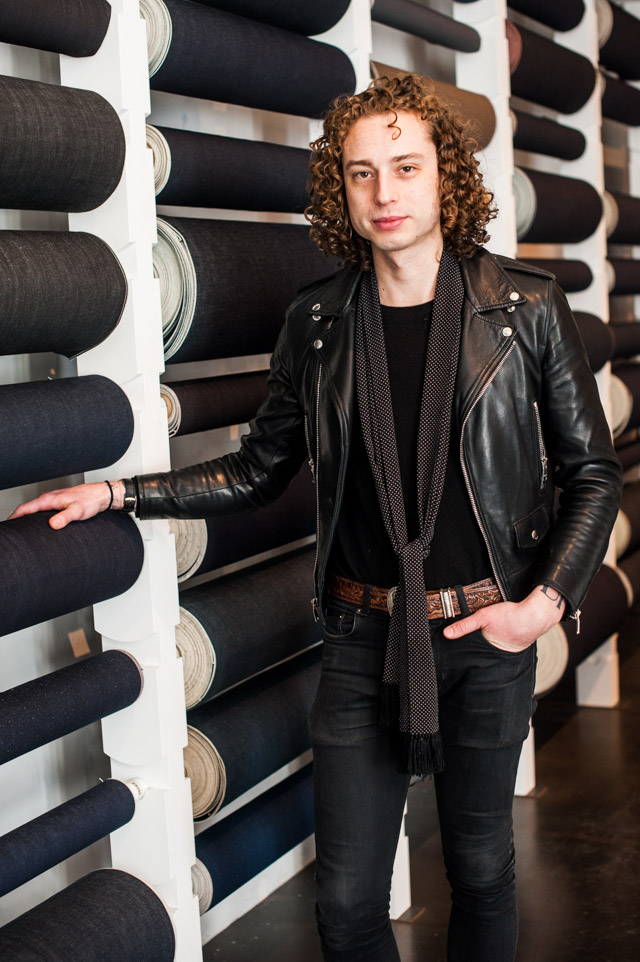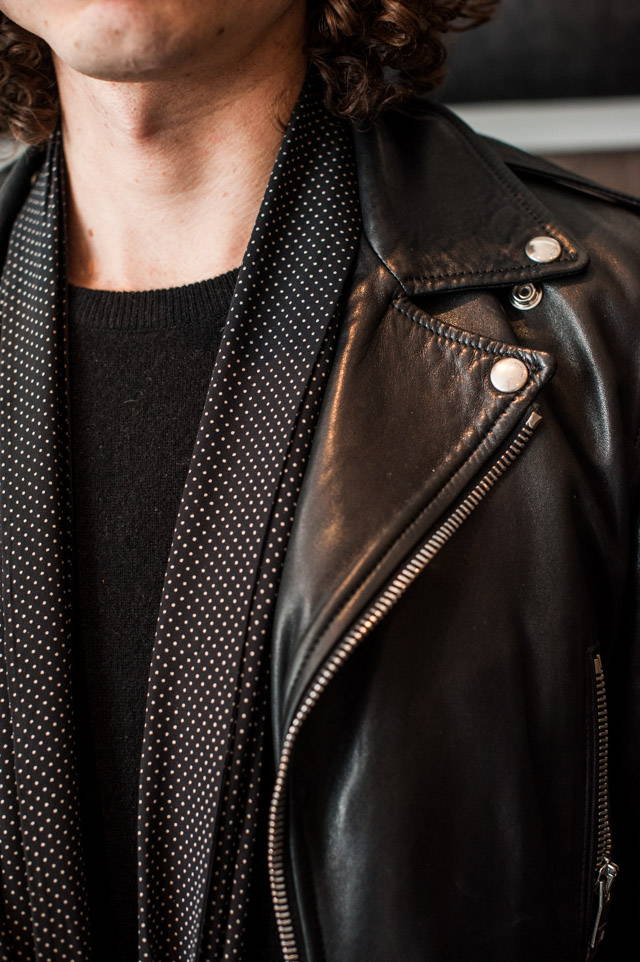 This is one of those posts where you want to look closely at the details and accessories. This hand-carved vintage leather belt, for example, belonged to Kimble's grandmother.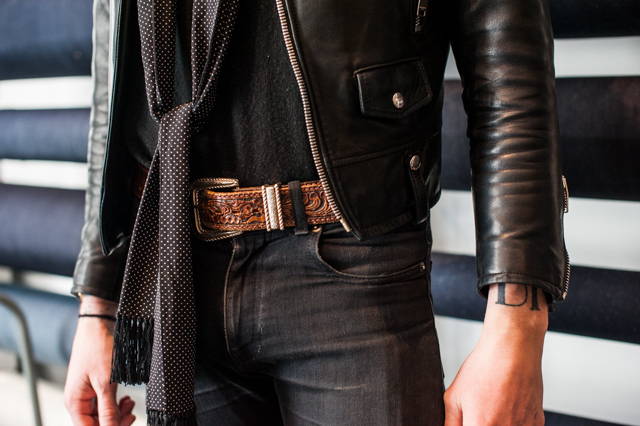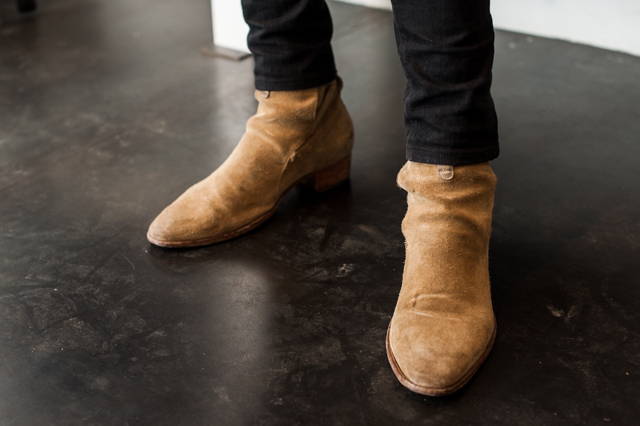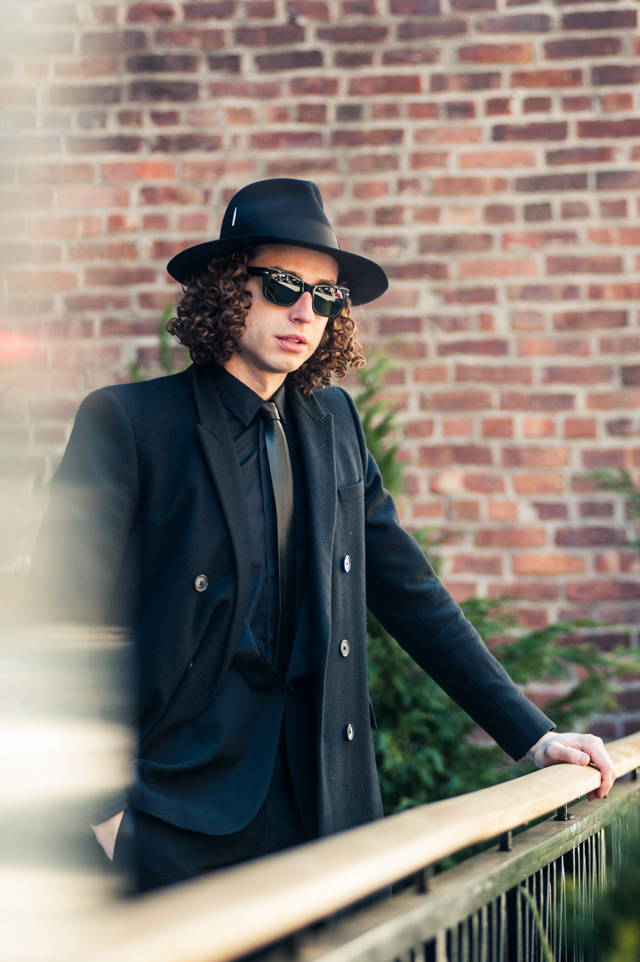 Not too many guys can pull off a full skinny-fit tuxedo with a leather tie and suede harness boots, and that's why we needed to feature Kimble. The tuxedo was originally purchased for his brother Wesley's wedding, but it's been getting some good use since, in formal and non-formal settings alike.
"On the topic of go-to wardrobe pieces.... On a trip to Paris (for Saint Laurent) I decided that I was not leaving without a Borsalino hat. I found this old Parisian hat shop and walked in thinking I wanted a specific style and color. Rather matter-of-factly the shopowner quickly convinced me that that specific hat was not what I wanted. He put me into this perfect rabbit felt, cowboy brimmed fedora in deep navy. I fell in love and have since returned to the shop many times and brought my brother and friends in for hats as well. The art of the shopowner who really knows his product is not quite dead, it just takes some searching."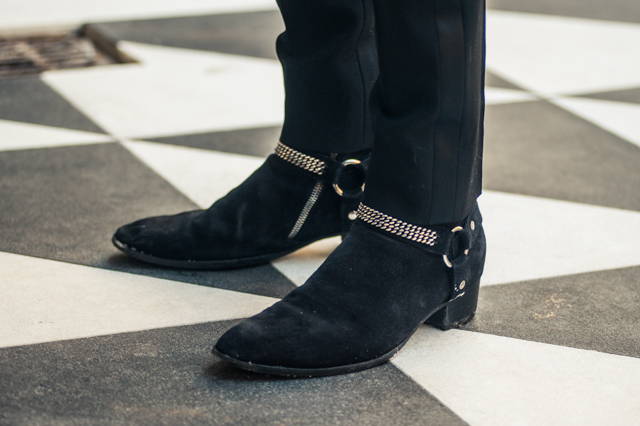 Thanks, as always, for reading and thanks to Kimble for participating!
Yours in style,
Dan