Remember how menswear designs through history have usually started with utility in mind? Well here's a great example. Sam Adegoke is a motorcycle enthusiast with a passion for functional design. His goal is simple; to keep people safe and looking fly.
"I'm the designer for LA based menswear label Wayward; a premium contemporary brand of denim and leather apparel rooted in biker culture. As a motorcycle enthusiast of over 10 years, I was constantly frustrated with the lacking availability of good-looking yet functional biker apparel. I wanted Wayward to embody a lifestyle fusion of style and safety."
The line has some truly protective pieces available, but also some very wearable "biker-inspired" pieces that you don't necessarily need a motorbike to wear. The more I look over the collection, the more impressed I am by the design. Sam is truly a class act with great taste. He's one to watch!
And the best part is, when he's not designing badass biker-inspired menswear, Sam is working with his non-profit The Helmet Project which provides helmets and safety equipment to riders in impoverished countries.
We caught up with him at Spirit Lake Cycles in Downtown LA where he shared a little about his story and showed us some of his recent work.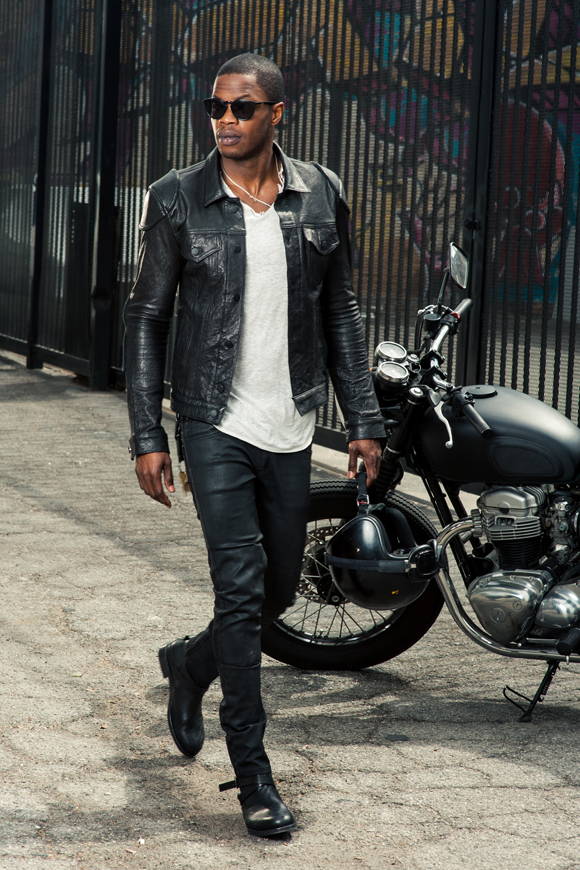 This looks like a trim-cut leather trucker jacket, but with additional padding through the shoulders, elbows, and body. It's also cut from a very durable leather. The pants are also subtly padded through the knees and thighs.
My favorite aspect of Sam's design is that he's able to pack-in a fair amount of protective padding while keeping the silhouette trim and sleek. He puts a lot of emphasis on fit.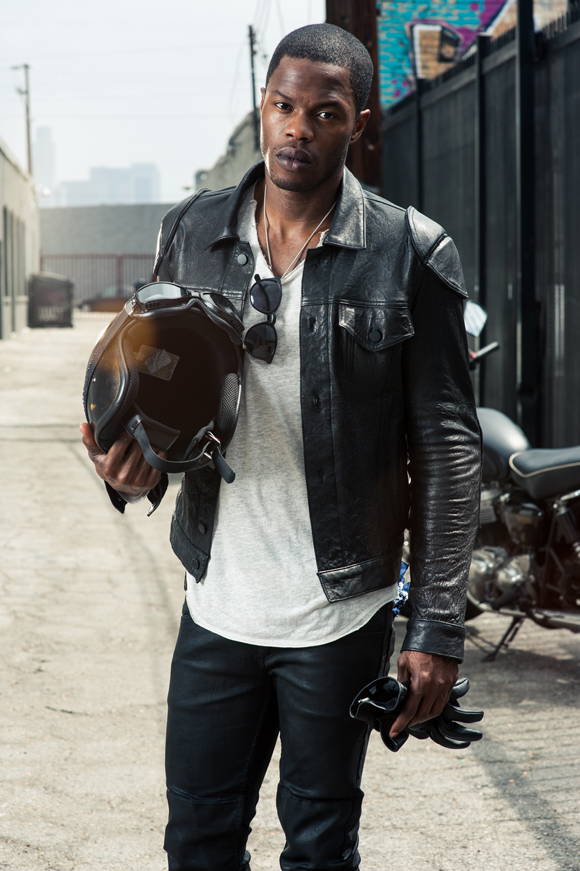 "I was born in Nigeria, and migrated to the states. First to New York, briefly, then Minnesota. I studied Marketing as an undergrad at the University of Minnesota, then menswear design at the Academy of Art in San Francisco. My mother was heavy into fashion and had a small cut and sew boutique selling traditional West African clothing. She had this gregarious Nigeria way of mixing traditional West African garb with American style that everyone loved.
I learned how to sew and construct basic garments by watching her. We were a low-income family and being the youngest of 6 boys meant my entire wardrobe consisted of hand-me-downs or Kmart clothes, or hand-me-downs from Kmart.  So I had to get creative with what I had."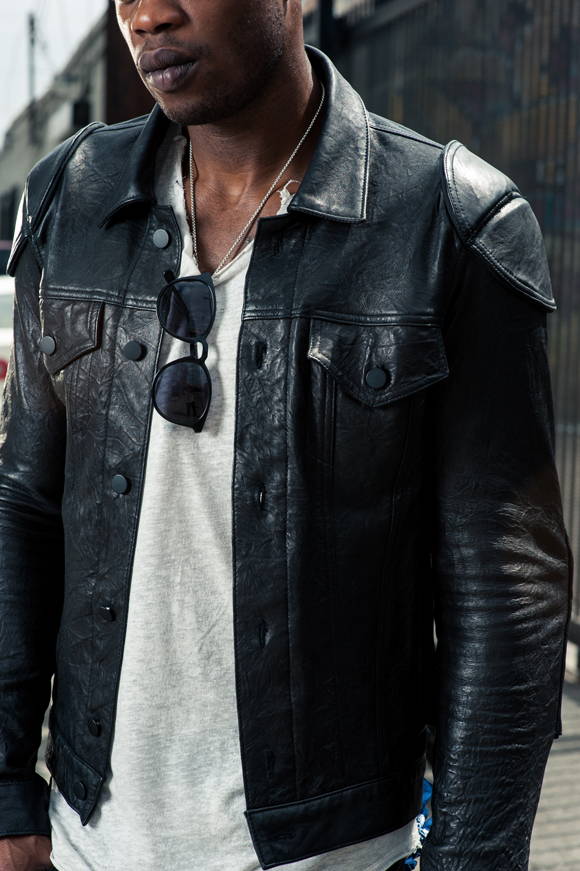 And of course, every biker needs a mean pair of riding boots.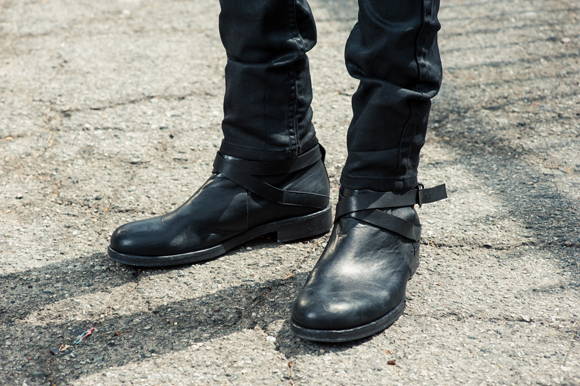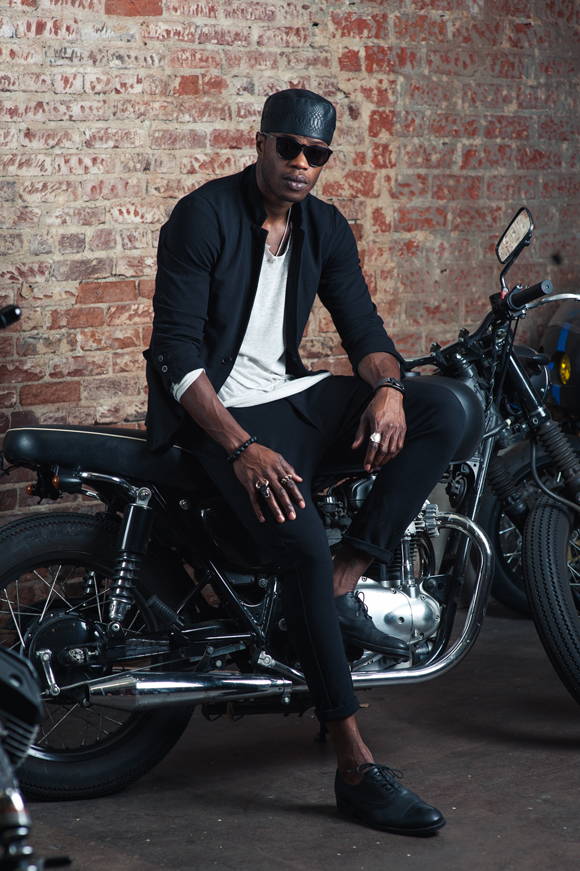 This look is not necessarily protective, but if there is ever a suit to be worn on a bike, it's this black knit piece that fits like a sweater. A suit doesn't get much more casual, or cool.
And of course the accessories - shades, rings, necklace, python caftan - make the look that much cooler.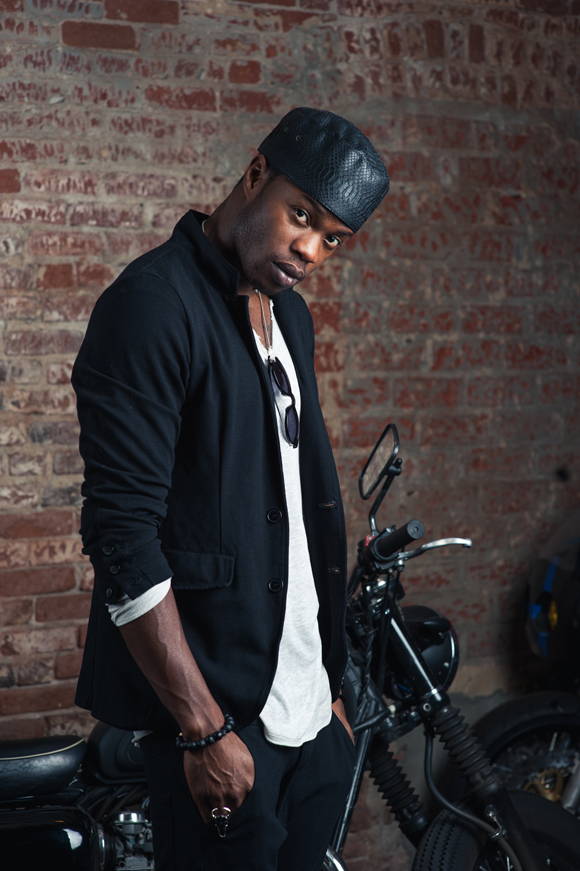 "What really shaped my personal style was riding motorcycles.  I started when I was 14 riding my childhood friend's mini dirt bikes until the summer after High School when I saved and finally purchased my own. It was an old 87' Honda Interceptor and it consumed me. All I wanted to do was ride. There was a distinct shift in my clothing style that was more conducive to riding.
That shift became even more pronounced when I moved to LA after college. You can ride year-round here and, for a while, my bike was my only mode of transport.   It was great, but it meant I really had to plan my days and attire around the experience of riding.  If I were going from a morning coffee meeting to the studio to work on garments, to dinner then drinks or an event, I'd have to find one outfit that satisfied all occasions. That made my harness my style and focus on simplicity."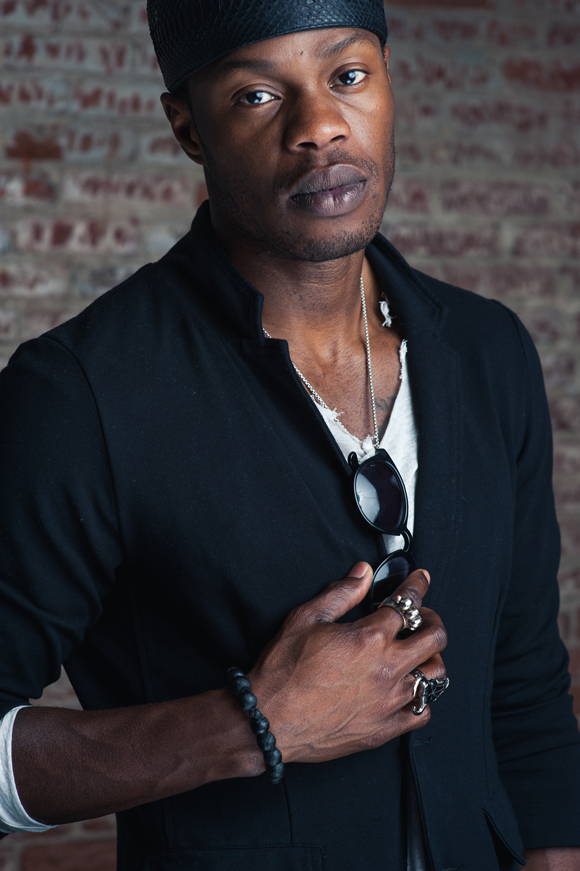 You may remember, Sam also joined us at the recent Articles of Style Influencer Dinner where he wore a, what else, another beautiful leather piece.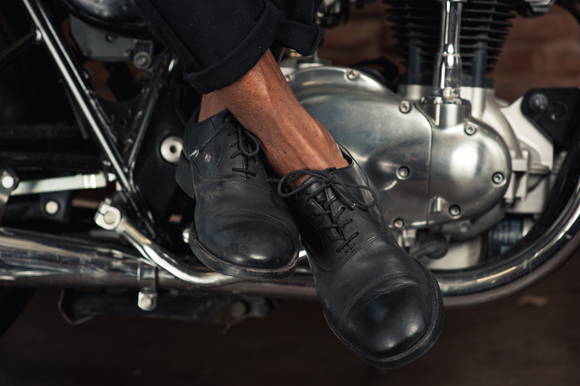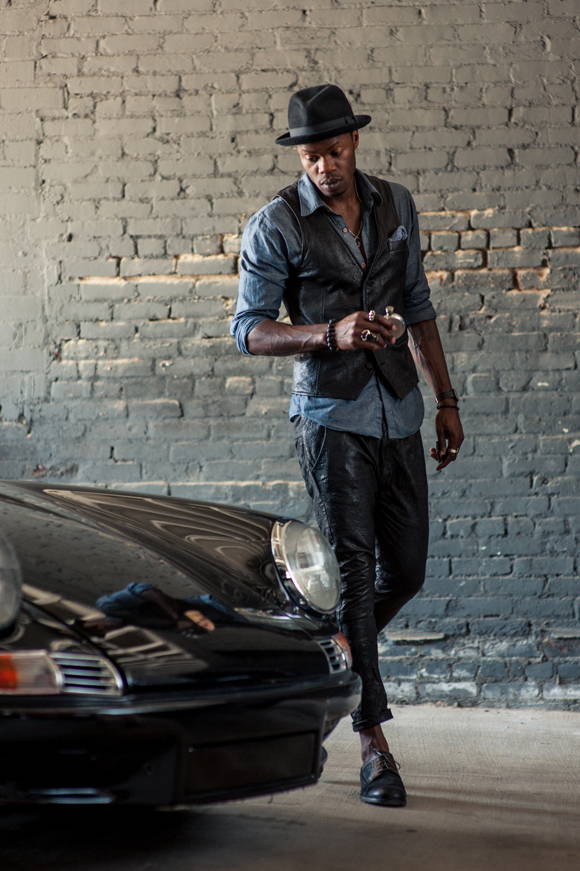 "I don't profess to be an authority on what style is and isn't. I create what I like and I'm grateful when that speaks to someone. But what speaks to each of us is so different and nuanced. I often see things on others that I would never wear, but appreciate because it works for them.
I do believe, however, that clothing can and should flatter the human figure regardless of shape or size. Everyone can find the cuts, silhouettes, colors, and textures that best compliment their bodies. I'm a slimmer guy and there is this idea that slim guys can try or "pull off" more in terms of style, which I don't believe is necessarily true. I like nothing more than seeing a larger bellied feller pull-off a head turning look that just works.  It always makes me smile and think damn, that guy knows his body.  So with that, fit and tailoring are extremely important to me in my work. I can always layer details, colors, and textures into a garment, but the foundation has to be a well-cut bodice.
I think developing your personal style works the same way. Learn your body, get your fit down, and have fun building from there."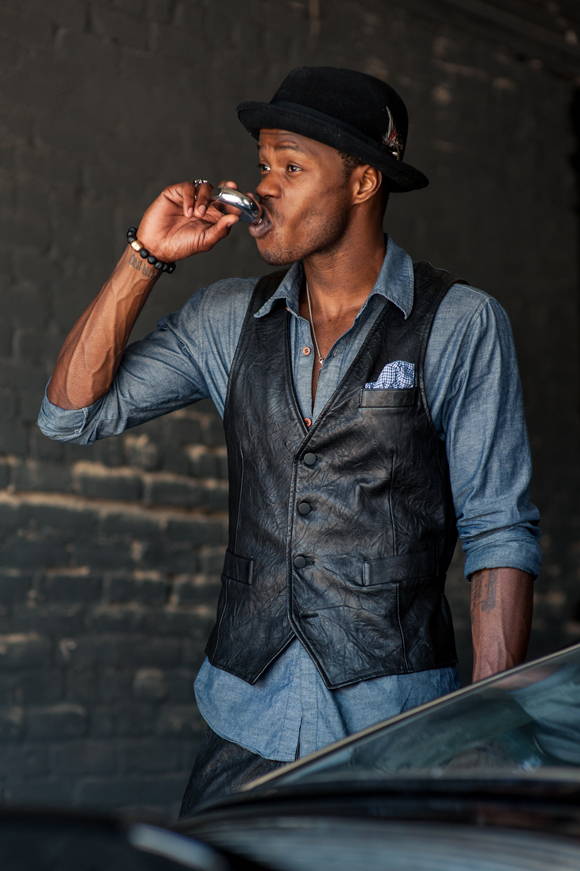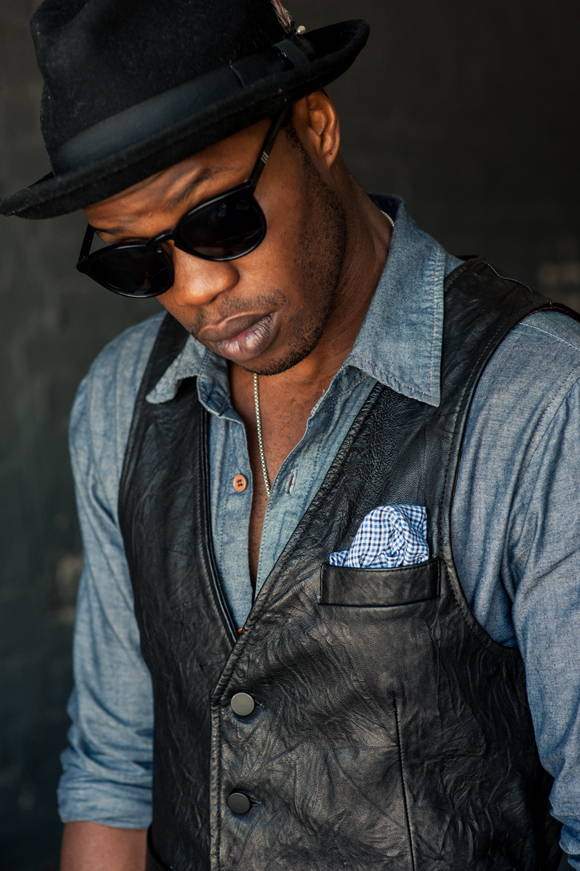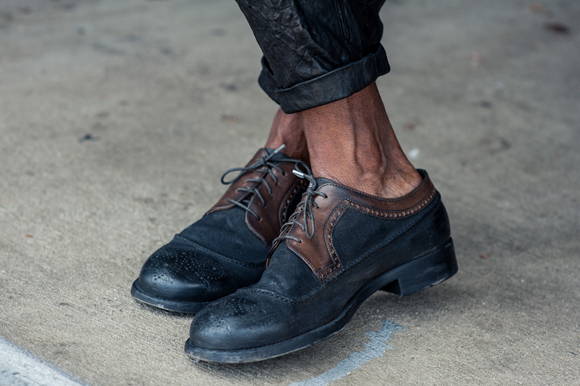 Thanks, as always, for reading.
Yours in style,
Dan