In a perfectly curated wardrobe, all of the pieces (well, almost all) should make sense together and be interchangeable. For example, each of the ties should work with each of the shirts, and each of the shirts should work with each of the trousers. In theory, you could get dressed in the dark.
I've touched on this point before, and by popular request from our readers who are in the process of re-inventing their closets, I decided to update my list of 20 essential items that can serve as the basis for any well-dressed mans wardrobe. Using only these 20 pieces you should be able to create dozens of different outfit combinations and be appropriately (and stylishly) dressed for just about any occasion.
Before you start stocking up, though, keep in mind that (as always) I recommend buying quality. Well-made clothing lasts longer and looks better every time you wear it, so it works harder for you and saves you money in the long run. These are all classic foundational items that you can wear for the next 10+ years, in my opinion. Think of them as investments. Investments in your appearance, your first impressions, your confidence, your sexlife, your career, etc. It might take you a couple years to build a high-quality, well-edited wardrobe. That's okay. Menswear is a marathon, not a sprint. For those going through body changes, it's a good idea to wait until you stabilize at a weight that you are happy with, and can realistically maintain, before purchasing these staple pieces.
Lastly, don't forget to bring new (or old) items to your tailor. Ask him what can be done and tell him how you want it to look; maybe even bring a Articles of Style photo for reference. Remember it's a one-time cost that will reap residual benefits.
So here we go. Here's my 20 foundational pieces to build your wardrobe around.
1. UNSTRUCTURED & TEXTURED NAVY SUIT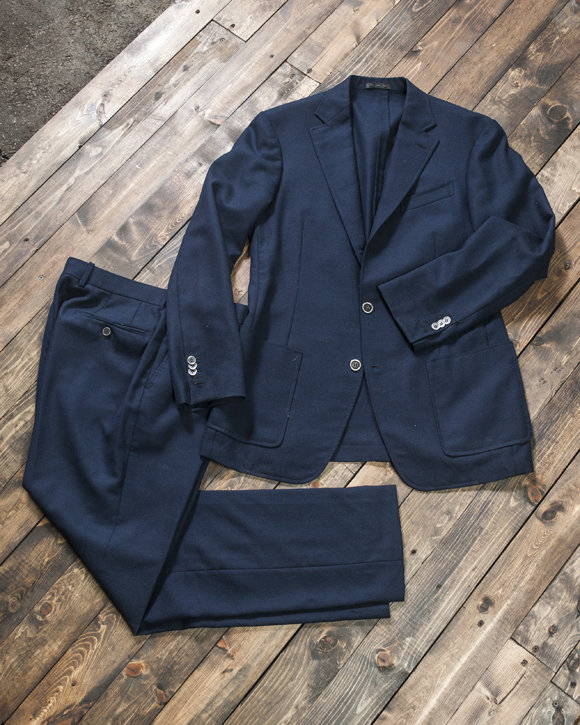 A solid navy suit should be the foundation of your tailored wardrobe. If you find an unstructured one in a textured fabric – like this wool hopsack – it can serve as a go-to suit, blazer, or pair of trousers.
This is your workhorse business suit. You can wear it three times in one week and nobody will even notice (the beauty of solid navy in the corporate world)
Look for a fabric that is dark enough to wear in the evening (to a club, semi-formal event, etc.) to increase versatility.
You can also consider using a slightly more blazer-friendly button (like these gunmetal versions) if you find yourself wearing it more often as a jacket.
Our Navy Hopsack Suit is a fantastic place to start.
2. BLAZER WITH TEXTURE AND PATTERN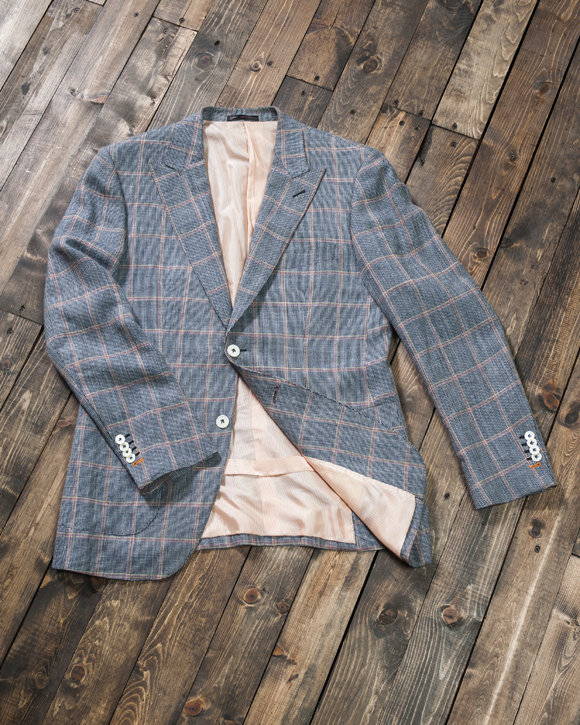 A perfect sport coat, like a perfect pair of jeans, can be worn over and over again for a multitude of occasions.
Look for something with some pattern and texture, in colors that have a little life but are still subtle enough to go with most of your wardrobe
This is a great place to play with an interesting fabric blend, like this wool/linen/silk
This jacket should work with your navy suit trousers, both jeans, and the chinos (as well as any of your shirts)
3. DARK BROWN/OXBLOOD/CORDOVAN WINGTIPS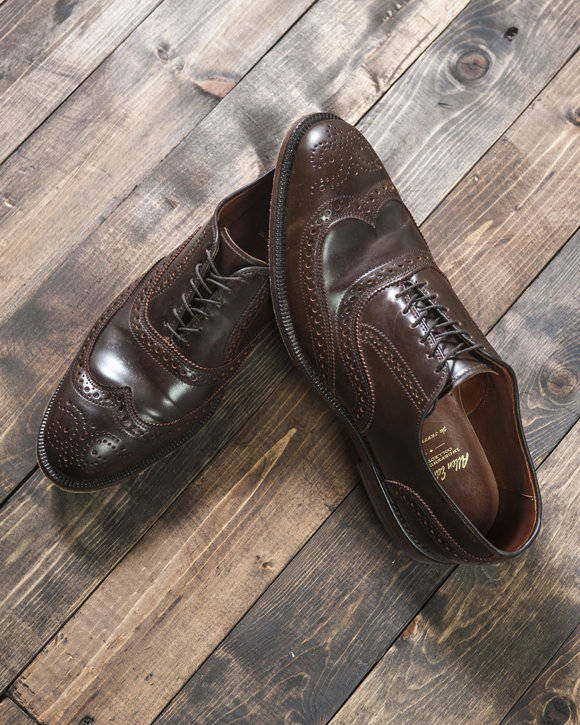 The quintessential dress shoe with just enough character for jeans on the weekend.
Invest in something that you can have re-soled and re-crafted
Remember the Golden Rule of Footwear: "A $180 pair of dress shoes will last you twice as long as a $90 pair of dress shoes, but a $360 pair of dress shoes can last you a lifetime."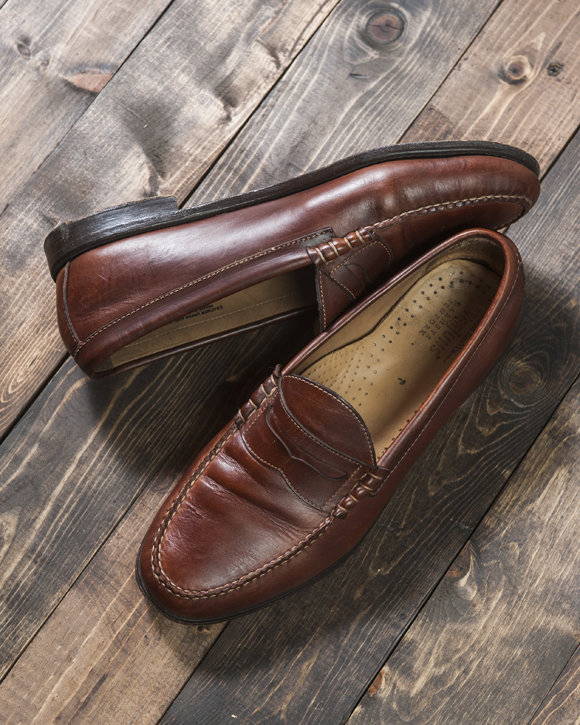 The timeless everyday shoe that can be dressed up or down.
Look for a classic penny shape with a round toe and a medium vamp
I like medium brown – especially if you go burgundy on the wingtips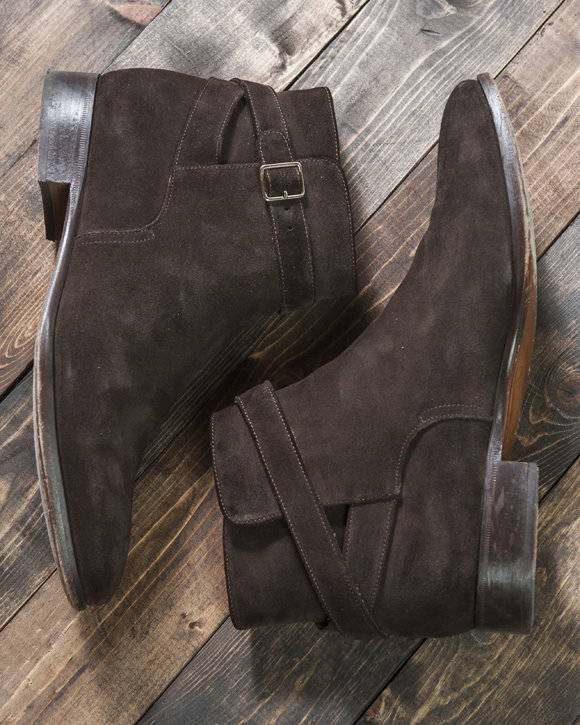 You already know how I feel about sleek dress boots. In chocolate suede, these are as versatile as they are sexy.
If you live in a rainy climate, you might want to consider going smooth leather
There are several styles of ankle boots to chose from – Chukkas, Chelseas, Jodhpurs, etc.
6. BLACK LOW-TOP LEATHER SNEAKERS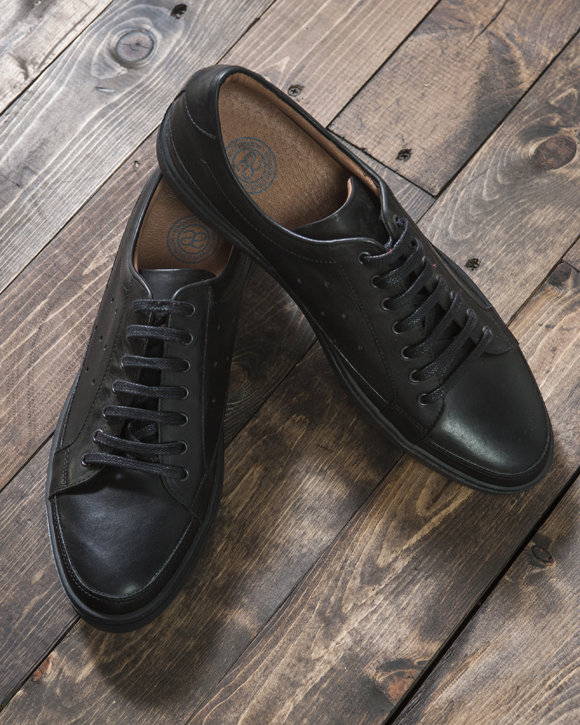 I was going to go with white low-top sneakers, but they don't work as well at night. Black looks harder, sharper and more sophisticated. It also works better with tailoredwear, in my opinion.
Look for something clean, simple and well-made
Avoid logos, stripes, colors, hardware, contrast soles, etc. The more stripped-down, the better.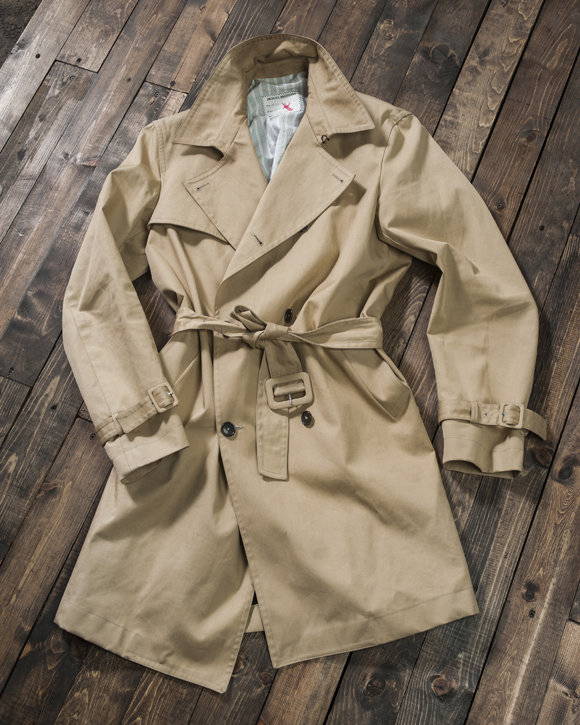 A rain coat that's not strictly for the rain. Make sure it's waterproof, neutral in color, and classic in design. Like this treated cotton military trench.
Look for something just slim enough to fit over a suit/blazer, so it doesn't look oversized over only a thin sweater
The length should hit around mid-thigh for greatest versatility (long enough to cover the suit jacket/blazer, and short enough to wear casually with the jeans and loafers
8. THE PERFECT BLACK LEATHER JACKET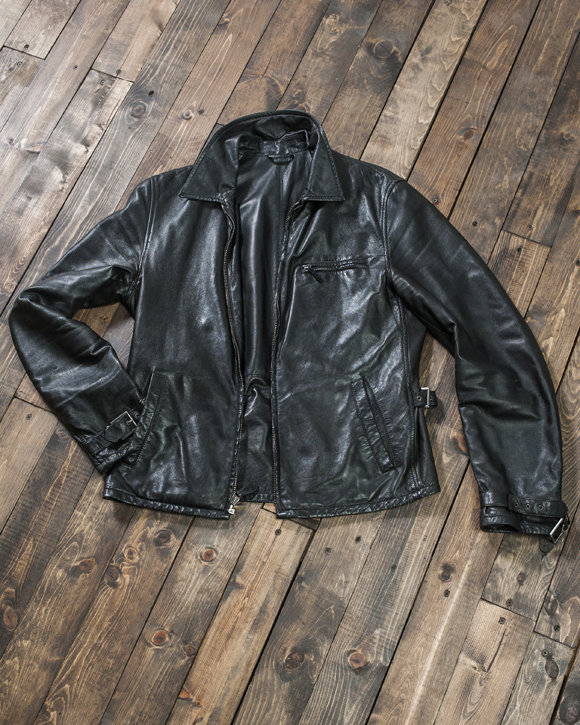 If you chose properly, this will become your go-to piece for anything after sunset.
Look for something trim fit and light in weight (it's a jacket, not a coat)
Keep the design details minimal. Go symmetrical with a classic collar and avoid any excessive hardware, zippers, biker padding, heavy linings, etc.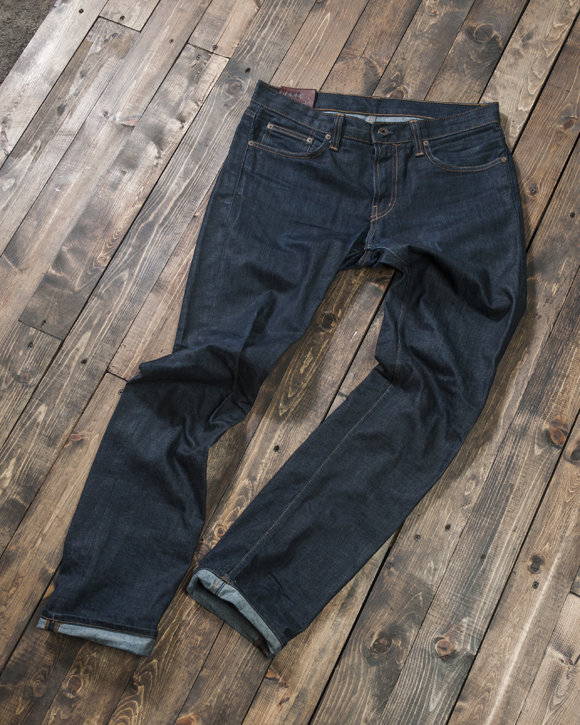 No secret here. If you don't have a go-to pair that fits perfectly, keep looking. You want a pair that you look fwd to wearing day in and day out, whether you're dressed up or dressed down.
Go slim straight (or slight taper). Avoid "skinny".
Try on as many brands as possible to find the best fit, then have them tailored after breaking them in.
Wear them as much possible and enjoy the break-in process. Try to avoid washing them if possible.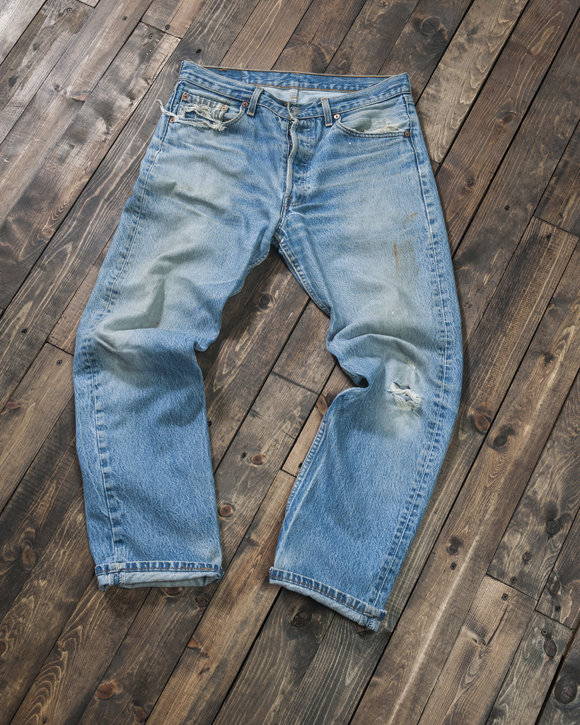 As an alternative to the dark denim, look for something with a little more character and a little more Spring/Summer feel.
Authentic distressing almost always looks better than factory distressing. Therefore, go vintage and then go to your tailor.
Again, keep them slim and straight/tapered, but avoid anything that squeezes the thighs.
Pale grey chinos are as versatile as a pair of pants can get.
Look for something flat front, slim fit, and wash them in the machine to give them a broken-in feel.
They should be blank in color enough to work with virtually everything in your wardrobe.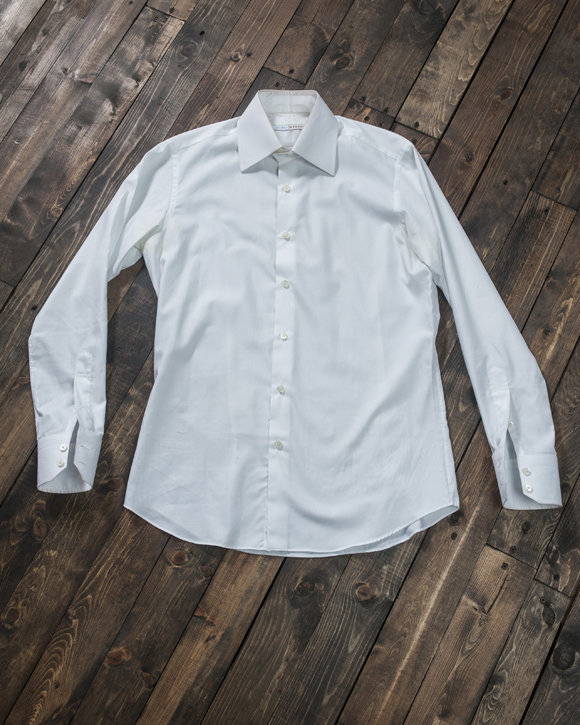 Every guy should have at least one classic white dress shirt with a tailored fit and a strong collar.
Keep it simple: no contrast fabrics, colored buttons holes, funky design details, etc.
Go semi-spread or spread collar for greatest versatility (that oxford cloth button-down isn't cut out for formal or semi-formal events)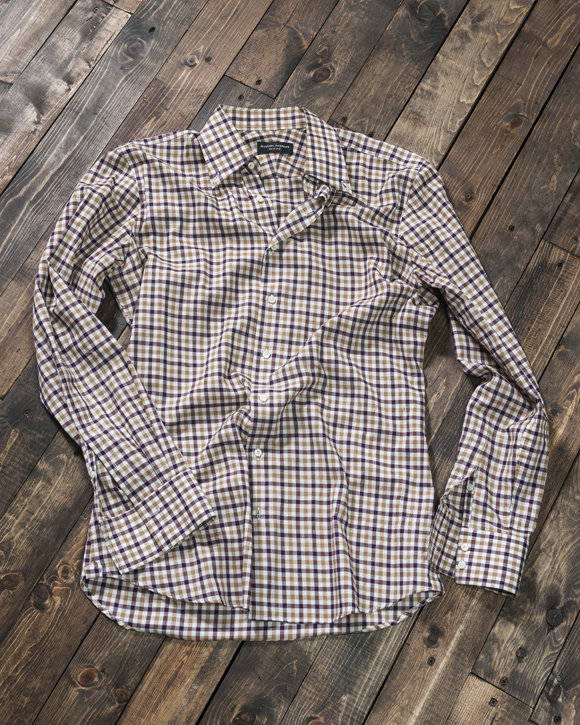 A check shirt (gingham, windowpane, tattersall, plaid, etc) can be a workhorse come Spring/Summer.
Look for something with a pop of color that is still relatively neutral and has a light base (like this white/khaki/burgundy)
Go with a button-down collar since you'll often be wearing the shirt casually, but avoid anything overly "washed" with a flimsy collar since you want the option of wearing it with a tie/jacket.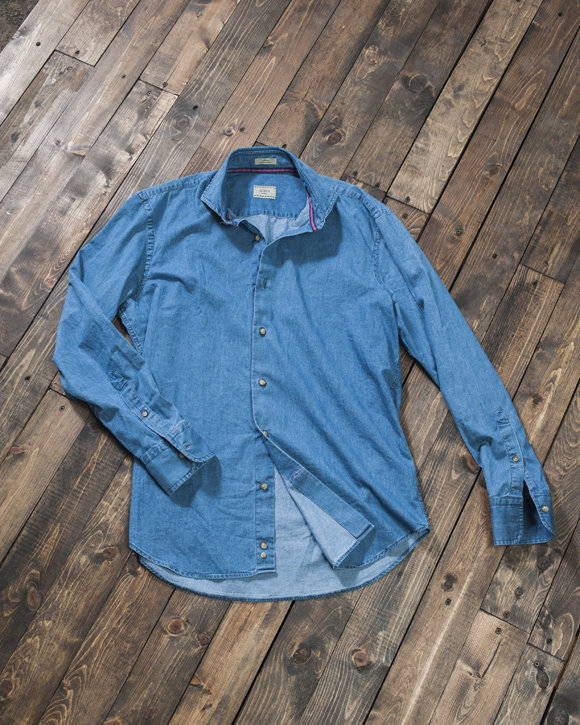 The denim shirt is a staple because it can be dressed up or down – especially if it's cut like a dress shirt with a sharp cutaway collar.
Keep the fit trim and make sure the collar fits properly with a tie.
Look for a solid light wash (without too much distressing). It should look like a dress shirt made of denim, rather than a casual shirt that isn't meant to be worn with a tie.
The henley is an essential layering piece. You can wear it on it's own like a t-shirt, under a heavy shirt (like the denim above), or over a button-down (like the white dress shirt, see outfit #7 below).
It should fit trim and hit right below the waistband
A tonal block stripe is a perfect way to add a little pattern, without competing with other pieces
Invest in a quality fabric (like this cashmere) and you'll find yourself reaching for it time and time again. 
16. HEATHER GREY ATHLETIC CREWNECK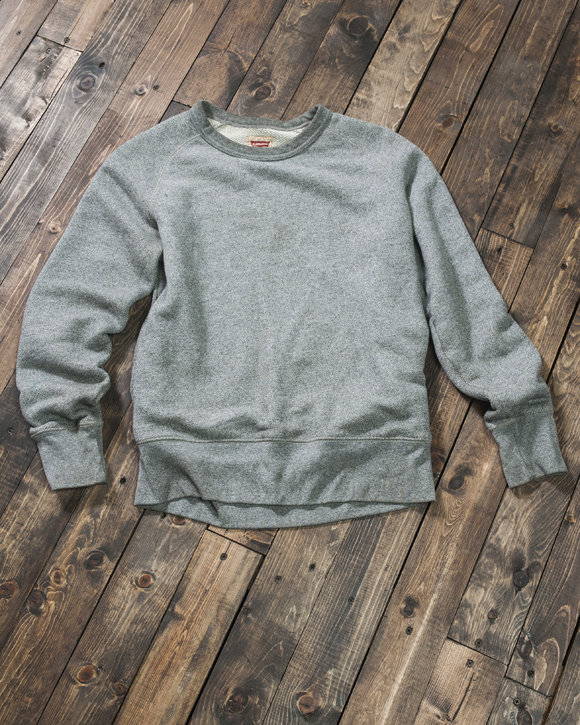 Back to basics with this one. Wear it to the gym, wear it over a shirt, wear it under a blazer… You can pretty much wear it with anything.
Look for medium grey fleece with a touch of heathering
The open crewneck and raglan sleeve give it a sporty feel.
Consider sizing down to get a trim fit – you want it to be fitted and sleek
17. SILK KNIT TIE IN SEASONAL COLOR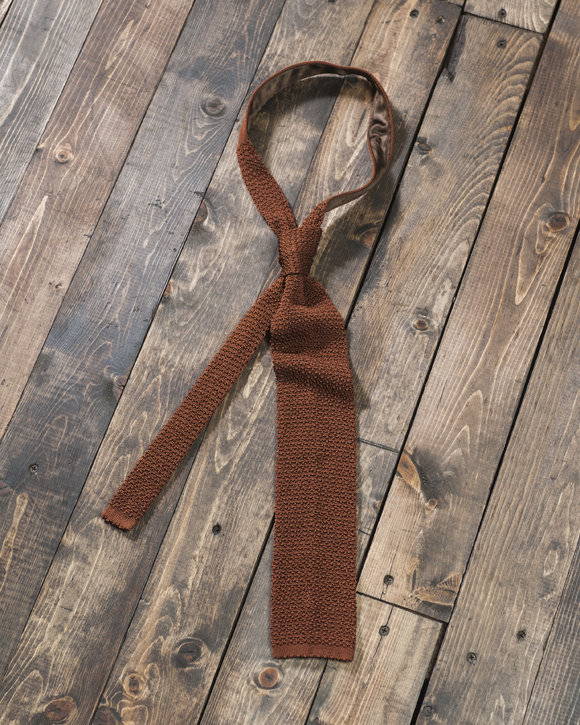 Bring out a spring color that works with the rest of your wardrobe. Solid options are burnt orange, mustard yellow, and deep purple.
Most knit ties are too thin (2″ on average) to tie a good knot. Look for one that's a little wider, like this 3″ number.
18. LIGHTWEIGHT SCARF IN SILK, COTTON, OR LINEN
Lightweight scarves are often overlooked. Therefore, a silk, linen, or cotton piece is an easy way to stand out from the crowd during the Spring/Summer months.
Think color and pattern, but not overwhelming.
Linen and cotton are probably a little easier to "pull off" than silk, which is a little more feminine, but also a little more suave.
19. A VERSATILE "IN-BETWEEN" BELT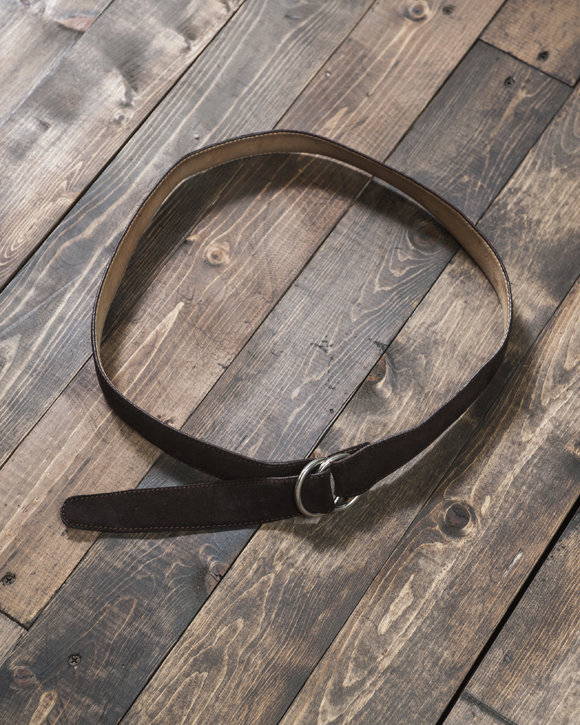 The perfect belt is a cross between dressy and casual. This one, for example, is an O-ring belt (naturally leans casual) but cut in a fine suede leather (which leans a little more dressy). If I only had one belt, this would be it.
Keep it narrow and sleek. Like 1-1.5″ narrow.
Keep the hardware minimal, and preferably silver.
20. A CLASSIC FELT FEDORA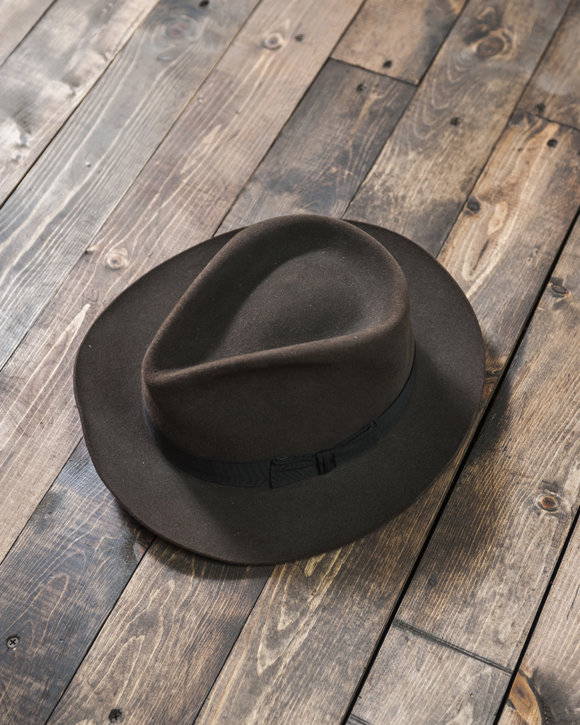 Last but not least, get yourself the classic gentleman's finishing touch: the lightweight felt fedora.
Avoid really short or "stingy" brims, look for something around 2.25-2.75″
Go brown or dusty grey for most versatility
Try on as many hats as possible to find one that looks natural with your head/face shape. You want to be comfortable wearing it.
---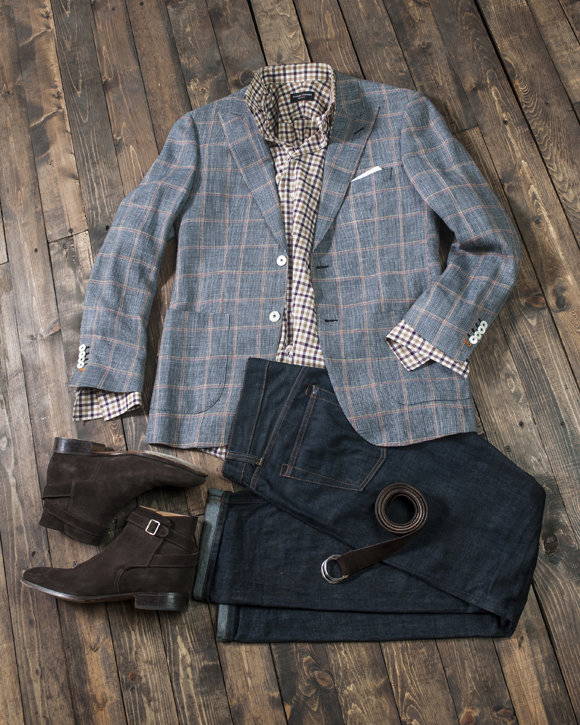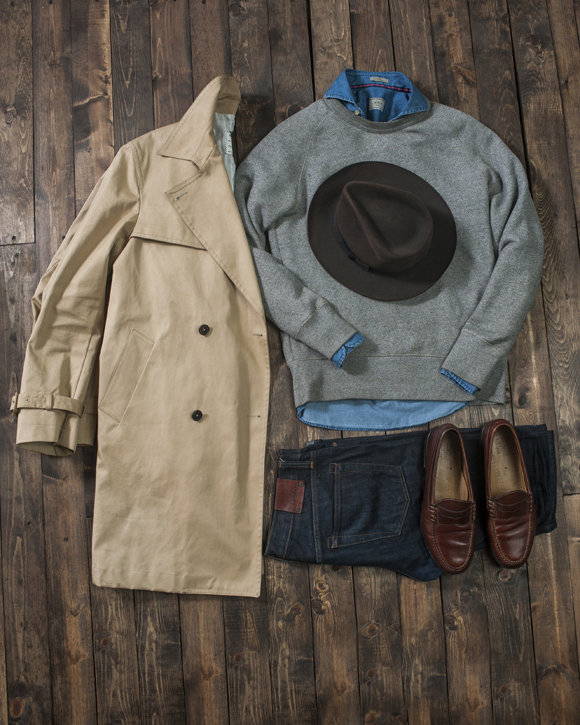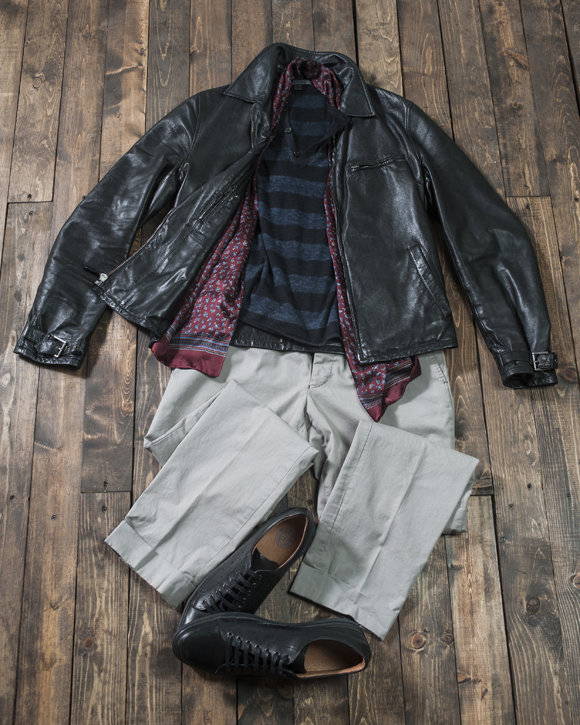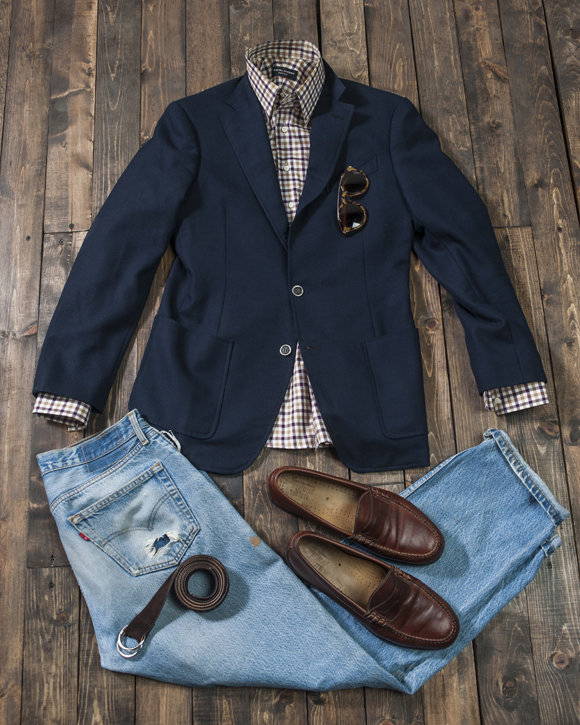 6. Spring Wedding/Semi-Formal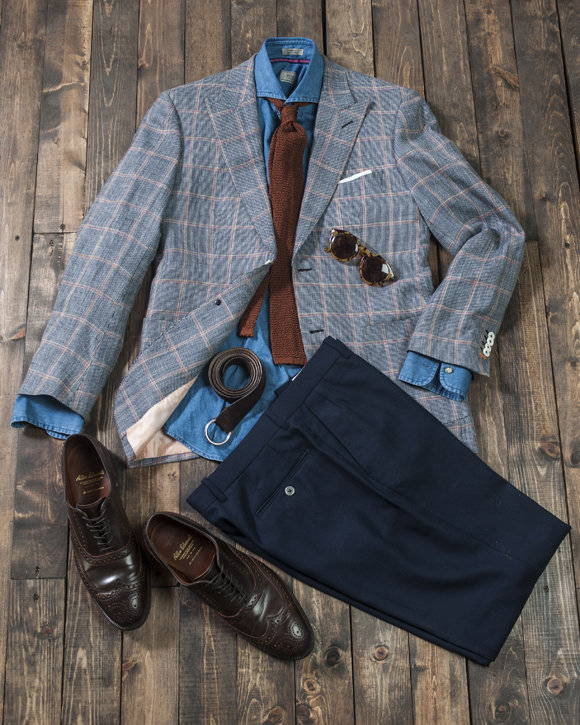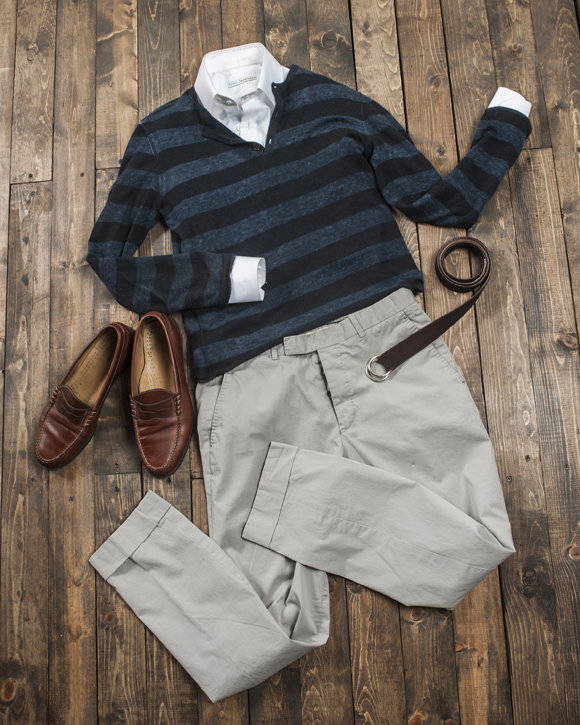 8. Bar Hopping with the Boys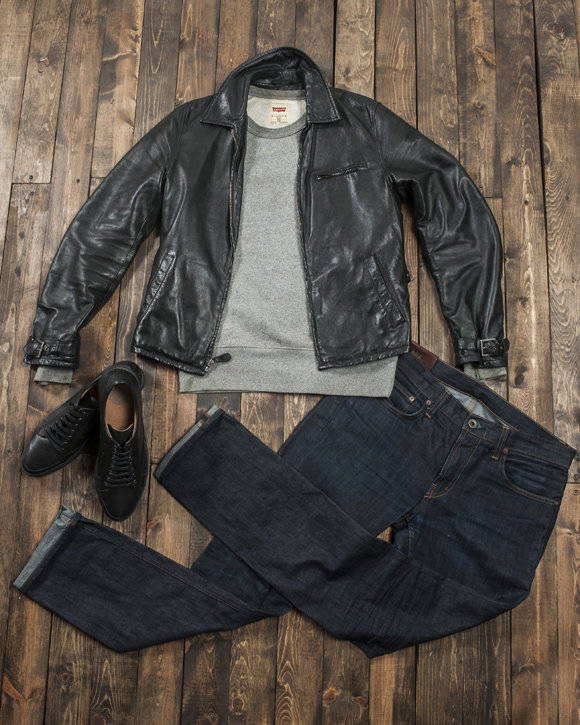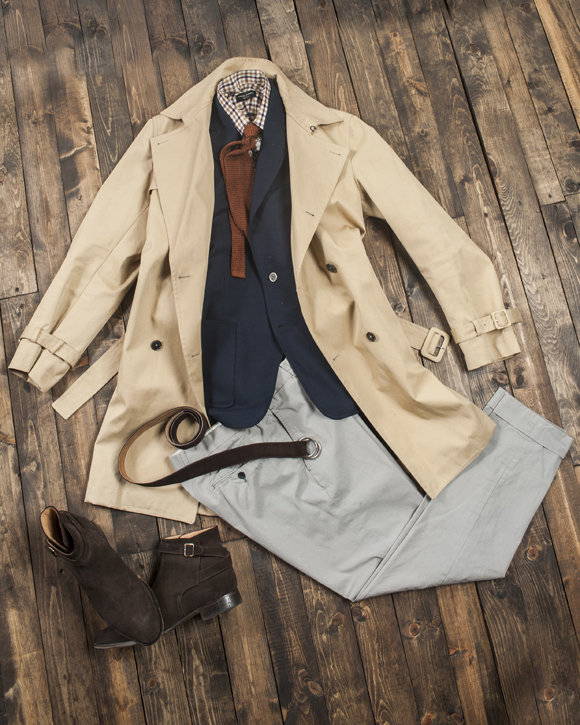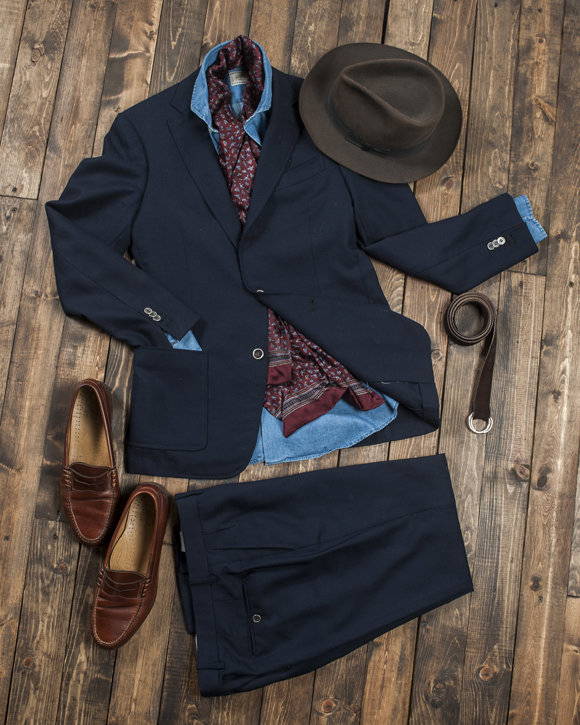 What are your go-to wardrobe essentials?
Thanks, as always, for reading. 
Yours in style,
Dan Trepanier