Building a smart wardrobe is one of the most impactful investments a man can make. The benefits of dressing sharply can be life-changing and are truly immeasurable over time. Like any smart investment, it should involve research, planning, and efficient execution. Since a man's wardrobe begins and revolves around great tailoring, I put together a game-plan to build the perfect suit wardrobe.
*Of course, this information really should be personal. A wardrobe is highly dependent on the climate where you live, your lifestyle, your style goals, etc. If you'd like us to make a personal wardrobe game-plan just for you, contact us any time.
---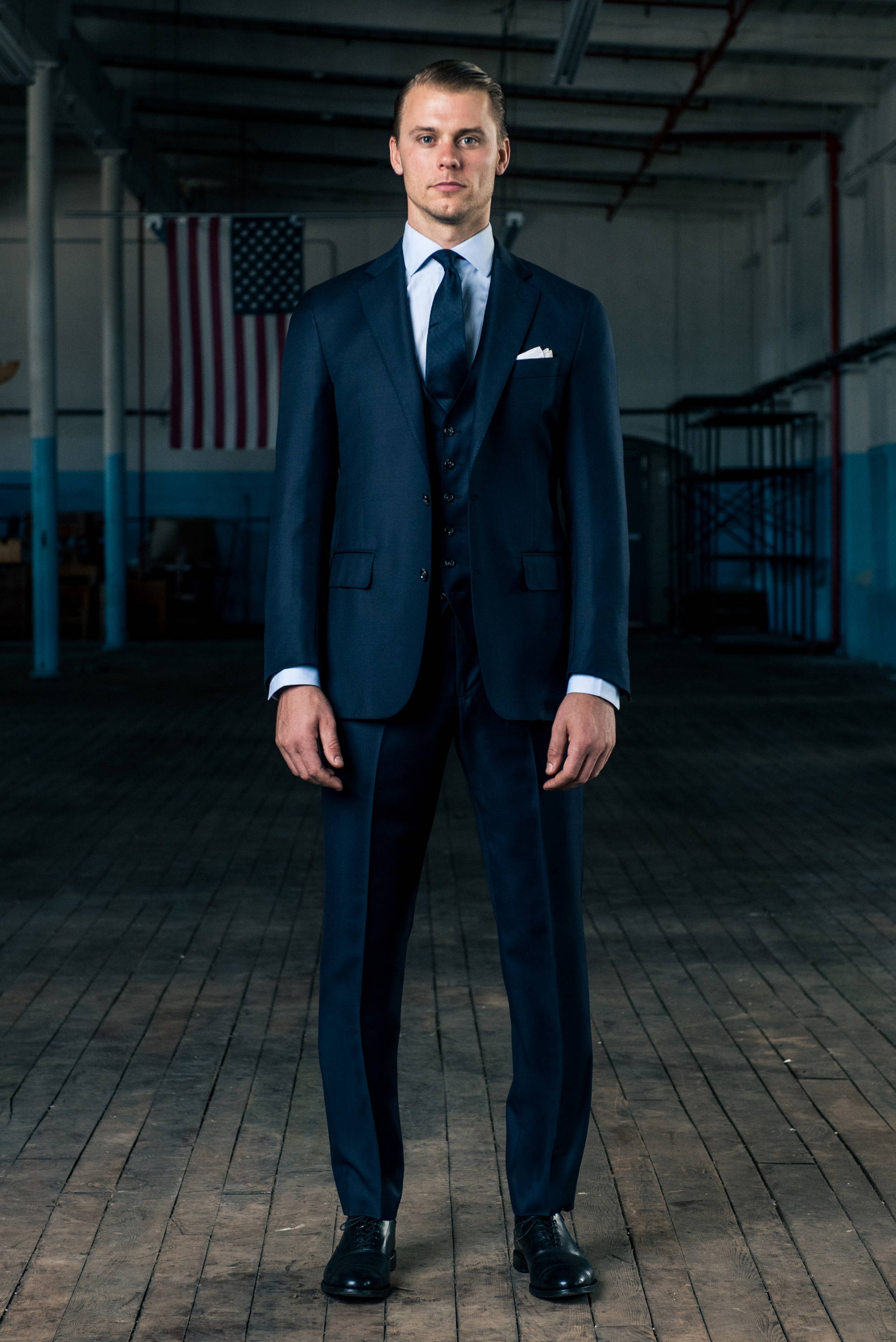 This is your MVP. Your hero. Your workhorse. Your go-to. Your three-days-a-week (but nobody really notices).
We nearly always recommend starting with a solid navy worsted. It is hands down the most foundational menswear piece for beginning your tailoring wardrobe. It can also easily break down to double as your weekend blazer or most versatile trousers. Look for something in a 8-10 ounce fabric that you can wear through all four seasons.
---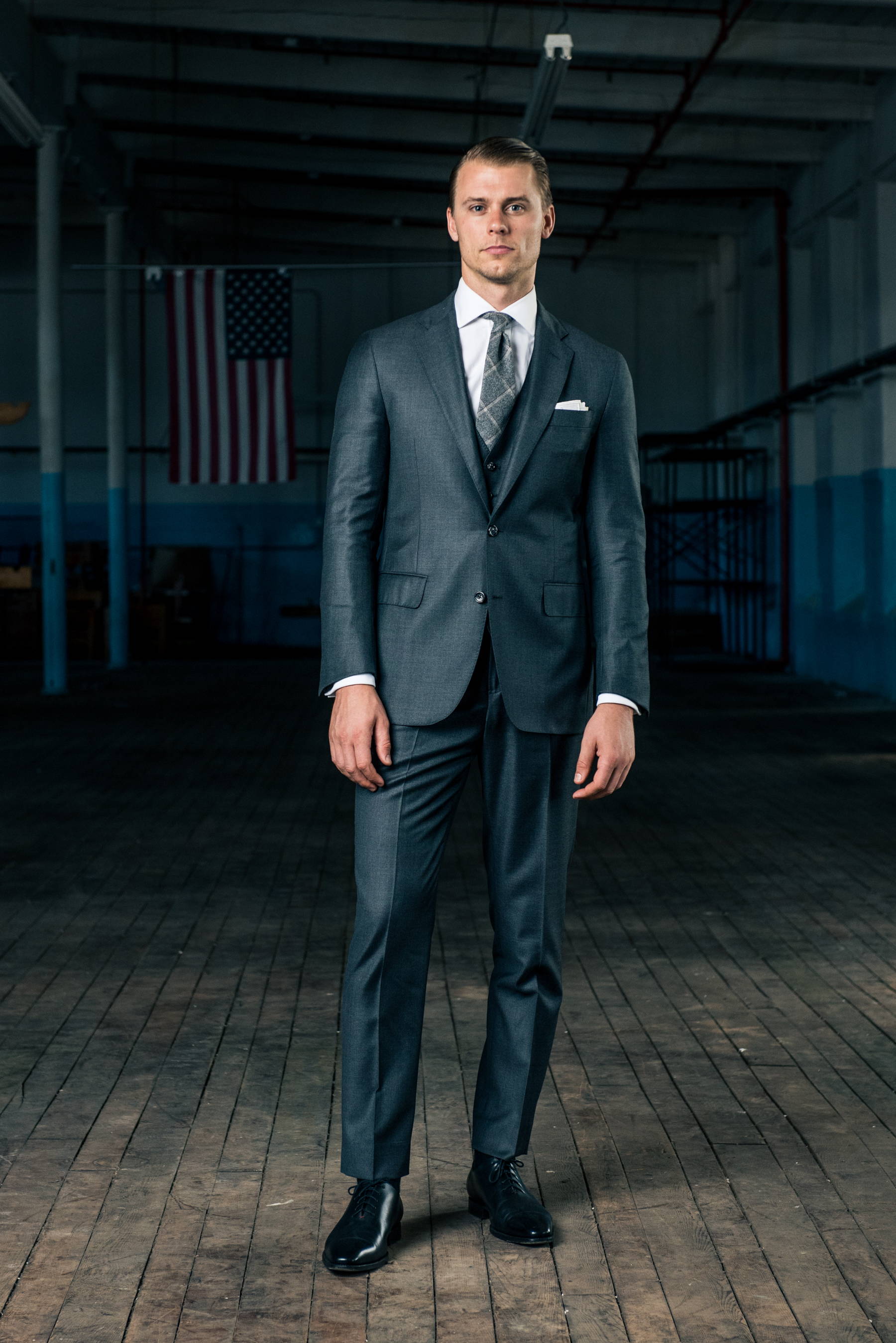 This is your #2. Your back-up. Your Robin. Your Scottie Pippen. You already threw on your navy piece this week, next comes the medium gray.
Again, look for something in a pure 8-10 ounce wool that can be worn in all four seasons. Ideally the gray is light enough, and the first navy is dark enough, that they can be mixed and matched, if you're so inclined.
---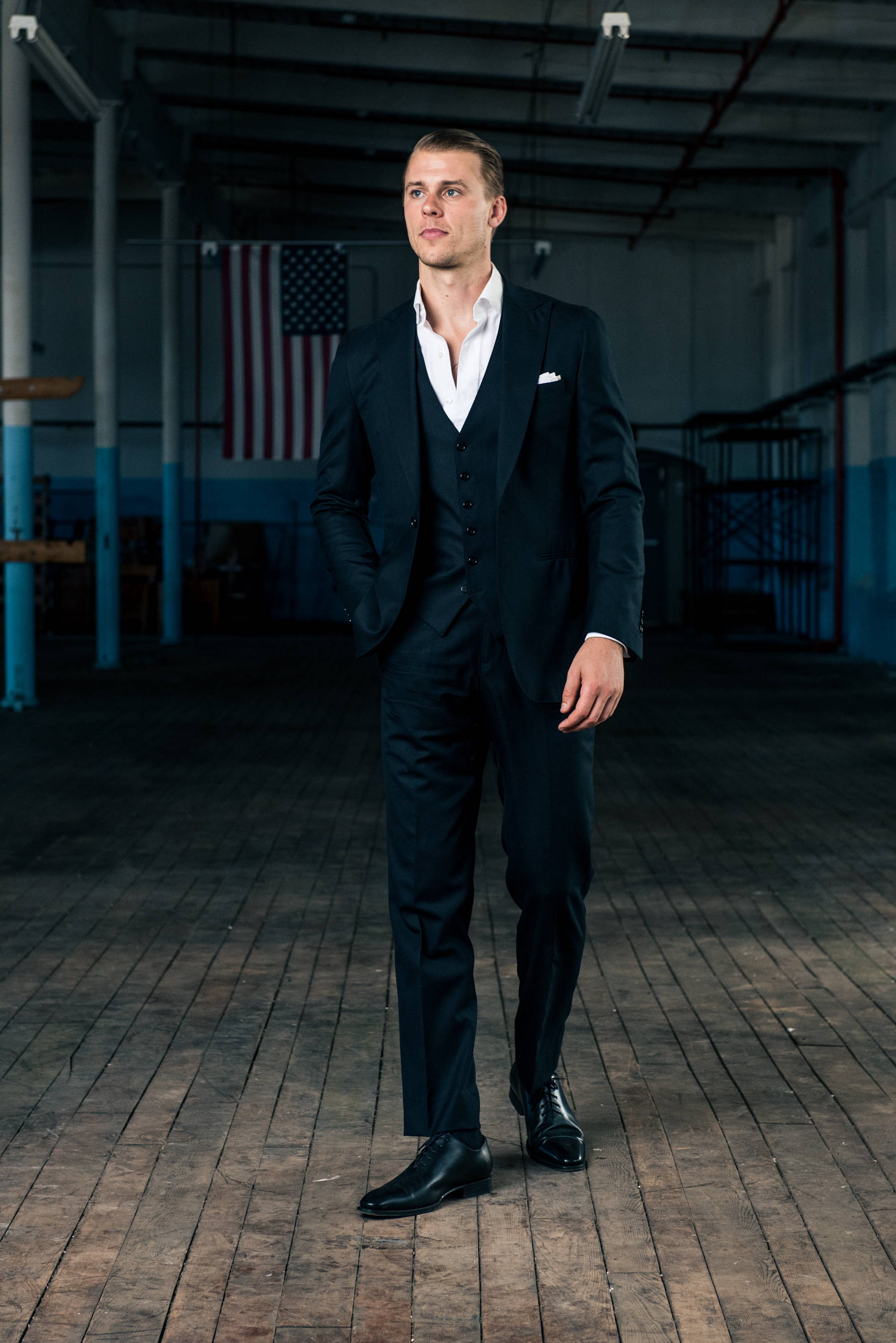 This is your going-out suit. Your drinking buddy. Your wingman. Your partner in crime. Your late night confidant. It's also your alternative to a tuxedo, if you don't have one (just pair it with a white formal shirt and black bowtie).
Now that you have a couple go-to business suits in your rotation, think about one for your social life; evening events, nights out, hot dates, etc. A slim black suit has you covered for cocktails, night clubs, parties, formal events...and, yes, funerals.
---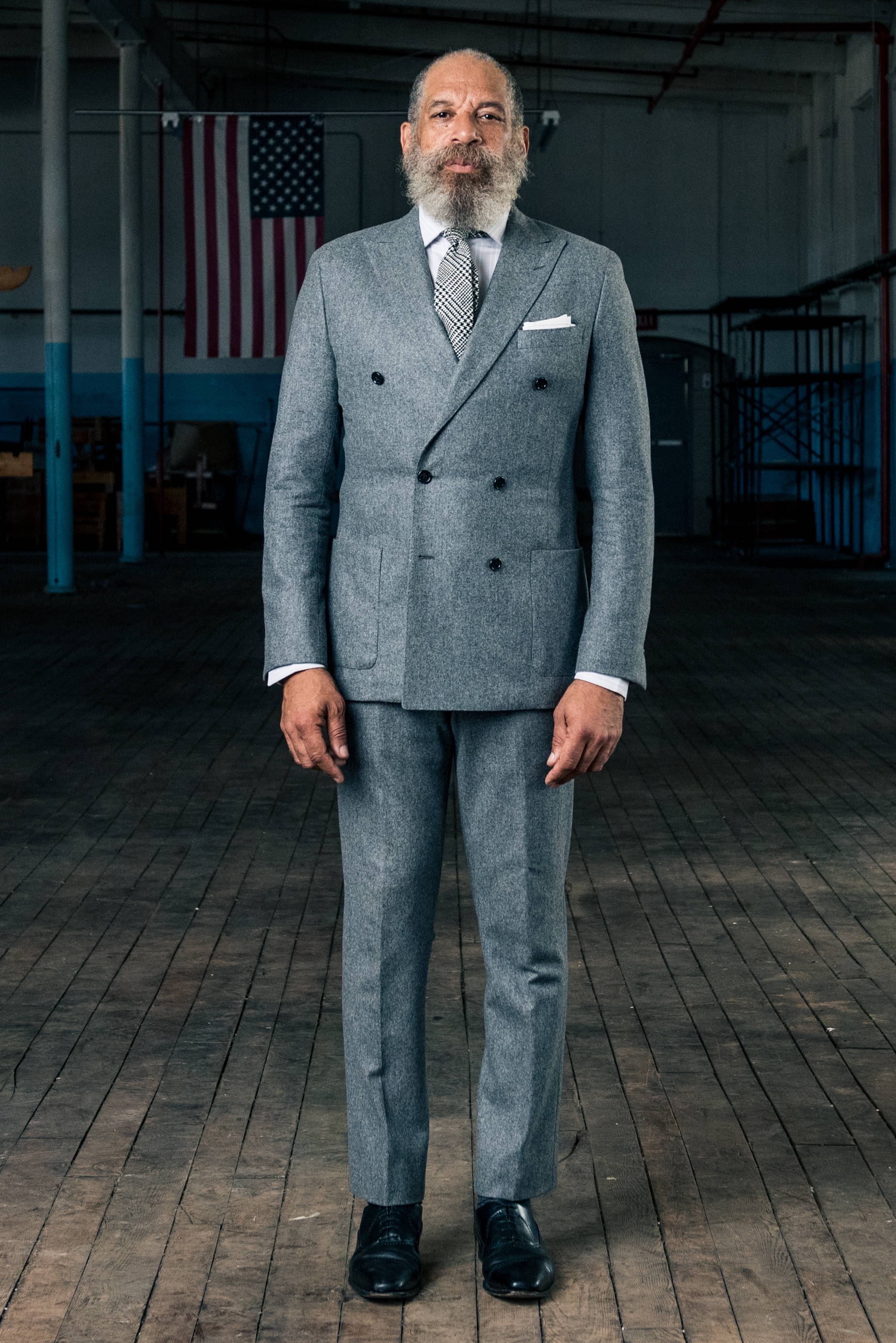 This is your response to winter. Your tough guy. Your gentle giant. Your cozy blanket. Your armor in the battle against the elements.
When temperatures drop, there isn't another suit that you'll want to wear. Your first flannel suit will probably change the way you look at tailoring fabrics. It is warm, extremely comfortable, and one of the most timeless (and versatile) suits in the game.
---
SUIT 5: Earthtone Hopsack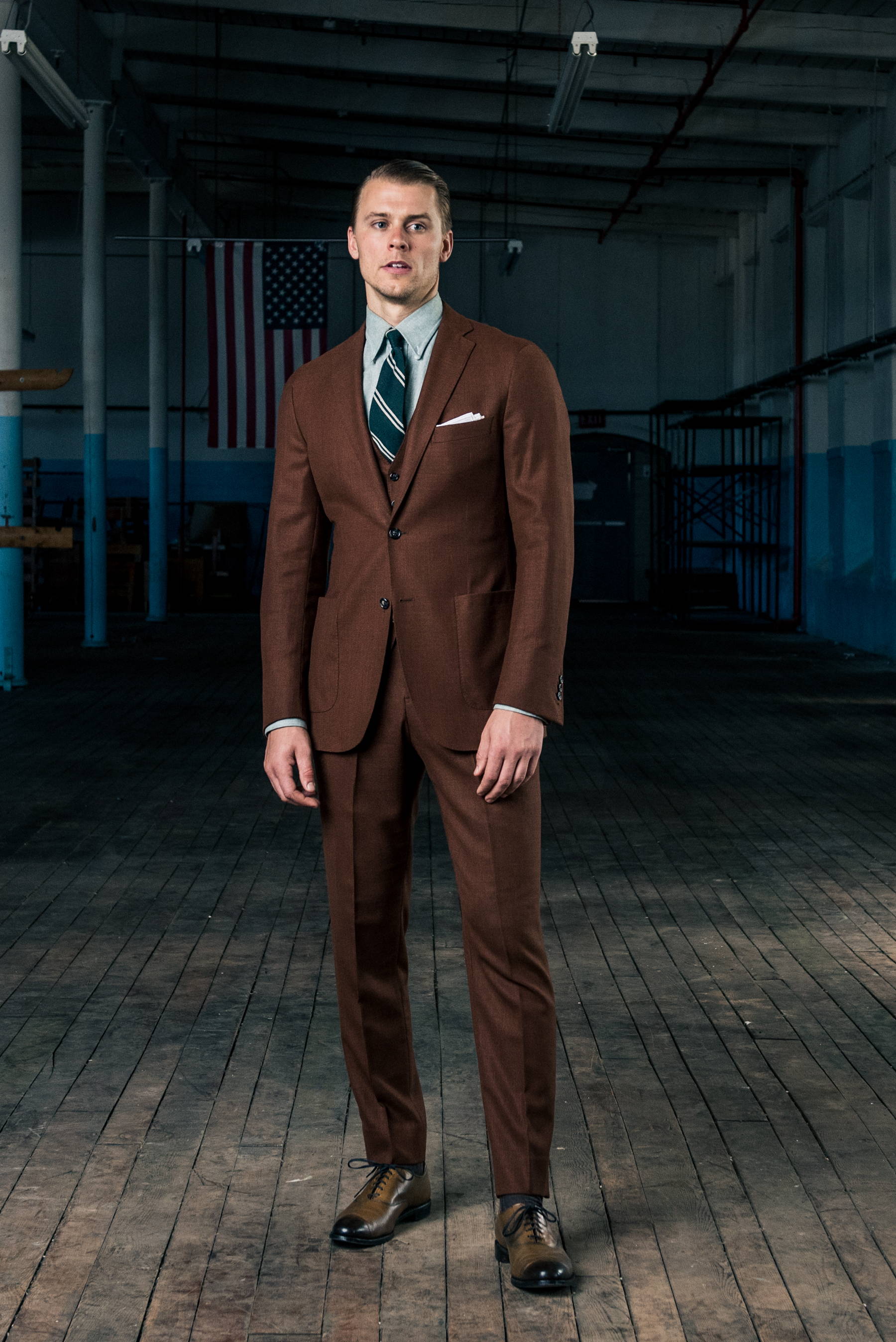 This is your first foray into texture. Your suit that is really seperates. Your "what is that"? Your "don't worry about it". Your lightweight number that can make Fall moves.
The beauty of a hopsack is not only its breathability and performance, but also its versatility. Due to the basket weave of the wool, hopsack can perform as a suit or as separates. Consider this the suit that you will wear as a sportcoat and an odd pair of trousers more often than you will together as a suit.
---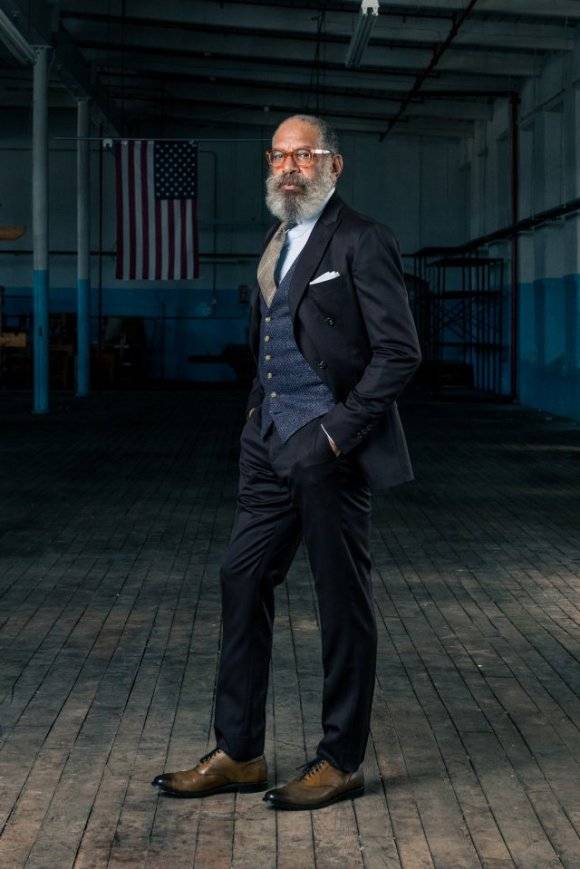 This is your wild card. Your secret weapon. Your Ace in the hole. Nobody expects you to pull-out a brown suit, but when you do, they'll never forget it.
A dark chocolate brown suit also opens-up plenty of opportunities for different shirt and tie combinations. At first I had the brown suit in my top 5 – that's how much of an impact I think it can have on your wardrobe. Pair it with blues, pinks, khakis, pale grays, oranges, yellows…just about any color, depending on the season.
---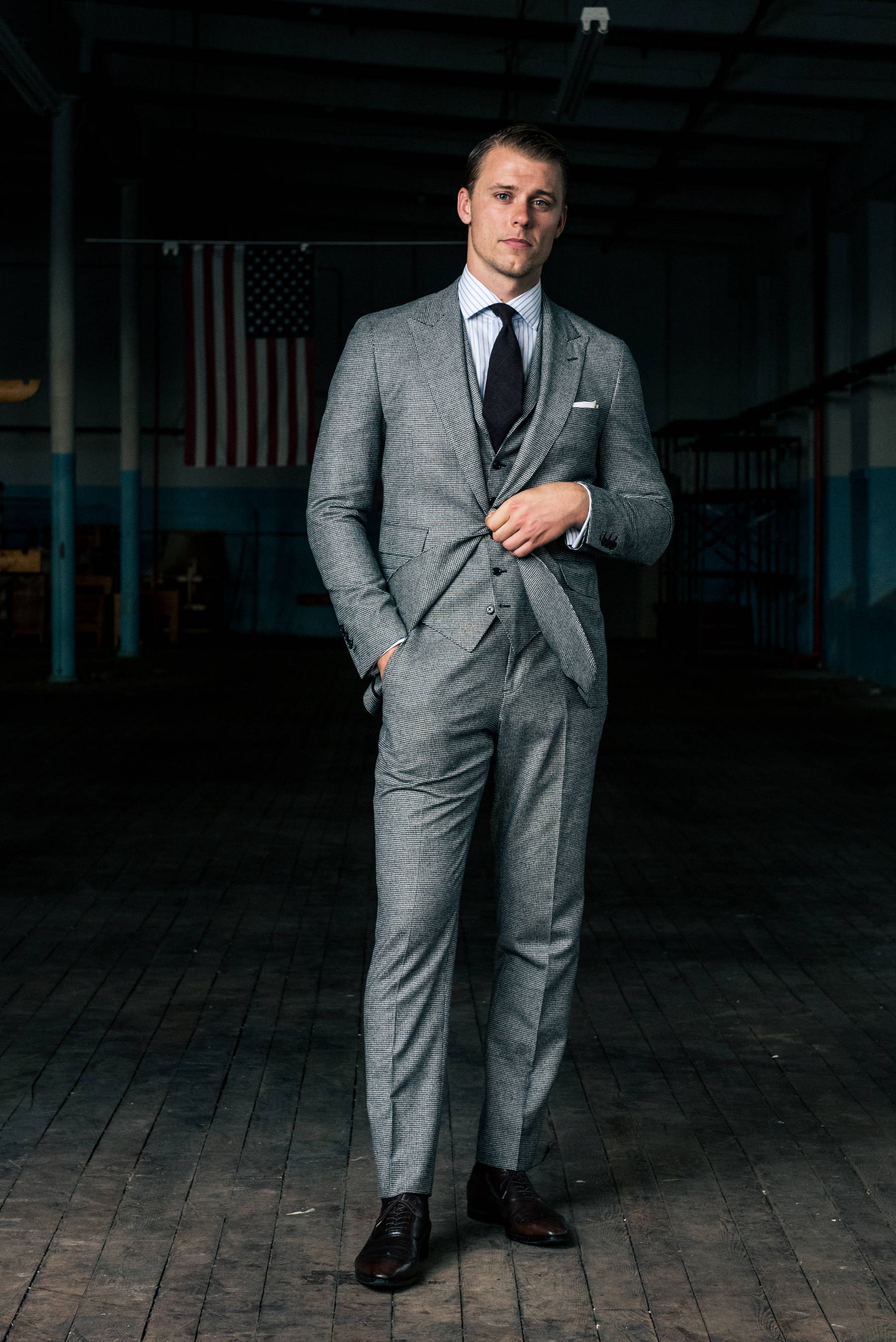 This is your sixth man. Your back-up point guard. Your workhorse's relief man. Your height of elegance. Your throwback vibes. Your subtle flex. Your "you better act right around me" suit.
Just when your solid navy and grey stated to feel over-worked, the subtle pattern (like a mini houndstooth or guncheck) comes in to give it a break. The pattern should be tight and subtle enough that you can still wear this suit with any of your shirt and tie combinations - we're slowly introducing pattern in our suit wardrobe here.
---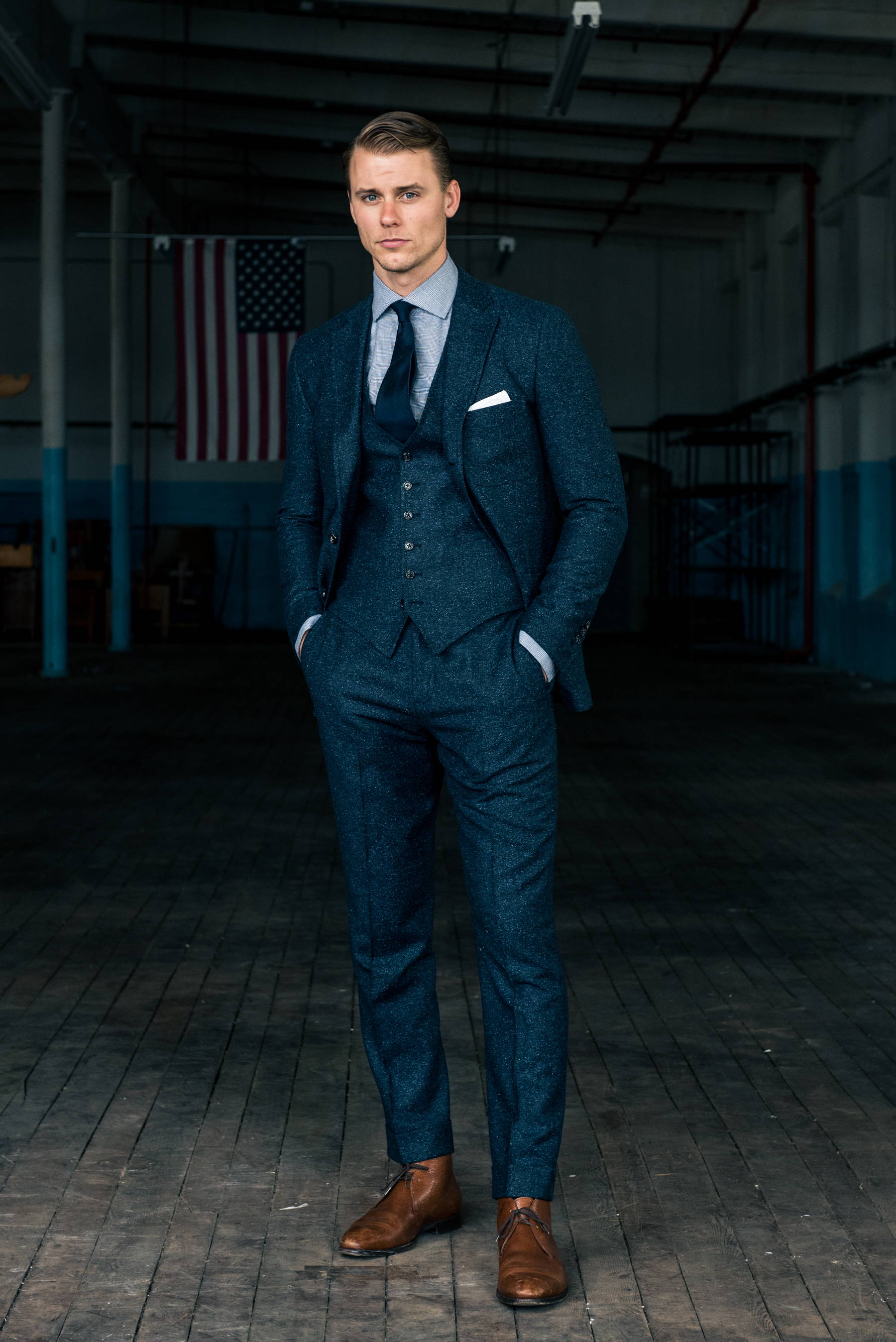 The is your charmer. Your country-side chic. Your heritage piece. Not your grandpa's suit, but he would love it. When you bust out this one your mom says you look handsome, your girl says you look sexy, and your boy says you look fly. Everybody loves a good tweed.
A tweed suit has an incredible charm to it. It harkens back to a time when chivalry wasn't dead, when men fought with their hands, not their words on the internet. We love a tweed suit because it's equal parts gentlemanly and badass. Authentic tweed fabrics also have a beautiful depth to them – look for something with flecks of color that can be accented by creative shirt and tie combinations. Of course, this one can also be used as a go-to sportcoat and versatile pair of separate trousers.
---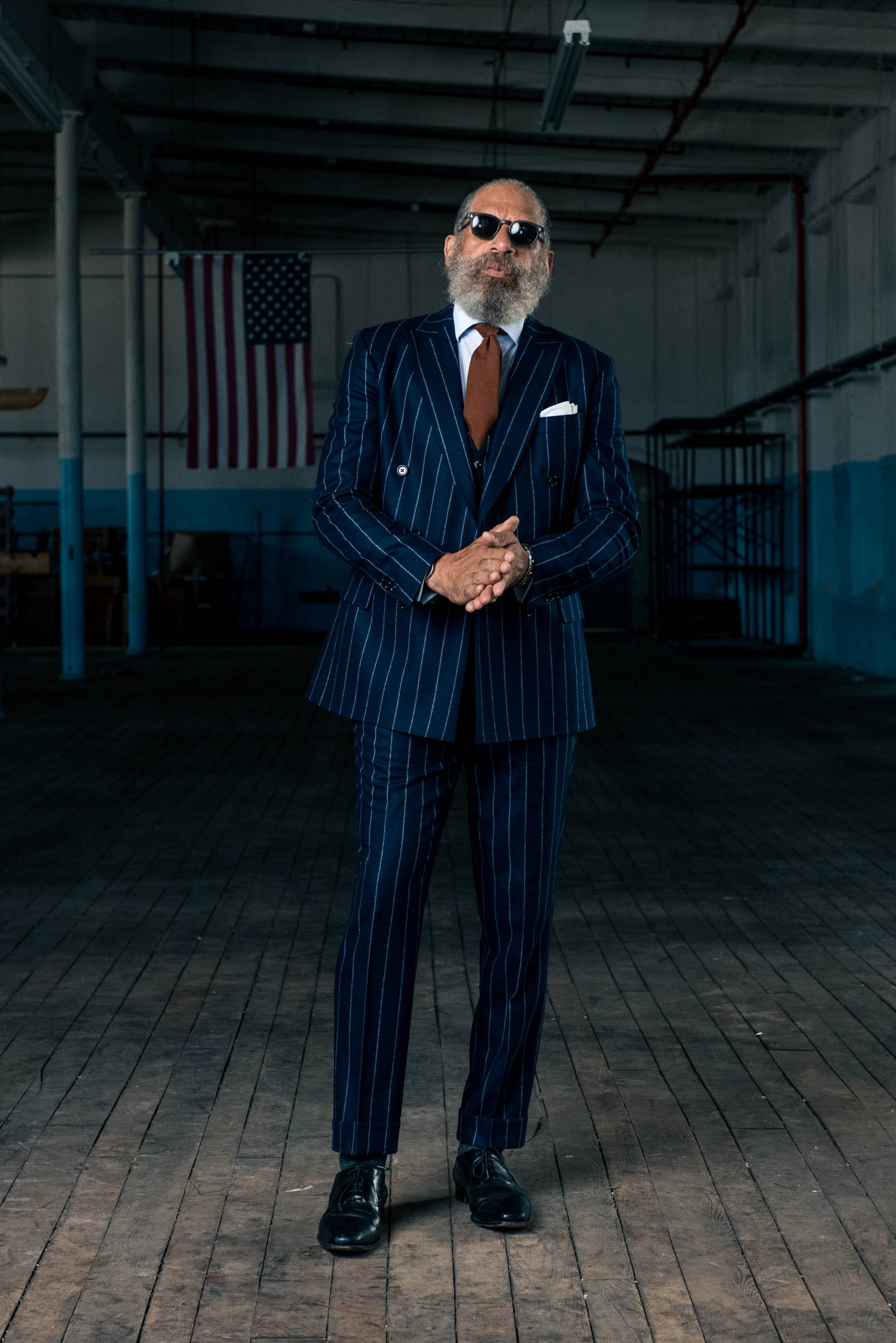 This is your power suit. Your deal closer. Your money maker. Your Gordon Gekko. This is the suit you wear to that big meeting that you've been prepping all month for.
This one takes confidence to wear (especially if the stripes are this pronounced) but it projects emotion in equal parts. Look for a chalky neutral (colorless) stripe on a dark navy or grey and wear it with solids or very subtle patterns.
---
This is your boss move. Your step up to the major leagues. Your proof that amateur hour is officially over. Your "hey, don't forget that you work for me" suit. It shows you have experience and your flex is now subtle.
Ok, you have a nice collection of suits in rotation. Now we can start to introduce some larger patterns and a little more "punch". I still recommend starting with a very classic pattern (like this timeless glenplaid), in a very versatile color combination (like the blue-on-blue here). Just because it has some punch, doesn't mean it can't be versatile.
What do you think? Did I forget any of your favorite go-to suits? Share in the comments below.
Thanks, as always, for reading. 
Yours in style,
Dan Trepanier
MORE FROM ARTICLES OF STYLE