My basketball trainer always made sure I never went more than two weeks without getting my hair cut. "A tight skin fade that looks tough...and a little hood". That was the cut that would bring me the most cred on the court, and, more importantly, in my own freshly-alcohol-wiped head. I was the type of competitor who was looking for any advantage I could find, so I never missed a visit to that barber shop. There was a time when I could swear the level of my play depended on the freshness of my cut. If my guy cut me the night before, we were getting the W. If he cut me the morning of the game, I was going off for 40.
"When you look good, you play good". It's an old saying that's not only true, but can also be applied to just about any situation in life. "Dressing for Success" is one part psychological edge and mental preparedness, and one part convincing others (teammates as well as opponents) to believe that you are fully capable and confident about the outcome. The confidence that comes from looking good can be transferred directly to your performance, whether you're in a big meeting at work, out on a hot date, or getting ready for the opening kick.
Marcedes Lewis knows this as well as anybody, as a ten year veteran of the NFL who walks into the arena prepared for success in custom tailored suits, Tom Ford ties, and Saint Laurent shoes. Thanks to our friend Brandon Williams we got a chance to hang with Marcedes at his alma mater UCLA (where he was an All-American tight end) to talk football, menswear, and how to be properly tailored at 6'6 275.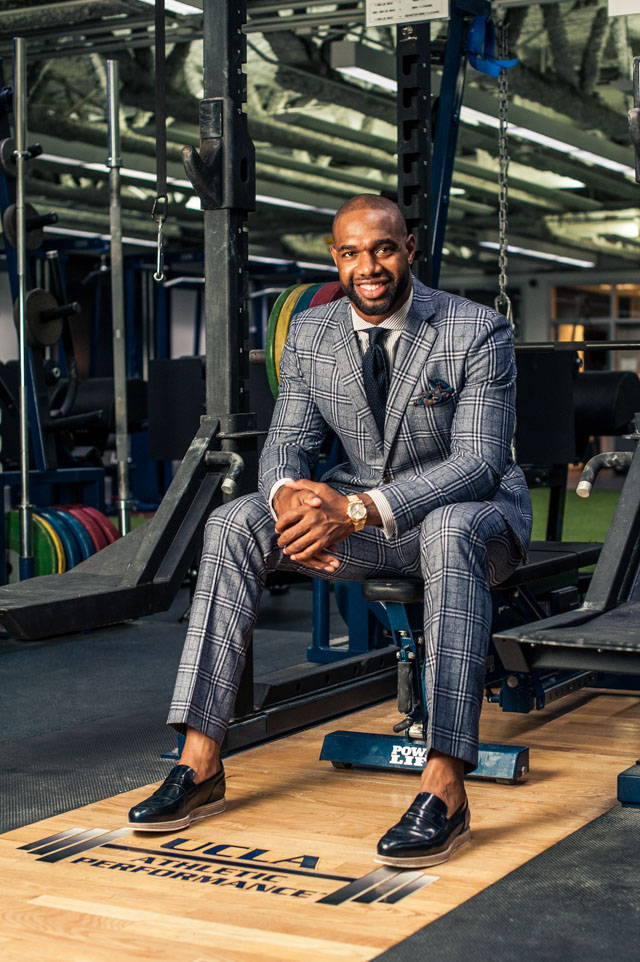 At 6'6 275 lbs you can forget off-the-rack suits. Unless you want to look 6'6 375 lbs.
All of Marcedes' suits are custom tailored for him, which makes a world of difference. On an athletic body there is nothing that will look more flattering than custom tailoring. If you work hard to achieve a chiseled physique, you should reward yourself by wearing clothes that show-off that hard work. Buying a size XXXL is a slap in the face to a guy who has a 46" chest and a 37" stomach.
For dress shirts he can find them off-the-rack in the correct collar/sleeve combination. He just needs to have them taken-in quite a bit at the sides; a relatively easy alteration that can transform the fit of a shirt.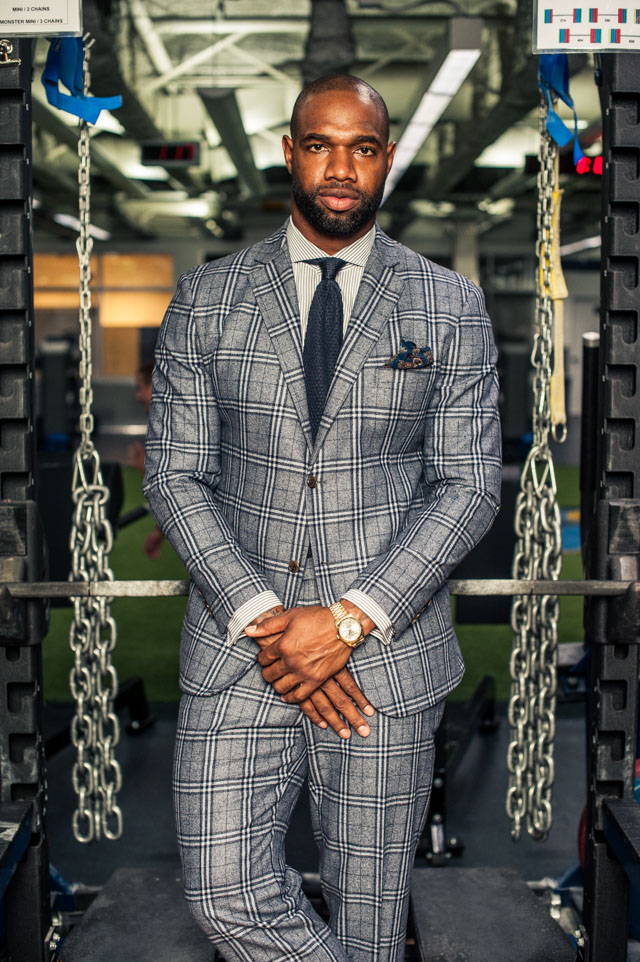 The gold Rolex is a brilliant timepiece choice.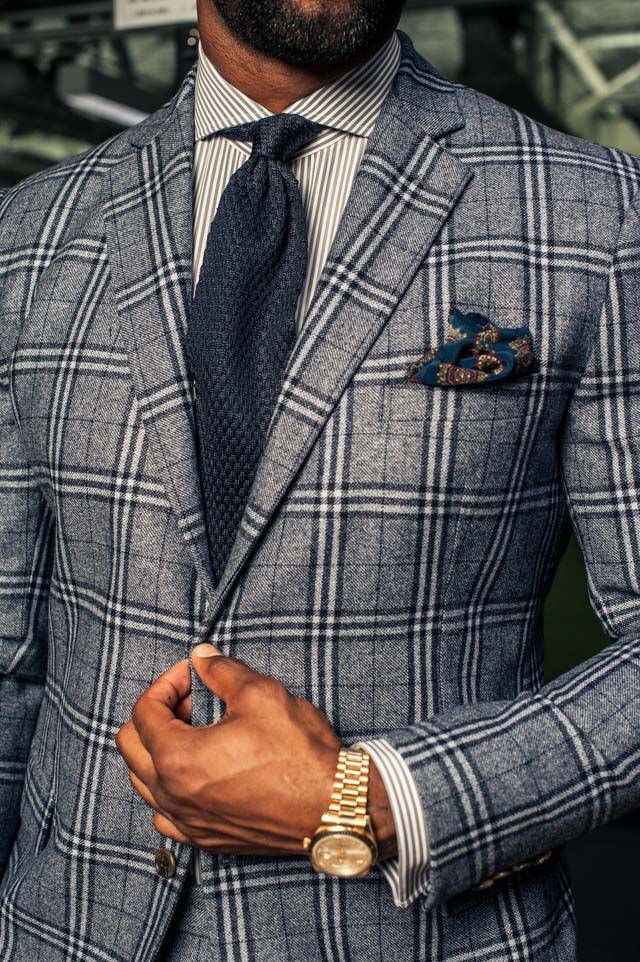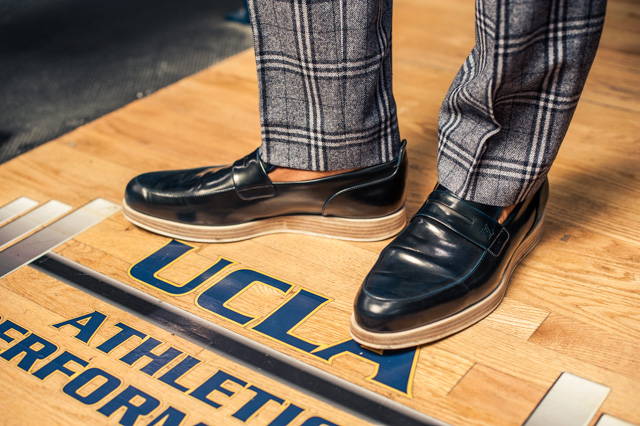 A shoe that throws a nod to classic menswear, is comfortable to move in, and has a chunky athletic-inspired sole is the perfect choice for a strong physique.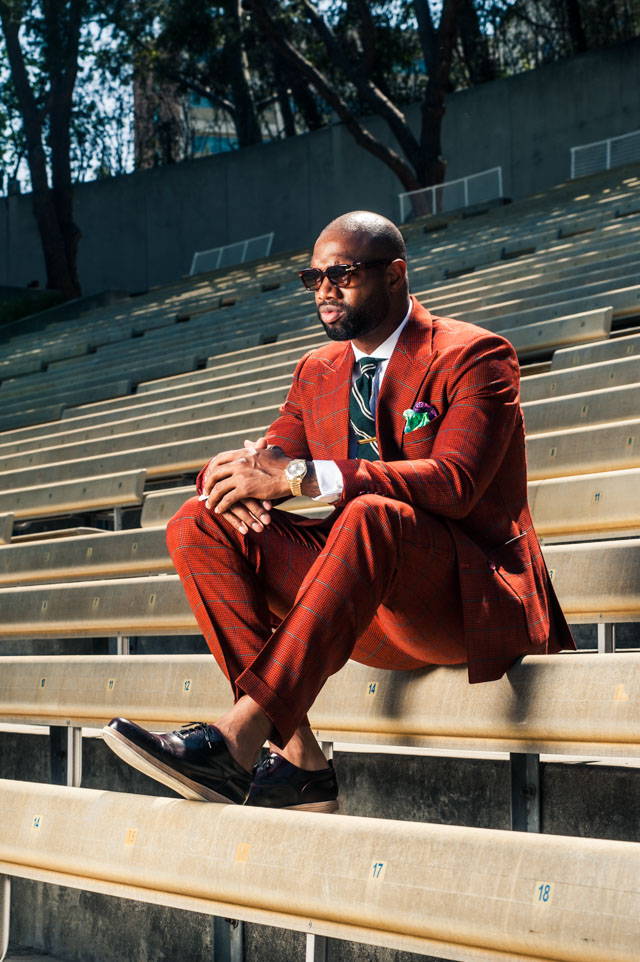 "I think the growth of social media has made NFL players more aware of fashion. In my ten years of playing professionally, I've definitely seen more players incorporate more than just athletic wear into their wardrobes and I think it's because fashion ideas are more readily accessible...
I live in LA during the off season, so I'm constantly surrounded by the fashions emerging there. Other players on our team aren't from big cities, so they aren't as submerged into the fashion world. In our locker room you have some guys who embrace it more than the others...but I don't think the NFL has fashion icons like the NBA...yet. "
When asked about who the best-dressed players in the league were; "To be honest, I pay more attention to what Lebron James, Dwayne Wade, and Kevin Durant are wearing". Regardless, he's making a case for NFL style in this orange/green windowpane double-breasted piece.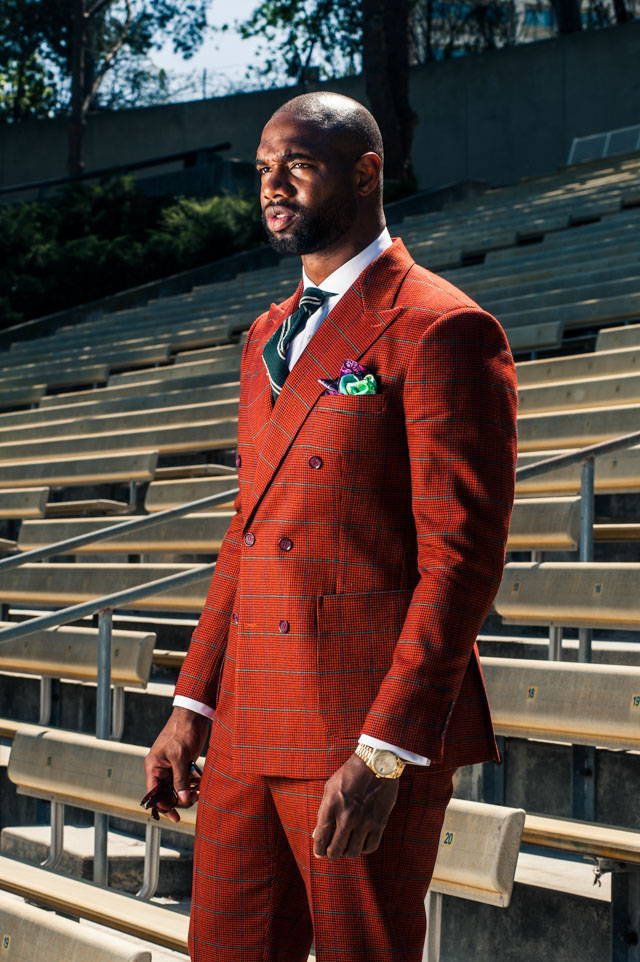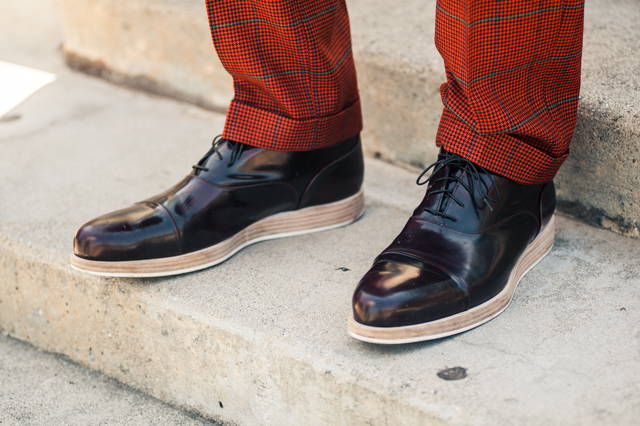 3. Taking Risks & Enjoying Style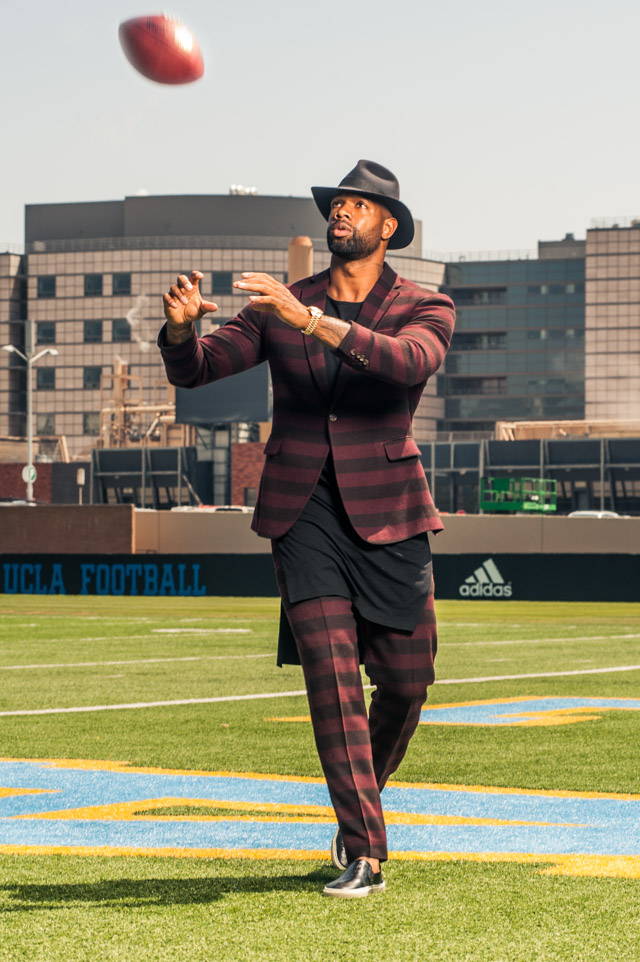 As an athlete (and entertainer) you have to show some versatility, take some risks, and enjoy the ride. Off the field it's not all about suits and ties for Marcedes. He has a edgier side - with a hip Downtown LA vibe - that he blends smoothly with his custom-fit tailored pieces.
"On the casual side Yeezy's and long layering pieces or my go-tos... some of my favorites are from places like H. Lorenzo, and Oak NYC".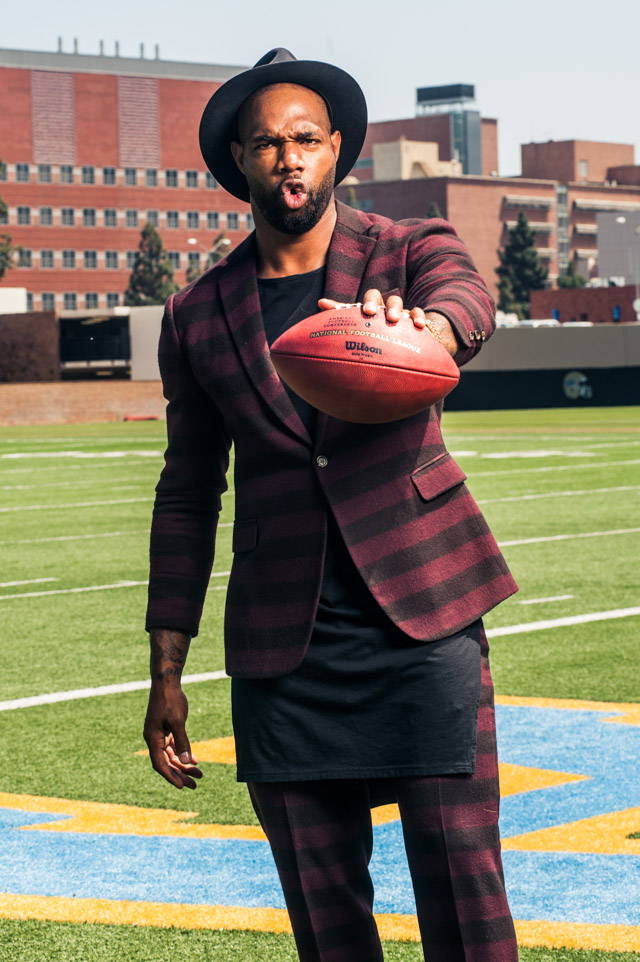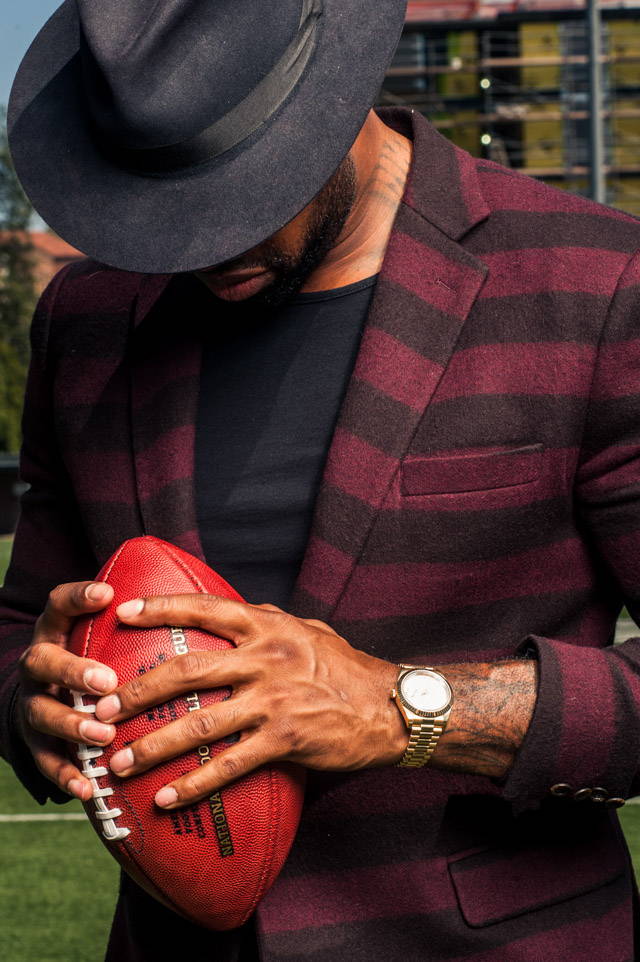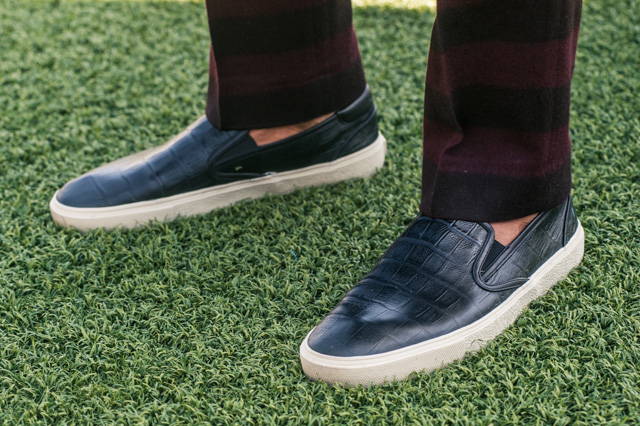 Thanks, as always, for reading and special thanks to Marcedes, Brandon, Will at UCLA, and everyone involved who made this shoot happen. 
Yours in style,
Dan