If you're in the market for some new dress shoes, remember the "golden rule of footwear":
"A $180 pair of shoes will last twice as long as a $90 pair of shoes, but a $360 pair of shoes can last a lifetime."
A quality leather upper can be polished, refurbished and brought back to life several times over, just like a Goodyear or Norwegian construction (where the sole is hand-stitched to the uppers rather than glued) can be re-soled every couple years, which can make even an old tattered pair of shoes look and feel like new.
This is the same concept we've been preaching with investing in quality menswear: buy less/buy better, focus on fit and comfort, only buy timeless designs that will last, and focus on versatile fabrics that can be worn with most of your wardrobe. This is how you a) save money in the long-tun, b) always look great in your clothes and c) avoid the stresses of "fashion" and embrace the joy of style.
Here we break-down the classic shapes and styles of men's lace-ups.
---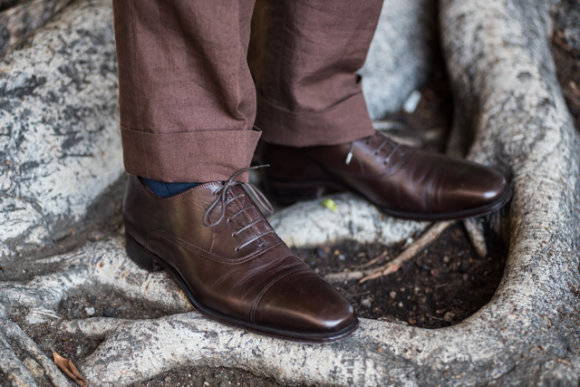 The simple captoe is your most basic, conservative dress shoe. If you're looking for a workhorse for your day-to-day business attire, you can't go wrong with a pair of unembellished captoes in chocolate brown or black leather. Look for a pair with a thin, sleek leather sole and a toe box with an elegant shape that follows that natural lines of your foot (not too pointy, not too boxy).
---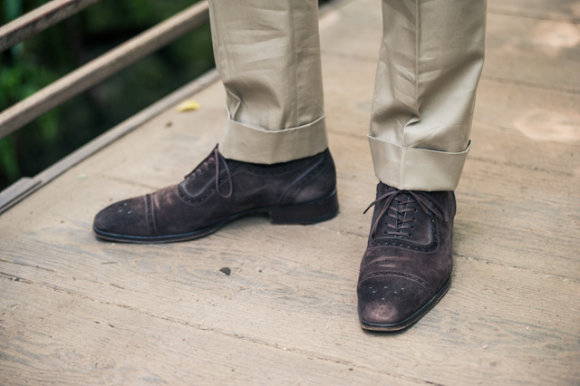 "Broguing" refers to the decorative perforations punched into the leather, usually around the lace box, the back quarters, and along the edges of the toe cap. The "medallion" of the toe is also a form of broguing, but this is a separate detail. There are brogues that don't have a medallion, and there are shoes that have only a toe medallion that wouldn't necessarily be considered brogues. Brogues were originally considered a casual country shoe, although they've been adapted to dressier leathers and shapes. Generally speaking, the more broguing, the less formal the shoe (you should never wear brogues with a tuxedo, for example).
---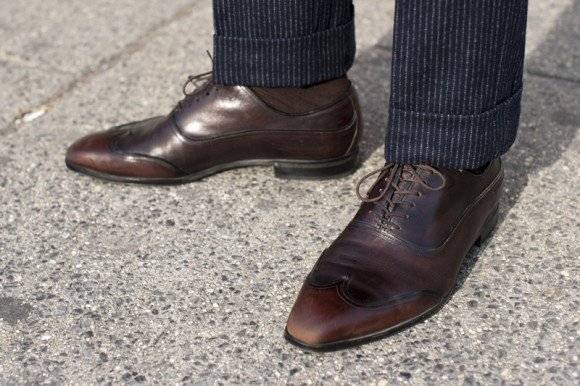 Another classic go-to is the wingtip, which is generally sleeker and more elongated than the captoe. For this reason I find captoes are better for guys with larger feet, and heavier body types. Sleek wingtips, like these which I've had since college (they've been refurbished and re-soled twice) have a narrow European vibe which works best with slim tailoring, lightweight fabrics, and trimmer body types.
---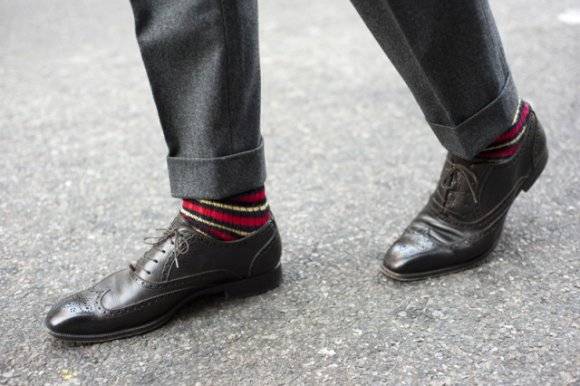 Similar concept here – the brogue perforations follow the seams of the shoe, including along the "wings". This can add some visual "weight" to the shoe and make your wingtips a more natural pairing for casual trousers and beefier suiting fabrics (like flannel, corduroy, tweed, etc).
---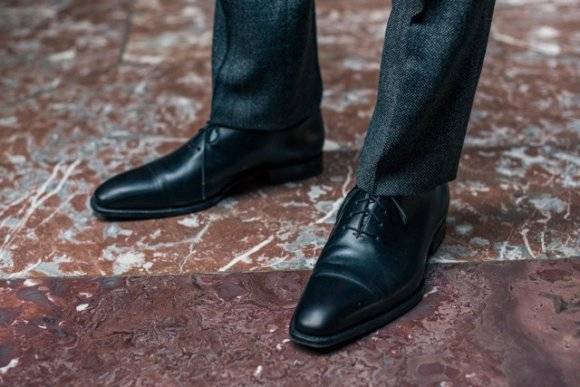 Wholecut (or "seamless") shoes are made from one solid, beautiful piece of leather (as opposed to several smaller pieces of leather sewn together at various seams). For this reason they are more luxurious and eye-catching. Wholecuts are sleek, sexy, minimal, and have become the go-to style for the modern gentleman's formalwear – as patent dress shoes have lost traction due to their lack of versatility. These can be worn with suits and tuxedos – just remember to get them freshly shined to pass as formalwear.
---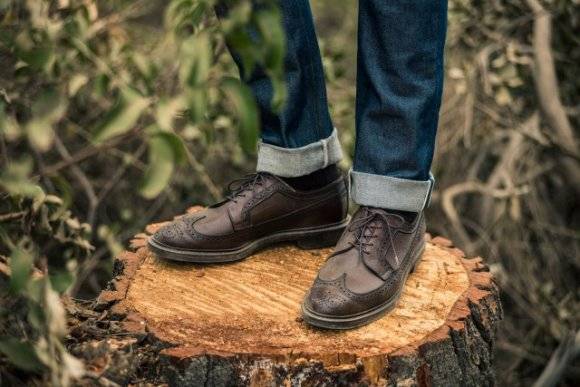 Longwings, characterized by the lines of the wingtips stretching all the way around the heel, are a more casual version of the wingtip brogue. They typically have a chunkier sole, more broguing, and are usually cut from a heavier leathers like cordovan and pebble grain. These are not meant to be worn with suits or formalwear – save them for your jeans and casual trousers.
---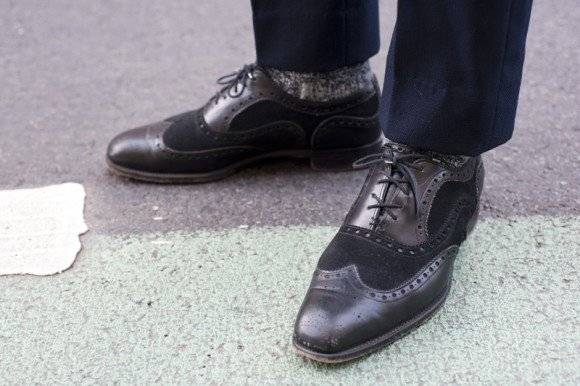 The spectator shoe is a wingtip brogue comprised of two different colors and/or fabrics. Typically the toe, heel cap and lace panels are rendered in a darker fabric (in this case black calfskin) than the quarters of the shoes (which in this case are black suede). This old-school "fancy" shoe, popularized in the 1920s and 1930s, is generally reserved for special occasions and events that require semi-formal attire. With that said, there's no reason a sleek modern pair (like this black-on-black version) can't be the perfect match for a killer suit.
---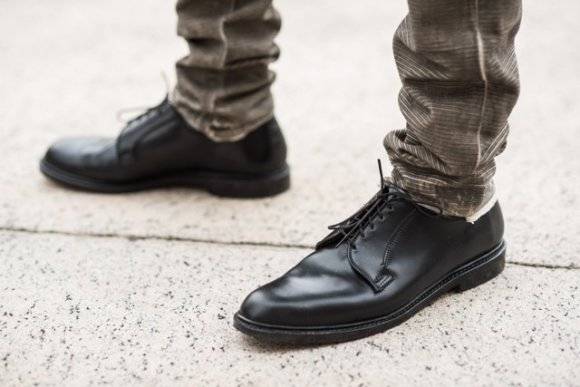 Derby shoes, characterized by their round toe shape and the eyelets sewn to the exterior of the vamp, are generally considered a casual shoe. This style has a sporting and hunting background, which was popular in the 1850s. They also became popular in light buckskin suedes, traditionally known as "bucks". Even in black cordovan (like these beauties above) these are not meant for dress attire. Save them for jeans, seasonal trousers, and "business casual" dress.
---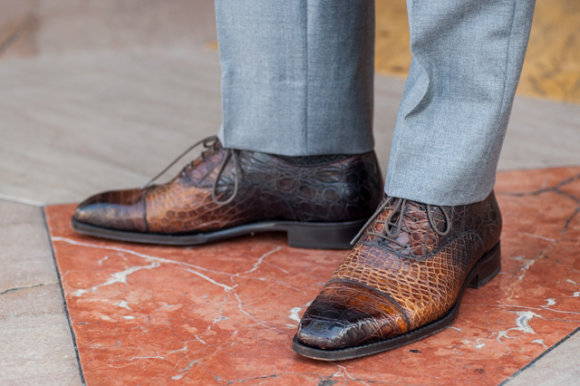 If you're really trying to stunt, an exotic skin is the boldest move. Whether it's crocodile, alligator, lizzard or ostrich, exotic skins are often considered a display of wealth. Keep in mind these come with certain connotations, and can turn some people off. Think of them like driving a red Ferrari – there's a time an place for that, but it's not every day.
No matter what style of dress shoes you decide to invest in, remember to keep them polished, give them a day to rest and fully dry between wears, and always keep cedar shoe trees in them when they're not on your feet.
So what's your favorite pair of dress shoes? Feel free to share in the comments below.
Thanks, as always, for reading.
Yours in style,
Dan Trepanier