If you've been anywhere near a television in the past three years, you probably recognize our guest today.
He's "The Most Interesting Man in the World". As in, the one who doesn't always drink beer, but when he does, he prefers Dos Equis.
Actor Jonathan Goldsmith's contract for that enormously successful campaign has now ended, and (even though another booze brand is continuing the storyline) he wrote a memoir to answer the question on all of our minds: Who is this guy? Ans is he really that interesting?
In his book Stay Interesting (which couldn't have a better title given his real-life struggles) Goldsmith shares the true stories behind how he became the man he is today – which, believe it or not, are even harder to believe than the tales told in the commercials.
The best story of them all, however, is when you zoom-out and look at the really big picture. This guy was a struggling actor for 50 YEARS, before getting his big break at the age of damn-near 80. After years and years of rejection at auditions and sleeping in the back of his pickup truck, a garbage truck, a trailer park, etc, etc…he finally made it. Now he's certified famous, and loving every minute of it.
He's as charismatic as you think he is. At our photoshoot we get to hear some of the best stories directly from the horse's mouth, while we sip tequila and share a cigar. It's Tuesday at 11am. He's been up since 5, did Good Morning America earlier that morning and has another interview at the stock exchange at 1pm. Let me remind you, he's 80 years old. He even leaves with the phone number of a cute 28 year old that works in our office – true story.
Read the book for other gems like "never mess with a woman with a powerful husband", "the longer it waits, the more the truth hurts" and "know when to make an exit".
This guy has been around the world, and has had his whole world turned upside-down a few times in his life, so I thought: who better to showcase the "world's most interesting tailoring".
In my opinion, every menswear garment takes inspiration, in one way or another, from these four tailoring cultures that each have their own heritage, tradition and style.
---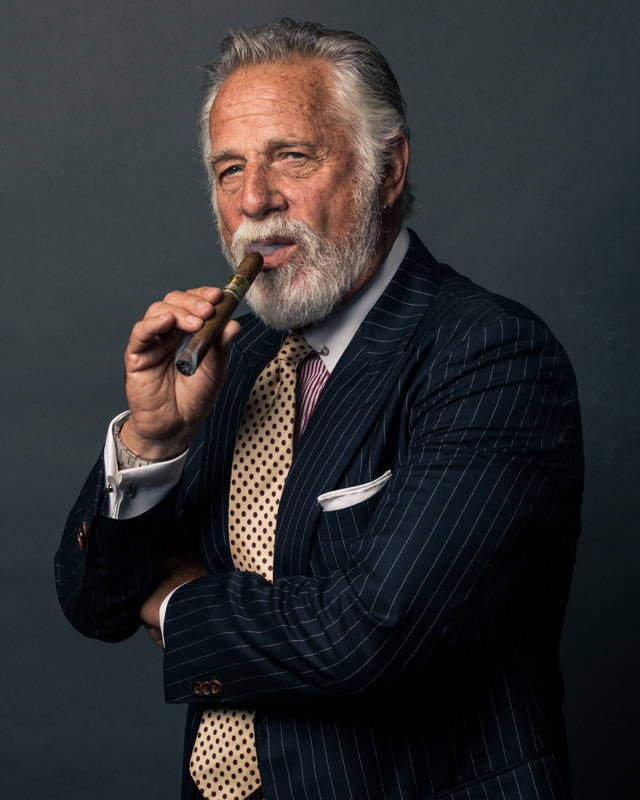 The British style of tailoring is traditional, conservative, and designed to evoke power. Tailoring on Savile Row, for example, is known around the world for its sturdy chest canvas, angular shoulders and heavy cloth with an armor-like drape.
When I think of British tailoring, the first outfit that comes to mind is: a double-breasted navy chalkstripe suit with a strong shoulder, a contrast-collar banker shirt with pin eyelets, a symmetrical patterned power tie. groomed hair, a flat-folded pocket square, with a pair of metal cufflinks.
---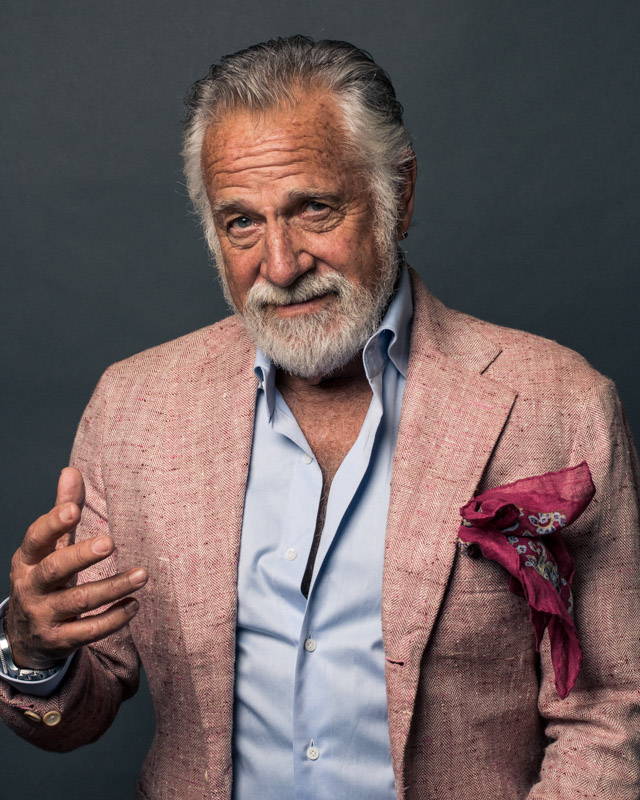 The Italian style of tailoring is soft, shiny and expressive. It's meant to evoke masculine confidence and sex appeal, in a sort of peacocky, colorful mating dance, kind of way. Italians are not afraid of bold colors, or overbearing lapels, or big theatrical sleeve heads (even without pads). It's smooth, but can be borderline sleazy, sometimes, in my opinion.
When I think of Italian tailoring, the first outfit that comes to mind is: a pink unstructured silk/linen jacket with wide notch lapels, a tall double-button collar worn with a deep open neckline, a color-coordinated pocket square with an overly expressive – but not overthought – placement. Tan skin, a little chest hair, maybe a bracelet or two.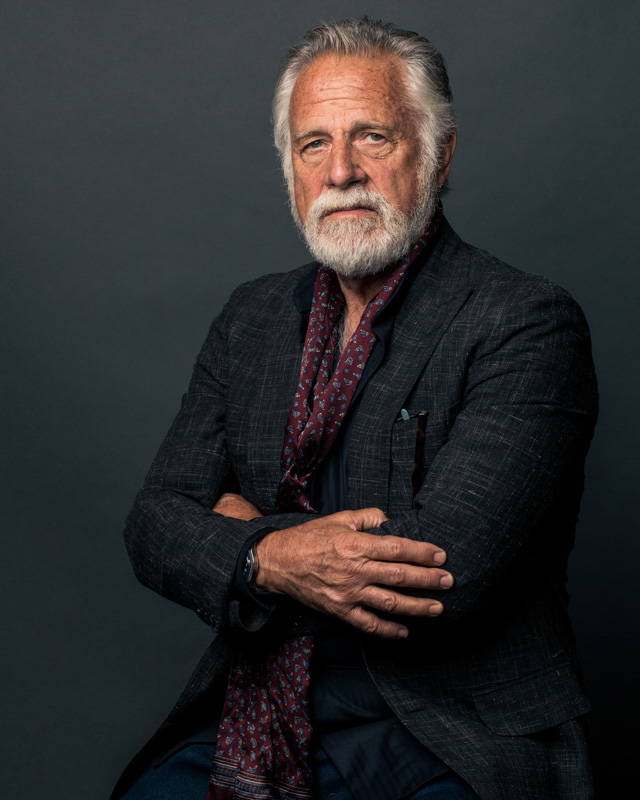 French tailoring is all about class, elegance and minimalism. There's no better word to describe the French aesthetic than "chic". It has a laiser-faire attitude to it, but not in a way that would ever seem sloppy or out of grace. It's not as rigid as the Brits, but not as thirsty as the Italians. It's usually executed in dark colors and monochromatic palettes – the type of garment you can wear day or night, whether you're drinking a cafe au lait or three bottles of wine.
When I think of French tailoring, the first outfit that comes to mind is: a textured black wool/linen suit with peak lapels, a casual shirt in a dark soft knit and a silk scarf tied nonchalantly but in a semi-functional way. Add some round black horn glasses and a calm, hard-to-impress expression, and you nailed it.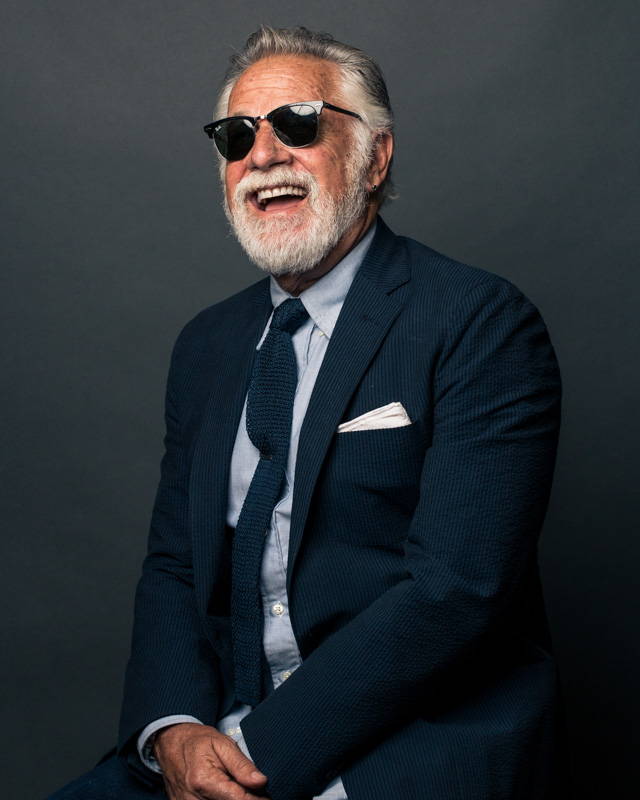 American tailoring is all about function, comfort, and rebellion. There was a time when just about every man in America went to work in a gray flannel suit, in his attempt to rise up in corporate America. This same man had a soft-shoulder blue blazer for his country club, a pair of khakis for the golf course, a pair of jeans for working outside, a tweed jacket for his country home, etc. Americans invented the "prep set" uniform of iconic garments which defined the Western male for some time. Today this image is being re-invented and modernized, but the "trad" roots of soft-shoulder tailoring still permeate the entire industry.
When I think of American tailoring, the first outfit that comes to mind is: a navy seersucker suit with soft shoulders (that doubles as blue blazer - how's that for functionality), a beefy oxford cloth button-down shirt, a silk knit tie and a pair of Ray-Bans of course.
Thanks, as always, for reading.
Yours in style,
Dan Trepanier