Here's the most sustainable way to shop: find something in your closet you stopped wearing because it doesn't fit properly, and have the fit updated by your tailor.
After all, as we always say, the most important thing about any garment is how well it fits your body.
To illustrate this point, the team and I took some old, ill-fitting pieces to our highly recommended friends at The Tailoring Room in NYC and documented our transformations.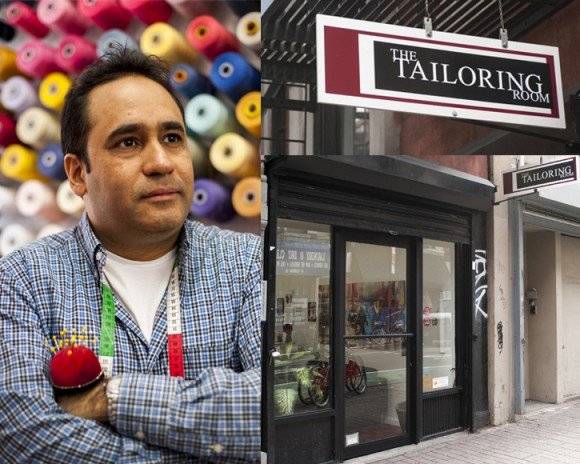 Special thanks to Franklin (above) for always taking care of us.
Vintage Flannel Shirt & Jeans (BEFORE)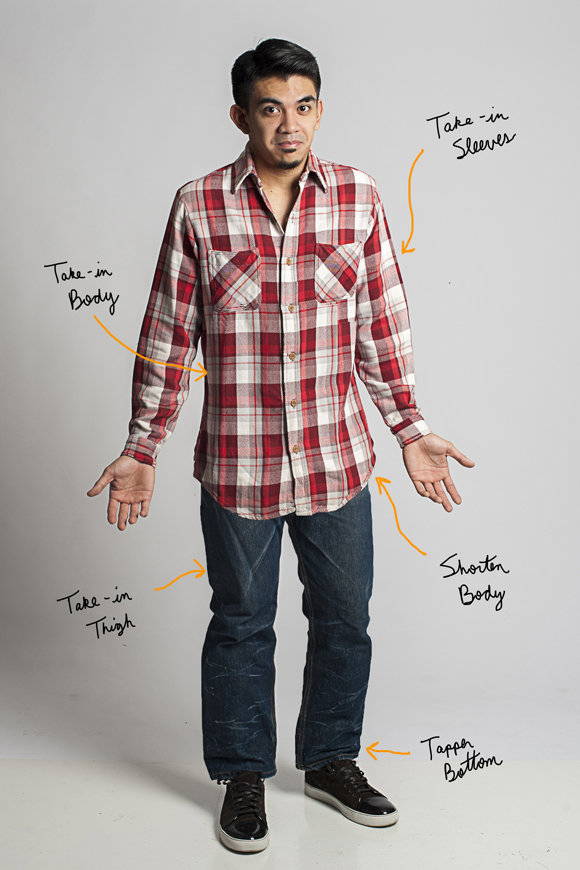 As you may already know, Wes is an expert in the art of thrifting.
His secret? His relationship with our tailor Franklin, who was able to completely re-engineer the fit of this vintage flannel shirt and these old boot-cut Levis.
Some useful tailoring advice:
– It's easier, and safer, to slim-down a garment that is a little too big. Letting-out a garment that is too small or tight is much more difficult.
– As a general rule, garments can only be taken-in (made smaller) on seams. Similarly, garments can only be let-out (made bigger) on seams as well, but only if there is additional fabric (known as "seam allowance") left under the seams during manufacturing. Shirts, jeans and the majority of mass-produced "tailored" garments are made with very little, or no, seam allowance (because the cost of this "extra fabric" adds up and is seen as a "waste" for a company pumping out thousands of units).
– Denim jeans are usually made with a chain stitch machine, not a regular sewing machine. Therefore, in order to properly match the original stitching, the shop needs one of these machines. Not all tailors have them. Luckily for us, Franklin does.
– A good tailor, like Franklin, can also do wonders repairing old denim. They won't look brand new, but they'll have minimal scarring (which looks pretty awesome).
Vintage Flannel Shirt & Jeans (AFTER)
Cheap Off-the-Rack Suit (BEFORE)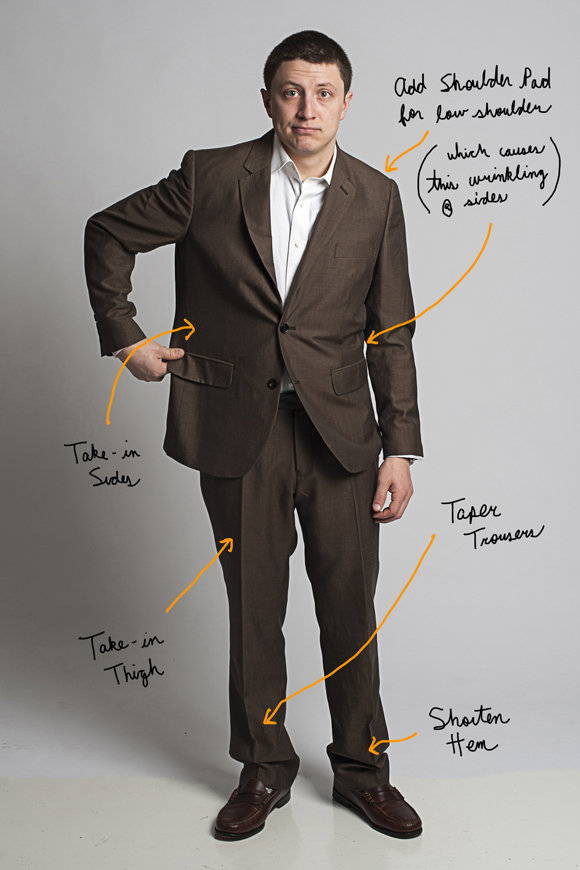 Alex picked up this suit from the clearance rack at Macy's a few years ago (long before working at Articles of Style), but never felt comfortable or confident wearing it.
The suit was about $200 on steep discount. In this case, the alterations were about the same.
Look at it this way: $400 for a well-tailored suit in your rotation is much better than $200 for a suit that sits in the back of your closet collecting dust.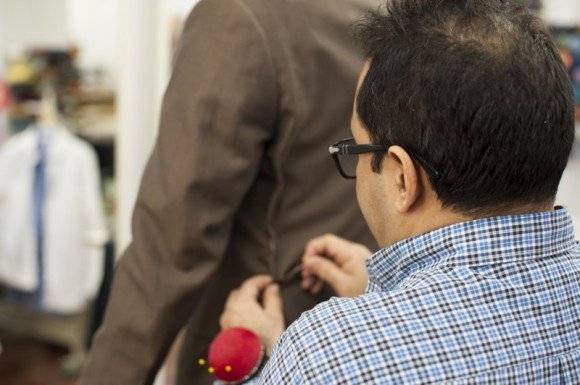 Some useful tailoring advice:
– Make sure the fit is pretty close before buying. Alteration charges can add up quickly, and there's always a limit to how much can be done. In many cases, a tailoring tweak can bring new life to an old garment. In other cases, buying a new piece is actually cheaper and more effective.
– Bring a picture of the fit you are looking for. Nothing you say to your tailor will help him understand better than a photo. This is especially important in smaller towns, where the only available tailors are older men who have been delivering loose, full-cut garments their whole lives. Rather than fighting with him about the proper length and width of your trousers, show him a picture and say "I want them exactly like this".
– Don't let a non-tailor chalk you up, unless you trust that they know what they're doing. This is the problem with most large department stores that offer in-house alterations with your purchase. They typically don't have an experienced tailor on staff full-time, so they "train" the salesperson to pin and chalk the garments for the tailor to work on later. This is a red flag that you're probably in for something you won't love.
Cheap Off-the-Rack Suit (AFTER)
Old Stretched-Out Sweater (BEFORE)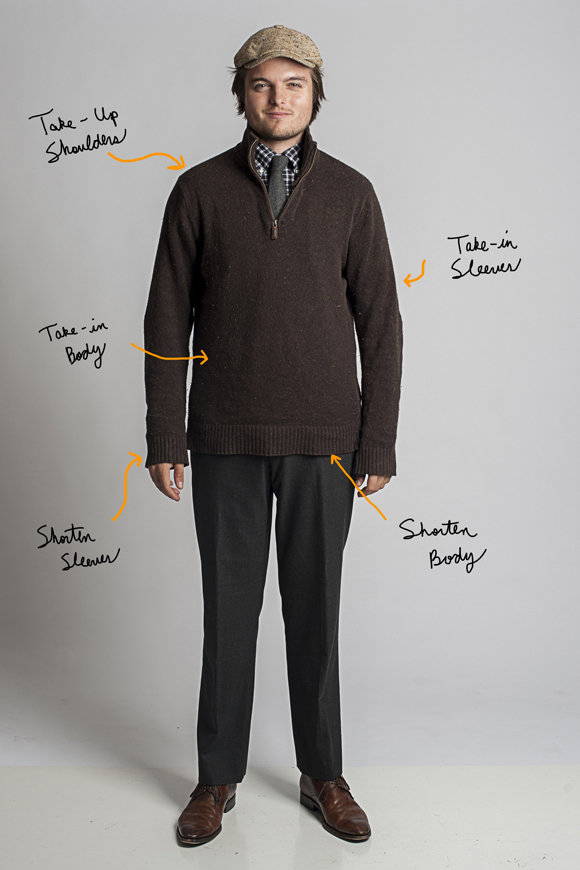 Knitwear tends to stretch-out and lose shape/elasticity over time.
Franklin worked some magic on Towni's five year old pull-over here.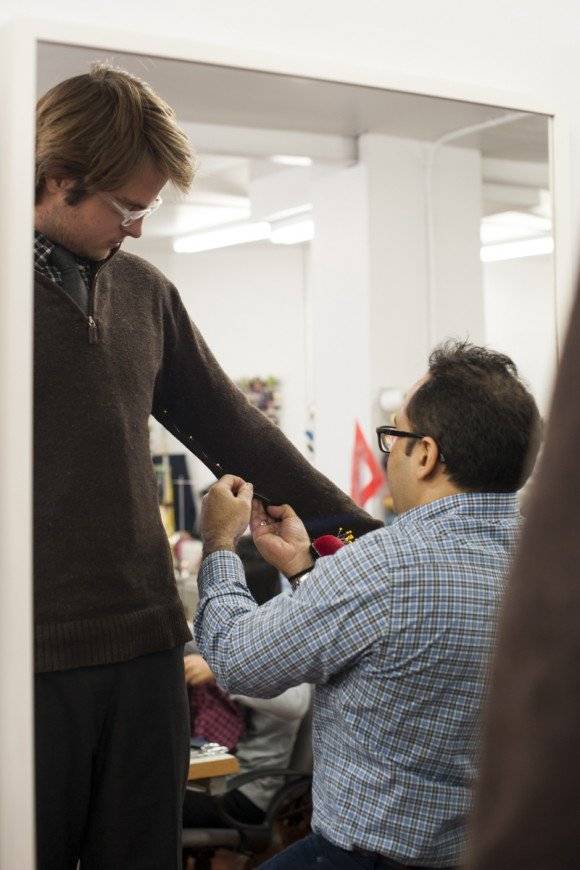 Some useful tailoring advice:
– Knits are tricky. In most cases, cut & sew garments can be worked on, but not hand-knit sweaters (you might need to find a specialist for that). Your best bet is to bring the garment to your tailor and show him the issue(s). If he can't help you, he might be able to recommend someone who can.
– Sometimes it's better to buy a new one (especially if it was cheaply made). In full disclosure, it probably would have been cheaper to buy a new sweater from JCrew in this case, but we wanted to show how dramatic a few tweaks can be.
– When testing out a new tailor, always try-on the garments when you pick them up. If something isn't the way you expected, have them take a look and get it right. Also, consider how you will wear the garment when showing up for a fitting. For example, if you're fitting a suit, bring a shirt, tie and dress shoes.
Old Stretched-Out Sweater (AFTER)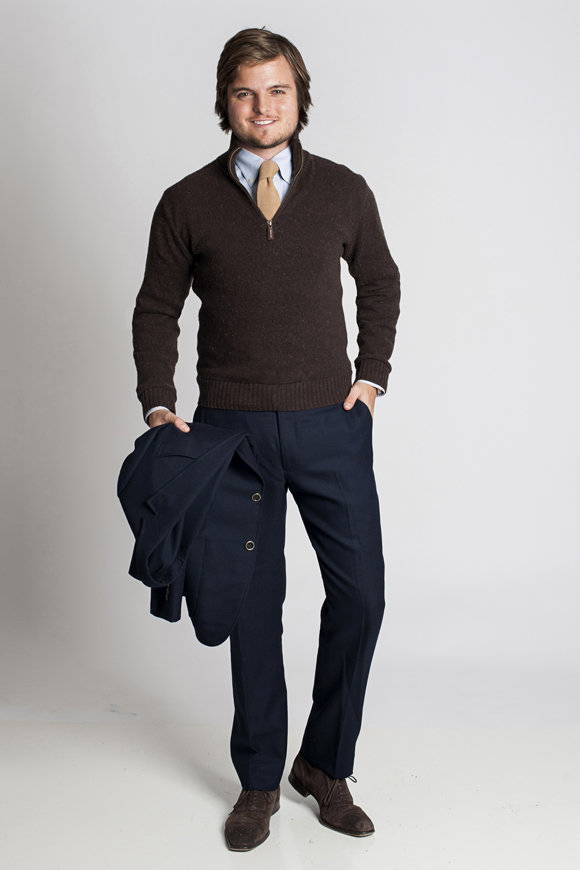 Grandpa's Old Coat (BEFORE)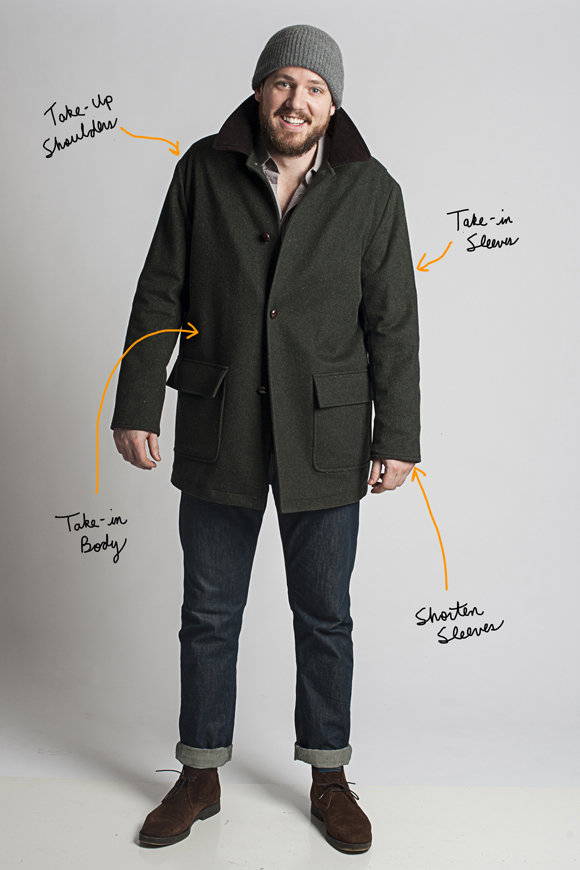 As the old saying goes: "one person's trash is another person's treasure".
You never know what you might find in the back of an old closet. If it's just collecting dust, you might be able to take it to your tailor and give it a new life.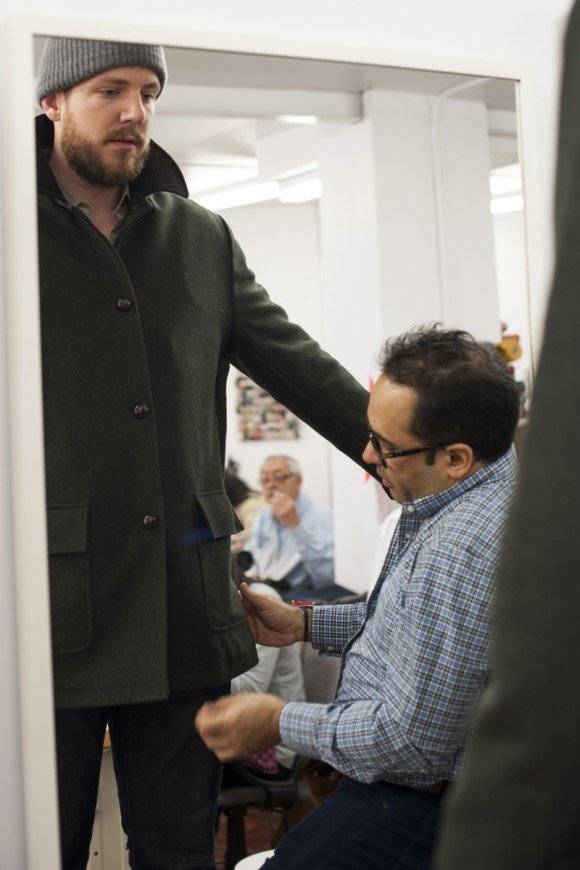 Some useful tailoring advice:
– There can be a vast difference in skill level, and attention to detail, from one tailor to another. Some are master garment-makers with decades of experience, others may have only taken a few sewing classes at the local community college. To find a trustworthy tailor in your area, check out user-review sites like Google and Yelp to hear from people who have experienced the level of service first-hand.
– Once you find a tailor that does good work, build a relationship with him. Get to know him, so he can get to know you and how you like your clothes to fit. Bring him a coffee every once in a while and, more importantly, send him some business by recommending him to your friends.
– Like anything else, tailoring is not a perfect science, so manage your expectations. If you're thinking a tailor can make a suit from H&M look like a suit from Tom Ford, you're in for a disappointment. He's a tailor, not a magician.
– Lastly, are you supposed to tip your tailor? I've always wondered about this, so I asked a few tailors. The common response was: "No, you don't tip a professional". You tip your delivery guy and doorman, but not your surgeon. A thoughtful birthday or christmas gift is a tasteful touch, though.
Grandpa's Old Coat (AFTER)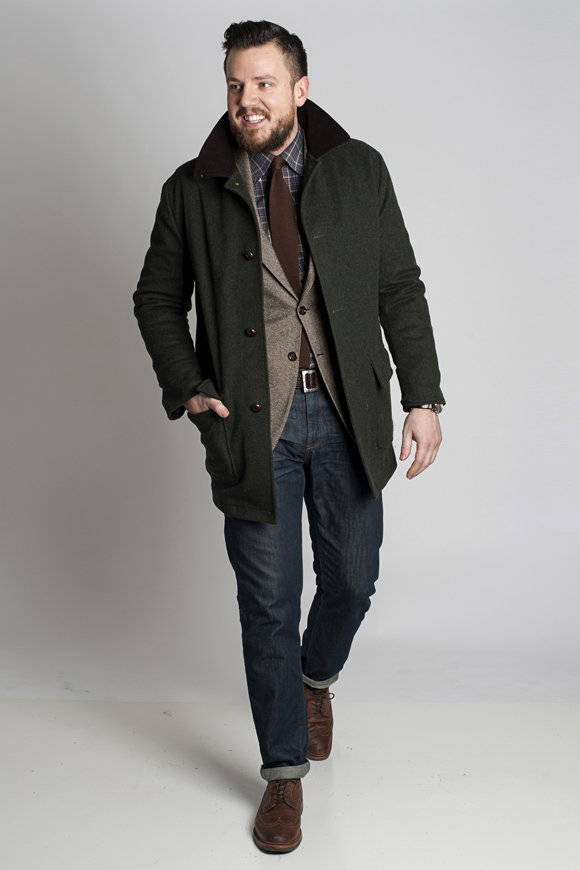 t's a popular topic, tailoring, and we certainly can't cover it all in one post. If you have any specific questions, or any advice from your experience with tailoring, feel free to share in the comments below and we'll do our best to reply.
Thanks, as always, for reading. 
Yours in style,
Dan Trepanier