Good morning gentlemen (and ladies),
I thought now would be a good time to spread some cheer by sharing one of the most stylish weddings we've ever outfitted.
This one was truly an honor to be a part of. Thanks again to Sheldon and Chanel!
The article below was re-posted (with some edits and additions) from Harpers Bazaar.
When Chanel Tyler, the New York City-based Director of Local & Cultural Relevancy for the Prestige Beauty Conglomerate, The Estee Lauder Companies, got engaged to her partner of eight years, HR manager Sheldon McIntosh, it didn't exactly go according to plan.
"Sheldon planned on proposing in Lake Como, Italy on a vacation we had planned after my business school graduation. Unfortunately, he suffered a severe leg injury three weeks before our departure date and had to cancel the trip," Chanel recalled.
"He was, however, committed to proposing on Friday, May 19, because that's the day he had things planned for. Still injured and hobbling, he took me to the roof of our apartment building which overlooked Central Park and, wincing in pain through a very romantic spiel, he asked me to spend the rest of my life with him."
Thankfully, things were a little more straightforward for the pair from that point on, with both of them settling on their wedding location and overall nuptial vibe almost immediately.
From their traditional ceremony in Chanel's hometown of Chicago, through to the couple's three very different looks for the rehearsal dinner, ceremony and reception, every detail was considered, creating a day that was equal parts sentimental and super-chic.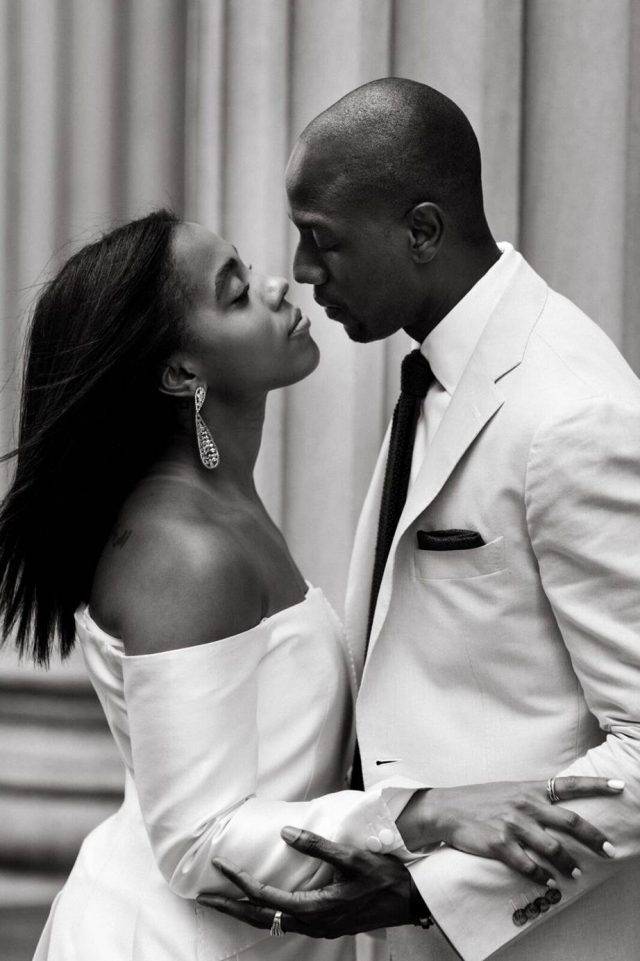 On how they met: "Sheldon and I met at the beginning of summer in 2011 at the Brooklyn Museum through a mutual friend that I went to college with. We flirted easily, I remember how charming he was and immediately fell in love with his smile. He was incredibly dapper and reminded me of Pierce Brosnan in The Thomas Crown Affair (which ironically turned out to be a favourite movie for both of us, I never met anyone else who loved that movie let alone even knew what it was), he had classic, and timeless style. We exchanged laughs and went about our evenings, I continued to run into him frequently after that day. Our first date was three months after we first met, this day also happened to be one of the hottest days in city and the beginning of a heat wave, a sweltering 103 degrees (roughly 39 degrees Celsius) which doesn't leave much room for being first-date cute. We had brunch in the Lower East Side, brunch turned to hanging out in SoHo, then to relaxing on my rooftop terrace in Harlem, we spent the entire day together and it seemed like no time passed at all, I was smitten." -Chanel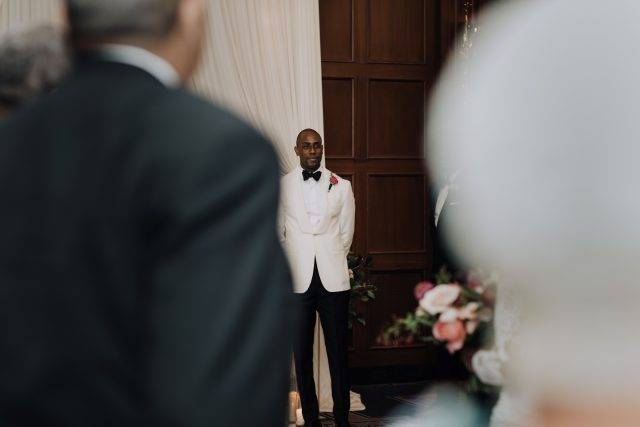 On the overall vision for the day: "Our wedding vision was romantic and intimate, we knew we wanted to have it in the evening with lots of candles to give the room a vibrant illuminated glow. Sheldon and I are also very detail oriented and fashion forward people so it was important for the wedding to reflect that part of us. Our décor was simple yet elegant, with pops of navy, fuchsia, ivory and gold. To be completely frank, the venue was so beautiful it really didn't require much." -Chanel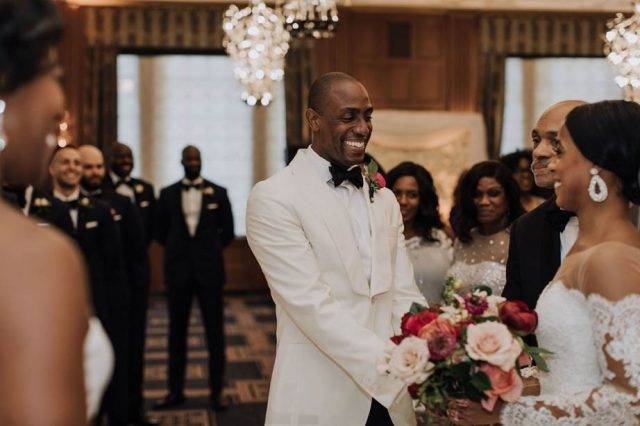 On the type of ceremony: "Religious, traditional ceremony, we were married by a childhood friend who became a minister and also happens to be a business school professor at Northwestern University, Nicholas Pearce Ph.D." -Chanel
On the groom's look: "Sheldon is very stylish and wanted to ensure his look reflected his style and our taste. He went with a custom-made ivory dinner jacket, shirt and navy tux pants from Articles of Style, a custom menswear shop in NYC. He also prefers classic styles to trends and went with the black leather oxford lace-ups from Christian Louboutin to round out the outfit." -Chanel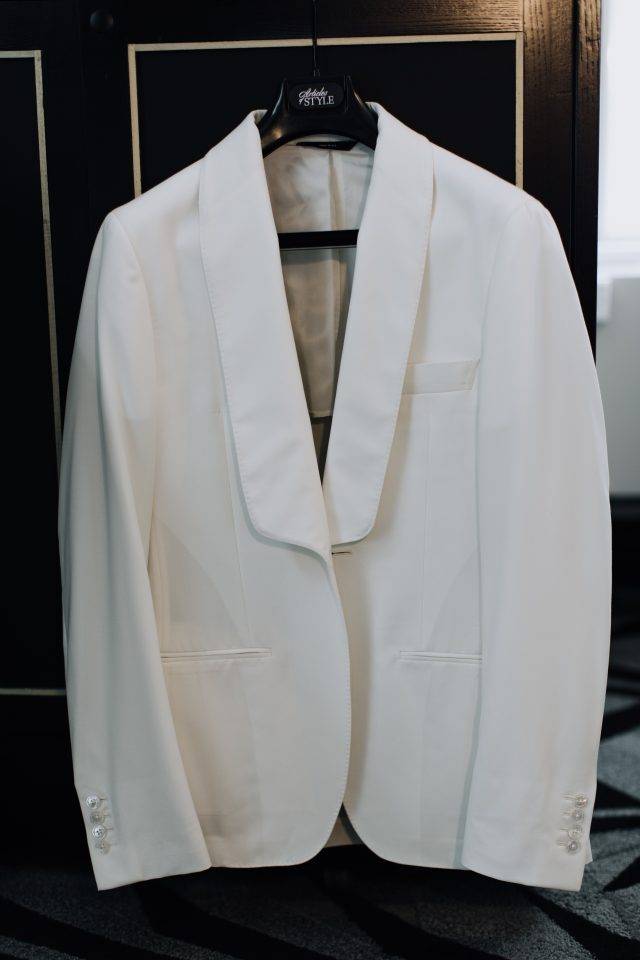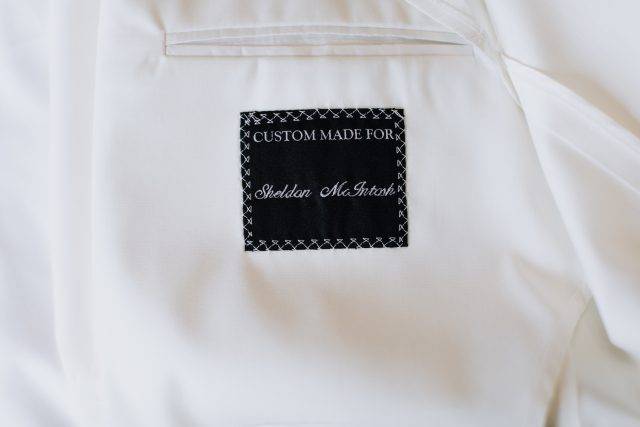 On the grooms AOS experience: "I absolutely loved my Tux choice; the ivory shawl collar dinner jacket was the perfect compliment to my wife's dress and our wedding colors.  I chose the dinner jacker as opposed to a traditional tux because of the versatility it offered to flip between the ceremony and reception and ultimately as an individual piece for future occasions. I went pretty standard on the bottom with the navy trousers sans satin stripe to offer more flexibility to in the future as well.  The navy trousers also aligned with my groomsmen tux colors.
AOS staff, Wes and Jake were great.  They were very responsive, attentive and offered great advice and suggestions if ever I had questions. Wes in particular was great in offering real world suggestions and being overly communicative in what would work best for the occasion once all the facts were on the table.  I still communicate occasionally with Wes to this day.  I absolutely recommend AOS to everyone looking to elevate their style and outfit for any occasion." -Sheldon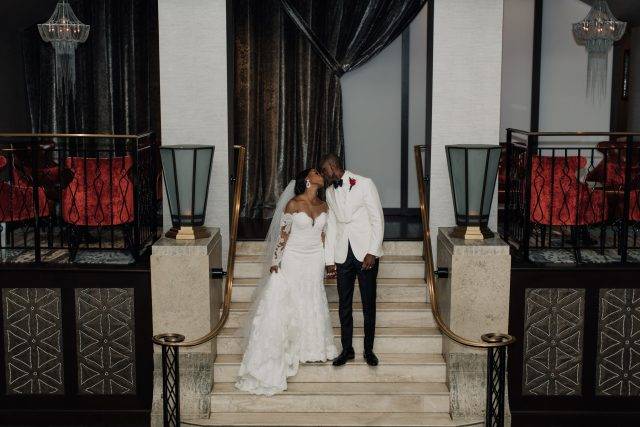 On the location: "The Kimpton Hotel Allegro felt like pure elegance when we walked in, we knew instantly that this was where we wanted to have our wedding. It was centrally located and provided a lot of activities and entertainment for our guests throughout the weekend.
We were married in my hometown, Chicago, on a Friday surrounded by 125 of our closest friends and family. Friday is an important day to us because Fridays were our designated date night from the moment we made things official, so our wedding essentially was the biggest date night of them all. Everyone at our reception received a thank you note instead of a menu with a eucalyptus leaf. It was really important for all of our guests to know how incredibly important they were to us and what their support of our union meant." -Chanel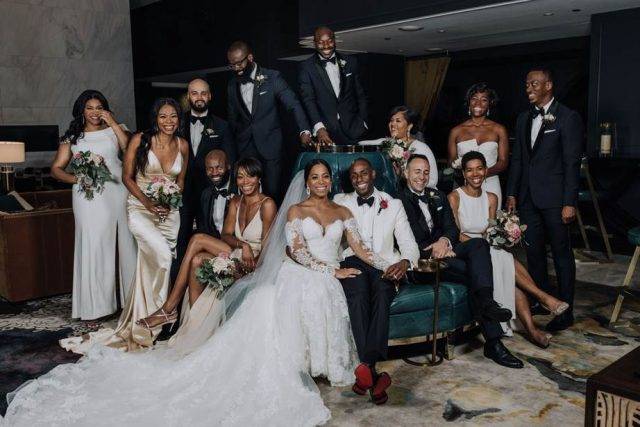 On the bridesmaids' and groomsmen's looks: "My vision was for all my bridemaids to be in a shade of ivory, different textures, silhouettes and fabrics complementing each other, all the dresses had to be floor length to fit with the black-tie formal theme.
Our vision for the groomsmen was to be an extension the groom. Their navy tux and black oxfords encapsulated the elegance we hoped to showcase with our style for the day. Their looks were meant to add to the formality of the wedding and maintain a level of class throughout the night even if they ditched the bowties." -Chanel
On the guest list: "We had 125 guests and our favourites were definitely our parents who made speeches that brought the room to tears (and laughter) and danced with us all night. We had a fairly tough time with narrowing down the guest list because we're both extremely social people with a large network of friends. However, respective family members and select plus-ones aside, our guest list selection process came down to ensuring that there were no attendees we both didn't know and both previously have had interactions with. We didn't want to walk into our wedding, meeting anyone for the first time." -Chanel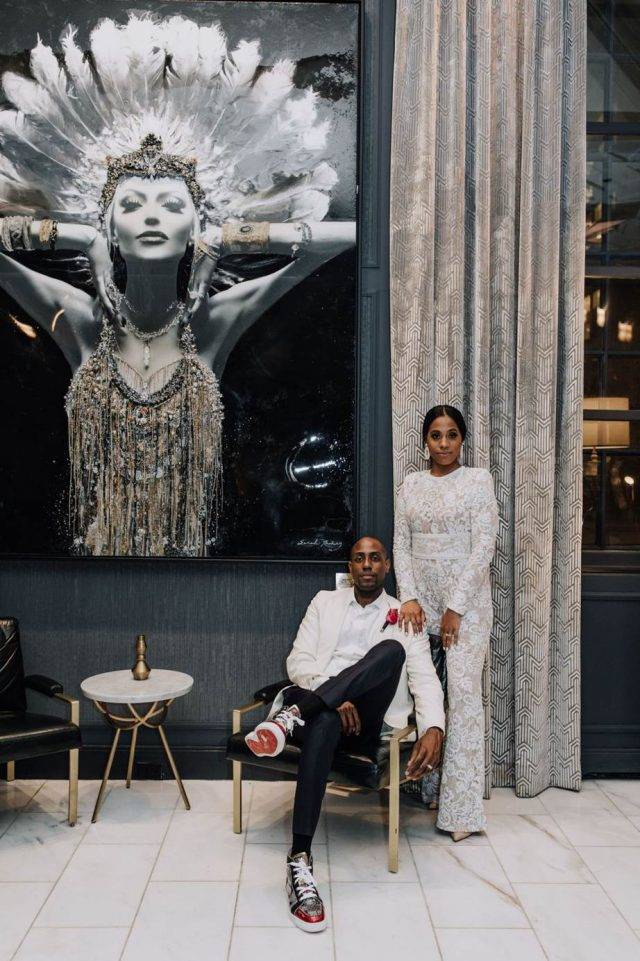 Was there an outfit change for the reception? "Yes, I changed into a lace jumpsuit by Nadine Merabi, this was actually my favourite look, I had three total.
I actually wanted to get married in a pantsuit but that got vetoed so I made up for it at the reception and rehearsal dinner. Sheldon lost the bowtie and changed into his dancing shoes, a pair of Christian Louboutin Louis Orlato sequins sneakers." -Chanel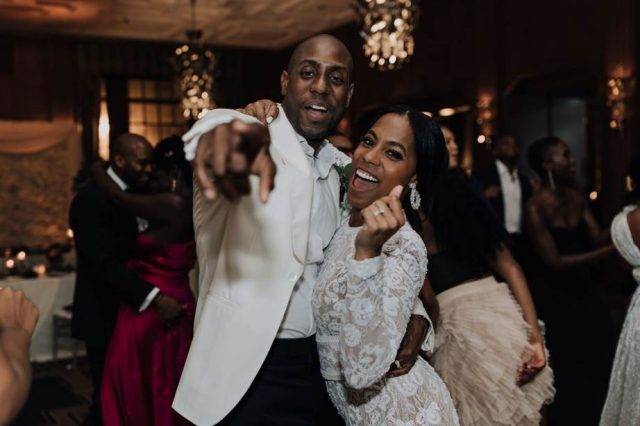 On the first dance song: "Jesse Powell "You". The lyrics perfectly described how we value and cherish one another. The song speaks to a level of closeness and fondness we hope to always have for each other. Every time I hear the melody, I get super emotional." -Chanel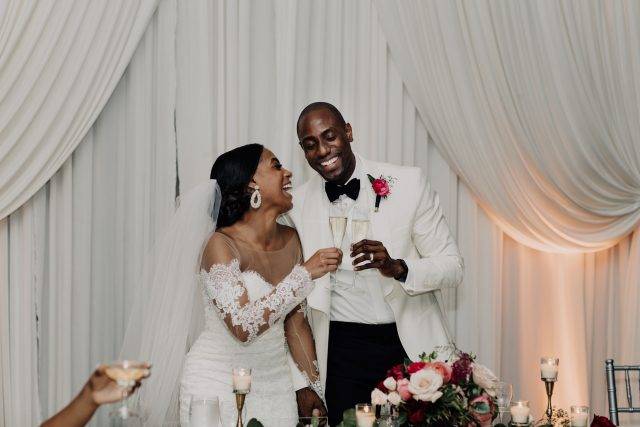 On the food and drinks: "Our favourite wine is rosé and our favourite spirit is gin so we had a rose and gin spritzer called The McIntosh. The food was traditional, two meats and a vegetarian option. Truffle risotto, braised short ribs and white fish piccata. Cocktail hour was crab cakes, semolina-crusted shrimp, truffle deviled eggs, scallop crudo and mini polenta crisp braised short ribs." -Chanel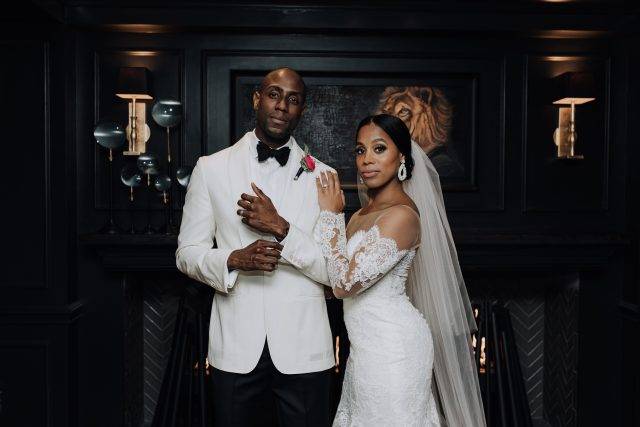 On the most memorable moment of the day: "Right before I walked out of my bridal suite to meet him at the alter, Sheldon left a gift for me, it was a framed photo from the summer we first met, before we started dating. What was special about this? 1. I didn't even know he had this photo, 2. He isn't the sentimental type at all so this felt incredibly thoughtful and 3. He never takes or keep photos, I am absolutely positive he has less than 20 photos in his phone across the last decade. It meant so much to me that he had this and that he saved it for all these years. My gift to him was Hermes cuff links in the shape of a knot to signify our "tying of the knot", he wore them on our wedding day." -Chanel
Thanks, as always, for reading. And special thanks to Sheldon and Chanel for allowing us to be part of their big day, and for sharing their story.
Yours in style,
Dan Trepanier
Photography by Arielle Teft