Every AOS suit is designed to be worn as a separate jacket, trouser and vest.
The "1 Piece/X Ways" series shows you how to style a suit for several different occasions - so you can save time and money by getting the most out of your wardrobe and help save the planet by buying better/buying less.
In this edition, we show you 10 ways to wear our Bamboo Suit in Merlot. 
1. All Business Show-Stopper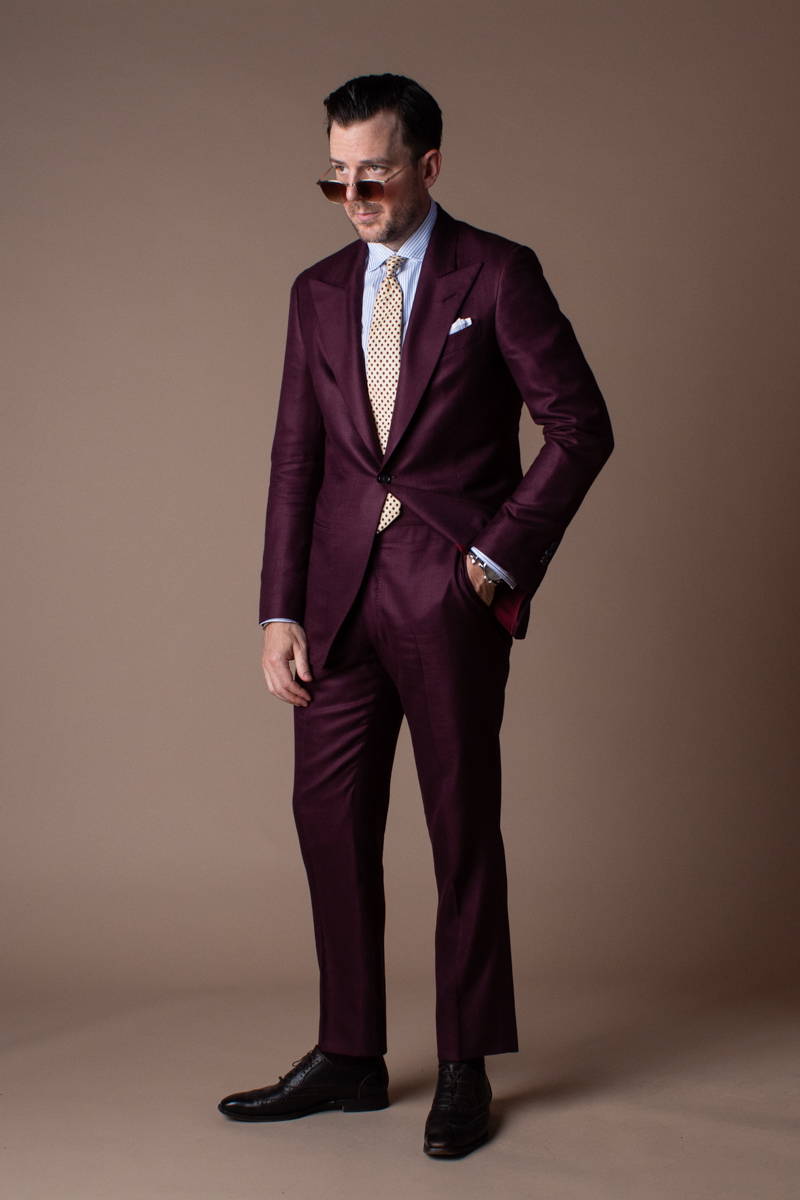 A bold choice of color paired with the gentler tints and subtle patterns of the shirt and tie lets the suit stand as the statement piece but adds a little subtlety to the overall ensemble. Get ready to show them whose boss.
2. Black Tie with a Twist
Bamboo fabric is a relatively new innovation in menswear. Why not be innovative with its use, too?
We designed this one with a one-button front, wide peak lapels and minimal besom pockets - mimicking the simplicity of the classic tuxedo. It's even more traditional in the midnight or black colorway.
Though it's not traditional, the rules of formal attire are bending and becoming more daring. And this fabric does just that. Its extremely soft hand, luxurious sheen, and incredible coloring makes bamboo a strong choice for a lasting 4-season formalwear piece.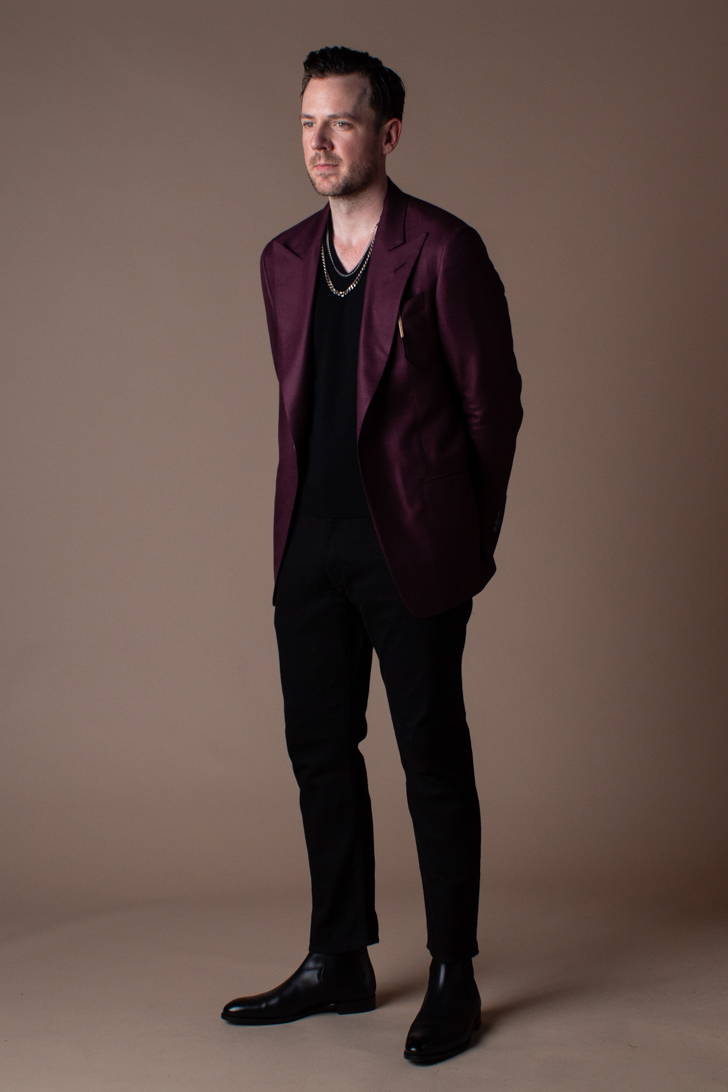 Merlot is such a rich and flavorful color. Layering it against a black backdrop will bring out the richness of the color and luster of the fabric. Add a metal jewelry piece here and there and you'll be golden.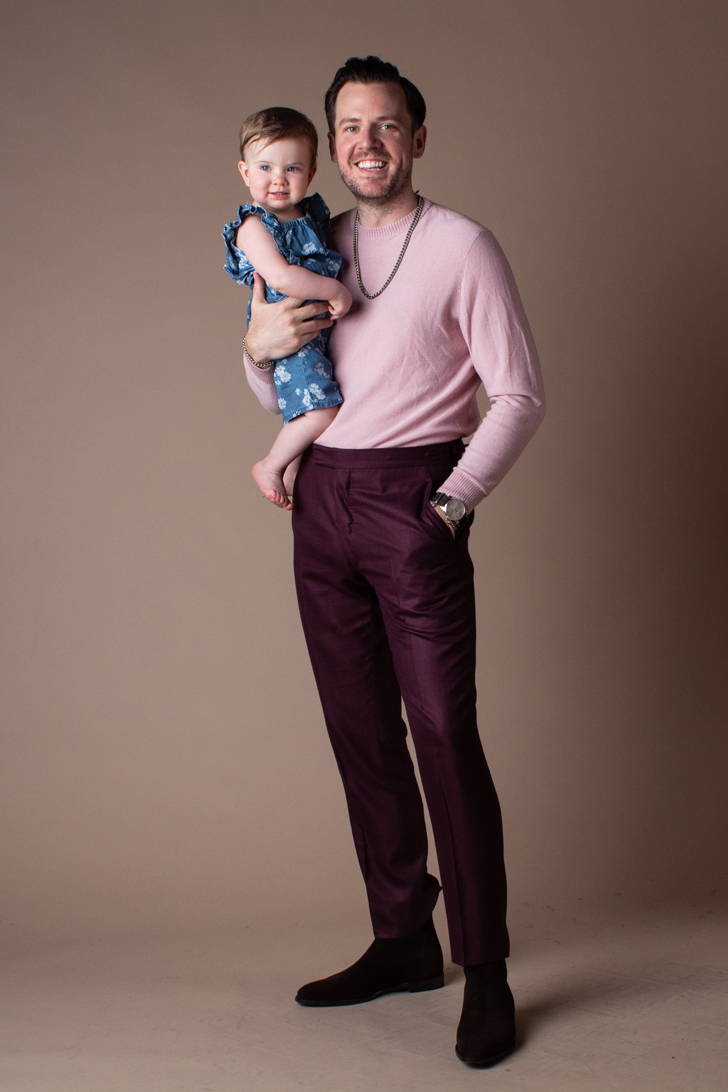 Making dad style simple: 2-item outfits. 
Sweater + Trouser.
Shirt + Trouser.
Sweater + Jeans. 
Slip on boots (bonus tip: extra long shoe horn is a life saver - slip them on with baby in hand)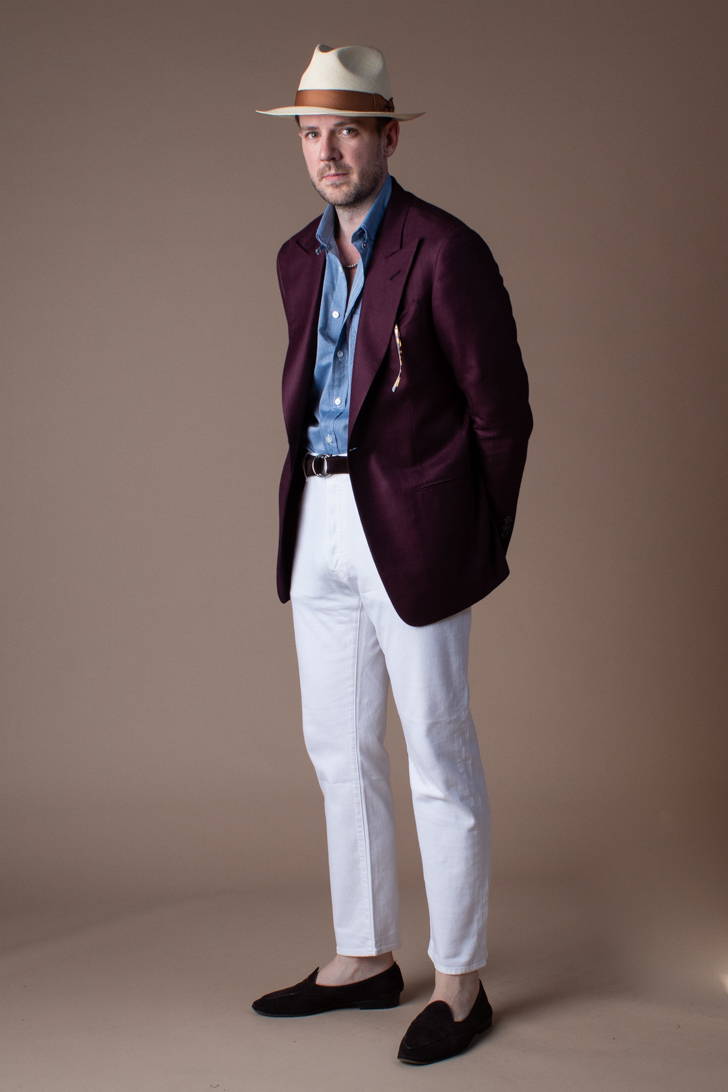 Given that bamboo is a tropical plant fiber, it's very lightweight and breathable. That's why they call it "California Cashmere." Pair this jacket with a light-weight shirt, white trousers, and kick on a pair of casual loafers.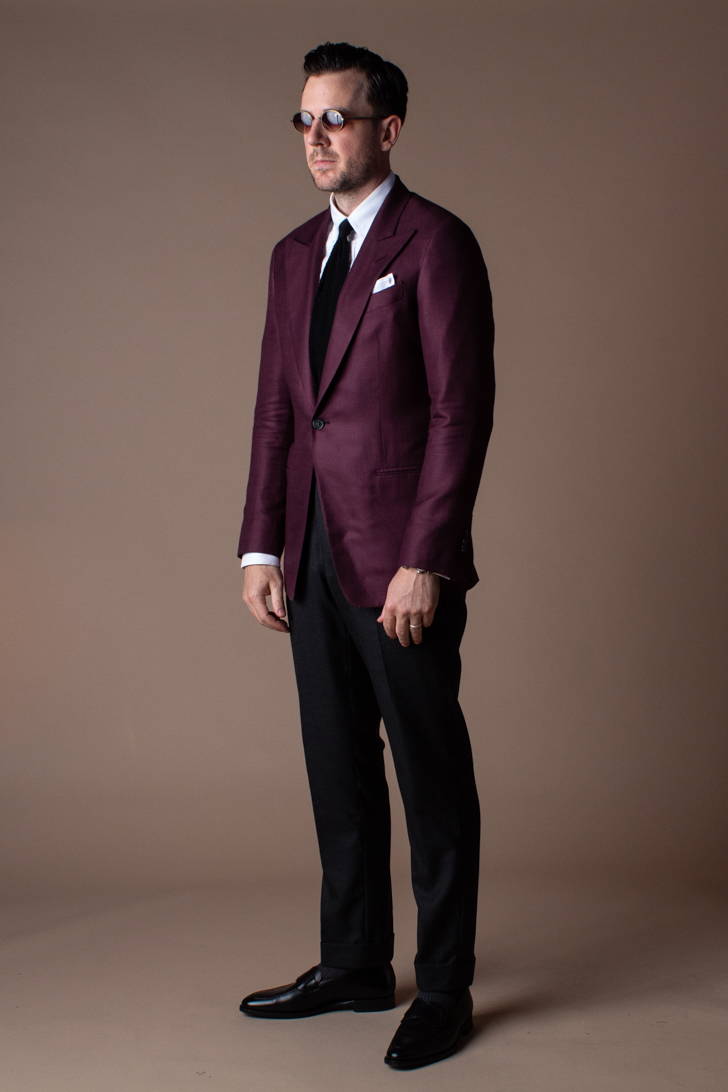 Start with a solid, classic foundation - something like a charcoal trouser, white shirt, black knit tie - then add the jacket to finish it with a splash of color.
The bamboo suit jacket - like most AOS suit jackets - is meant to double as a versatile sportcoat.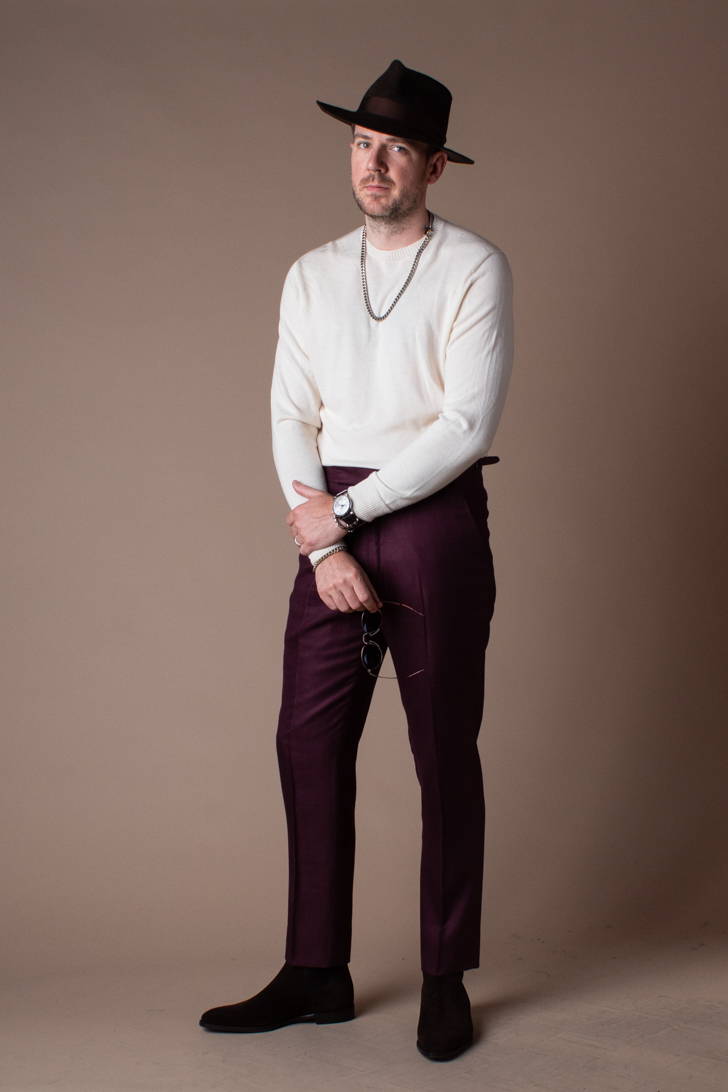 In today's world this look "dressy" - but it's really not. A cashmere sweater and a bamboo trouser is one of the easiest and most comfortable things you could wear.
The unique composition of bamboo fiber, when dyed, creates a beautifully complex color with texture and depth unlike any other textile. Even the more subtle colors like charcoal, navy and black bamboo have such a rich dimension to their color.
A soft cream crewneck sweater and a felt fedora really bring out the softness of this fabric and overall look. 
8. Suit Jacket = Sportcoat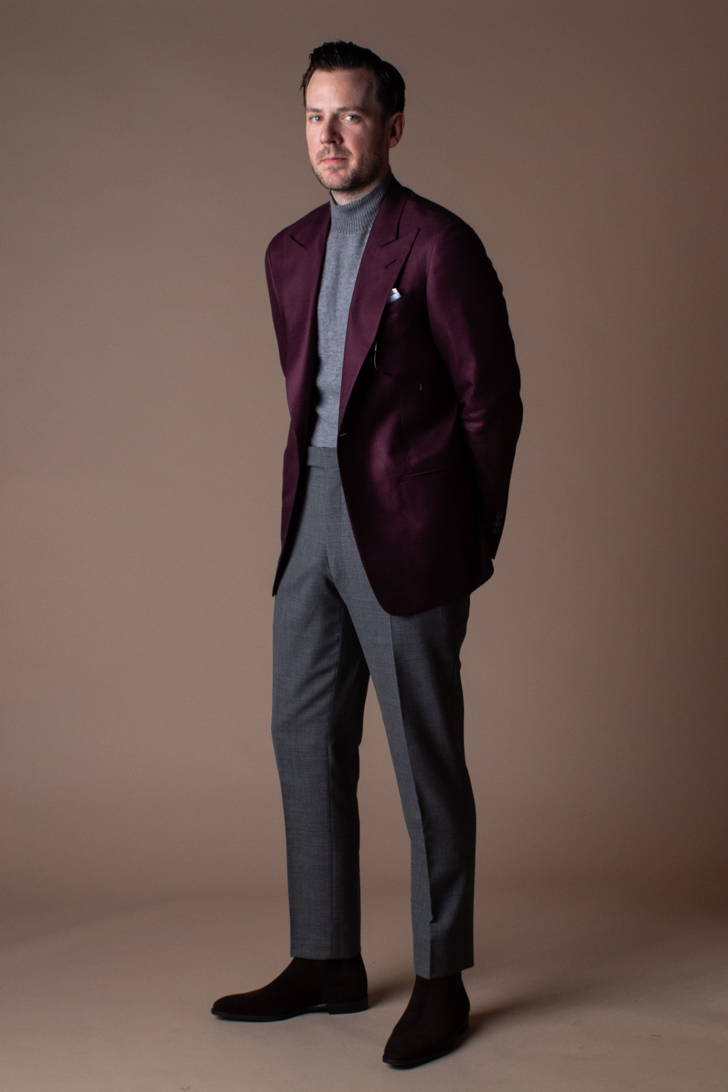 Gray makes an excellent frame for any jacket, Here the merlot jacket stands center-stage with its color and texture coming to the forefront. 
A classic white polo is a great investment. It's more relaxed than a dress shirt but has more character than a t-shirt. And it goes with any pant you own.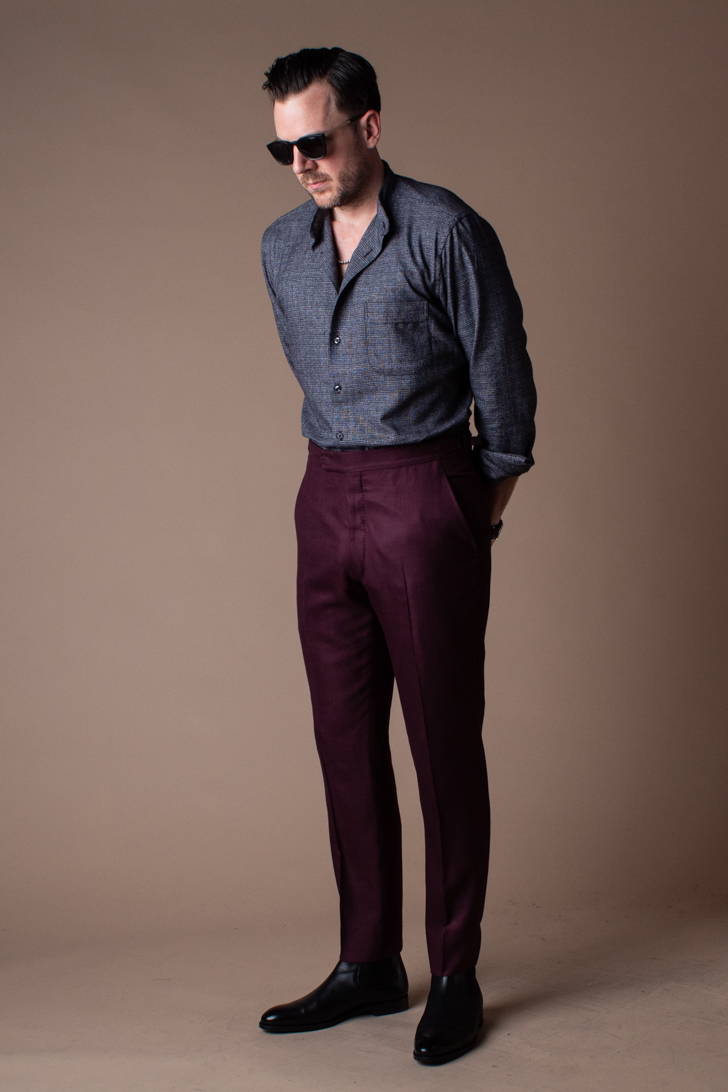 Darker tones really bring out the richness of this bamboo fabric's color. 
Having a shirt in a darker tone - especially with a band collar - gives you an instant "going out" outfit, simply by pairing it with any of your well-cut suit trousers.
Thanks, as always, for reading.
Yours in style,
Dan Trepanier