Looking and feeling great in your clothing has nothing to do with fashion trends, and everything to do with understanding your body type.
Every body shape is unique and poses its own tailoring challenges.
Here's some general advice to flatter your physique.
---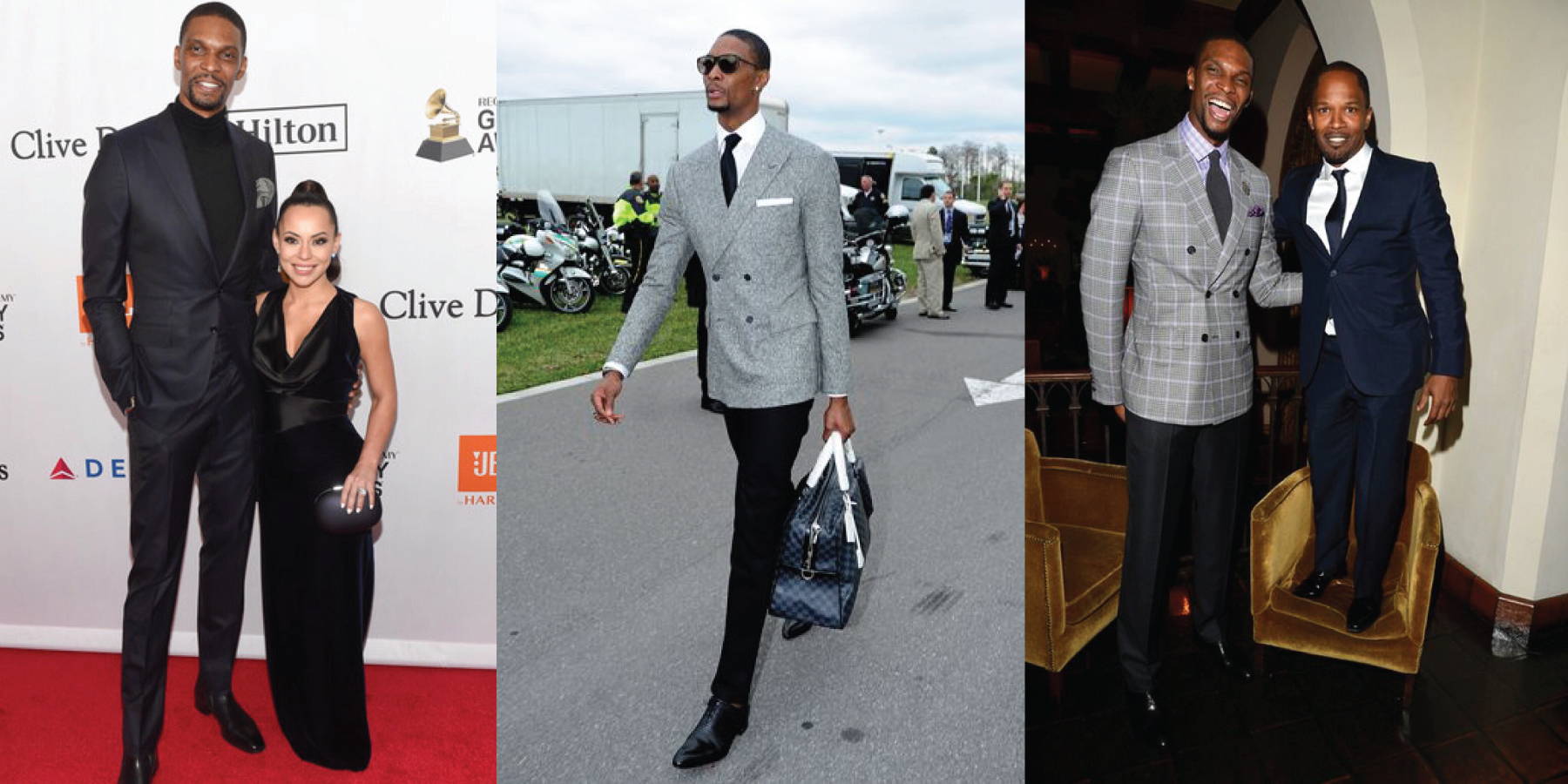 Avoid pinstripes but don't be afraid of a check or a glenplaid fabric. Patterns will add girth, as will lighter colors like.
Consider a double-breasted jacket, it's the best option to effectively widen your frame.
Don't go too slim, a little room will add some necessary drape and balance out your proportions.
Go with a medium to full break and cuffs on your trousers to break up your linear physique.
I usually recommend a notch lapel over a peak, although what's more important there is the formality of the fabric and garment.
Keep the pockets straight, not slanted, and use a ticket pocket to fill some empty space.
A longer jacket can be slimming, a shorter jacket can be lengthening…shoot for the middle ground, just covering the seat.
Use horizontal accents like a belt (trousers with belt loops), folded pocket square and tie bar to add some east-west visual cues.
A slightly higher button stance can offset your length, consider a 3/2 roll for flexibility.
Go three-piece! The vest is your best friend as it can add some heft and give you plenty of layering options.
Point shirt collars are a better choice than spread or cutaway.
---
A slightly longer jacket will visually elongate the body.
Avoid check patterns. Solid darker colors are sliming, as are pinstripes.
A deeper button stance will create a stronger "V" shape, accentuating the chest and masking the belly (there's also an adjustment to "pull in" the bottom of the jacket so it doesn't "hang" or "flare" off the stomach)
For heavy guys, fit is that much more important, both in presentation and in comfort. Yes you can wear a slim fit, but certain areas need more allowance (such as the lats, love handles, hips, and thighs) so you should tread carefully, as naturally your body will put more strain on the fabric. 
Avoid belts, side-adjusters are your new best friend.
Try going with a slightly larger waist size, and sit the waistband across the bottom of your belly (not under it) and consider using suspenders to comfortably "float" your waistline.
Go with a peak lapel to draw the eye upward and proportionally flatter your broad shoulders.
Slanted pockets, in theory, can draw the eye downward and are slimming on the tummy.
Consider using a ticket pocket to fill some space in the midsection.
Opt for a heavier, more durable cloth but lose the lining to avoid overheating. A second pair of trousers may also be a good idea.
Spread collar shirts should be matched with beefier tie fabrics, as both are ideal for a large neck.
Hem your trousers with a light to medium break, and leave a little room through the leg – too slim at the bottom can make you look top-heavy.
Have you jacket cut as trim as possible at the stomach (without pulling/breaking/discomfort) and keep your jacket buttoned as often as possible (but not when you're sitting, of course).
---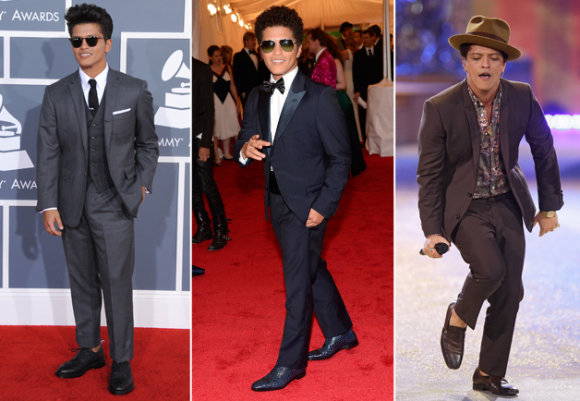 Shorten the jacket a little, it will lengthen your leg line and add the illusion of height (just make sure your seat is mostly covered).
For example, standing alone Bruno's proportions make it such that you can't tell how tall (or short) he is. Take a look at a picture of him standing next to Taylor Swift, however, and it can be shocking.
Go with slim (not skinny) peak lapels, in proportion with your neck and shoulders.
A one-button jacket keeps the suit in balanced proportion and allows you to have deeper button stance, creating a visual lengthening effect.
Keep the sleeves as trim as possible and the armholes all the way up to the armpit, without affecting comfort or range of motion, of course
Keep the trouser rise low and the legs slim and tapered with very minimal break, ideally no break at all.
The jacket sleeves should be cut short enough that you show at least 1/2″ of  shirt cuff – this will make your arms look longer.
Avoid check or plaid patterns, and stick to fabrics that are dark and sleek. The same "slimming" effect can also be "lengthening". Pinstripes and herringbones are also a good idea, although these are less versatile fabrics.
Keep your shirt collars narrow and your ties slim and on the short side (if  they're always coming out too long, have them shortened at the backside by your local tailor).
---
Use the smallest possible shoulder pad, or none at all. You don't need to accent your already large shoulders.
Avoid anything too short or cropped – it will look boxy. A longer jacket (even going a hair beyond the seat) with a lower button stance will stretch out your bulky physique.
Dark fabrics are slimming, as are herringbones and pinstripes. The Rock nails it here with a charcoal shadowstripe suit.
Avoid bold checks and plaids – stick to solids and subtle textures.
The bigger your muscles, the more strain you will put on the suit. Use a heavy, durable cloth and ask your tailor if they can reinforce the seams where you typically have pulling.
Go unlined, chances are you run hot and need to keep the garment as breathable as possible.
Keep the lapels wide enough to balance out your broad frame, and stick with peak lapels over notch.
For the trousers, you need room in the seat, hips, thighs and calves. Nothing looks worse than a muscular guy blowing-out of his garments. A little flow in the trousers is elegant and balances out your larger top half.
Go with a full break, and a slightly wider trouser bottom. The tight ankle and flood length is not for you.
Go with side-adjusters over beltloops. The beltless look is slimming and streamlined. You have enough bulk, think minimal with your whole ensemble.
Thanks, as always, for reading.
Yours in style,
Dan Trepanier