My favorite part about running Articles of Style is getting to know our clients from all over the world.
We're now making clothes (in America) for gentlemen from more than 20 different countries; from Germany to Chile and Dubai to Australia. Even more interesting is how widely these gentlemen contrast in their careers and lifestyles. It proves that, in just about any walk of life, dressing properly can be a powerful tool.
Behind every order is a unique story. We've made garments for US senators, UFC fighters, neurosurgeons, violinists, taxi drivers, students, small business owners, pro athletes, tech billionaires…you name it.
These guys not only have unique backgrounds and wardrobe requests, but they also have very unique body types and fitting needs. They range in height from 4′ 11″ to 7'1″, and in weight from 95 lbs to 525 lbs.
To give you a better sense of our online fittings (which we get questions about all the time), I thought we would start to profile some of our clients who have been through the process. This way I can share information about their particular tailoring adjustments, and they can share information about their experience with AoS.
Azieljireh "AJ" Gonzales is an English teacher living in New York City.
"I was born in Manila, Philippines. At the age of 8 my father and I emigrated to NYC, after my mother who went ahead of us two years prior. I grew up in Queens, N.Y. 
I'm an ESL (English as a second language) teacher. I fell into this line of work by happenstance. I got the travel bug during my third year of college so I became a volunteer teacher in South Africa. That planted the seed of my wanderlust. I then taught in South Korea for five years, and traveled every chance I got. Now I'm back teaching in NYC, but I always have my eyes out for an international life."
AJ's first purchase was the tweed 3-piece suit in forest and the plain weave 3-piece suit in olive, which he customized to be in double-breasted(!). When I saw his original order come through, I thought; bold choices for a first timer! I was hyped to work with AJ. Then I opened his profile and saw that he's 5'6″ 225 lbs.
We analyzed his physical profile and cut him a fitting garment based on his height, weight, body type and the notes he wrote in the open form regarding typical problem areas with off-the-rack clothing.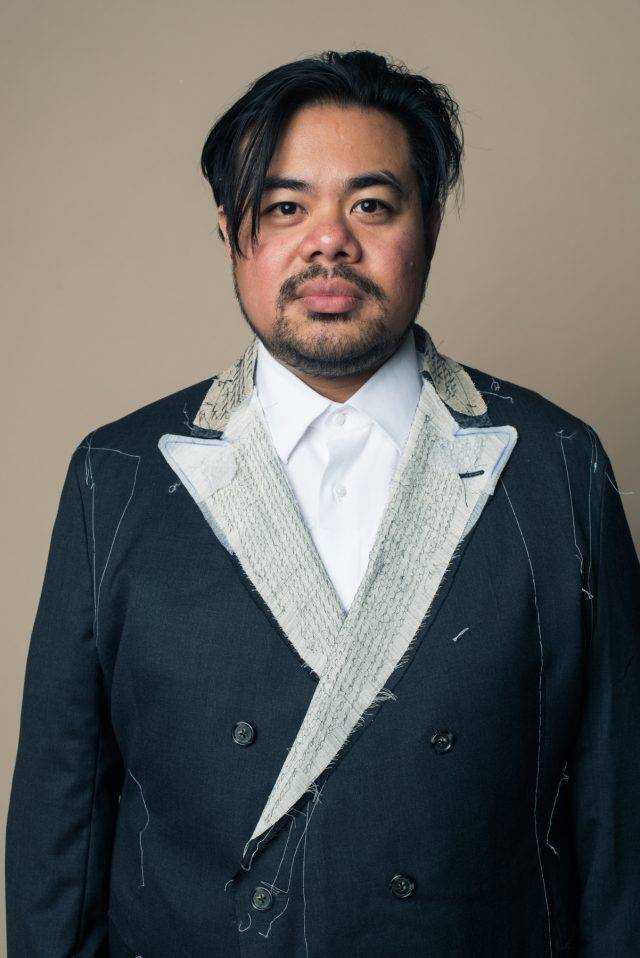 AJ in his AOS fitting garment
The most difficult part about AJ's fit is not his height or his weight; he's actually quite balanced and proportional. The most difficult part is his shoulder line and his neck proportion. His shoulders are extremely square at the base (near the neck), but very sloping toward the end (near the sleeve). In addition to that, he has a very short neck that is also very slim relative to his chest size.
I love these unique challenges.
Here are the results of his two suits after our fittings, along with a little more background about the man behind the menswear.
---
"My dad was very dapper. He always cared that everything he wore fit. To him fit was the most important thing. I think that's how it all started for me.
In college I went through the classic sneakerhead phase. I was obsessed with kicks. I collected Nike SB's and I still have a closet full of deadstock sneakers waiting to be sold. After college I needed to look more "mature" in my new job. So around my mid to late twenties I started into the world of classic menswear. Now that I'm neck-deep, I love it!!
The level of respect that I feel has shot up considerably over the last few years. There's been an air of respect that I get when I walk into a room. My confidence has certainly shot up also. People just look at you differently when you dress well. It's not just when you're wearing a three piece suit. When things fit well and everything goes well together you'll find it easy to get noticed, no matter where you are."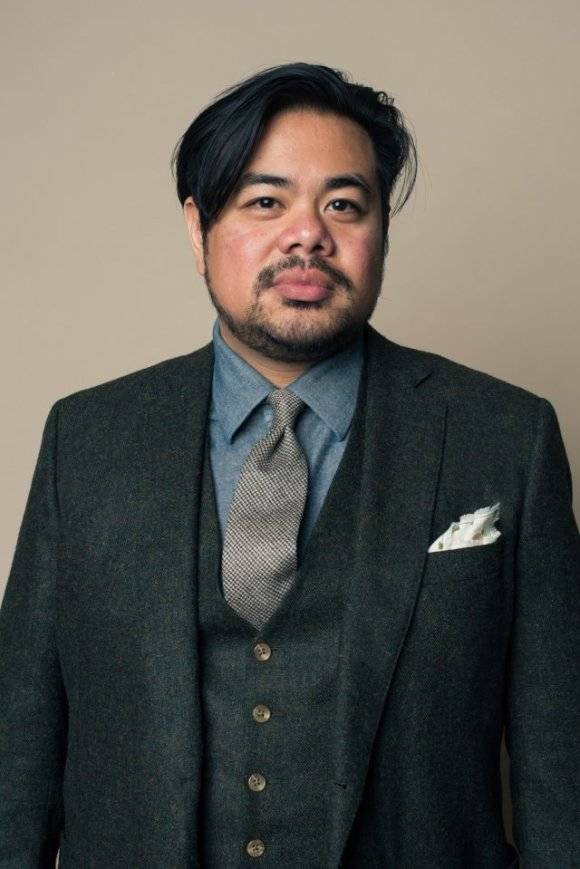 ---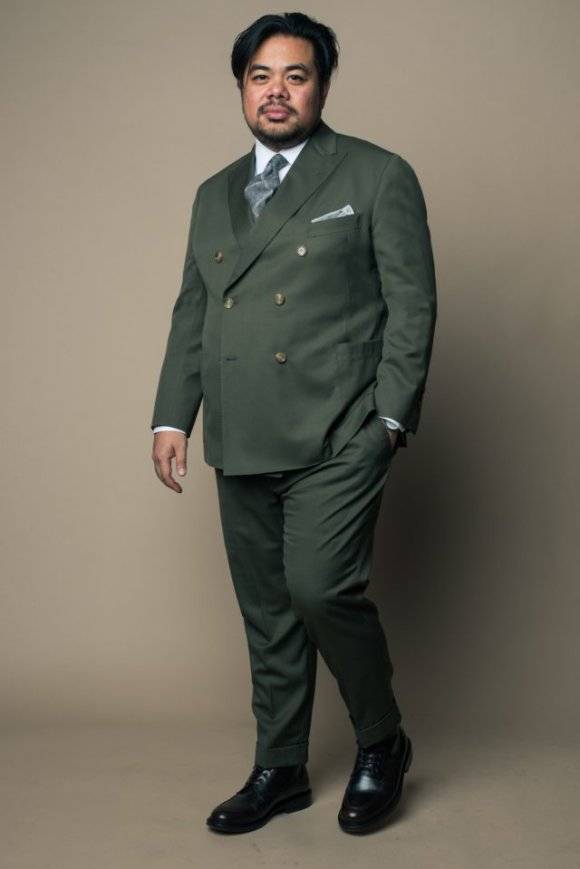 "I'm a difficult fit. I have narrow shoulders with a slope, a protruding stomach, and t-rex arms. I always have problems with collar rolls, shoulder width, and length. The sleeves are always too long. The shoulders always droop too low. And because I'm a bigger guy, if I size up, everything gets too long.
AoS solves all of these problems. It's the first jacket that I've ever worn that doesn't have a collar roll. AoS nailed it the first try and I was amazed. And the best part is, now that my measurements are locked-in I can order anything online in one click, and have it delivered to wherever I'm going next."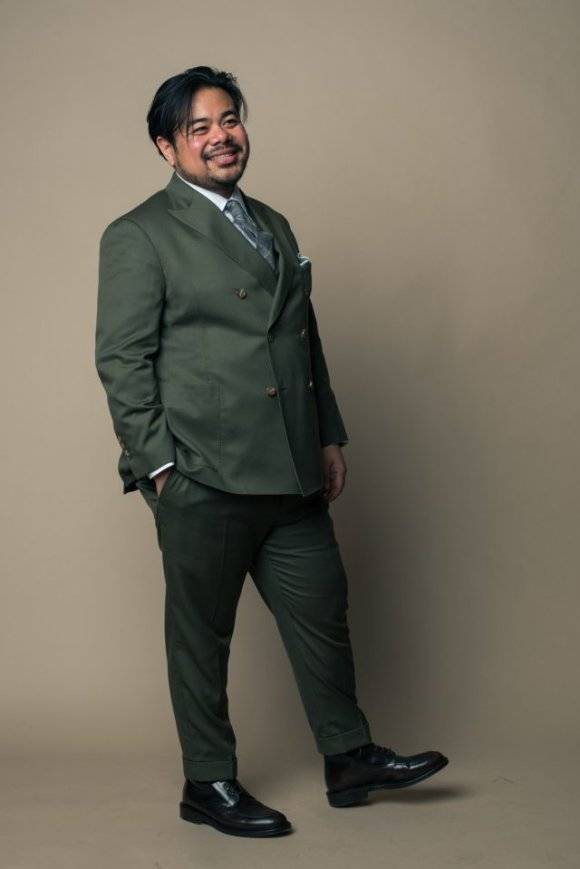 "If I have any words of advice for bigger guys, it would be: get clothes that fit you well and that will last a long time (both in terms of lasting style and quality).
And remember that a suit isn't just a suit. A suit is multiple outfits waiting to happen."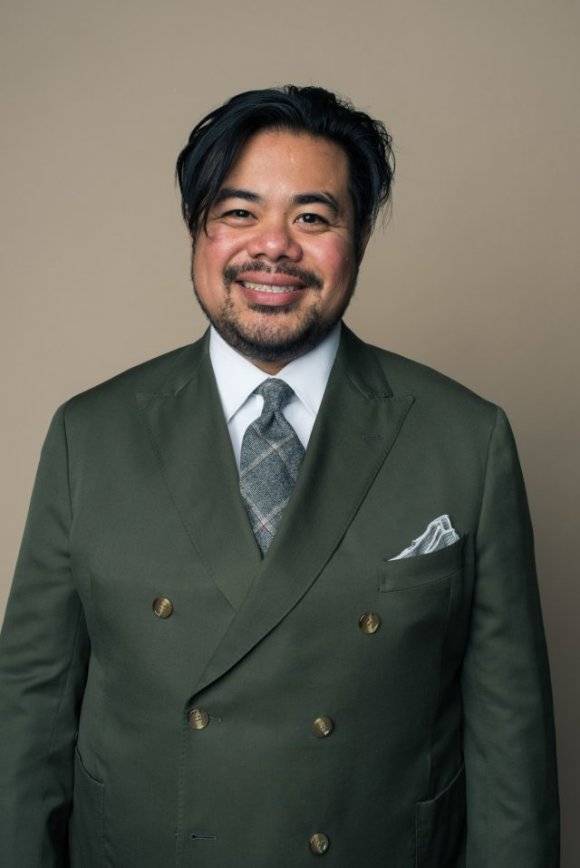 Thanks, as always, for reading – and special thanks to AJ for participating!
Yours in style,
Dan Trepanier