This season was a dream come true for me.
I did something that I've wanted to do for almost 10 years now.
I brought my two worlds – which at times can seem lightyears apart – together.
For SS19 AOS made custom garments for all of the men in the Trepanier family; my dad Gerry, my older brother Richard and my oldest brother Leo.
I wanted to do this for a few reasons:
To hook-up my pops and brothers each with a mini "capsule wardrobe" (1 suit, 1 jacket, 2 shirts)
To showcase that AOS can fit any body type (not just skinny city folk)
To prove that every gentleman, no matter his walk of life, looks and feels great in well-tailored clothing
To share the incredible story of my family, and give some perspective to the term "hard work"
So I did fittings for my family remotely, then flew back home to the family farm in St. Joachim Ontario Canada along with one of my photographer friends Andrew White.
The only direction I gave Andrew was: "this one is called Big Boy Toys".
The idea was that we all have different interests, but we can always share them with each other. So we combined my dad's love of farming, my brothers' love of motors, and my love of tailoring together in a one-day photoshoot on the Trepanier farm – to celebrate our differences as well as our similarities.
A few months ago I was inside these wagons, dressed in old jeans and even older overalls, shoveling out the sticky, stinky, moldy corn from a devastatingly unusable crop due to rain and flooding last season. It was one of the hardest years for farmers in recent history.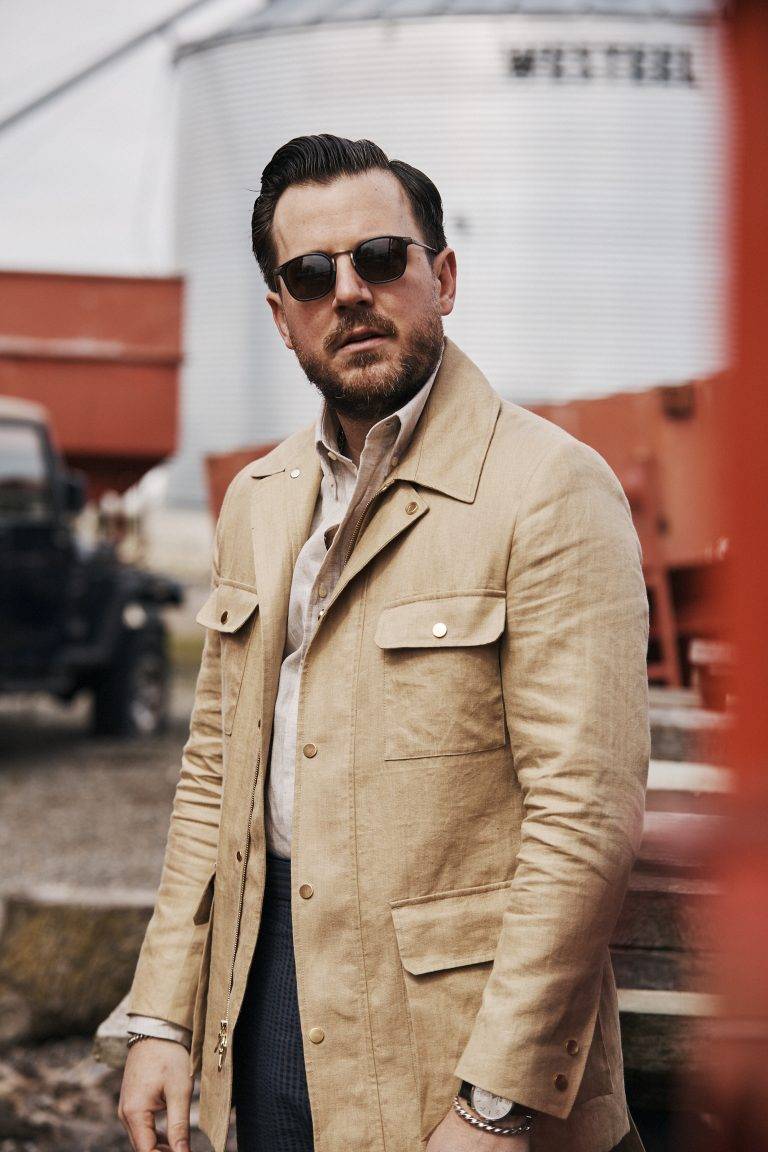 A safari jacket can feel right at home in a country environment. For that reason, I feel very comfortable in a tailored safari jacket – it's kind of like me: part tailored, part country.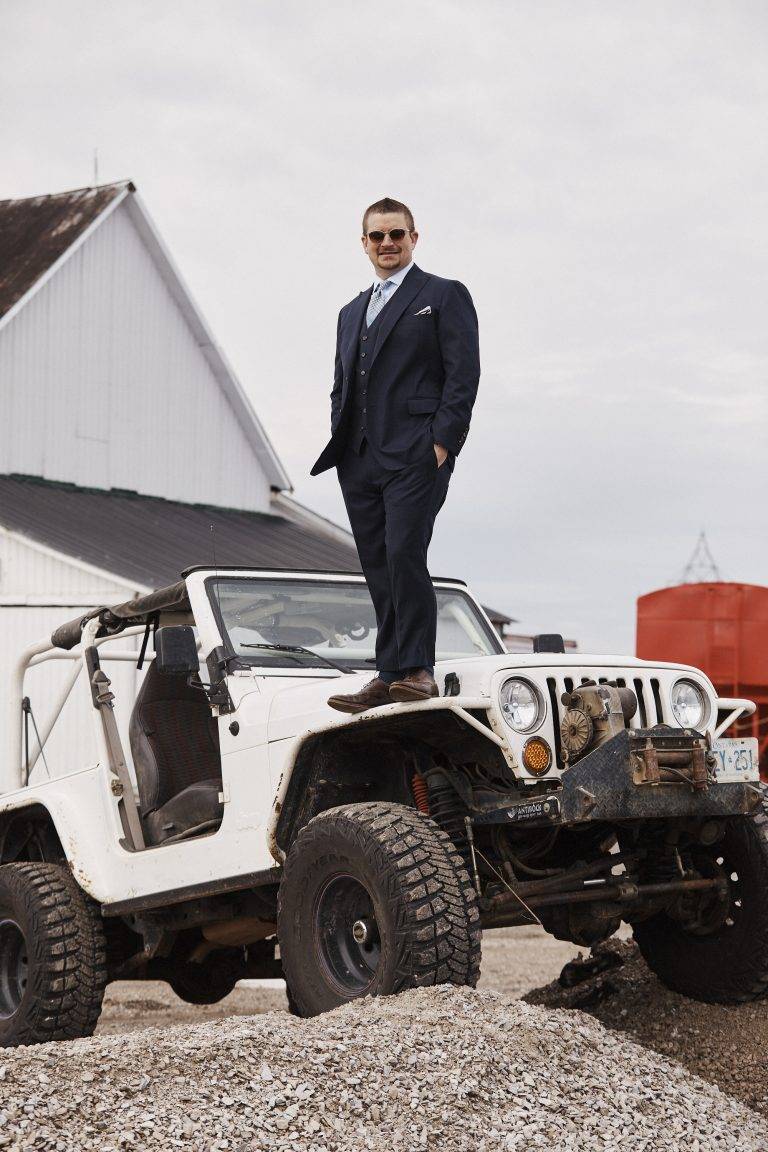 My oldest brother Leo and his Jeep – which he built himself and uses for "Rock Crawling" vacations.
For Leo's suit I went with a navy blue wool & cotton 50/50 blend milled by American Woolen. I figured this is the only suit Leo will really ever need. He can wear it to weddings and special events. He can also wear the jacket or trousers to church, to parties or out on a hot date (Leo is single – email us for more info!).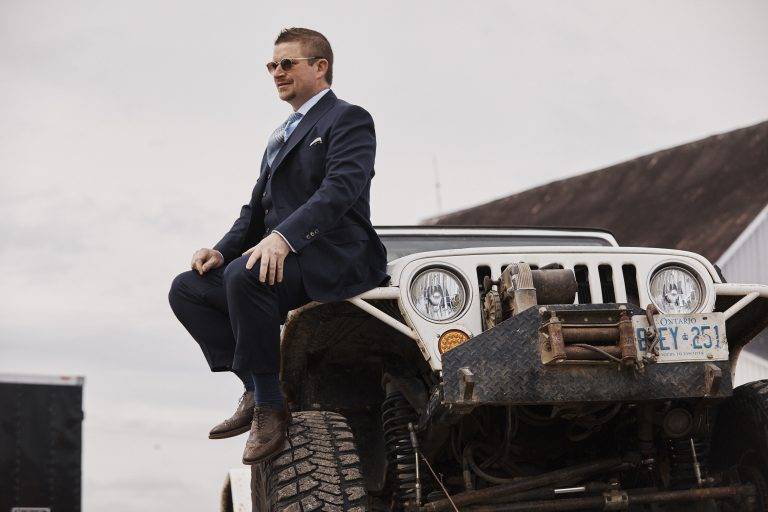 For Leo's "dress shirt" I went with our mini bengal stripe in sky blue.
This is the only "tie shirt" he really needs – like his suit, this shirt will work with just about any tie combination.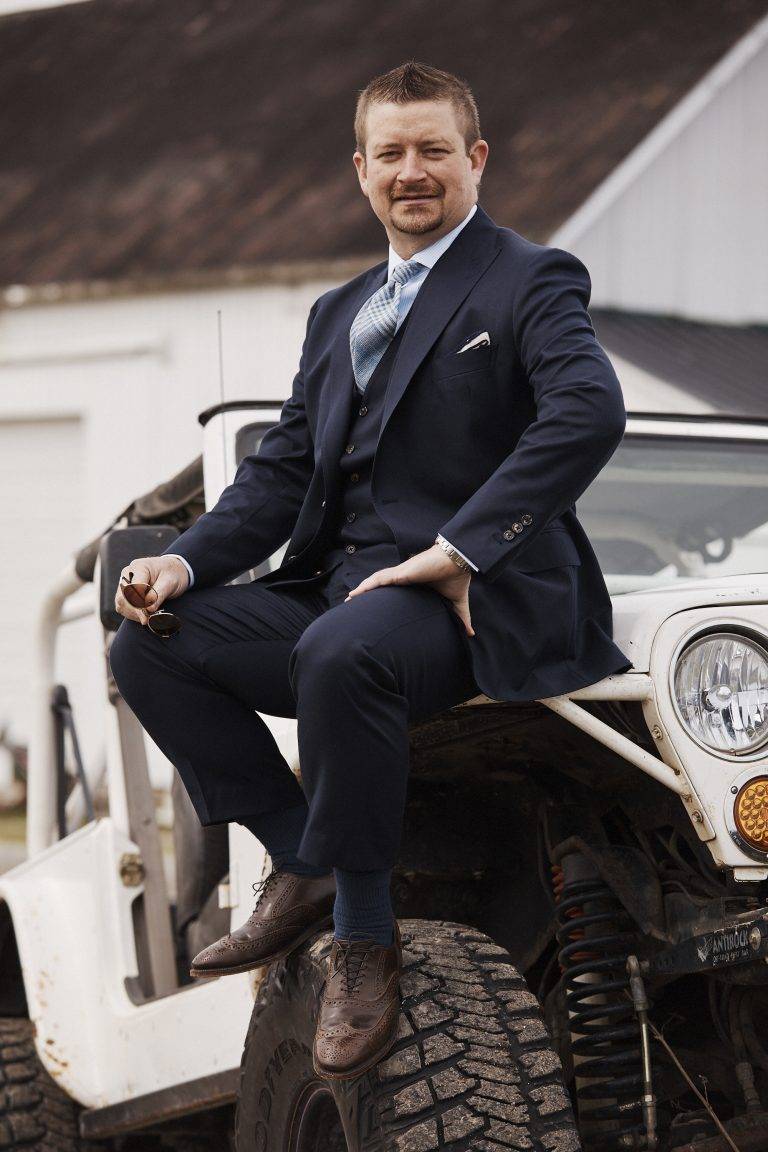 From Leo I learned the value of taking responsibility, having long-term vision and sticking to the plan.
When he was just young boy he religiously saved all the money he was earning to buy himself his first pick-up truck, which he kept for many years, then continued to trade-up from there. Today he owns several vehicles (trucks, jeeps, motorcycles, dirt bikes, 4-wheelers, snowmobiles, tractors, farm equipment, etc) and several plots of farmland which he is always looking to expand.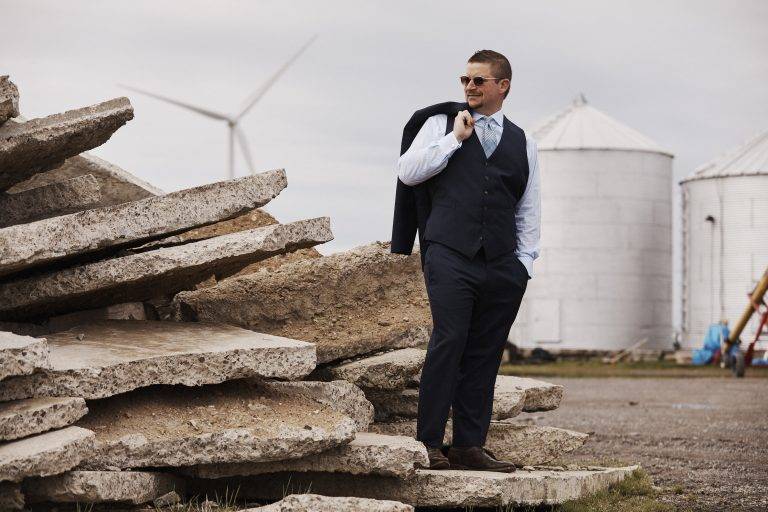 This farm, now run by Leo, has been in my family for going on four generations.
Farming taught me many lessons, including being patient and playing the long-game.
No matter what industry you are in – if you plant enough seeds and water them consistently day after day, year after year, eventually you will have a valuable crop. But if you sit and count the hours, or try to watch the crops grow, you will quickly feel stagnant.
It's important to have a long-view, no matter what business you are running.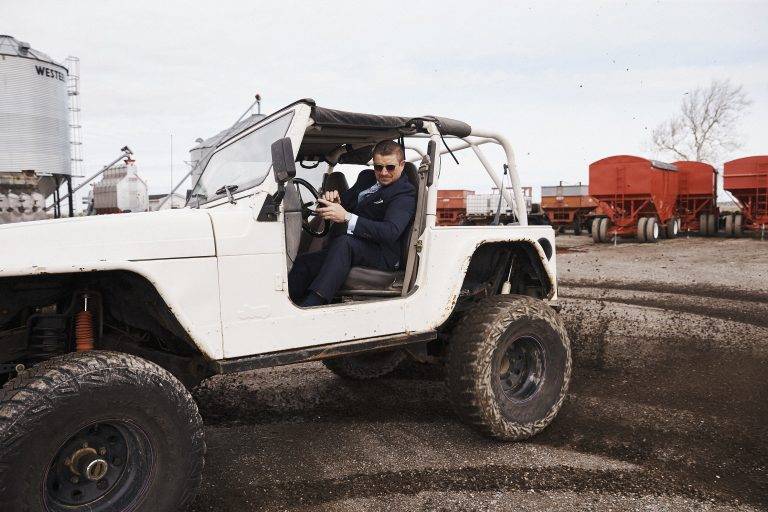 Of course, after the very first set of photos we took, the first suit was full of mud.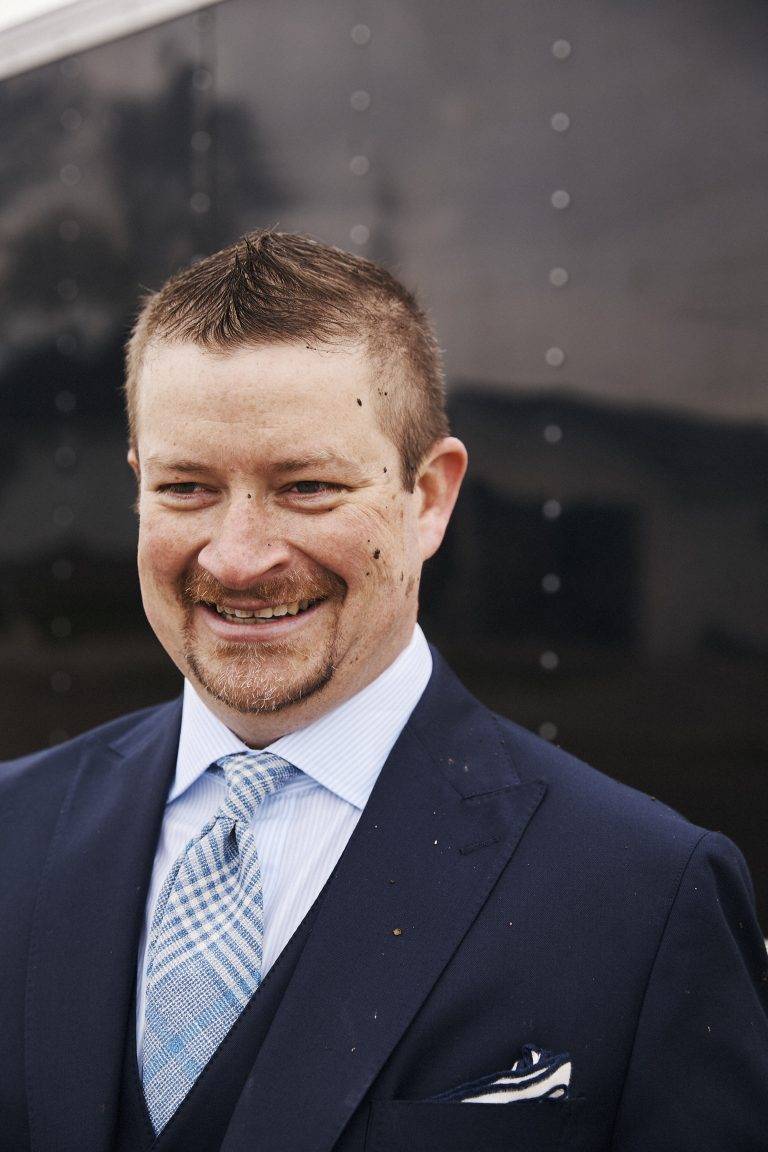 Welcome to the Trepaniers.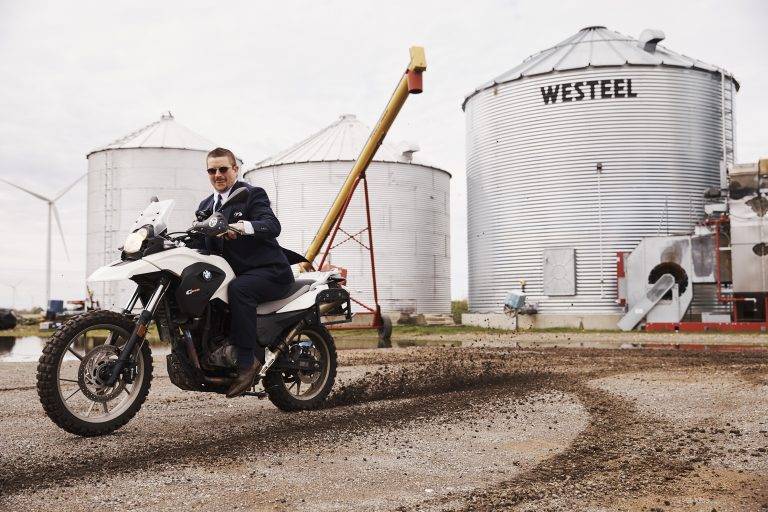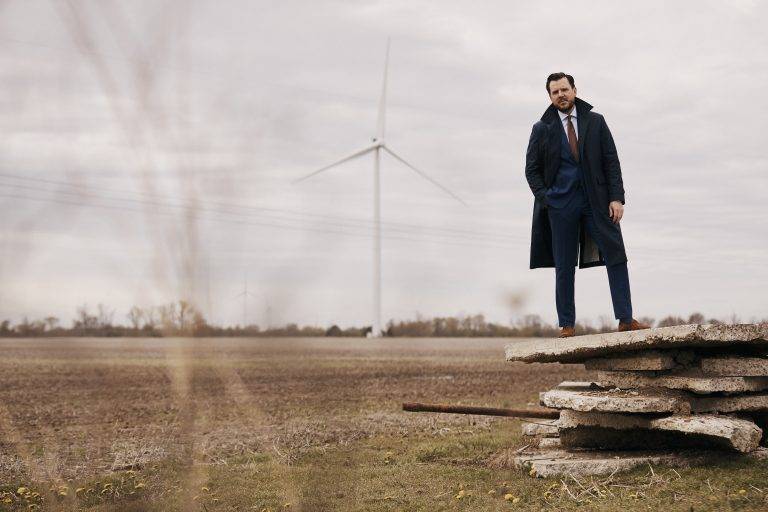 I'm always proud to see all of the windmills on the farm land when I go back home. From this position I counted 37 windmills visible in sight.
These not only create enough green energy to support the local communities, but also help subsidize farmers with a stable secondary income stream that can be much-needed to offset the losses of tough seasons (like the one we just had).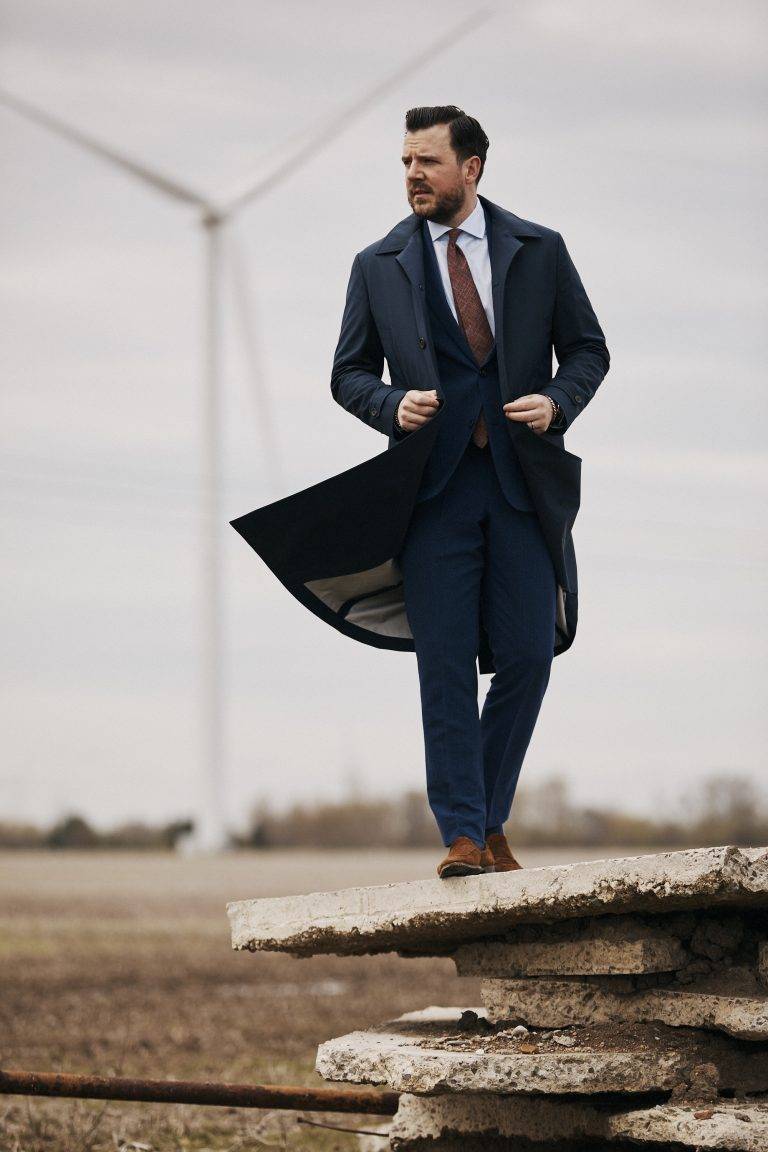 The AOS Mac (full length) is my new favorite coat.
Worn here with the merino stretch seersucker suit in royal and the windowpane bamboo tie in raspberry.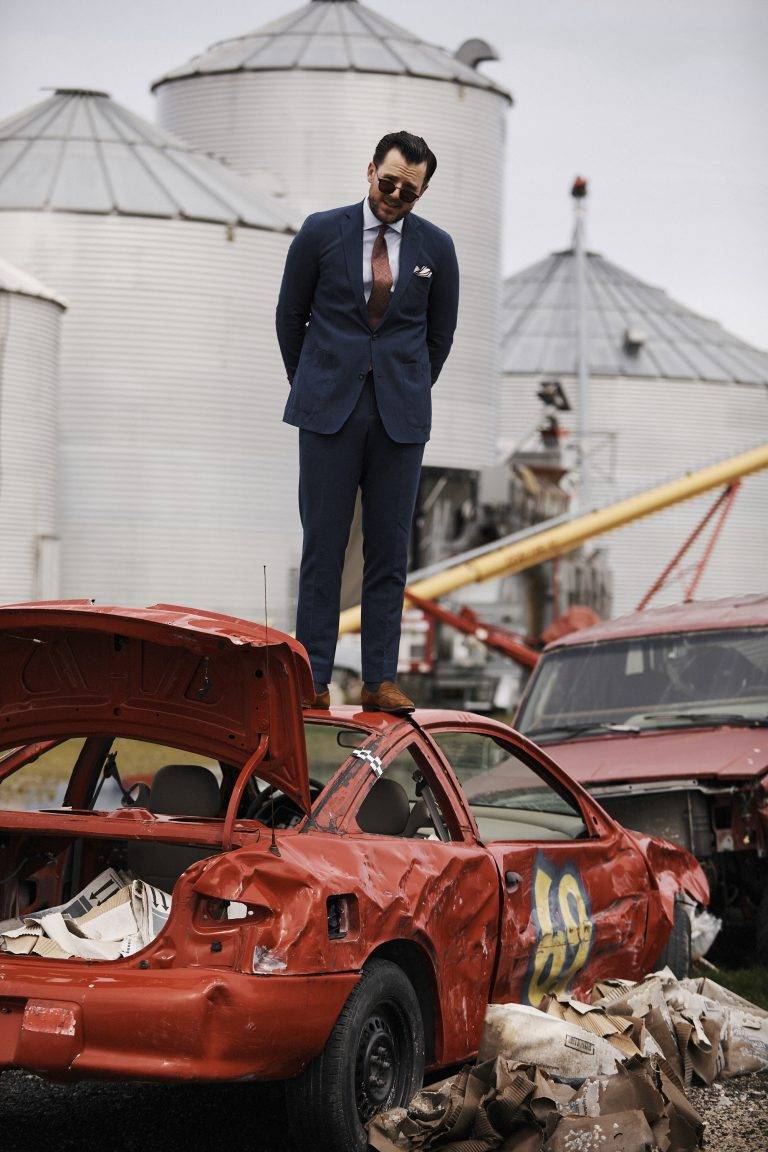 This car was built by my brothers, than driven by Leo in the local demolition derby.
He didn't win, but we had a good 'ol country time drinking beers and watching him smash it up against the local boys.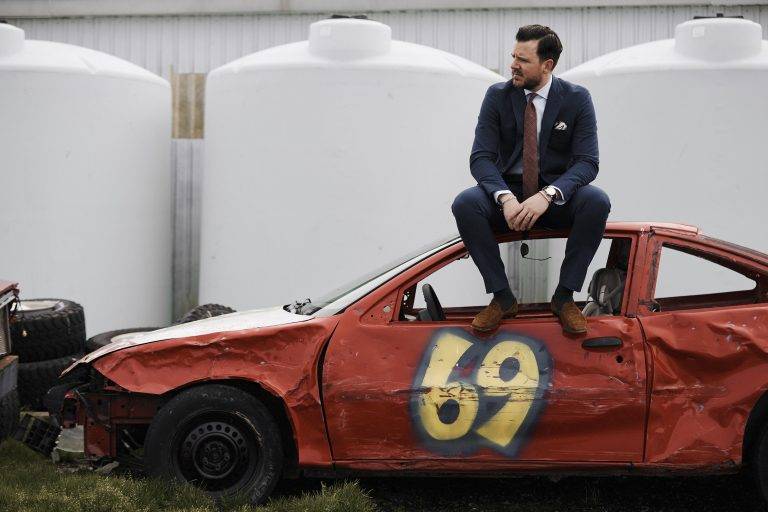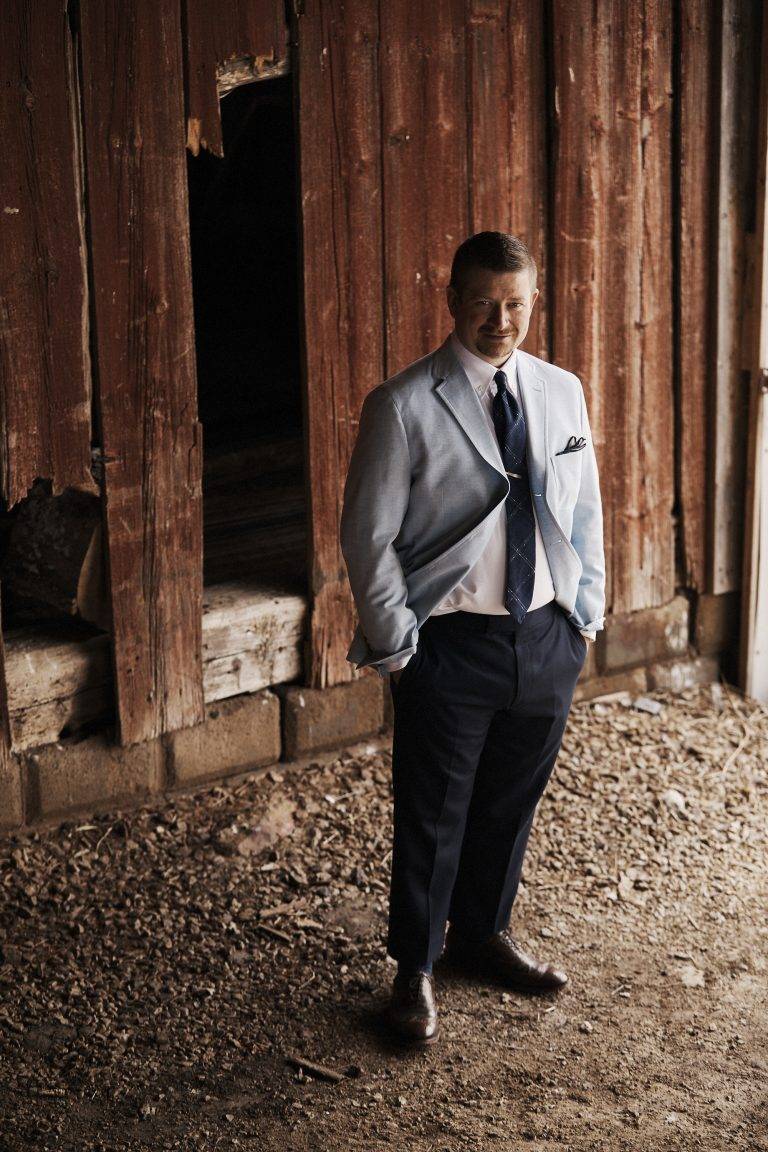 For Leo's jacket I went with another fabric milled in the USA by the American Woolen Company.
This sky blue jacketing fabric is a super rare 5-way blend of wool, cotton, linen, silk and cashmere.  I figured for the few special times Leo is going to bust-out a sportcoat, it might as well be one that makes a bit of a statement.
Naturally, the jacket can be worn with his suit trousers and both of his shirts – you already know that interchangeability is fundamental to a "capsule wardrobe".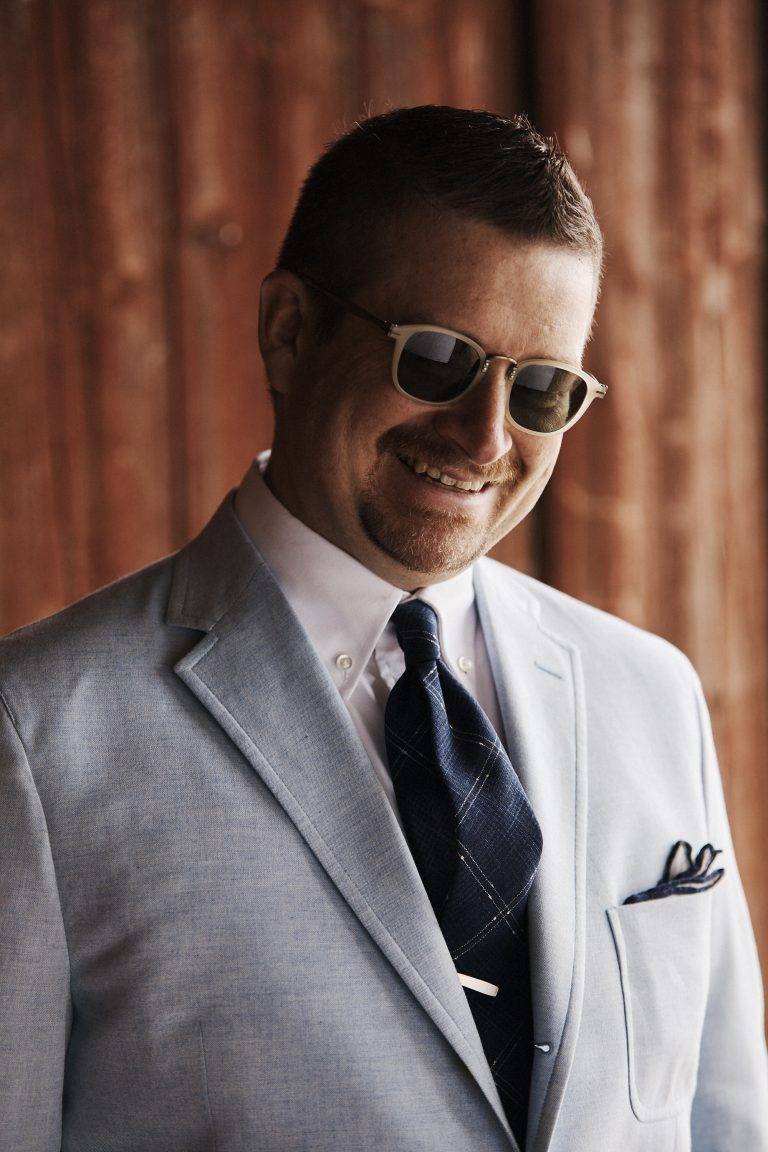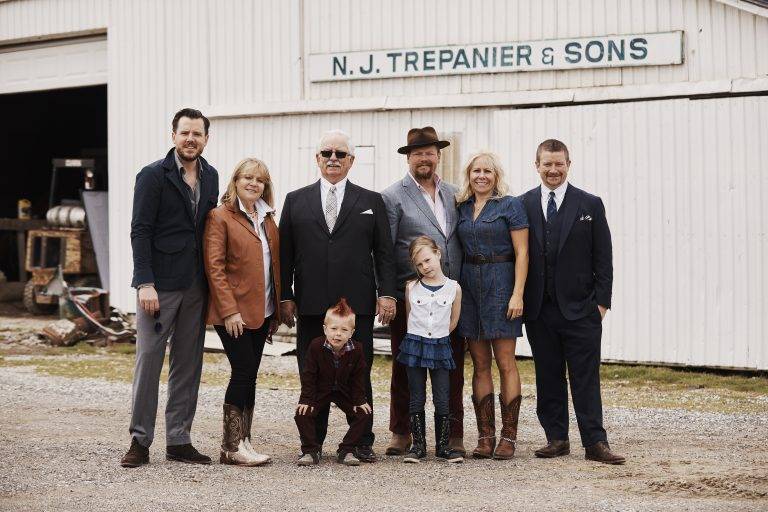 The fam!
Mom Diane, dad Gerry, brother Richard with his wife Laura (and their kids Memphis and Scarlette), and brother Leo.
Quick shout-out to my mom Diane. Without her there would be no Articles of Style.
Diane was raised as one of 13 children, in a 3-bedroom house in the sticks of northern Quebec where winter temperatures routinely drop below -30 degrees. Their only bathroom was an outhouse. Let that sink in.
Diane moved to Ontario as a teenager to pursue a better life. She picked strawberries for a few years, until finally getting her first "real job" as a bank teller at the local credit union – but she didn't have any clothes, or money. She could only afford to buy fabric from the clearance section of the local fabric store – which she used to make her own outfits on her sewing machine at home. She would also by oversized clothing at the local thrift store, take it apart, and use the fabric to make a new outfit for herself. It was her creativity, tenacity and ability to "make something out of nothing" that first got me interested in "custom clothing".
Diane went on to become the star of the local bank, always complimented on her unique custom-made outfits, and excelling in her work. She later paid her way through school and went on to start her own accounting business. Today she has over 100 clients.
If anybody has ever "started from the bottom" – it's Diane.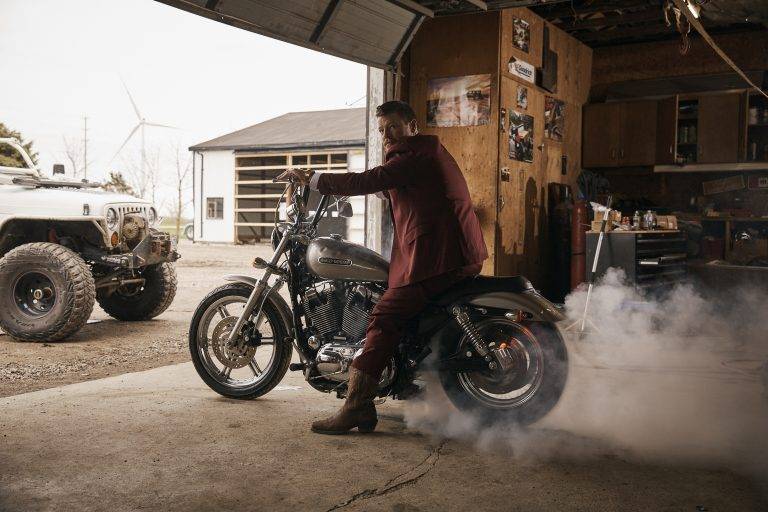 Enter: Richard Trepanier.
If Leo is the responsible one, then Richard is the fun one.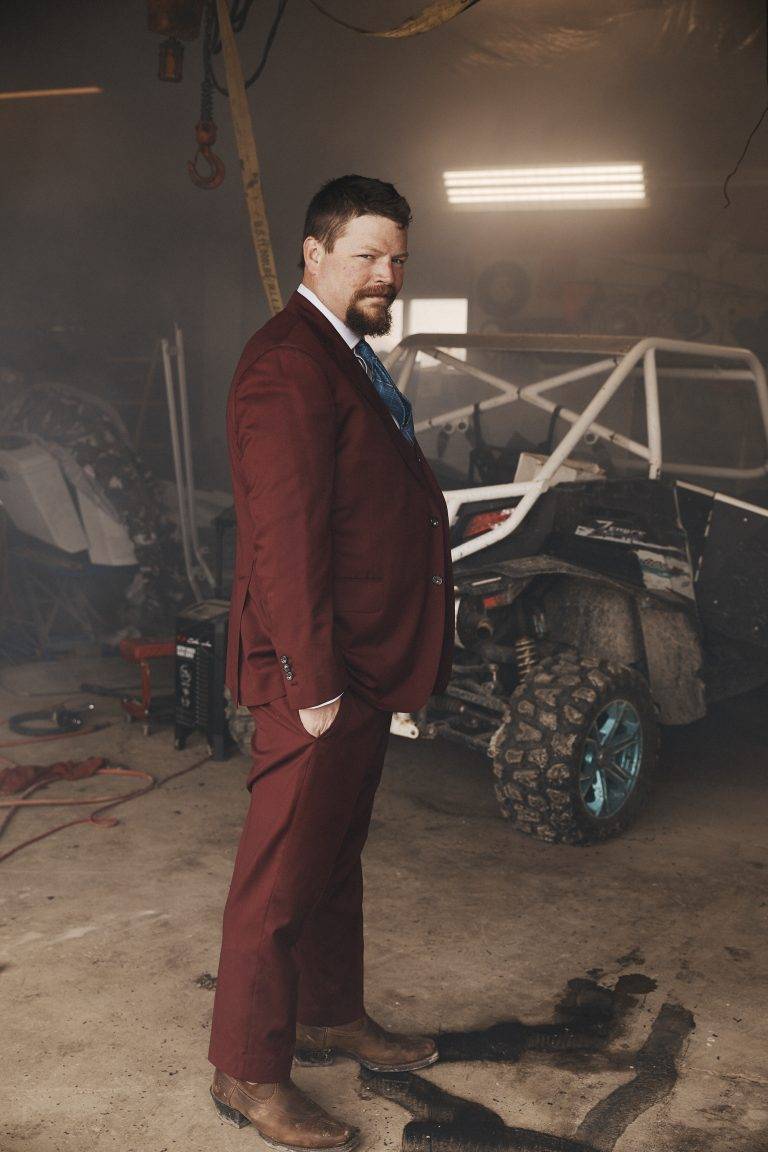 Everybody loves Richard.
He's the fun-loving, big-laughing, story-telling, always-down-to-help-you-out type of guy who always has a constant flow of people pulling up his driveway just to say hi, have a beer and help him with whatever projects he has going on in the workshop.
He's also the best wrench in town. This guy can take a part anything with a motor on it, and put it back together with more power and better performance.
By day Richard is a truck driver who also runs his own trucking business. So if you're keeping track – every person in our family is self employed and runs their own business.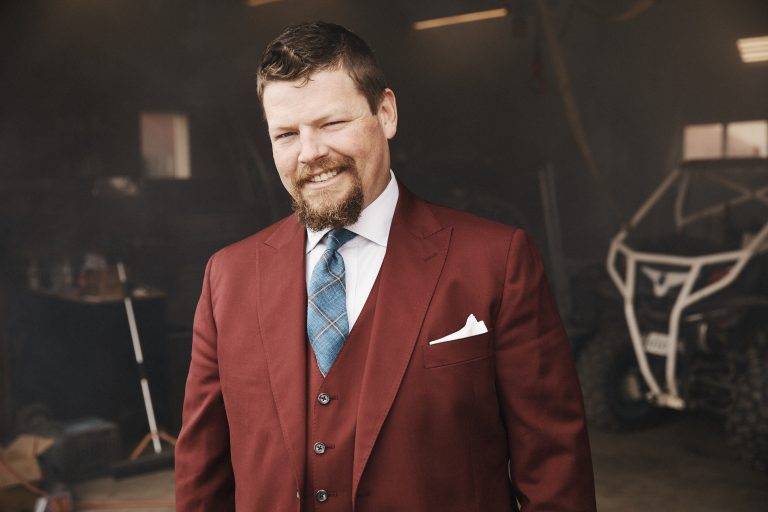 For Richard's suit I went with the English Gabardine in Maroon, because he's full of personality and not afraid to make a statement.
For his first shirt I went with a basic heather grey poplin, again because it's universal and can be worn with virtually any jacket/tie combination. Rich rarely wears ties, so this one should have him covered for quite a while.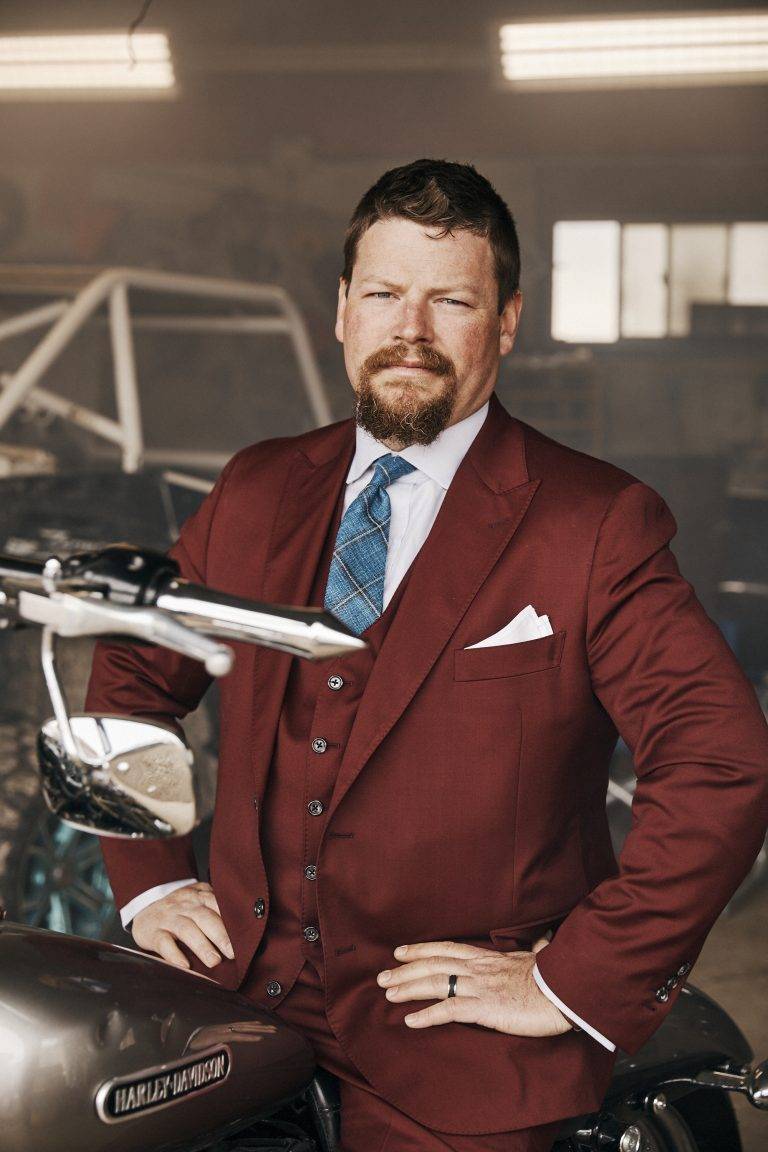 Damn that Trepanier boy handsome!!
Shot here with the wool/silk/linen double-pane tie in blue & orange.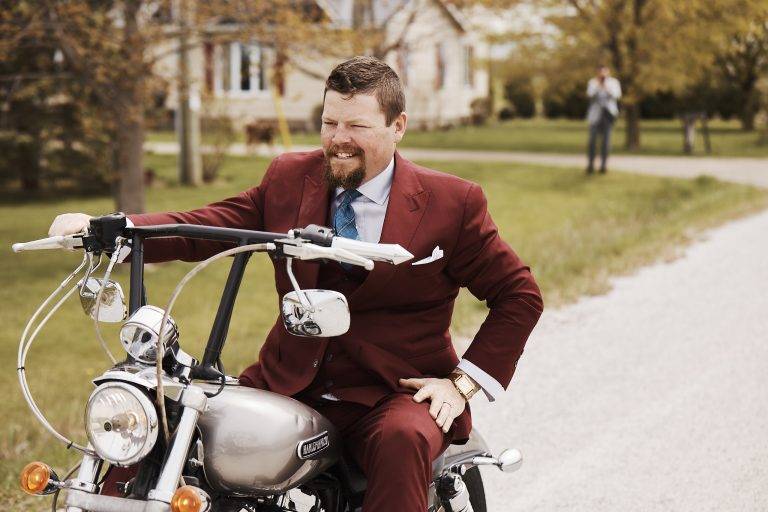 Catch me instagram-ing this special moment in the background.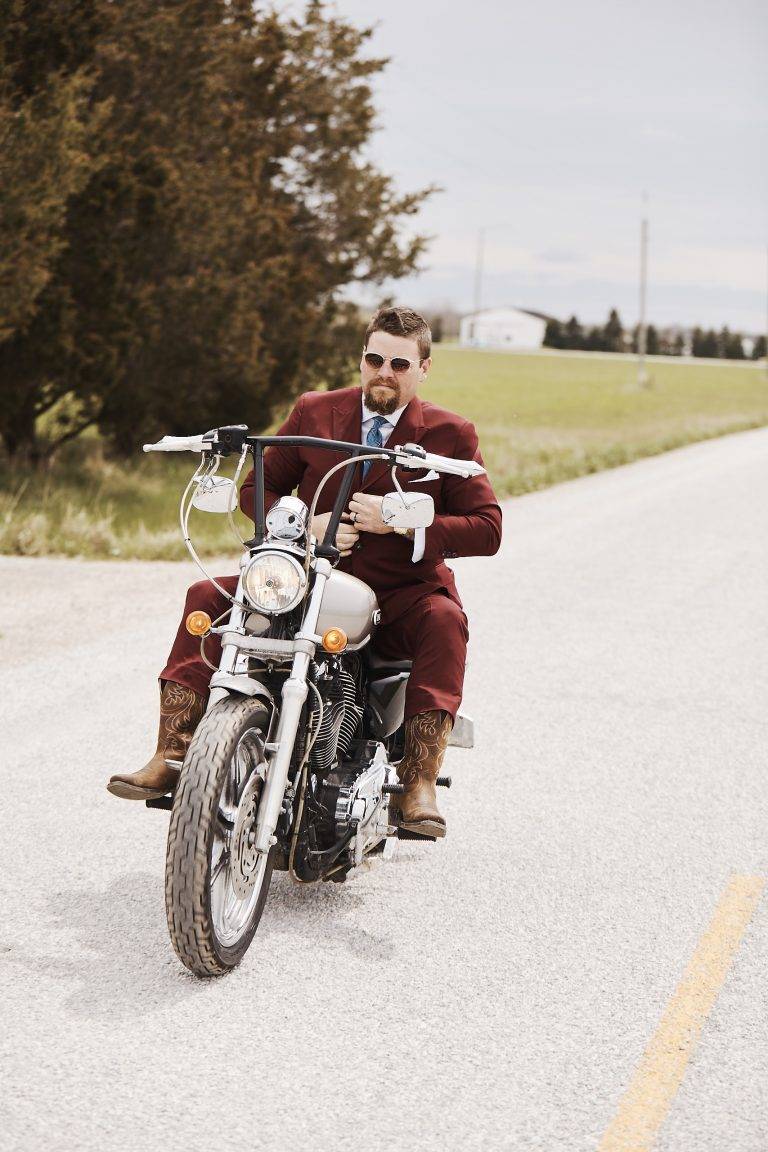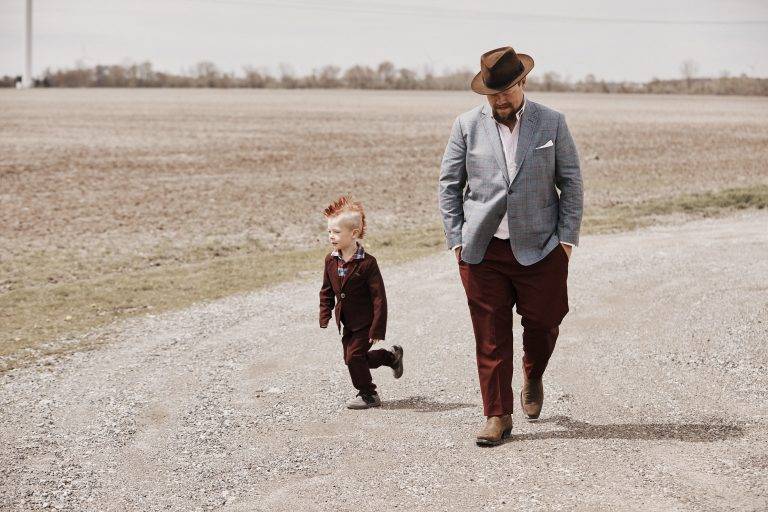 Richard and his son Memphis – the coolest guy in town.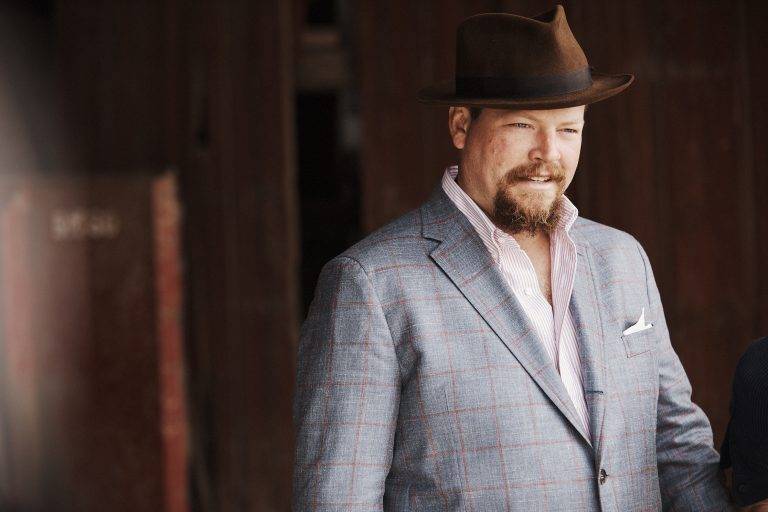 I don't know if it's Andrew's work behind the lens or not, but Rich has a cinematic look to him.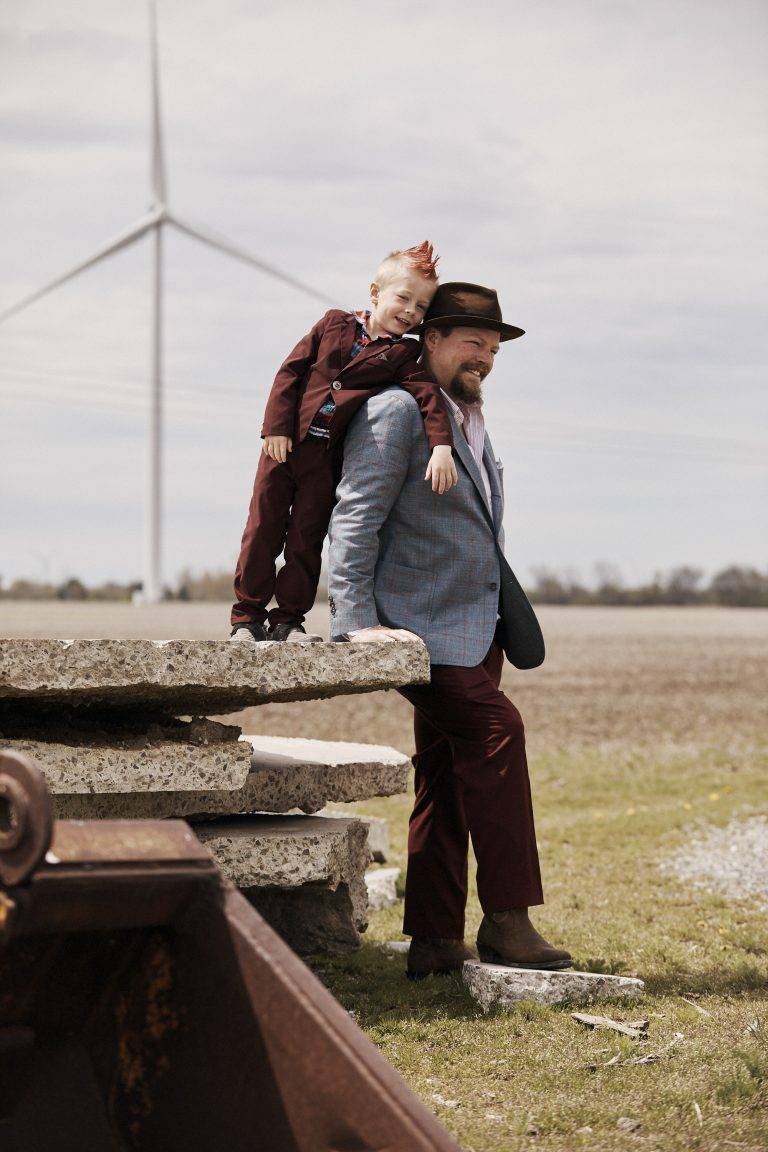 For his jacket I went with a wool/silk/linen windowpane jacket in steel blue and raspberry.
This jacket can be worn with his gabardine suit trousers, of course, but also with jeans, grey pants, navy pants, khakis, etc.
For Rich's second, more casual, shirt I went with our bengal stripe oxford in salmon. It's another one of those universal shirts that he can wear with all of the pieces in his new wardrobe, as well as more casual items.
The beauty of an oxford shirt is that it breaks-in over time, and gets softer and more comfortable the more you wash and wear it.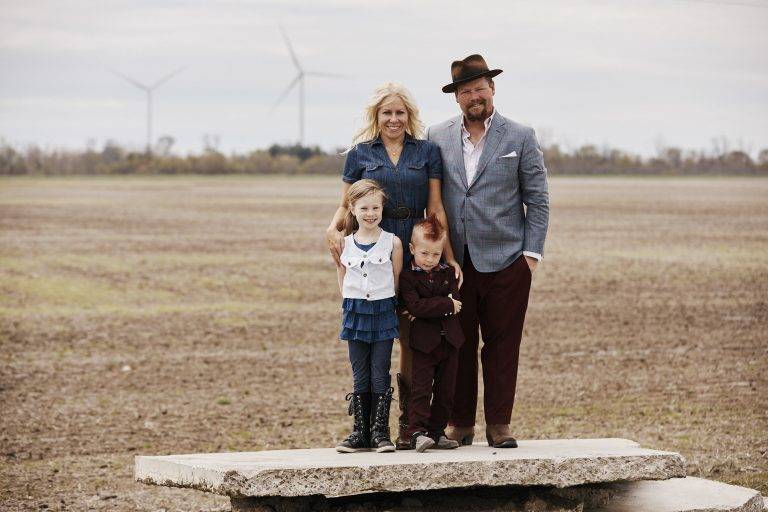 Richard, his beautiful wife Laura, daughter Scarlette and son Memphis. Love these guys!
It has been a pleasure to watch Richard evolve into a loving, caring father.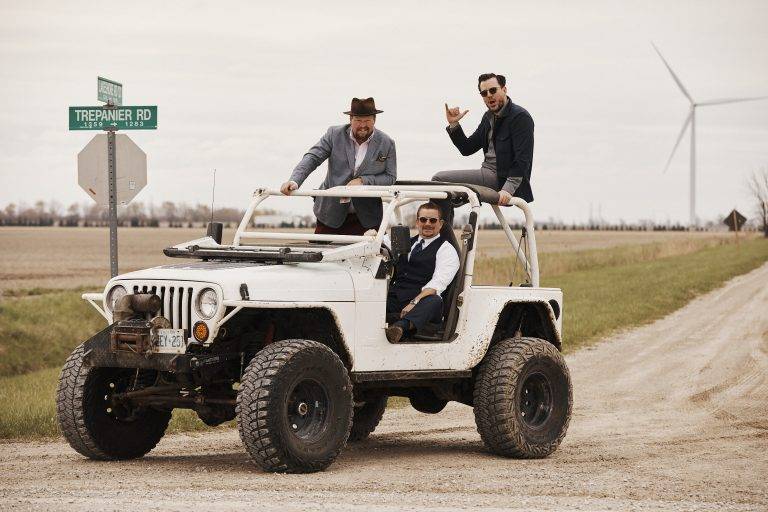 Check the street sign! We run this town!!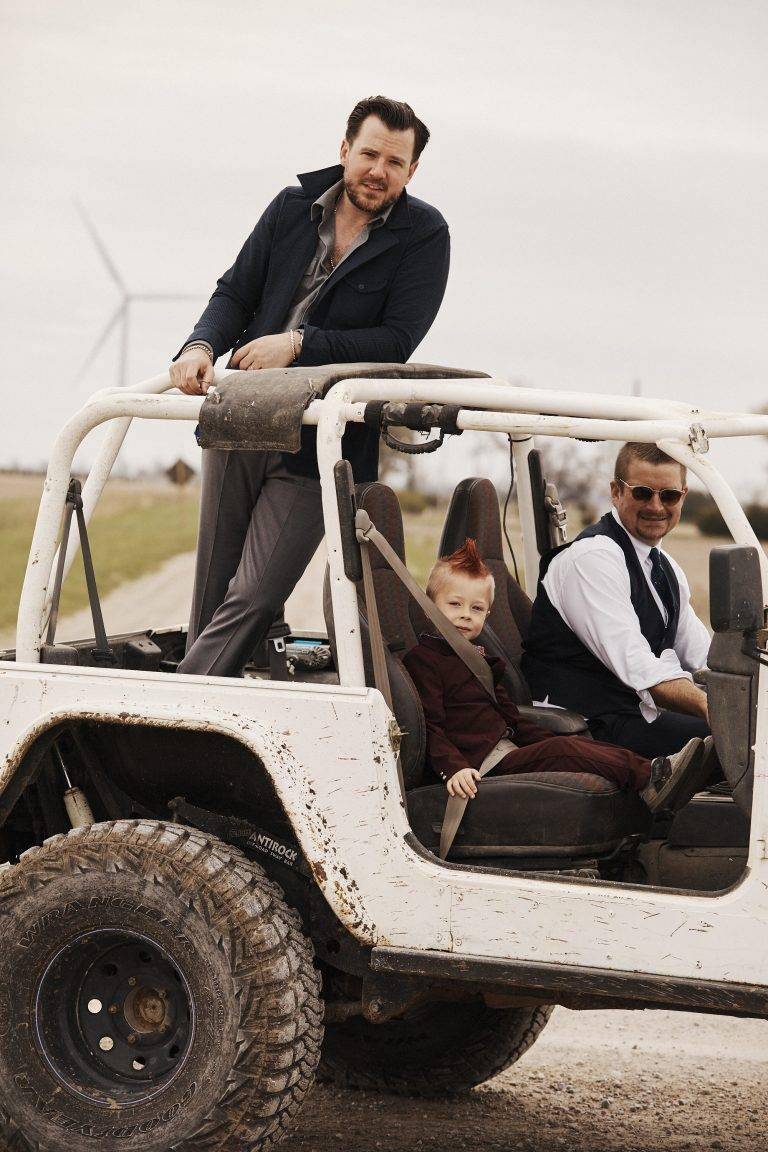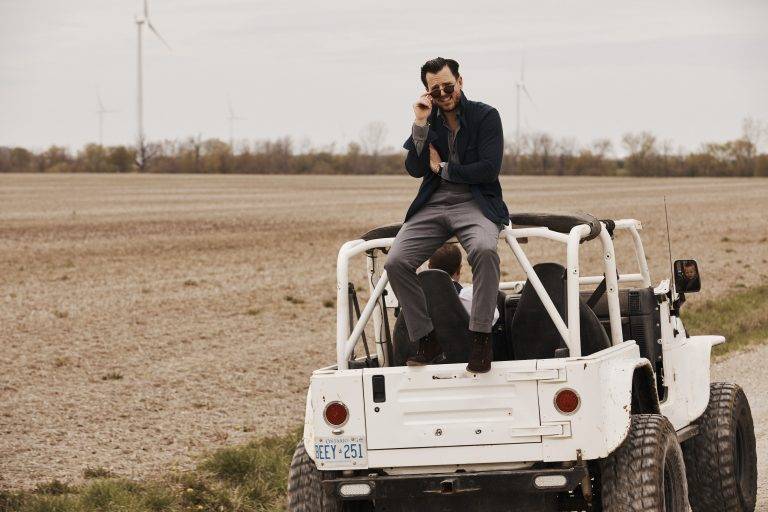 This is still where I will always feel most comfortable – in the mud, with family and no other humans for miles.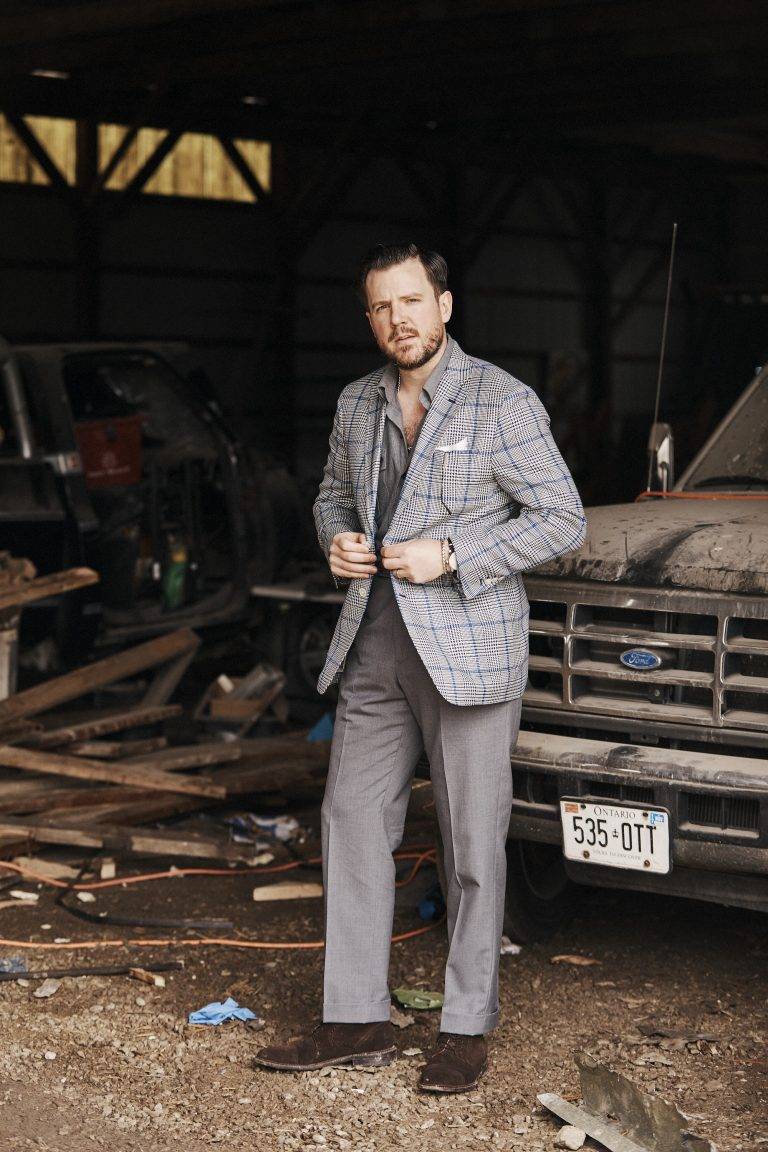 I like dusty colors, and dusty trucks.
Worn here: the king of wales jacket, the jersey knit shirt and the comfort stretch trousers with suede boots I've had for 10 years.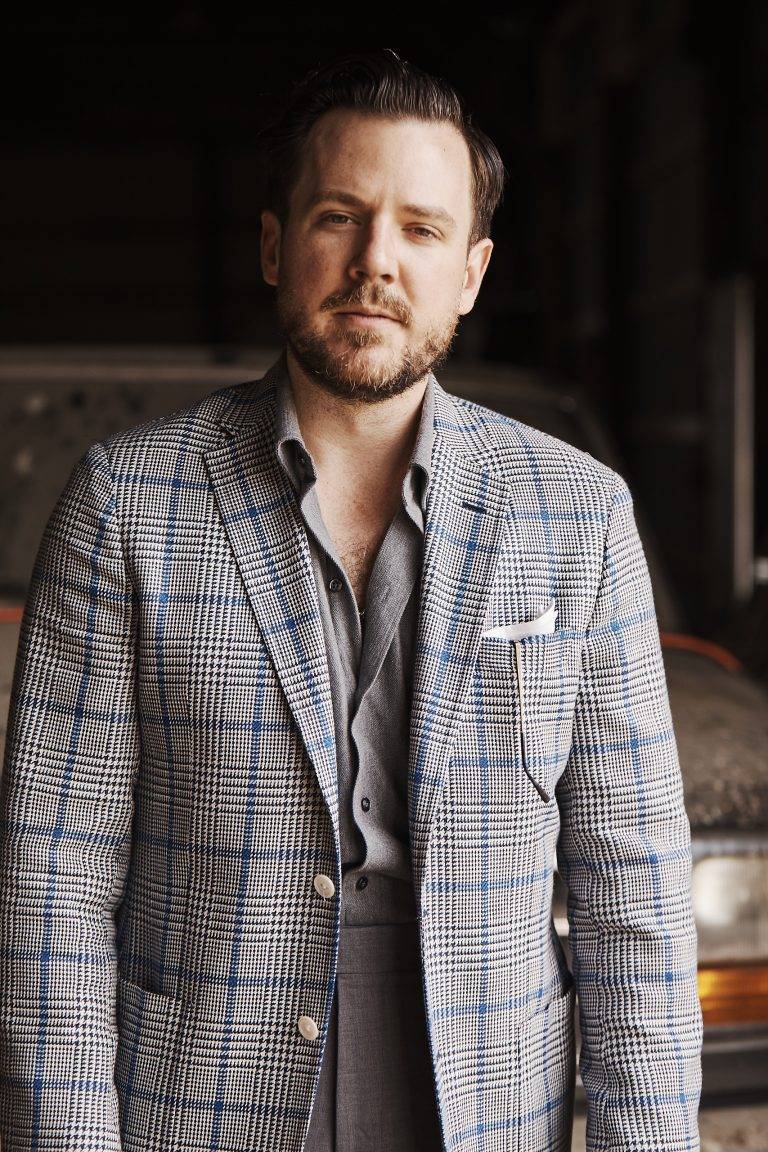 Enter: Gerry, aka Pops, aka The Bossman, aka The Community Leader, aka The Hardest Working Man in North America.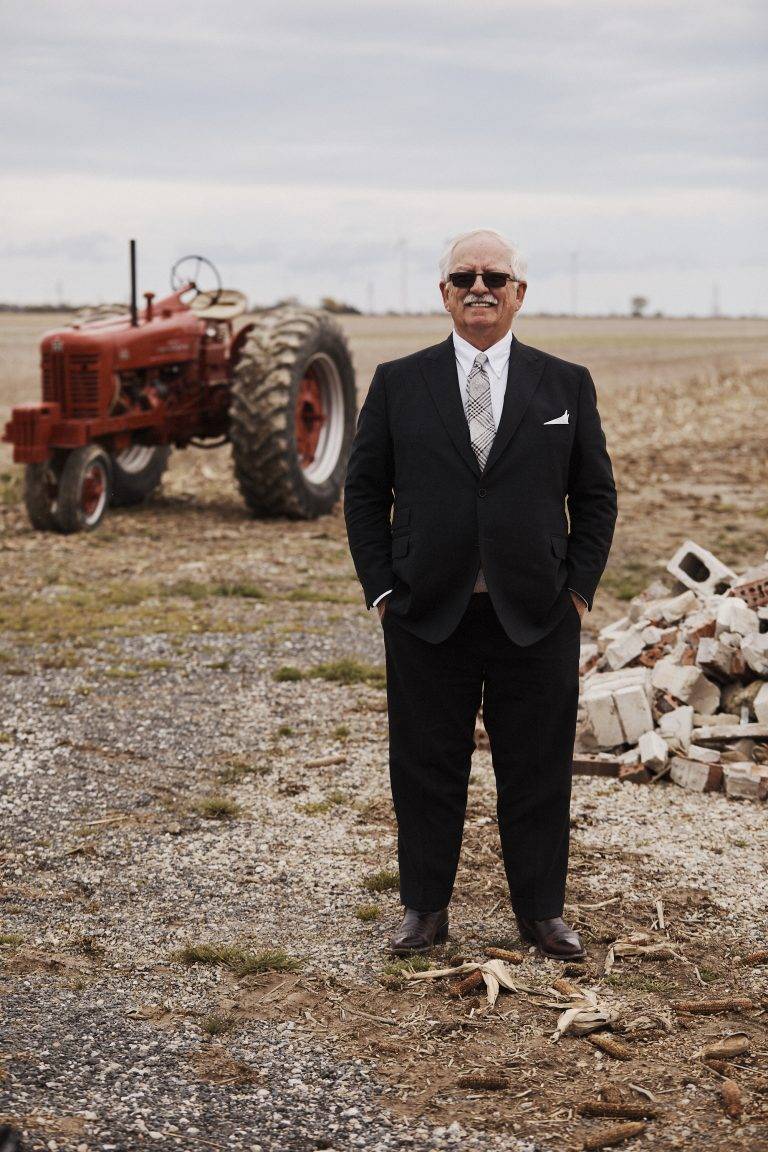 Let me tell you a story about Gerry Trepanier.
When he met my mother at age 19, they had nothing, and picked strawberries for 25 cents a quart.
Gerry went on to work 35 years at the Chrysler auto plant in Windsor – an hour drive from the farm where he lived. During those 35 years Gerry simultaneously farmed up to 700 acres of soybeans, corn and wheat.
This is two full-time jobs. Three, if you include the non-stop equipment maintenance that is necessary with farming big acreage.
During planting and harvest seasons, when the fields were finally dry and ready, Gerry would leave for work at 530am, work 7am-3pm in the auto plant, get home at 4pm, then work the fields from 5pm-3am. He would eat all of his meals in the truck or the tractor, and sleep for 2 hours if he was lucky. Many days, if something broke (which it almost always did), Gerry didn't sleep at all.
This guy worked 120 hours/week, with his hands (which have become legendarily rough mitts), to support his family and give them an opportunity at a better life.
So when people call me a "hard-worker", I can only laugh and brush it off with my soft e-commerce hands.
For dad's suit I went with a heavy duty 15oz Fresco in charcoal .
I knew he needed something tough, something rugged, something that would keep a strong drape, wouldn't wrinkle and that we wouldn't have to worry about being delicate with. I also knew he wasn't afraid of a fabric with a bit of "tooth".
Our 15oz Fresco is the real deal. This coarse, dense, crispy wool drapes like armor, has incredible natural wrinkle-resistance and somehow still breathes. I've never experienced a 15oz wool that is this "airy", while still having so much body and drape. This is what the classic menswear guys are talking about when they're gushing about the wonders of traditional English Fresco. But it's not soft, and it's not for soft guys!
Worn here with the USA oxford shirt in white and the wool/silk/linen glenplaid tie in monochrome.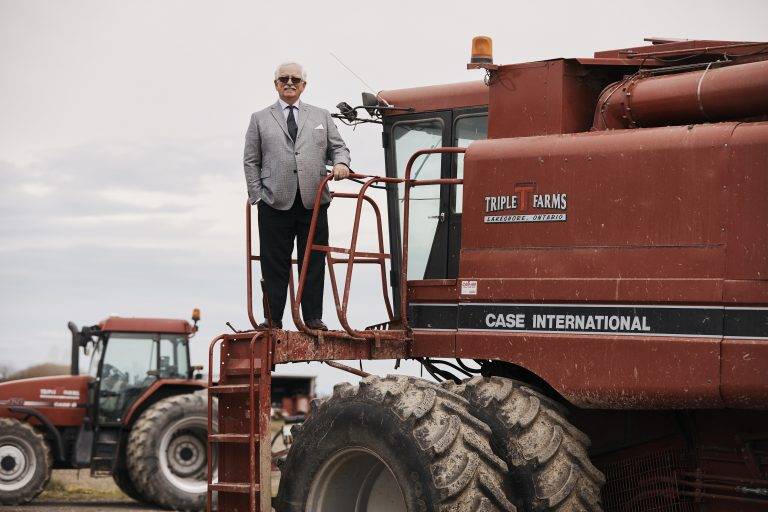 Check the family logo! Triple T Farms – three generations, three boys.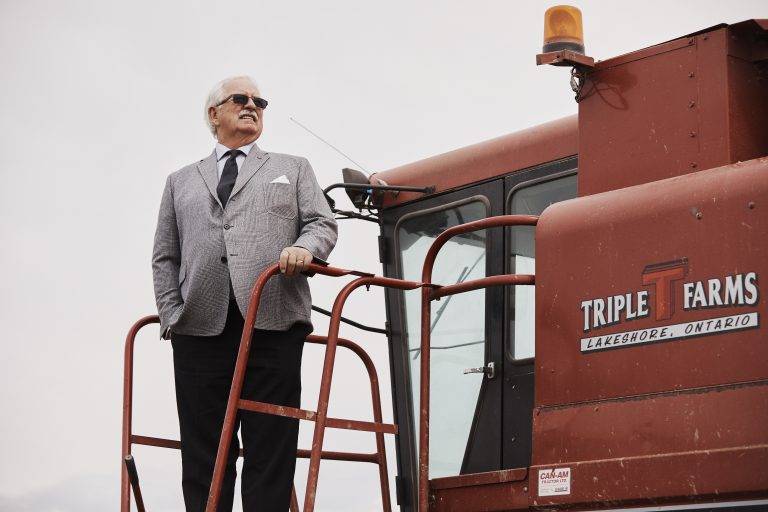 For Gerry's jacket I went with a medium gray classic glenplaid wool/cashmere blend, also milled by American Woolen.
This is a very versatile jacket that pops can wear with just about any shirt, trousers or jeans. I also love the shades of great to compliment his white hair and iconic mustache.
Worn here with his 15oz fresco suit trousers, hairline stripe shirt and our pure bamboo tie in charcoal.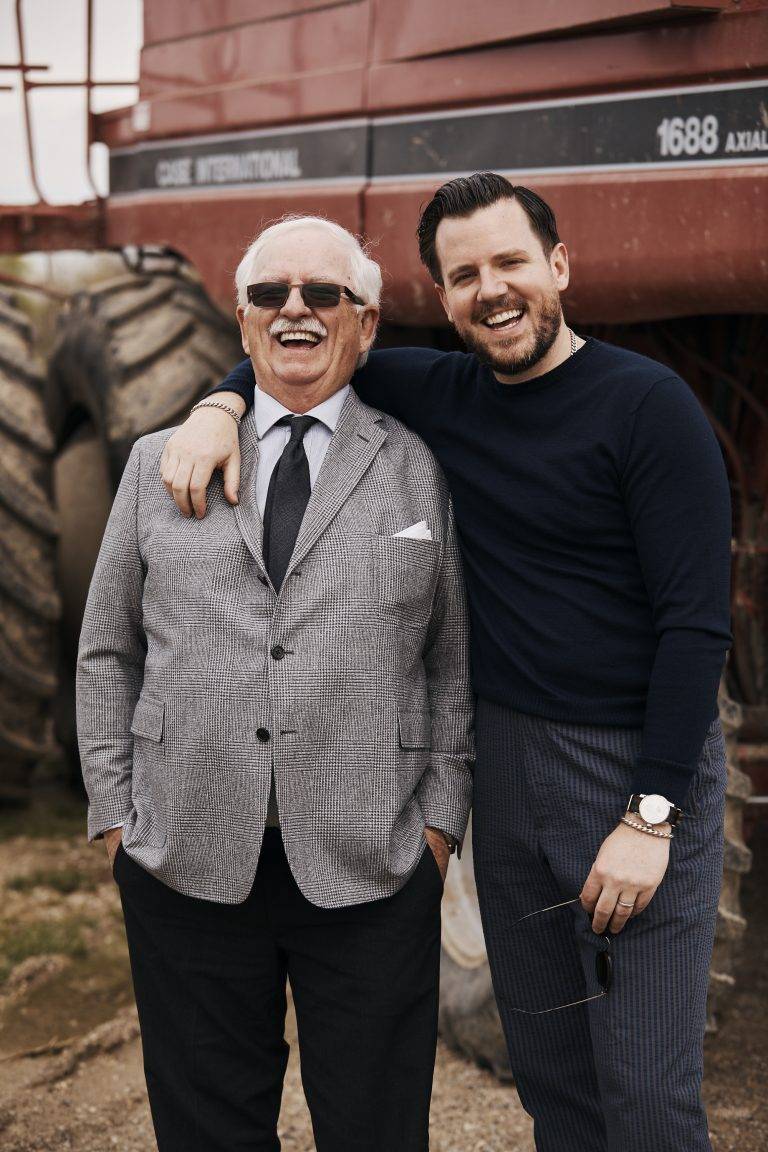 The last thing I'll say about Gerry is that he is downright hilarious!!
If you don't know Gerry, then you just don't know Gerry. He's not the kind of guy you can really put into words. You are lucky if you've had the chance to share a drink and a laugh with Gerry.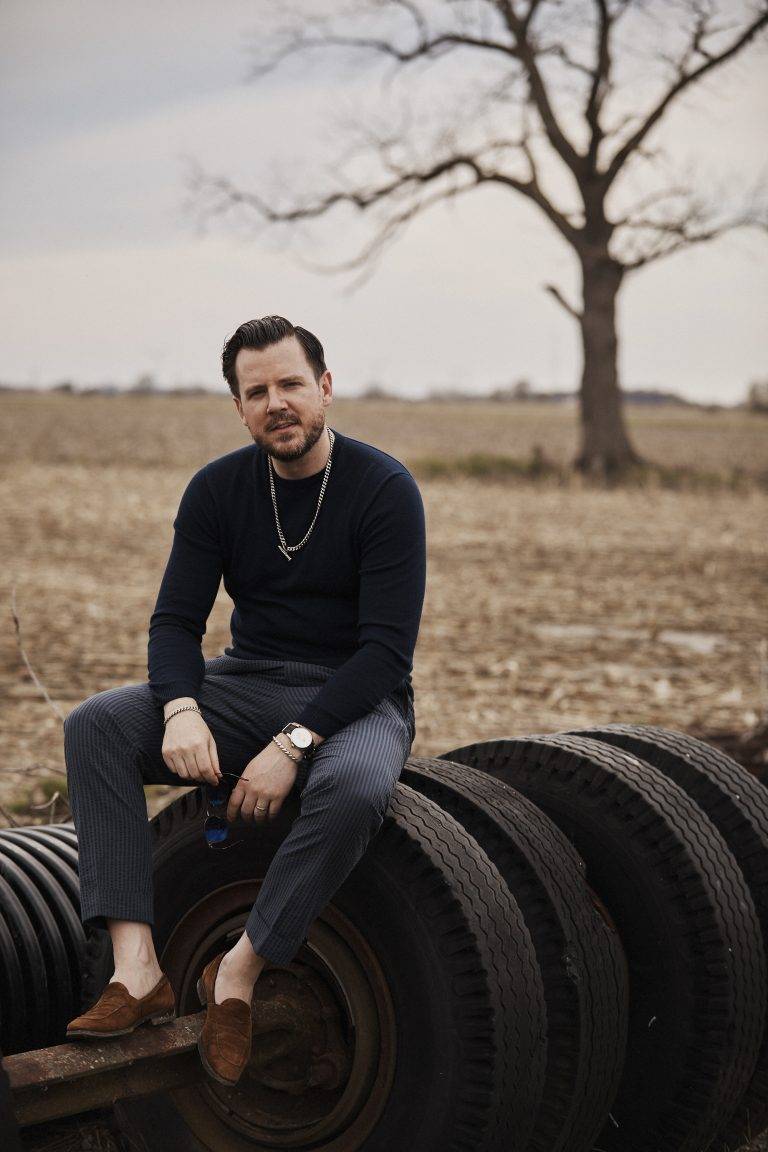 That's all folks! Thanks for visiting the Trepanier farm.
Special thanks to the family, and to Andrew White for the absolutely stunning photography. 
Yours in style,
Dan Trepanier