The leather belt as a practical garment is a fairly recent invention. Prior to the First World War, belts were largely decorative outside of military uniforms (and even then were often more decorative than practical). The traditional device for holding up a man's trousers was a pair of suspenders, and to this day they remain the preferred method of many stylish gentlemen.
Here's 10 things you need to know about suspenders before adding them to your repertoire.
---
There's nothing cheesier than clip-on suspenders. It's just bad design, really. The only way for the metal clip to actually function is to take a bite out of the waistband of your trousers. If you're going to wear suspenders, make them traditional braces with leather or fabric button attachments. Typically on trousers the buttons are found on the interior of the waistband, but on denim or heavy canvas work pants they can be found on the exterior. We give the option to all of our clients to include braces buttons in their custom trousers at no additional cost.
---
I rarely say never, but never wear a belt and suspenders at the same time (they serve the same purpose). I prefer suspenders on a plain waistband (no belt loops). It's a cleaner look and it proves that you're all-in on the braces.
---
Braces work best and look best on trousers with a mid-to-long rise. Those low-cut European trousers with the 8″ rise that sit low on your hips look silly when worn with braces (which are meant to keep your trousers hanging at – or just above – your natural waist).
---
A good pair of braces should be adjustable – you'll want to tweak the length based on your height and the length of your torso. If you're taller than 6'3″ you also might need Long braces, to avoid a serious chronic wedgie problem.
---
Braces are best used on trousers that are a little loose in the waist ("comfort room") and have some room through the hips and upper leg. They are a comfort choice, and part of that comfort is having the cloth of the trouser hang around your hips and legs a little, rather than fastening them tight enough to your body that gravity doesn't pull them down… Suspenders attached to overly slim pants are obviously non-functional and just look like an unnecessary fashion accessory.
---
Suspenders are the best keeping-up-trousers solution for guys with large bellies. The braces allow you to float your natural waist, rather than having to cinch a belt under your gut (which inevitably only highlights it).
---
If you're the kind of guy who fluctuates weight, braces might be a great solution. Rather than visiting the tailor to adjust the waist on all your trousers back-and-forth, simply sew-in some suspender buttons. Suspenders eliminate the bunching of fabric that occurs when the waistband is cinched with a belt, and allows the fabric around the hips and knees to fall in a smooth plane rather than being unnaturally pulled out of the natural line.
---
8. SUSPENDERS ARE UNDERWEAR
Traditionally, suspenders should always be covered by a jacket, vest, cummerbund, sweater, or a combination of those items. Suspenders are not an accessory that is meant to be shown off, like a pocket square. It's cool if someone gets a subtle peak at them inside your jacket, but throwing them on top of a casual outfit doesn't make the outfit cool. It looks like your wearing your underwear over your clothes and don't even know it.
---
Another never I'll stand behind: you should never wear a belt with formalwear. Side adjusters and/or braces. Formal braces, in my opinion, should either be: white silk to blend-in with your white shirt, a very pale cream or light grey, or the same cloth as the trimmings on your tuxedo (usually black satin or grosgrain). Unless, of course, you're one of those elusive humorous cats who can pull off a pair of novelty suspenders.
---
Preparing trousers for suspenders is as easy as sewing 6 buttons (and unstitching some belt loops, if you're going all the way). You need three sets of two buttons (usually jacket sleeve sized), each of which will be sewn 2.5″ apart from each other on the interior waistband. One pair straddles the center back seam. The other two pairs are on each side of center front: about 3″ (& 5.5″) in from the zipper.
Finally, if you're looking for a good selection of high-quality braces, my favorite place to buy them is Trafalgar. They've been in the business of selling quality American made suspenders and belts for over 40 years, and I've never been disappointed.
---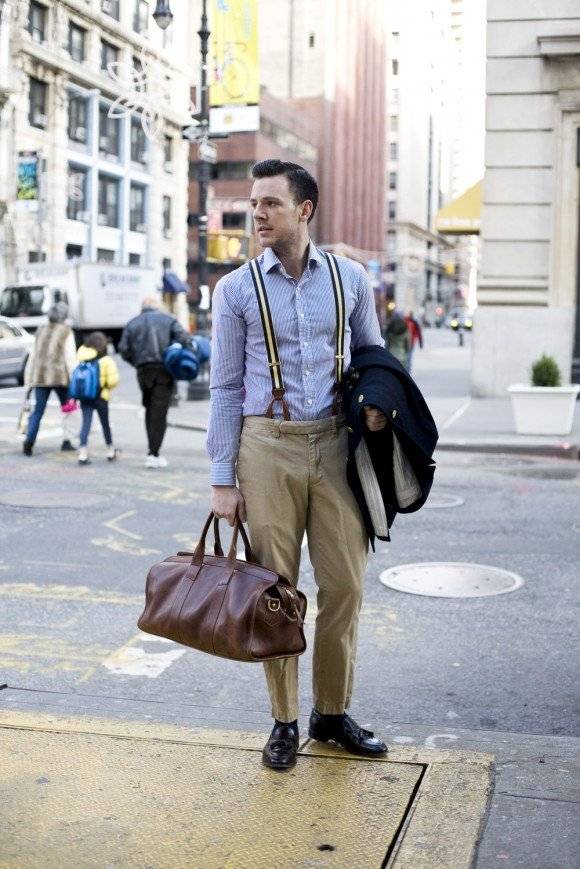 ---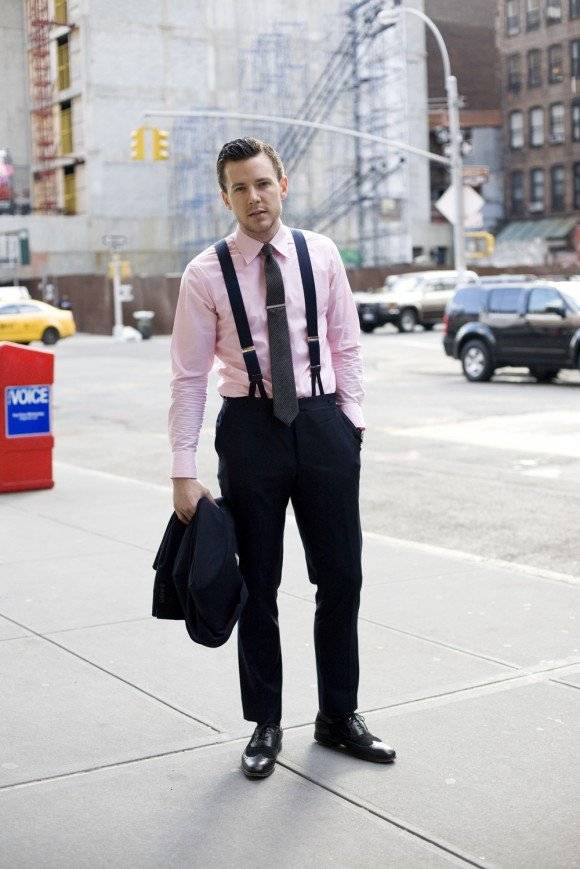 Thanks, as always, for reading. 
Yours in style,
Dan Trepanier 
MORE FROM ARTICLES OF STYLE