The beauty of bespoke tailoring is that you can create a garment that is perfect for your individual needs; the perfect color, the perfect texture and - most importantly - the perfect weight.
It's not just about the climate in your part of the world, it's also about your body type and personal preferences. Some guys (usually thicker/heavier guys) run hot and prefer lightweight fabrics that breathe and wick away moisture, so they don't get sweaty. Other guys (usually thinner guys) run cold and find heavier fabrics to be more comfortable. Ultimately, the key to great tailoring is comfort. If you're going to invest in a quality garment, it should be one that you feel great in, look forward to wearing, and can get the most use out of long-term.
This is why we include the fabric weight for each of our garments and advise each of our clients on the perfect fabric(s) for them. Fabric weight is determined by the actual physical weight of one running yard (tailoring fabrics are traditionally 60″ wide, although some mills do produce cloths on narrower, and sometimes wider, looms). Natural fabrics (produced by plants and animals) have incredible climate control properties – that's why we make all of our jackets without a lining. This allows the cloth to breathe, wick away moisture and naturally regulate body temperature.
So as you prepare to start building your long-term wardrobe, here's a break-down of the typical fabric weights offered in traditional menswear.
---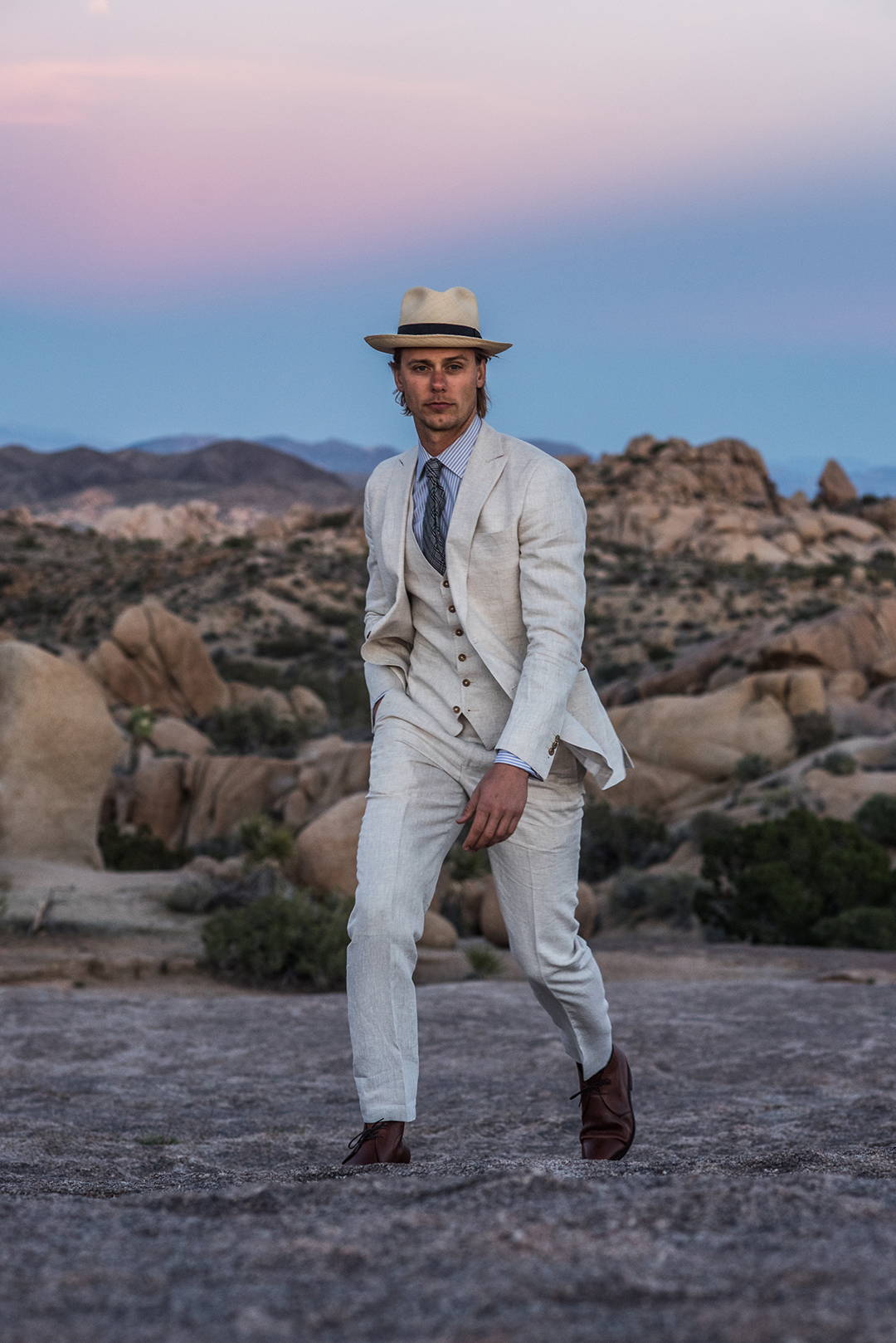 7 ounces/yard is about as lightweight as a tailoring fabric gets. This tropical linen is so light and refined, it would make a comfortable shirt. This is the lightest suit in my personal collection. I usually save it for really hot days. It's a summer-specific cloth, although there's no reason you can't wear it year-round if you live in a tropical location like LA. Nothing says leisure better than a perfectly wrinkled linen.
---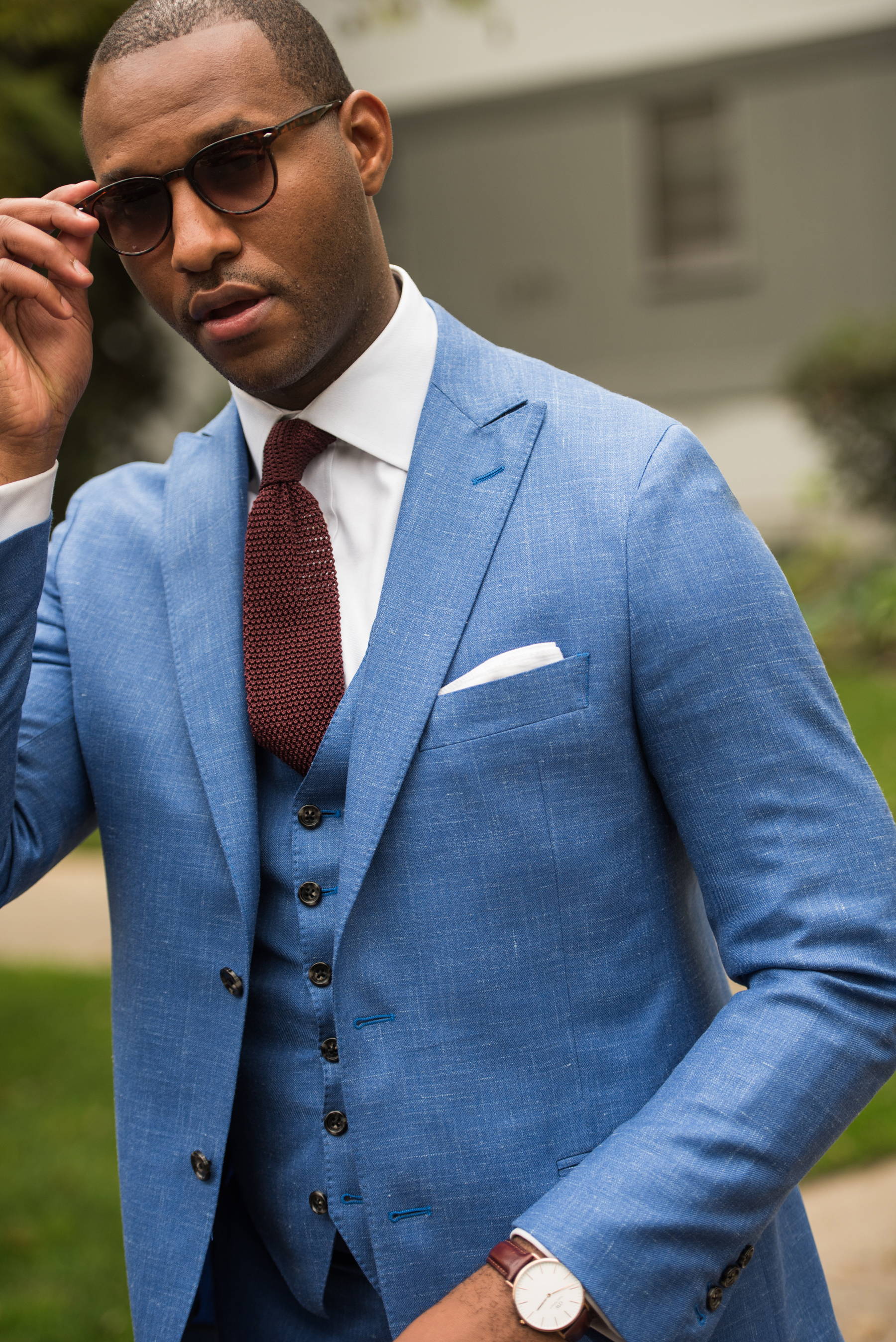 An 8 ounce/yard cloth is best suited for the Spring & Summer seasons – although an earthy color can easily be worn long into the Fall (especially if you have the right overcoat). There are some awesome unique blends in the 8 ounce category, such as wool/silk/linen which we like to refer to as the "holy trinity" of lightweight tailoring.
---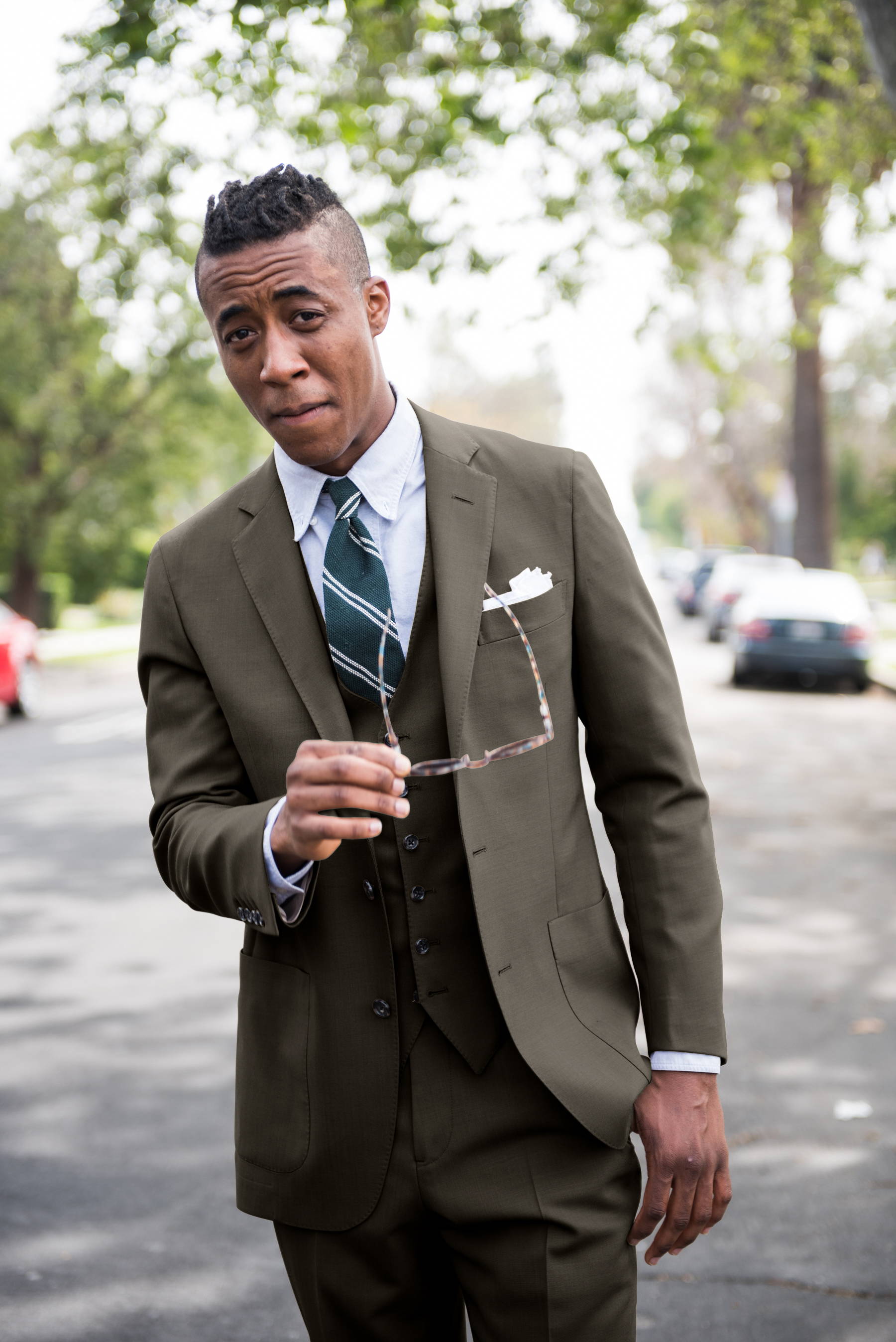 A 9 ounce/yard fabric is often called a "year-round" or "4-season" cloth. For this reason it's the most popular choice for guys who need a "workhorse" or "go-to" suit they can rely on na matter the season. Our essential worsted fabric range is a great example.
---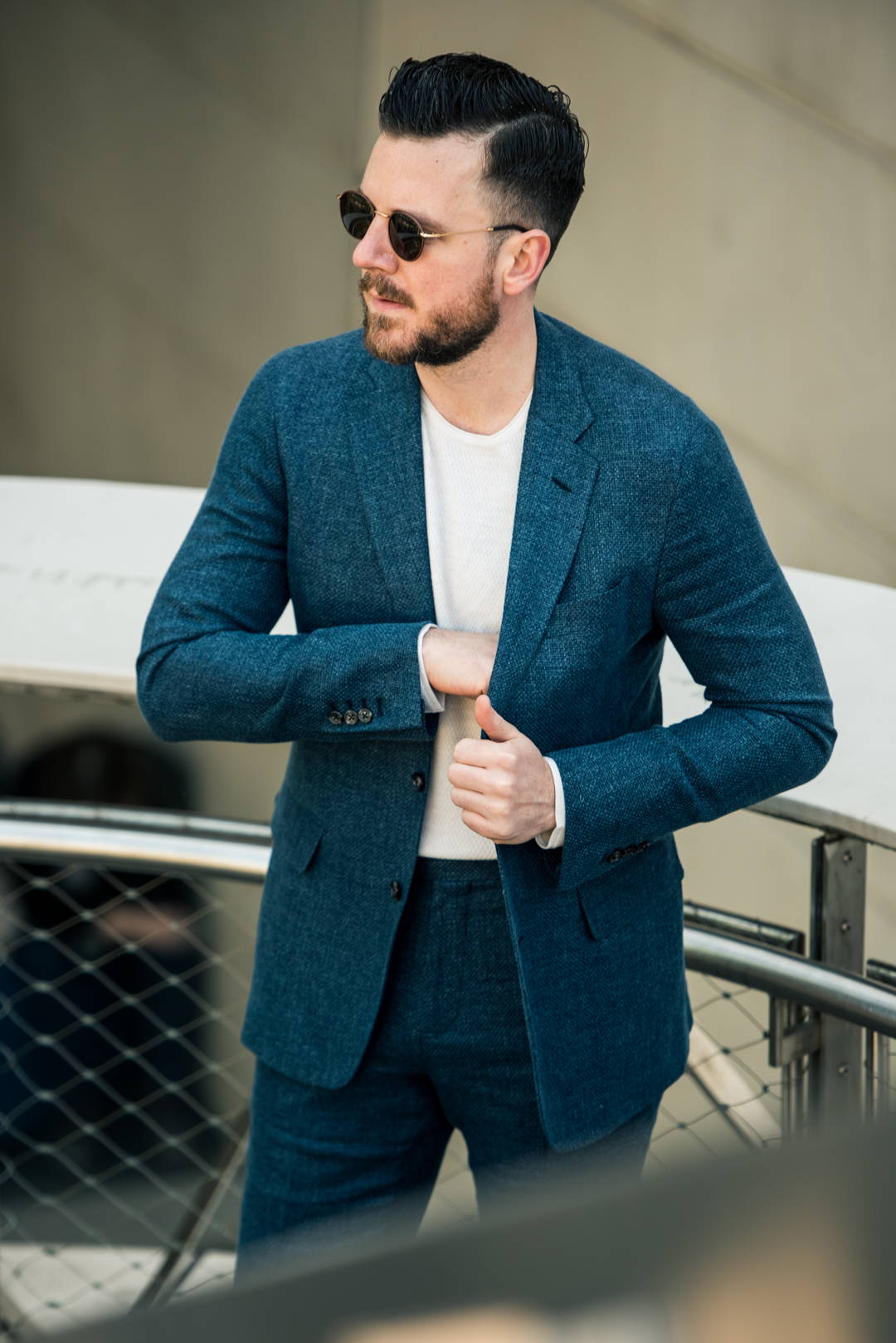 10 ounces/yard is also a great weight for a "4 season" suit, although it can lean slightly to the heavier side. The challenge with many "4 season" fabrics is that they often lack the texture of a more seasonal cloth, which can make a suit slightly less versatile as seperates. For that reason, I often look for 10 ounce fabrics that have an interesting weave (like our hopsack) to give the garment maximum versatility as a business suit as well as casual sportcoat & trousers.
---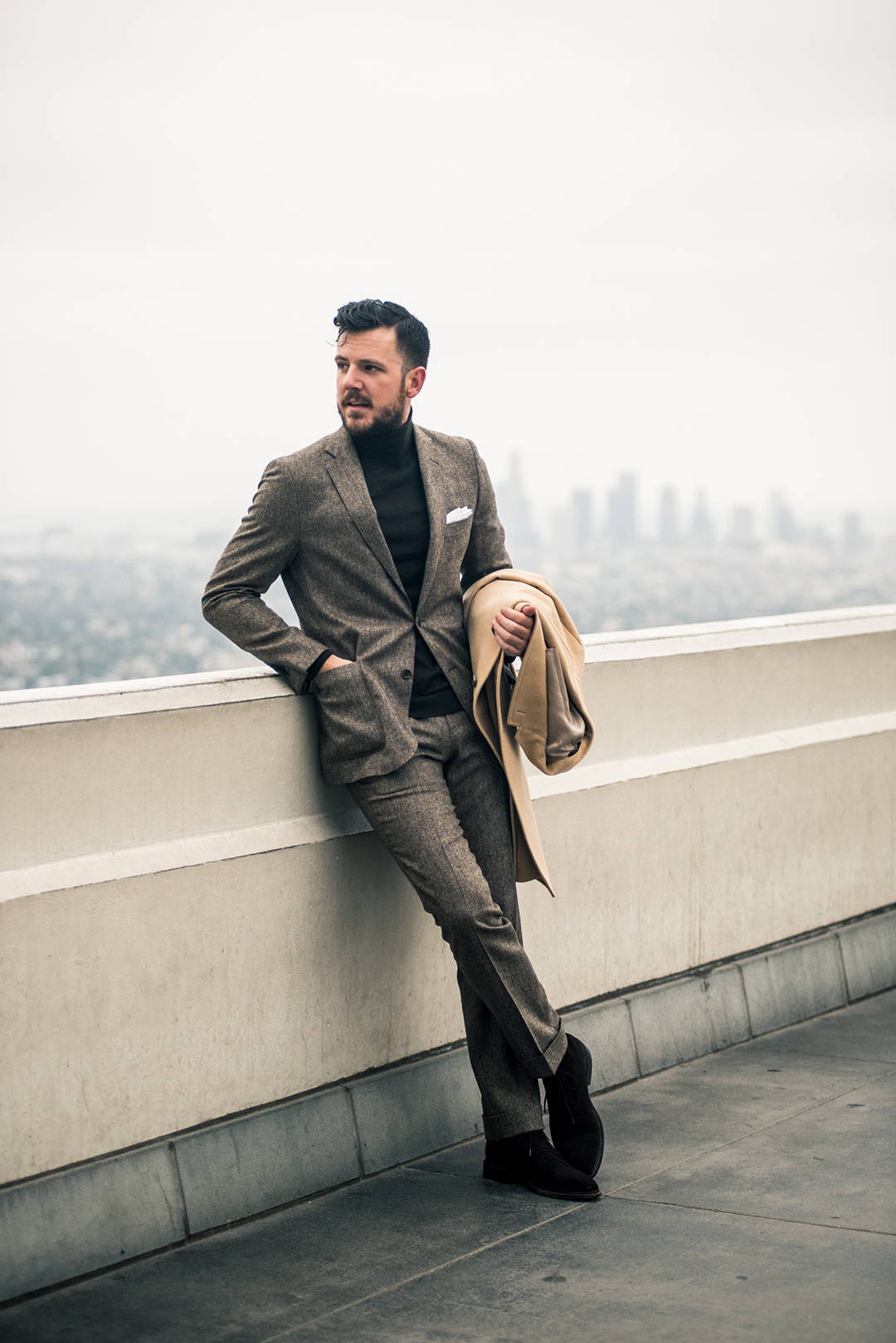 11 ounces/yard is where we start getting into the more rugged, textured stuff. Our forest tweed (which is almost sold out – only enough fabric left for 3 more suits!) is a great example. Just look at the depth here with specs of khaki, tan and orange woven into this deep green wool. Heavier fabrics like this also tend to be more rugged and durable, making for a garment that can serve as a long-term anchor to your Fall/Winter wardrobe.
---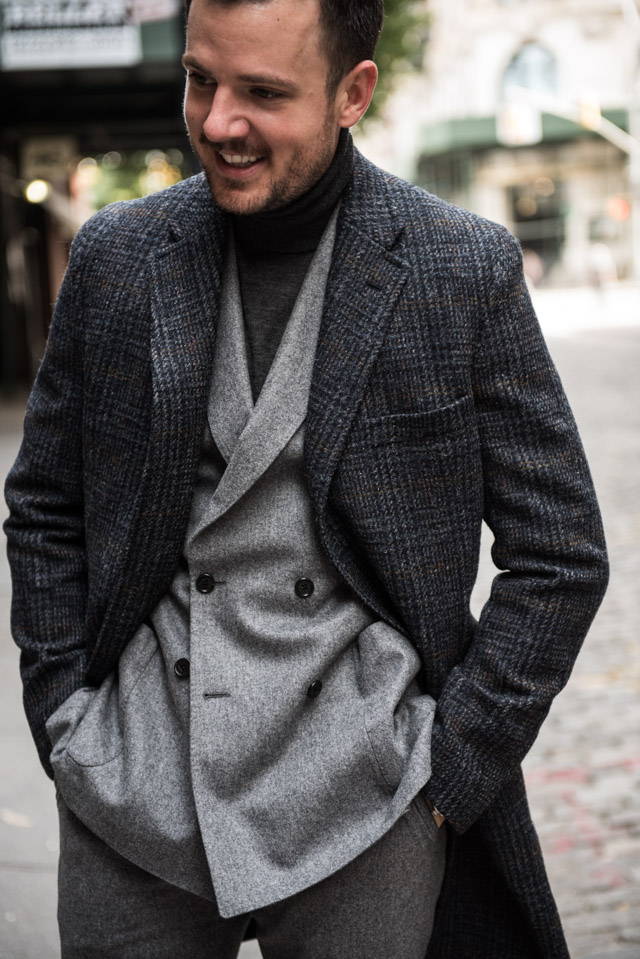 12 ounces/yard is where magic starts happening. You get into fabrics with incredible visual depths and hand feels. Think flannels, tweeds, cashmeres, camel hairs, etc. The real soft stuff that makes you actually look forward to the cold Winter season. Typically these heavyweight fabrics also make for great seperates. Take our lush Italian Flannel for example, it's a stunning cold-weather suit, but the jacket can also serve as a light coat for most of the Fall and early Spring, and the trousers are the best companion for your knitwear collection.
Thanks, as always, for reading. 
Yours in style,
Dan Trepanier