I came across an old hard drive the other day which had some of the original photos I took for Esquire Magazine's "Best Dressed Real Man" competition in 2009.
It was a fun trip down memory lane (ahh, college).
One thing I noted, which made me proud, is even after more than a decade I would still wear most of these outfits. Even better, I still have some of these pieces hanging in my closet!
This only goes to prove the point I've been trying to make for many years since; that classic menswear really does last the test of time and is stylish regardless of what trends come and go.
Just for fun, here is a breakdown of some of the photos I submitted to Esquire back in 2009.
1. Chalkstripe Three-Piece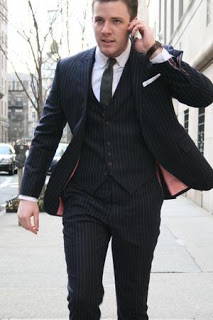 I literally wouldn't change anything here - except for maybe the bold pink lining.
A flannel chalkstripe suit is an absolute classic. It's a timeless look when paired with a white oxford shirt and gray wool tie. The suit (and lapels, and tie) are all on the "slim" side, but not "skinny" (as was the trend back then).
Subtly hinting at current trends is always better than going all-in on them.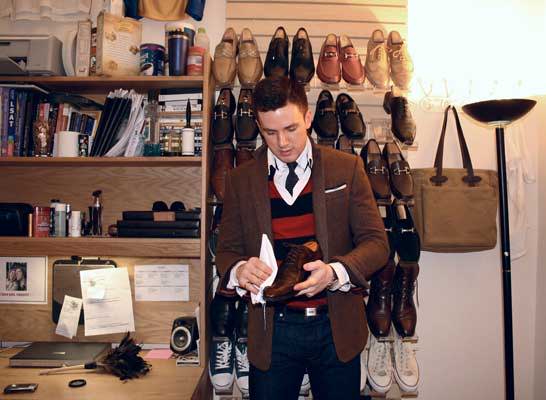 I still have this jacket (it's been let-out a few times over the years) and this rugby shirt. Not sure I would still layer a rugby over a shirt and tie, but I would still wear all of these pieces.
The tweed jacket is RL Black Label (bought on eBay), rugby is Michael Bastian (sample sale find). I still wear this croc dress belt. I've been wearing the Montblanc watch every day since. Still have this necktie. 
Side note; I also still have a good number of the shoes shown on that SICK slatwall display. That Filson tote bag is still kicking around too - though I think Wes has been using it for the past five years.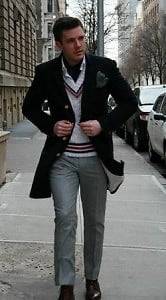 A little preppier than I dress today (this is Ivy League Dan) but I would still wear all of these pieces.
Camel hair topcoat (Brooks Brothers Black Fleece...RIP), cricket sweater, same white oxford shirt, light gray flannel trousers, dress boots (Allen Edmonds Daltons - still got these).
Gloves in the breast pocket...soo 2009.
4. Cotton Suit & Sneakers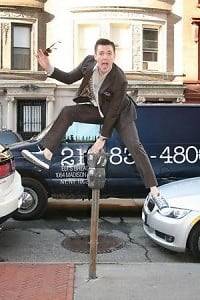 This suit was a Huge Boss "red label" that I bought in college at a warehouse sale and absolutely loved. It was my first brown suit and I wore the sh*t out of it. It wasn't very well made and was too slim for me (especially in the thighs and upper back), so it eventually fell apart. I wore through both the jacket and trousers and through that process learned a lot about how/why going "too slim" can ruin the lifespan of a garment. 
With that said, I would 100% still rock this combo today: brown cotton suit, pale gray button-down shirt, striped cardigan, classic sneakers (Converse Jack Purcells).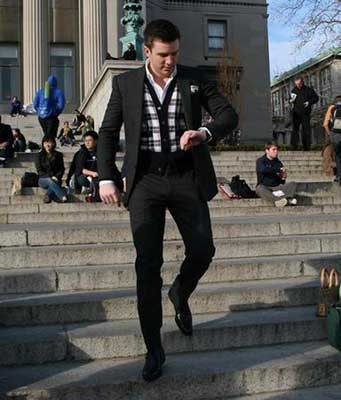 This was right around the time that I started researching and learning about tailoring. 
This charcoal flannel RL suit (another eBay find) didn't come with a vest, but I loved that three-piece look. An easy way to fake it; a cardigan. 
To this day I still love wearing a cardigan under a suit.
6. Experimenting with Separates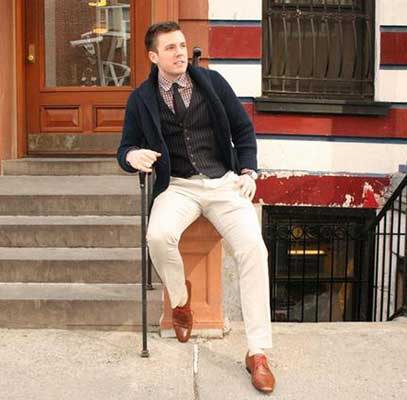 Ok, not sure about this one. Hah. 
It looks like I was starting to experiment with using my custom suit pieces as separates. This is the chalkstripe suit vest (from look 1) with a cardigan and chinos. 
Again, I would still wear most of these pieces (not the oxfords with red laces tho) just not in this combination. The vest is too dressy for the plaid shirt and the chinos. This would have been a better look without the vest (and the red laces). 
The take away here is that classic menswear never goes out of style. 
And quality garments can last years, if not decades.
Do you have any pieces in your closet that are 10+ years old? What are they?
Use the comments below. 
Thanks, as always, for reading. 
Yours in style,
Dan Trepanier