DJ McDonald, aka @hellomrnicesock, aka Tiger Moods, aka that-fly-dude-I-always-see-around-town, is one of the coolest guys I know.
If you've been following you know that he's been part of the AOS (and TSB) extended family for many years.
Well, we finally got him to design his own AOS suit.
Here's how his fitting went down.
First, as with every new client, we made him a free custom-made try-on for his initial fitting.
Think of the try-on garment is a "first draft mock-up" of the unique pattern that we created just for DJ, based on his AOS profile (height, weight, OTR sizes, body description and fit preferences).
We will then review this fitting, and make further (much more specific) adjustments to his original pattern.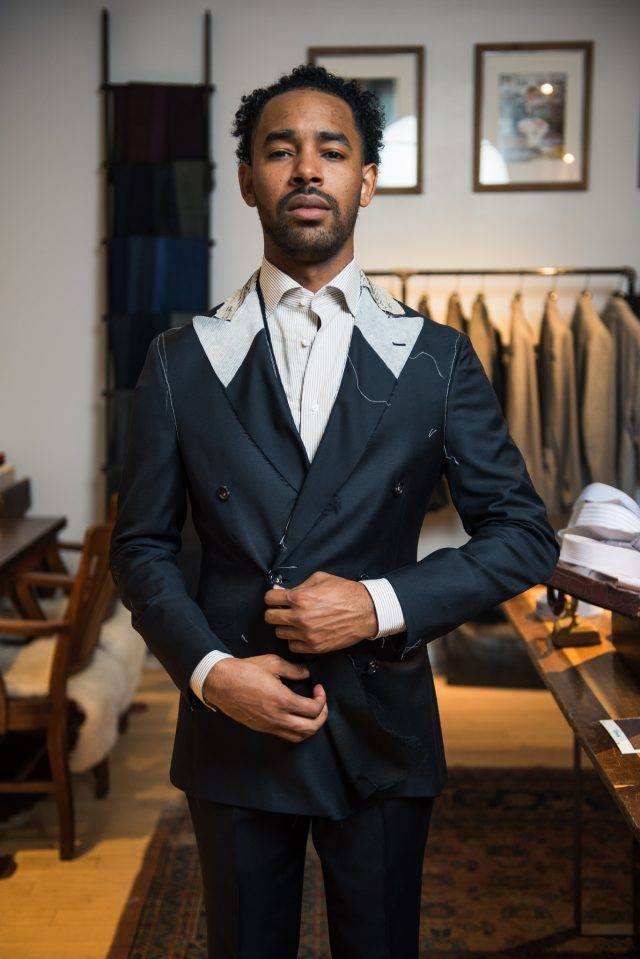 DJ seems like a relatively easy fit, but he is actually a bit tricky.
Let's just say, for a slim guy, DJ is extra thicc in the glutes.
What I'm saying is, he has a$$ for days. In other words, he has a trunk and it is absolutely full of junk… But seriously, his fitting requires some thoughtful pattern adjustments that need to be reviewed by experienced tailors…because he has cakes likes its his birthday.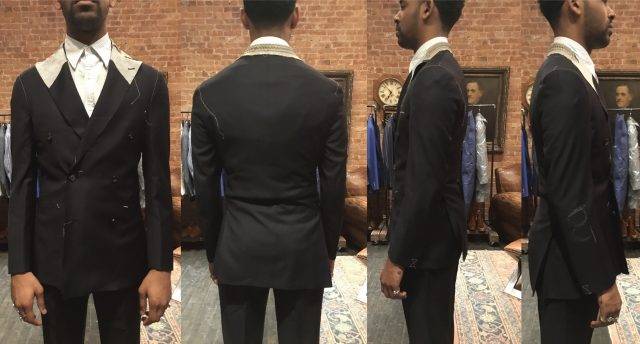 Pattern adjustments from here: pinch the collar (gap), raise collar (hitting too low on shirt), shoulders are already sloped on this garment and look pretty good (lower right), shorten back and apply prominent seat adjustment ("crashing" above seat), rotate sleeves backwards, adjust for shoulders pitched forward.
As you can see from the crashing-at-back-waist in the back photo above, the "prominent seat" adjustments apply to the jacket, as much as the trousers.
Pattern adjustments from here: let out seat, add double back darts, prominent seat adjustment, lower left and right hips, lengthen hem, clean under seat, slight knock knee adjustment.
To put it in perspective, off-the-rack DJ would be best in a jacket for a chest size 37″ (which traditional accompanies a trouser with a waist/hip size of 31″). However, because of his seat, he actually needs the room traditionally given to a size 33″ or 34″ trouser – depending on the cut. This means he has to decide whether or not to buy the wrong jacket size, just to fit into the trousers (which would still need significant tailoring adjustments).
This is one of many examples of "body types" that simply don't fit into the ready-to-wear model; a suit that is drop 6″ or drop 7″ (the difference between the suit jacket's chest/shoulder size and its accompanying trouser's waist/hip size).
Pattern adjustments from here: raise button stance, additional slope on shoulders (especially right), shorten back and apply prominent seat adjustment ("crashing" above seat), increase front darts, decrease armholes (especially at back).
The vest is fairly simple, but you can see that we need to adjust the back length for the seat here as well.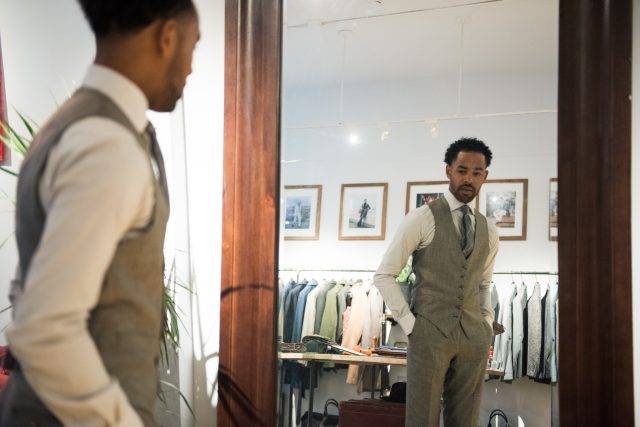 Roughly 4-6 weeks after the try-on fitting, the final garments will arrive.
From this point, DJ no longer needs try-on garments. All of his future garment orders will go into production and arrive in about 4 weeks.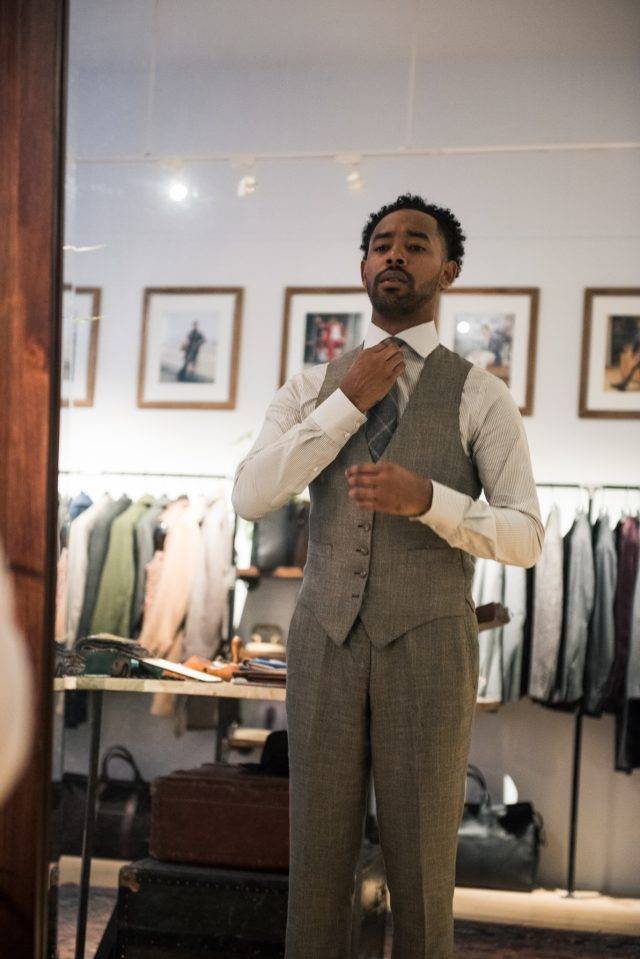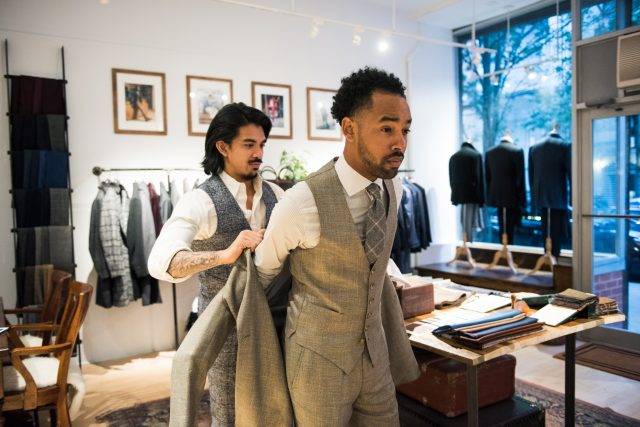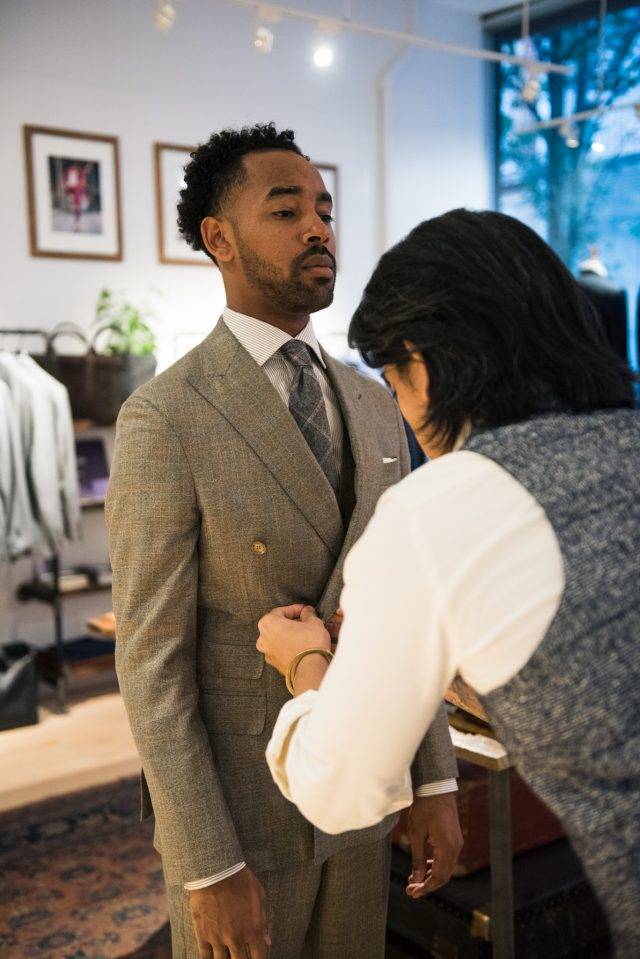 Read the next article to see more about DJ's final garment.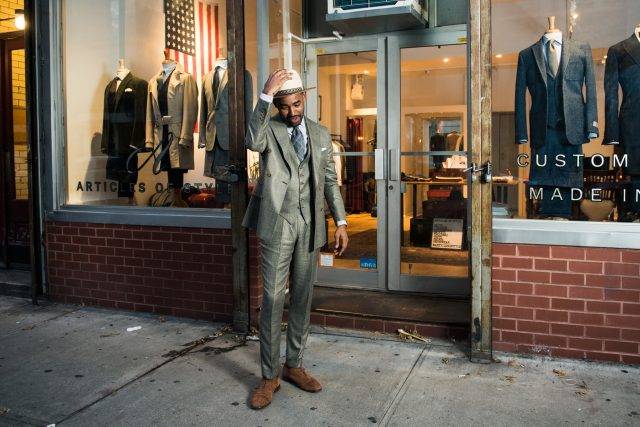 Thanks, as always, for reading.
Yours in style,
Dan Trepanier