Gender Expression and Custom Suiting
AOS's biggest challenge with expanding our reach to women was how we were going to welcome and reflect the times we're in. Some of the questions we've asked ourselves deal with how we want to provide space for those who've never stepped into tailoring spaces before.
How would we cater to women but also respect other communities interested in wearing traditionally male clothing? How would we accommodate diversity without homogenizing differences? As I've learned from some of the clients we've served in the past, some people love the distinctions between male and female clothing construction. Other people are looking for something else. We wanted to be sensitive to these nuances and provide the best fit for everyone.
In my experience, I've had to overthink clothing in ways I never asked for. If I could just wear the damn dress, I would. It could save a headache or two. For whatever reason, femininity always looks better and more natural on everyone else. On me, it's a bit of a joke. It's come to the point where I know my size in men's better than I do in women's—I've shopped this section so much.
What I look for in clothing, beyond the general "does it fit right?" checklist (length, wrinkles, tightness, looseness) is whether I feel comfortable in them. To be clear: not good and confident, but comfortable. And comfortable doesn't mean, "can I spend eight hours in these and squat when I need to?" I mean it in an embodied sense. That's why people telling me "You look great in that!" does nothing.
To me, comfort is the most elemental and base level emotion that needs to be checked "yes" before anything else "Fashion" should happen. If your head is busy overthinking everything, there's no way you'll ever have the time or space to grow into yourself. Fact.
This moment of contentment is the birthplace of confidence, which always spawns style—that magic of being true to yourself. Most people's starting point is here. But for me and many other queer people like me, it takes the extra step of finding it first before we can find that mark. Especially with gendered clothing, there's a lot of mucking around to do before you know what you want. And then we're tasked with finding those hidden brands that make clothes to fit our preferences.
Dan always planned to have me write a piece on "Women in Tailoring," but I was having such a hard time finding an angle. It doesn't make much sense for me to write about it since the word "woman" sounds just as awkward to describe me as the clothing looks and feels on my body. All I'd have to say about it is that I don't want to wear those clothes. I never found the inspiration to draft anything.
Then, AOS SS Collection 2022 rolls around.
Morgane, our head pattern fitter, and I finally met each other in person. She's the same height as me, maybe even shorter. (Such a crazy thing not having to crane my neck to look into her eyes—as is my standard protocol for talking to most people).
It's been nice having a girl on the team, and I admire how solid and vastly different her style is from mine. She sees herself as an independent woman, and her clothing really reflects those powerful features. She opts for a more flamboyantly feminine style, with wide-leg trousers and a cinched-in waist. She always has her makeup done and loves to wear heels. It's refreshing to remember that femininity can be a source of esteem for others, even if it isn't for me.
Throughout the shoot, I fixated on a piece she made for herself—an ivory herringbone jacket—and I had the impulse to try it on.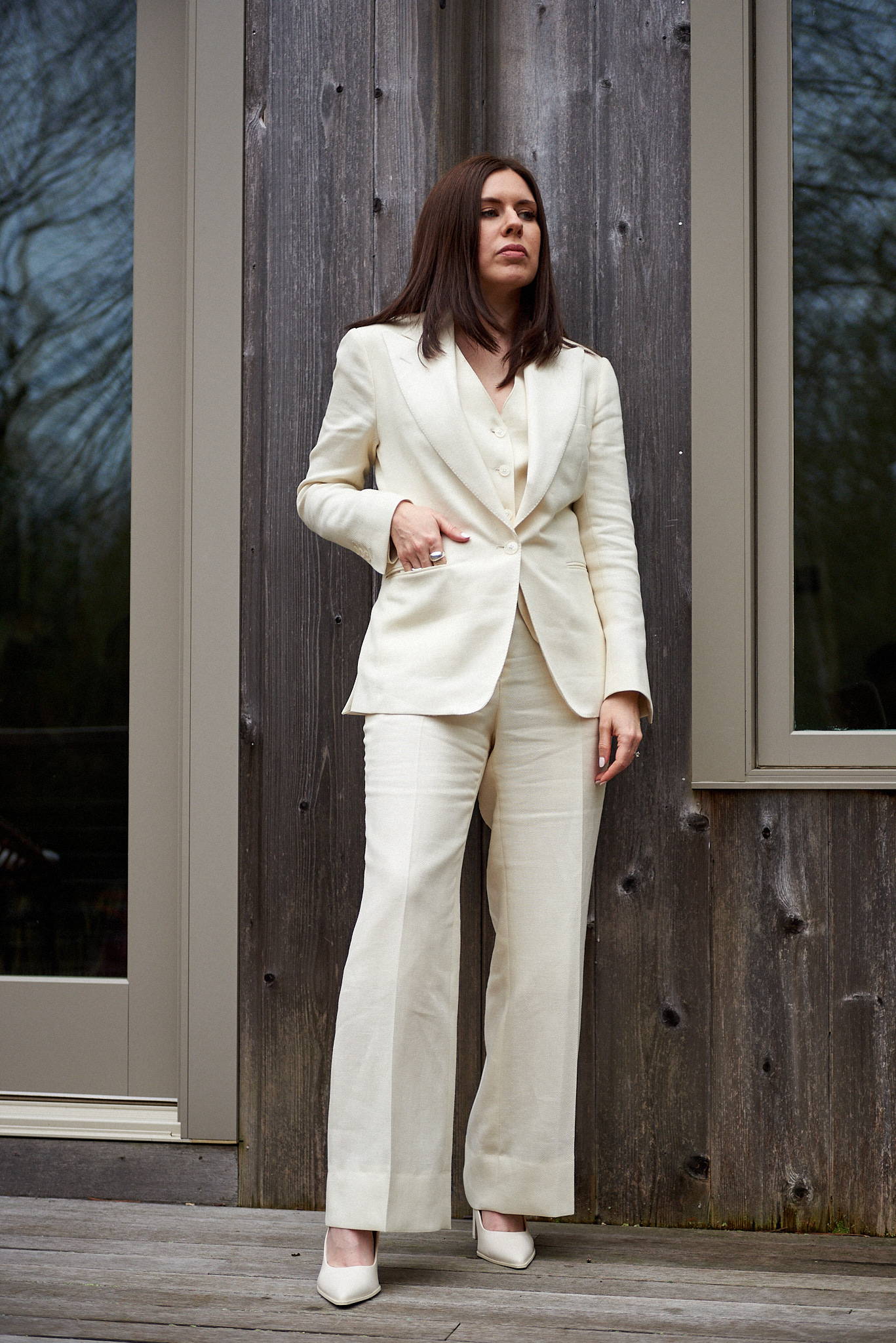 I was shocked at how well it fit me. Then, it suddenly hit me.
Building off our previous blog post about gender construction in pattern drafting, I should put this idea to the test with our final garments.
I had previously decided that our base patterns were similar enough so as to not insinuate male and female but had yet to receive any final garments to make a final opinion. Things like darts, trouser width and rise, jacket length, lapel size—these finished details speak to this binary gendered logic.
As far as I could tell, Morgane and I's garments looked distinctly different. Her wide-leg trousers, wide peak lapels, and hourglass one-button jackets channeled femininity in every sense of the word. My straighter cut garments leaned toward traditional, looking much more neutral/masculine. I wanted to see if our clothes "carried" gender if we were to wear each other's stuff.
The results?
I was immediately shocked by how immensely different the clothes looked.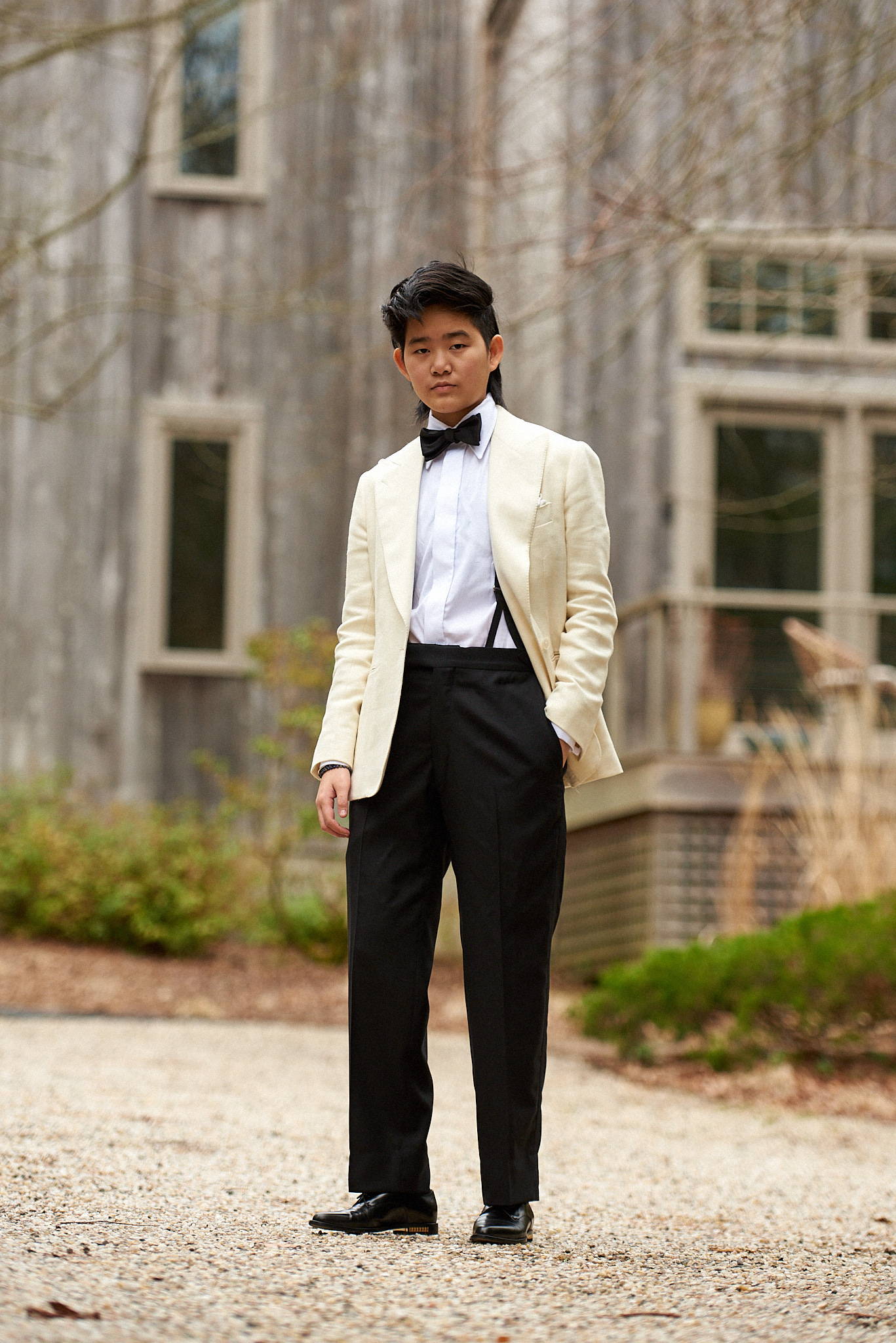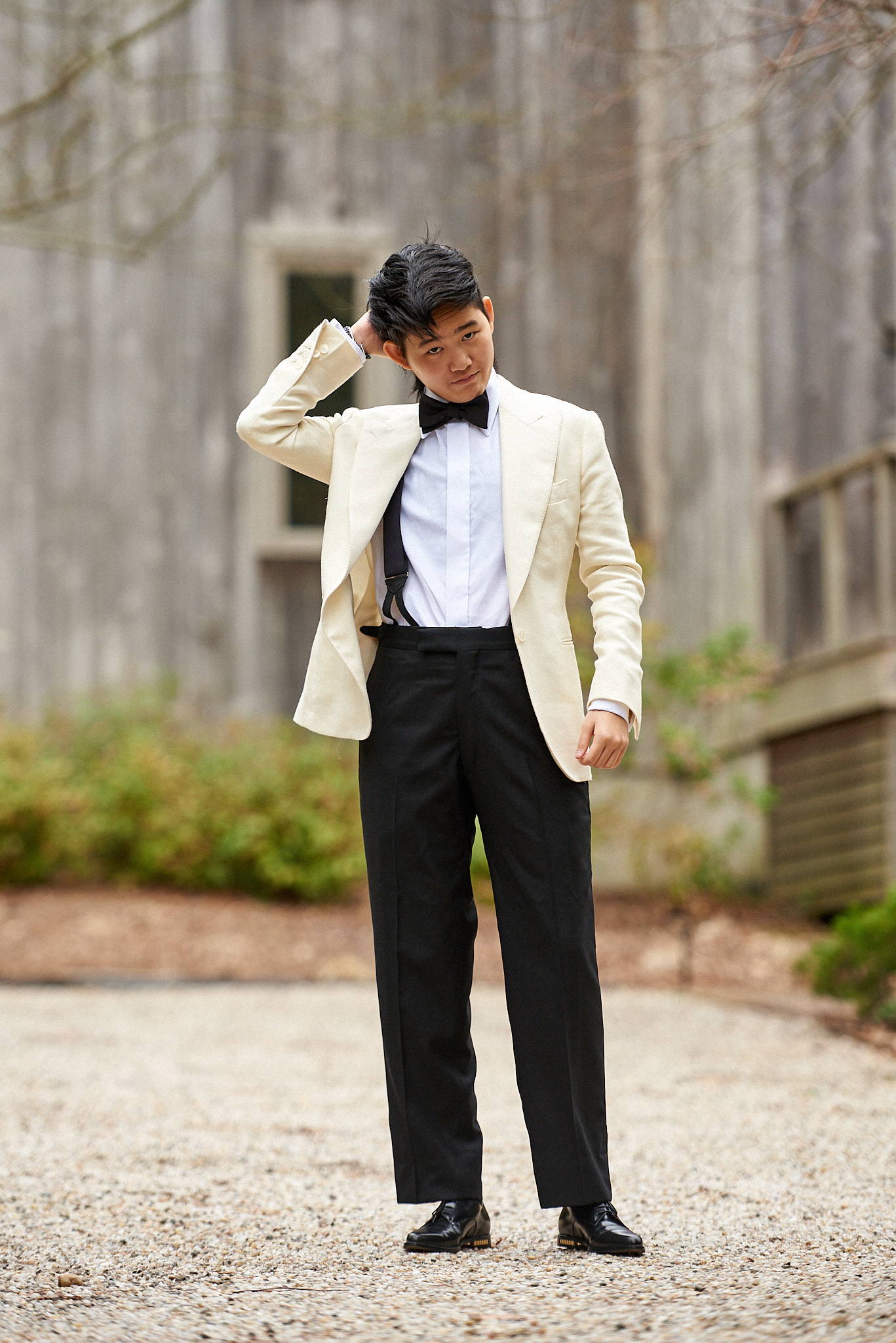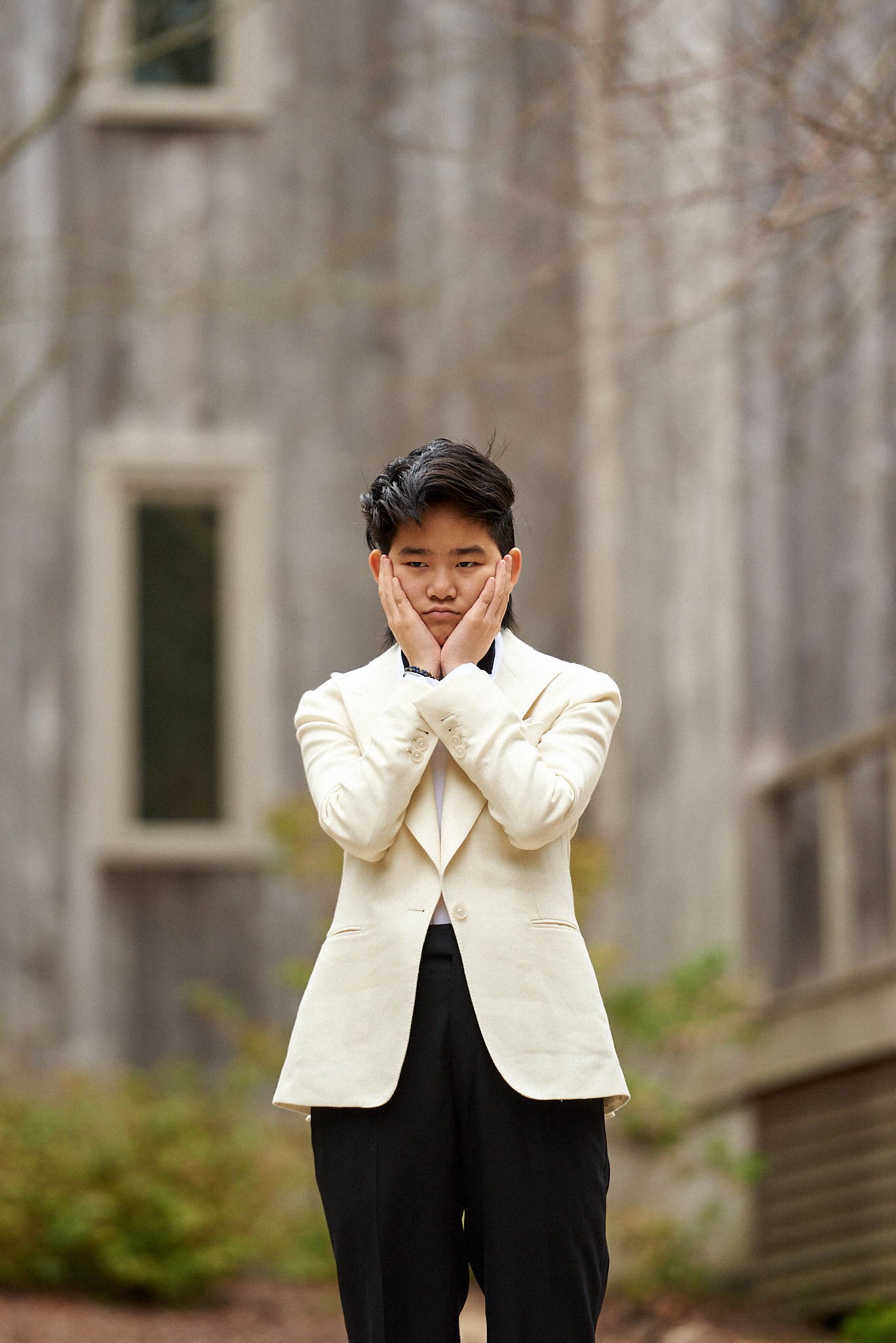 I even ended up giving Morgane my burgundy suit because I loved the way it looked on her.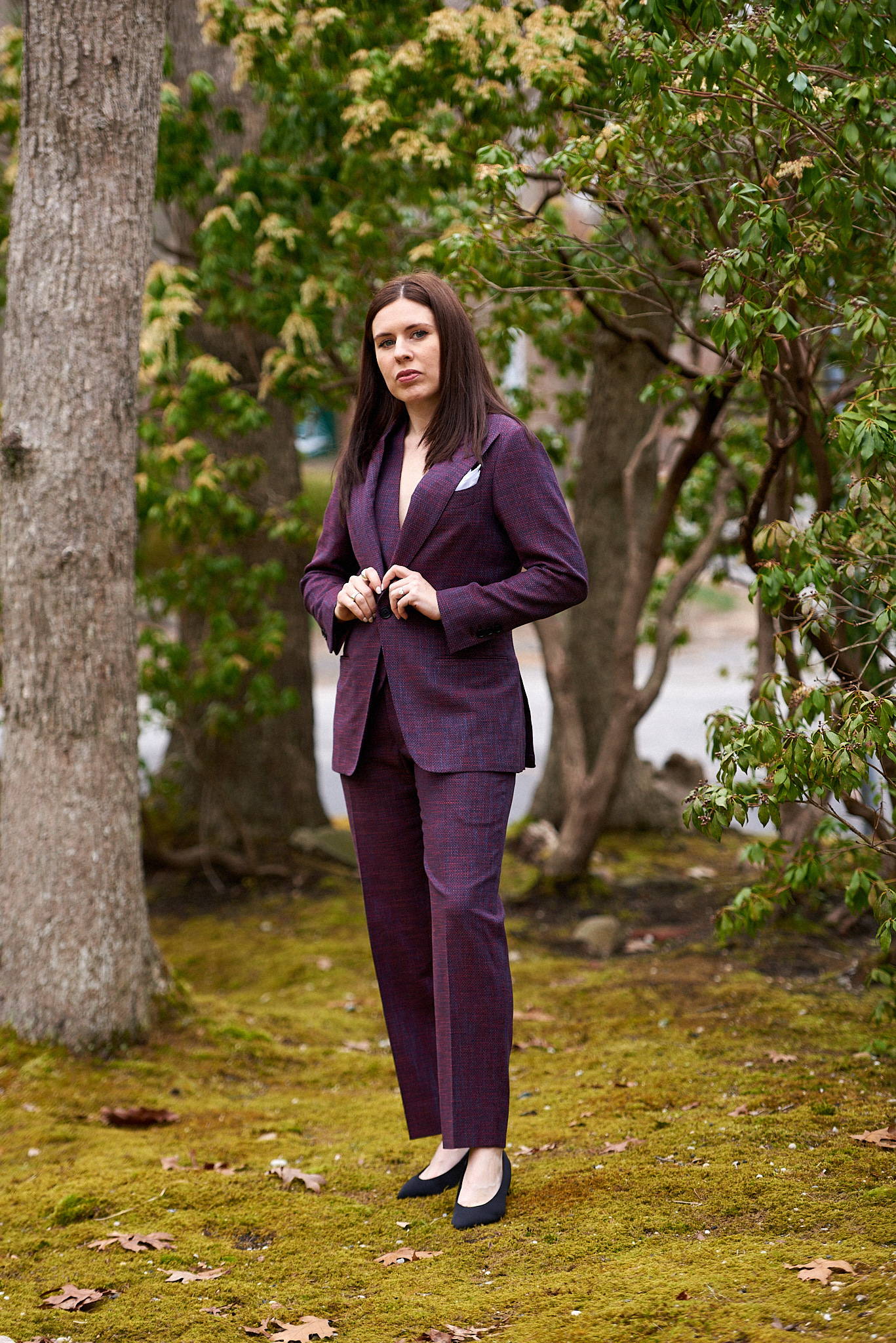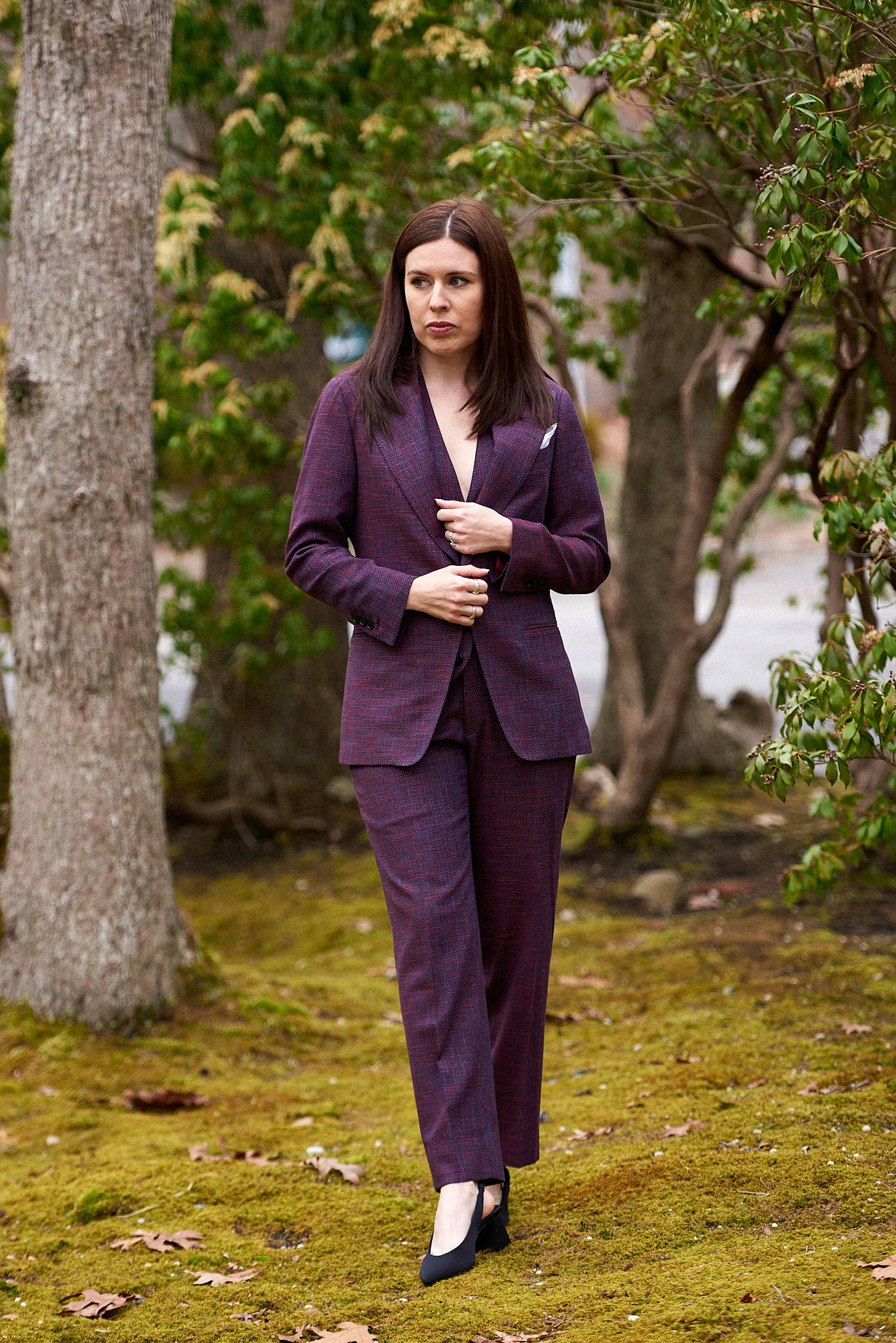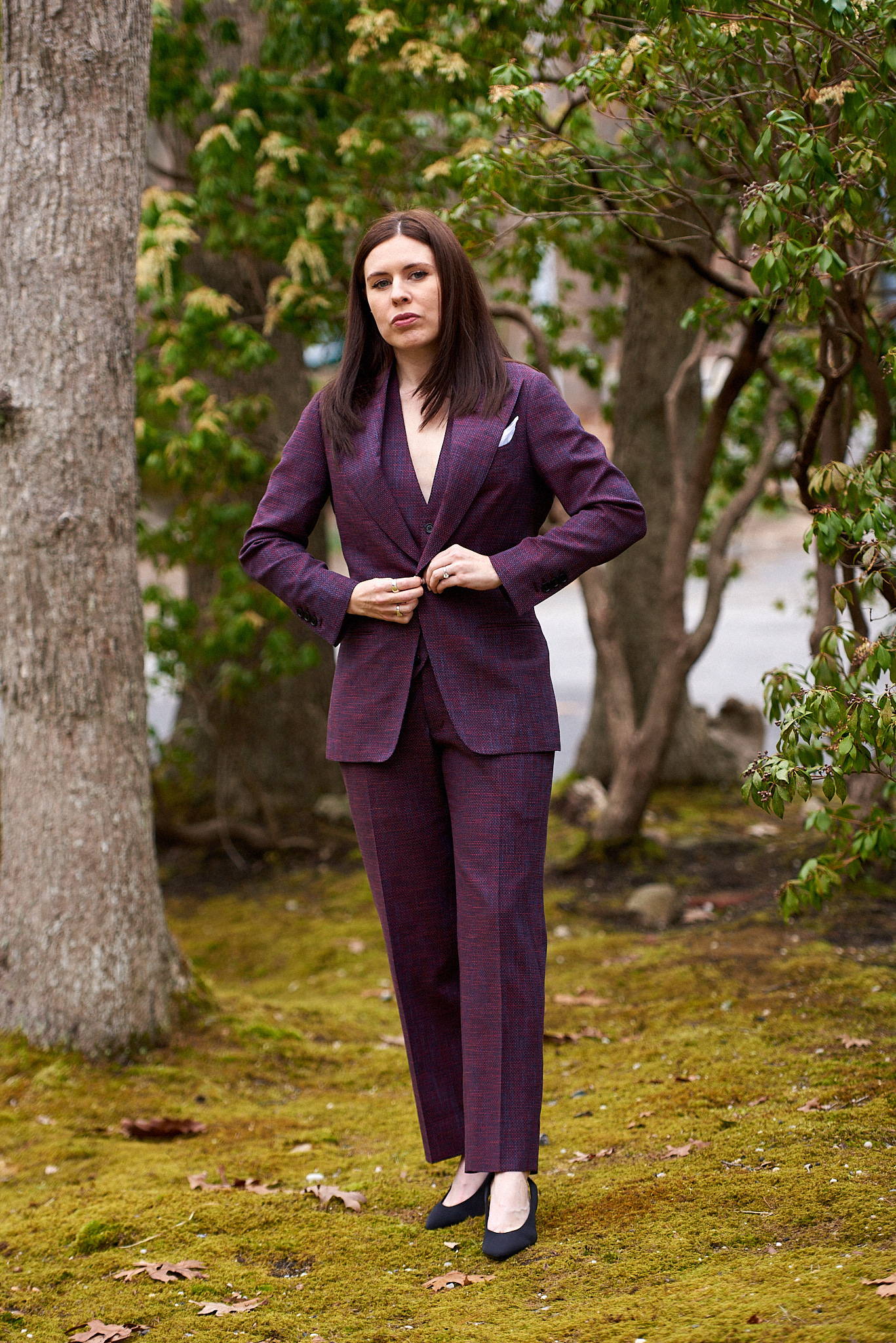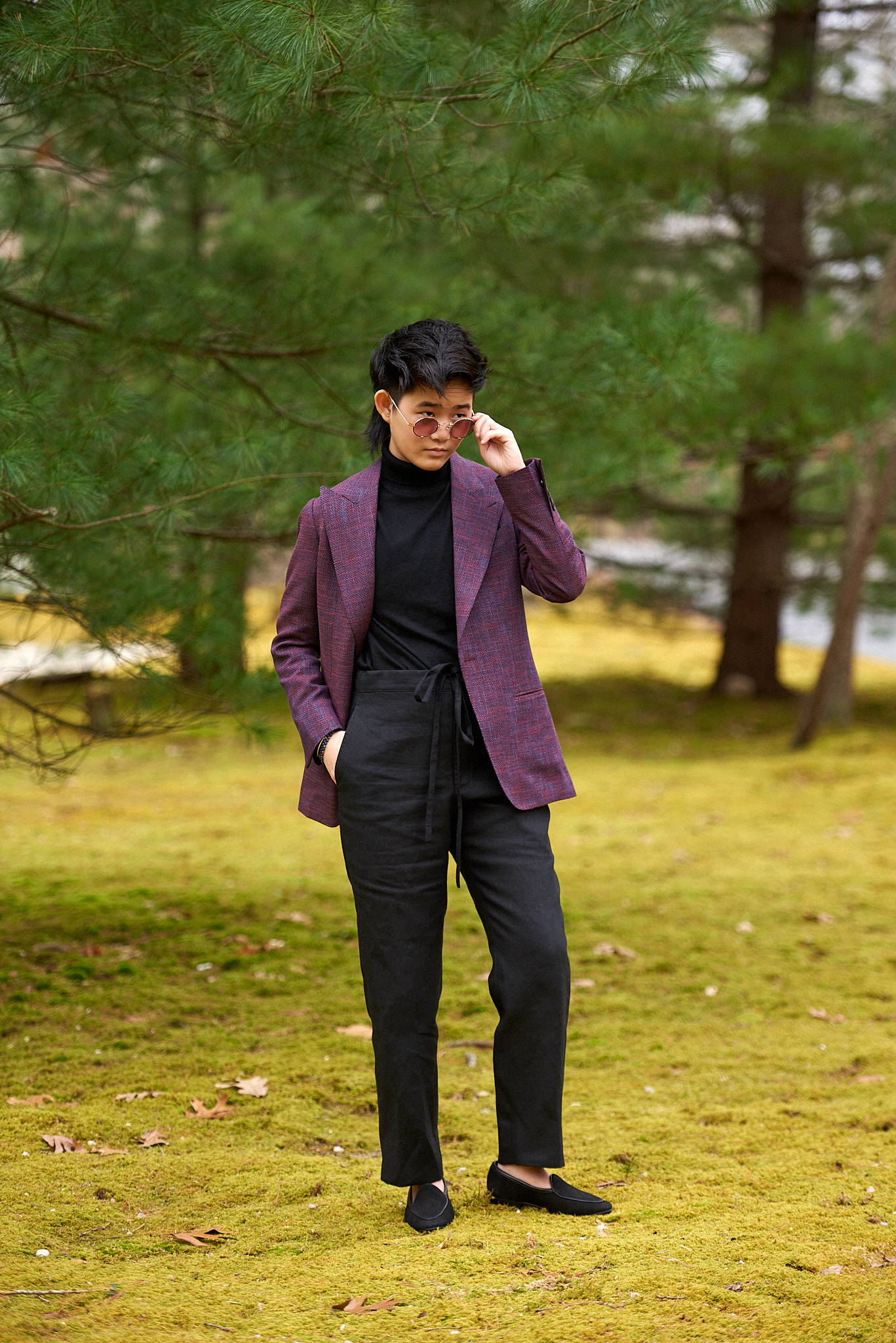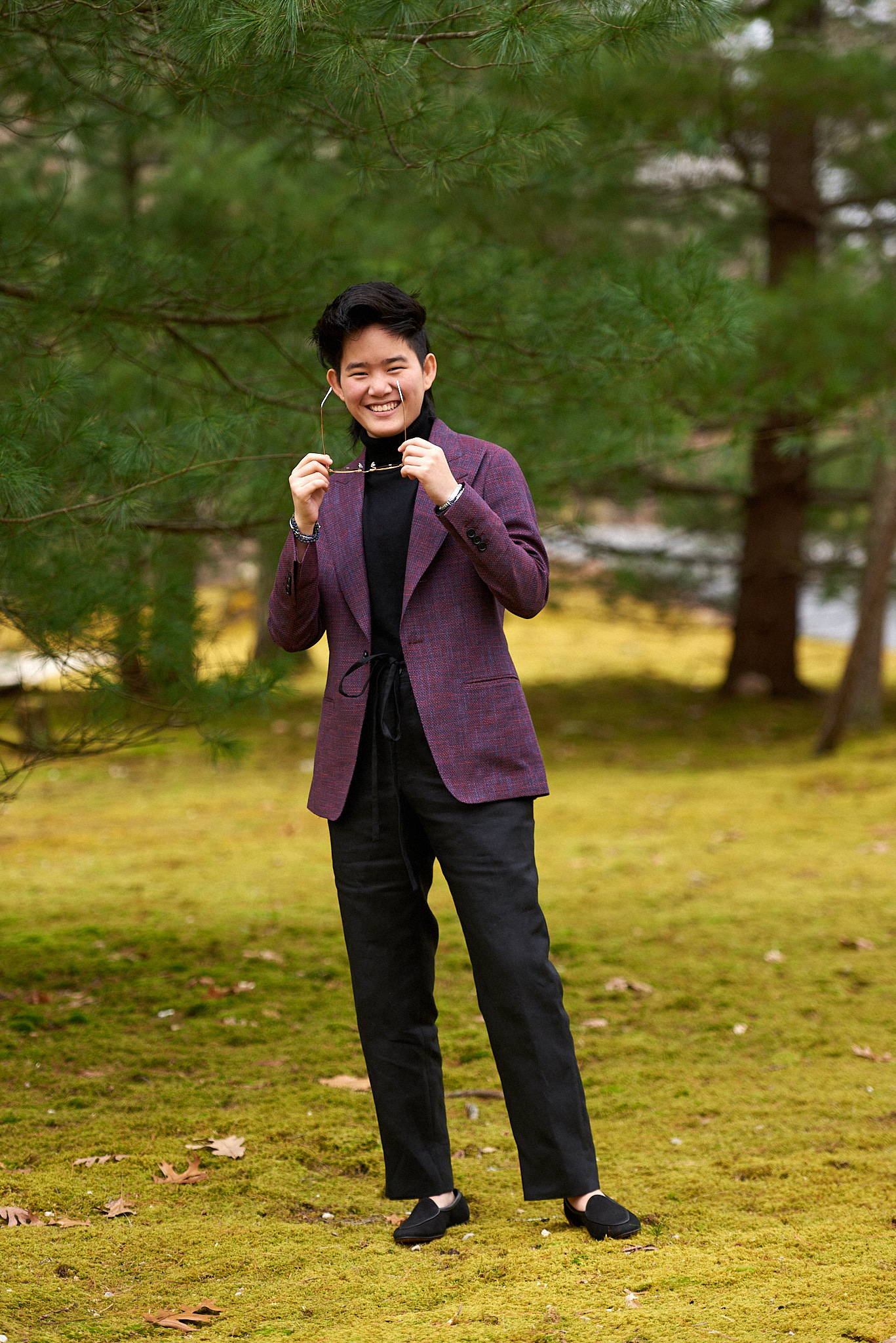 And her garments, seemingly feminine clothes I never would have thought to try on myself, were barely recognizable as hers anymore.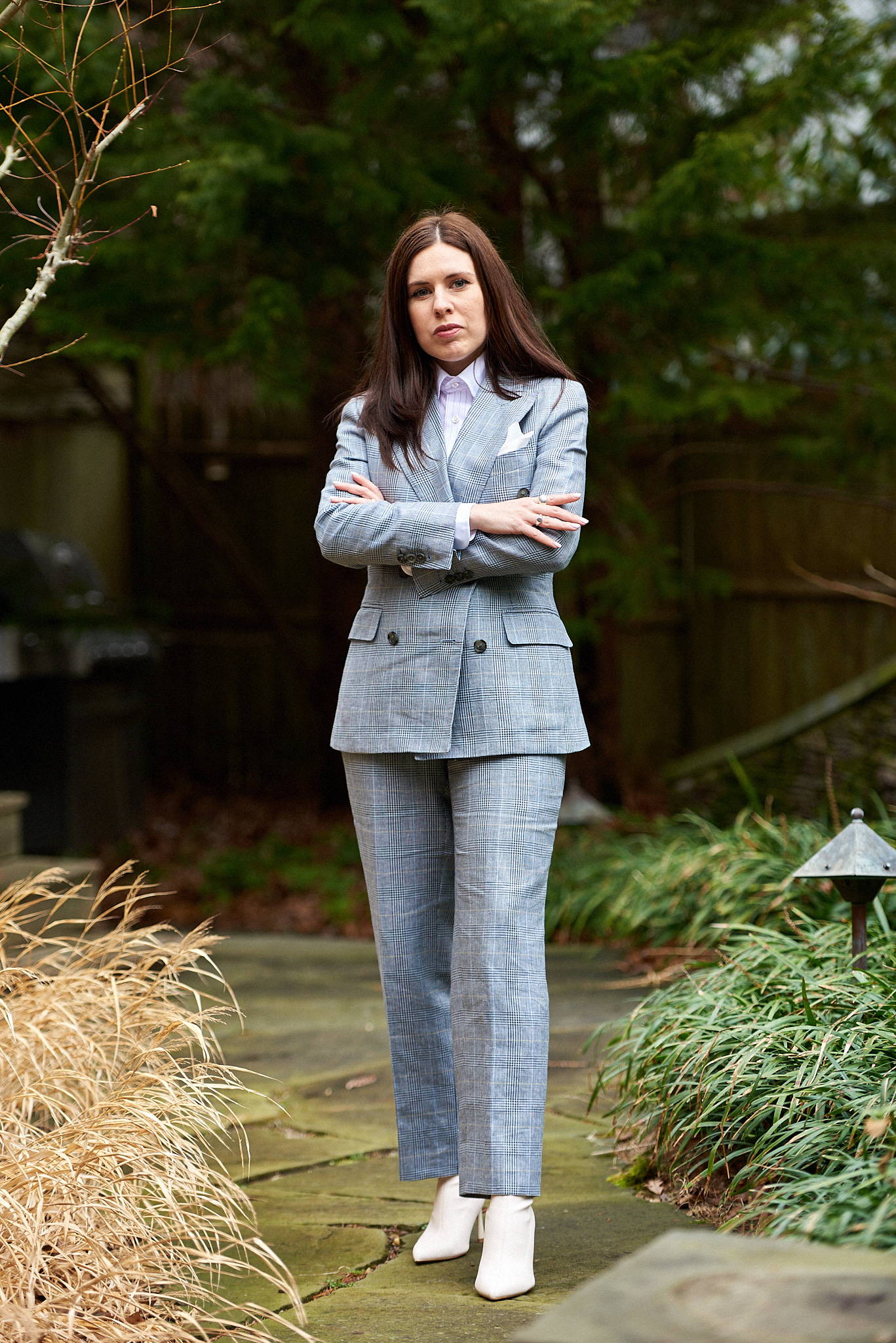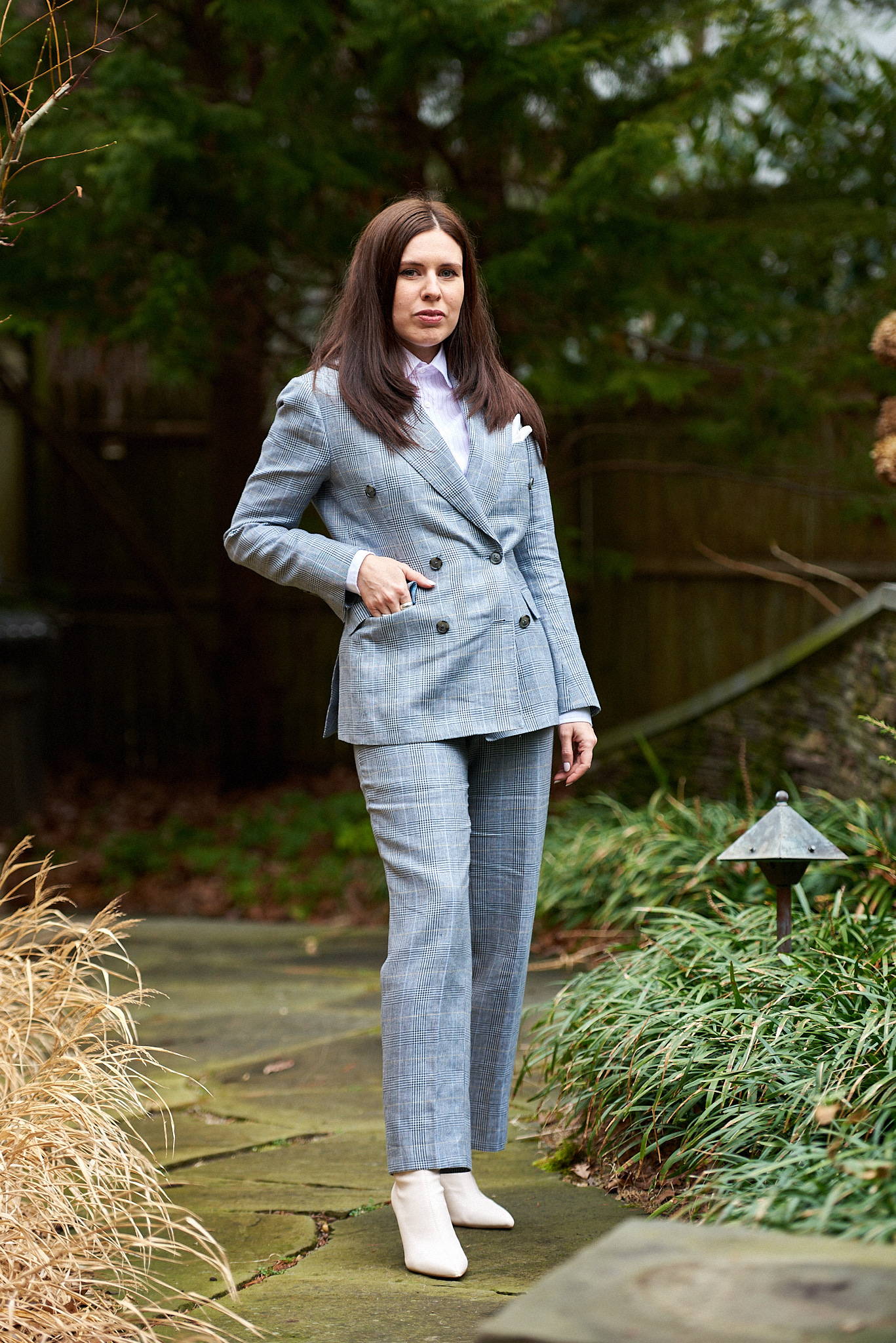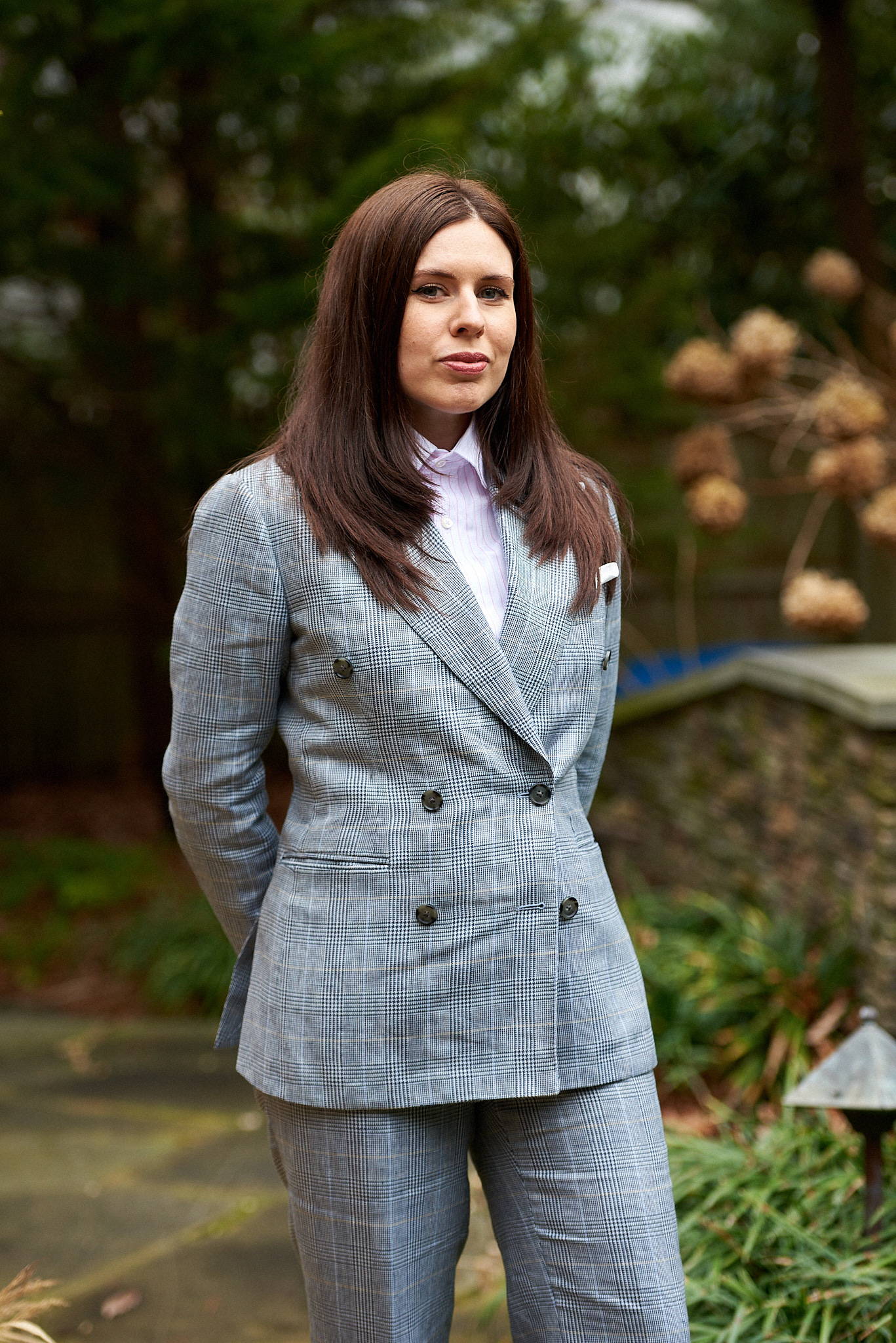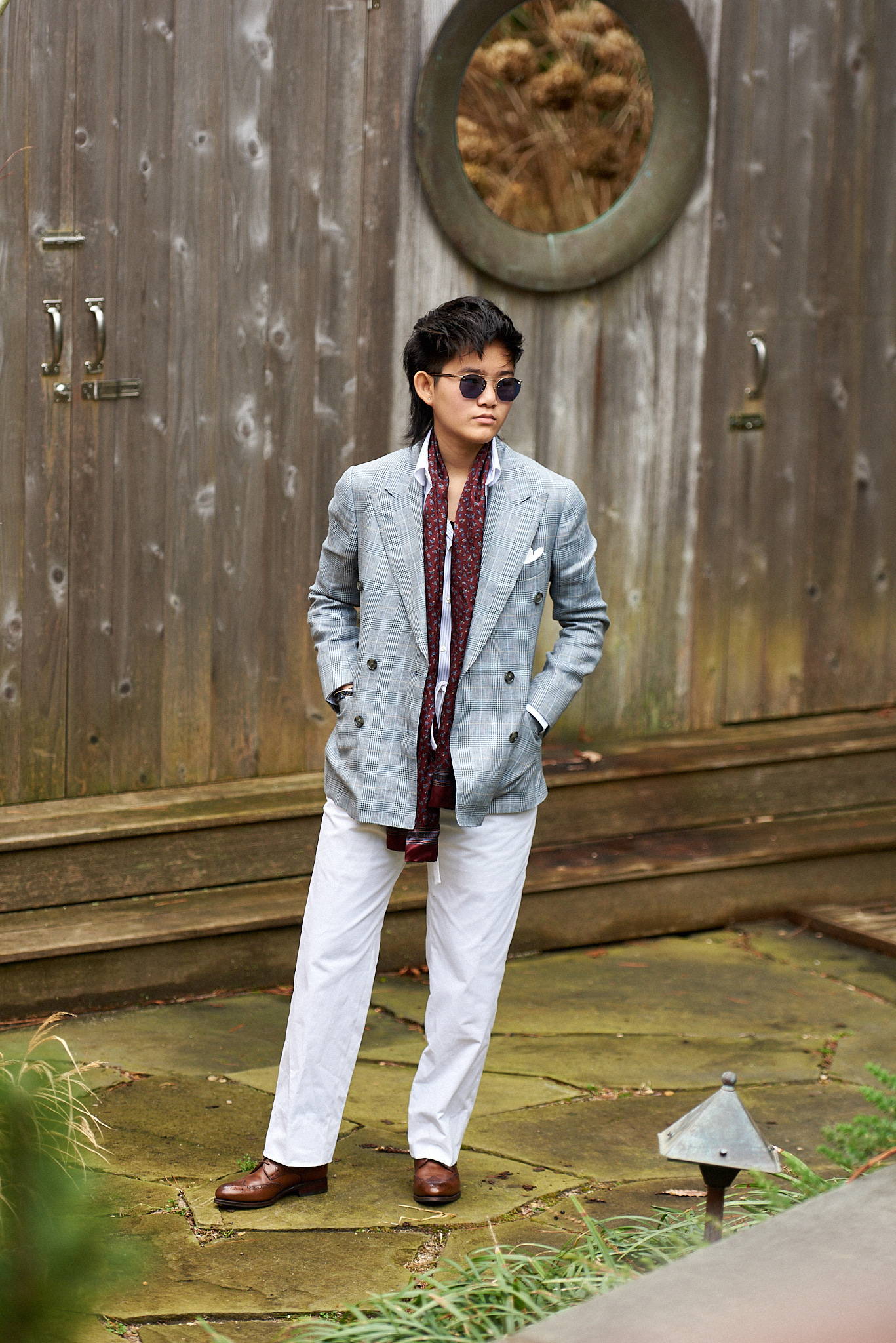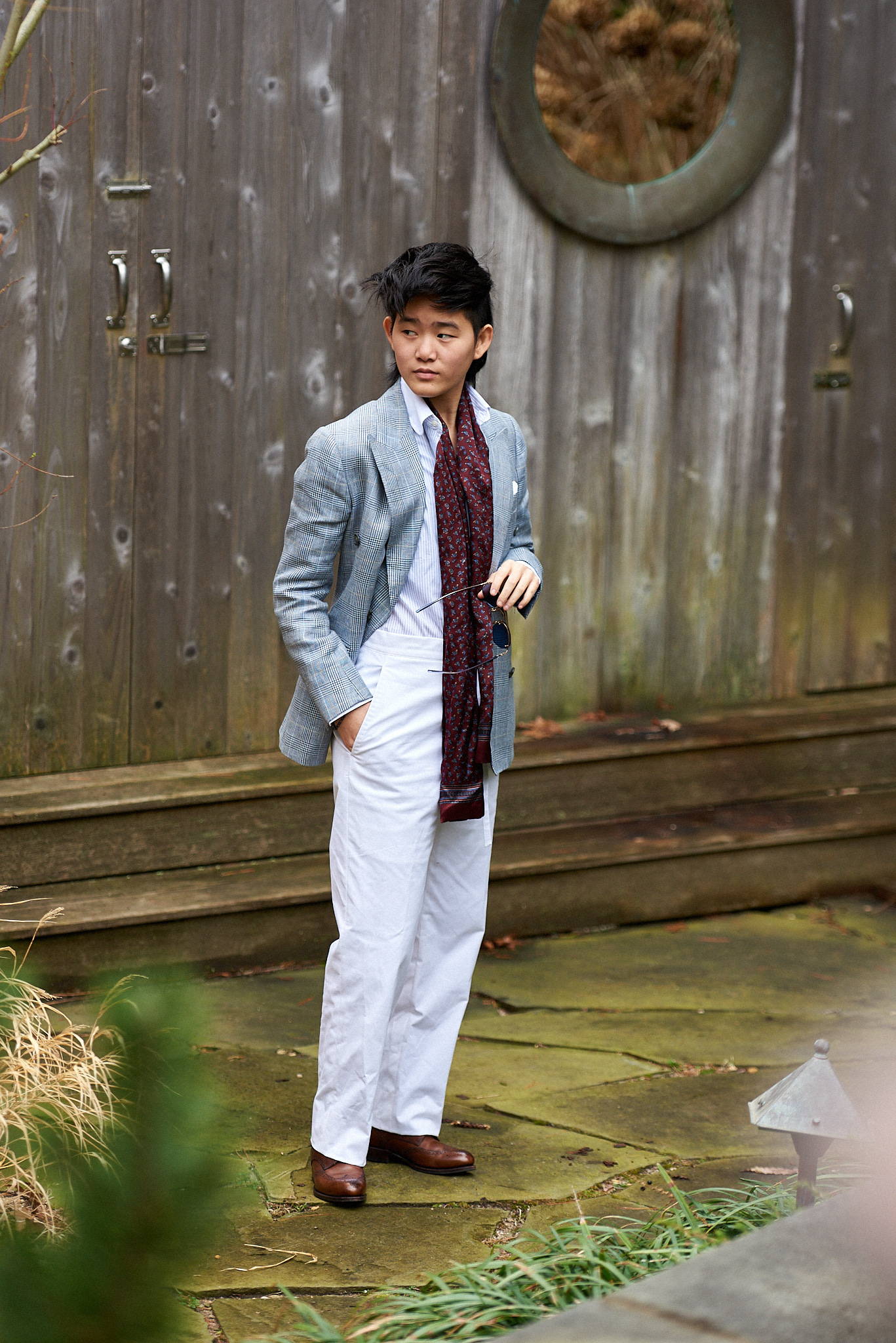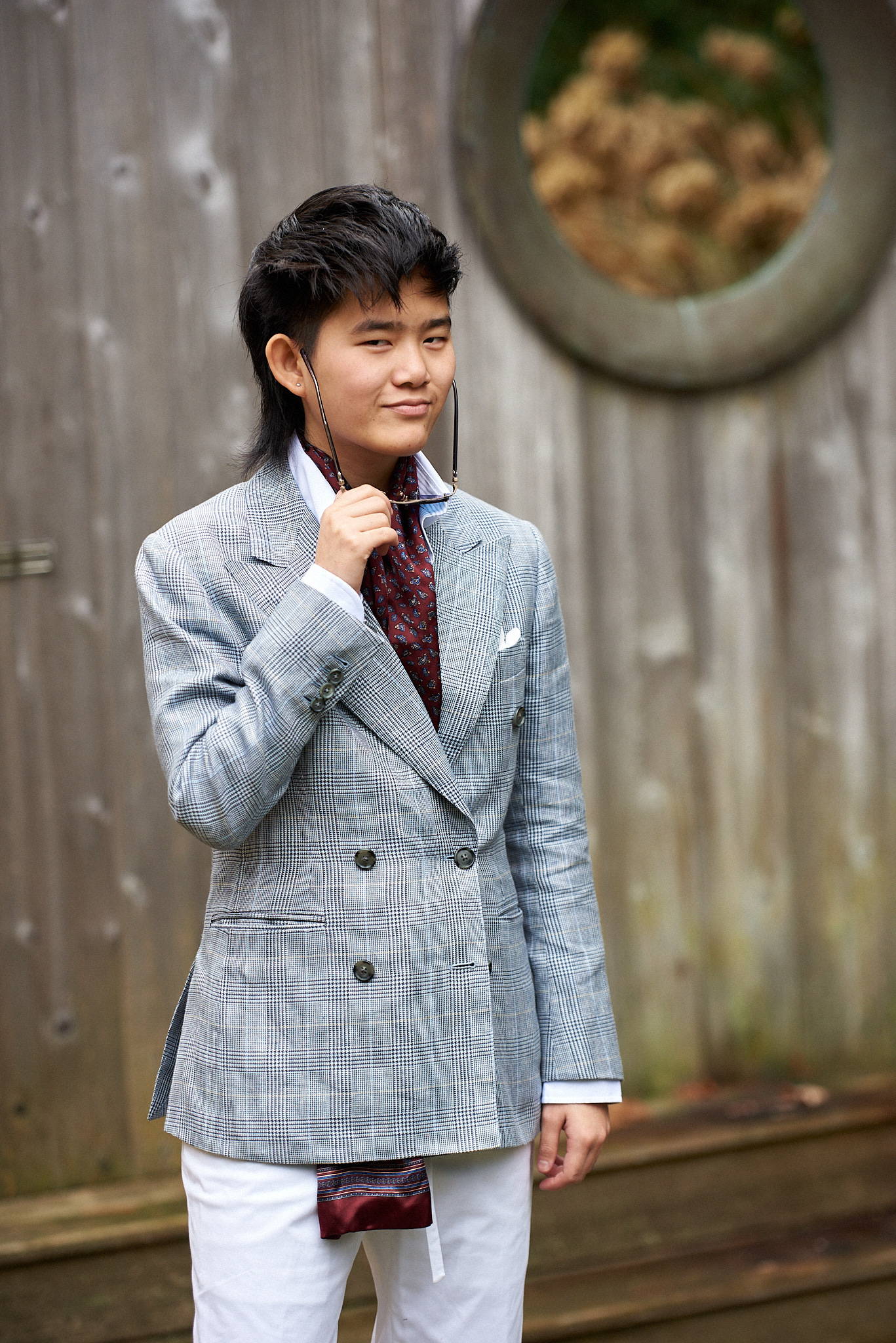 The person wearing the clothes makes all the difference. They can begin to look—even feel different—based on who's wearing them.
The biggest reminder here is that "masculine" and "male" are not the same. Nor are "feminine" and "female." Especially with clothing, these terms can and ought to be disconnected. RTW industries seek to synonymize identities and qualities to the detriment of creativity, innovation, and individuality. 
It's here that AOS has the unique ability and opportunity to build clothes with customers in mind.
I stumbled upon AOS by accident back in 2018, but it was the best thing that ever happened. I was able to buy a suit that fit both my body and my essence. I've seen this potential and want more than anything to expand this experience for more people and make collaboration part of tailoring again.
Joining this team keeps me hopeful that I can challenge and encourage AOS to push its goals and service farther than it's ever gone before.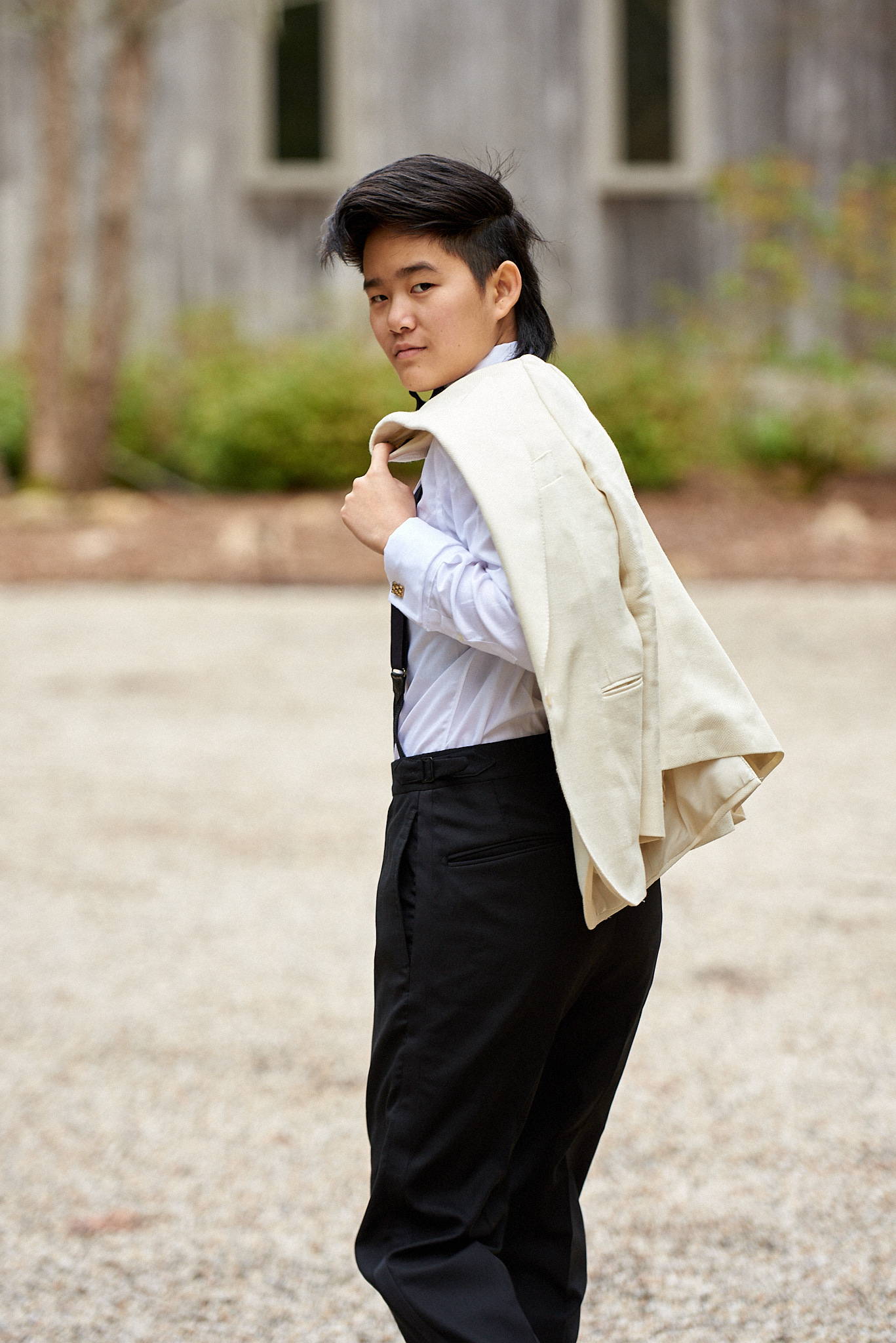 This is just the beginning.
Thanks, as always.
Nik