A Suit in Every Color feat. J.S. Vann
There's no way you could have forgotten our friend "Sox" from Toronto. His first profile "Couture Streetwear" was one of my favorites of all time.
He gave us a look at some of his custom streetwear (which raised quite a few comments), but that's only one part of his style. Sox is an experienced professional in the bespoke menswear industry who's studied the ins and outs of a quality suit from years of first hand experience. He's sold them, fitted them, altered them, even made them himself. Most impressively, though, he collects them.
J.S. has one of the most impressive suit collections I've ever seen. "About 110-120" he quietly answered over coffee at the Ace hotel yesterday. It's funny, I collect suits as well - but most of mine are relatively conservative. I guess I'm always trying to think of them of long-term investments. Sox, on the other hand, has a different approach. He swings for the fences and makes some wild one-of-a-kind suits. He was one in just about every color you can image - including pink, yellow, purple, and green. You can take a look through his instagram @dirtysox to taste the rainbow.
Here's three of his favorites this season.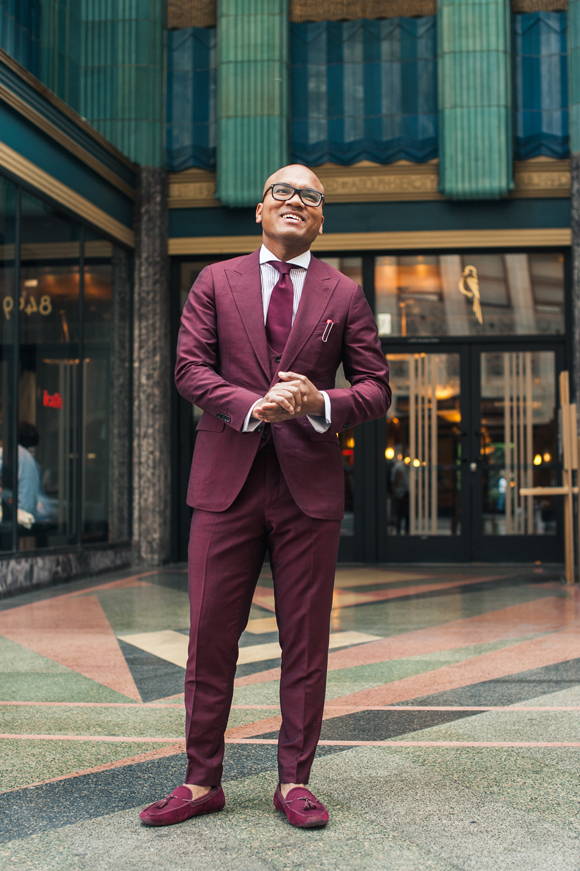 I've highlighted my own burgundy suit before, but this one is a pure mohair which gives it a crisp, crunchy feel and a slightly iridescent sheen.
If you look very closely at the fabric, you can see multiple color shades depending on how the light hits it.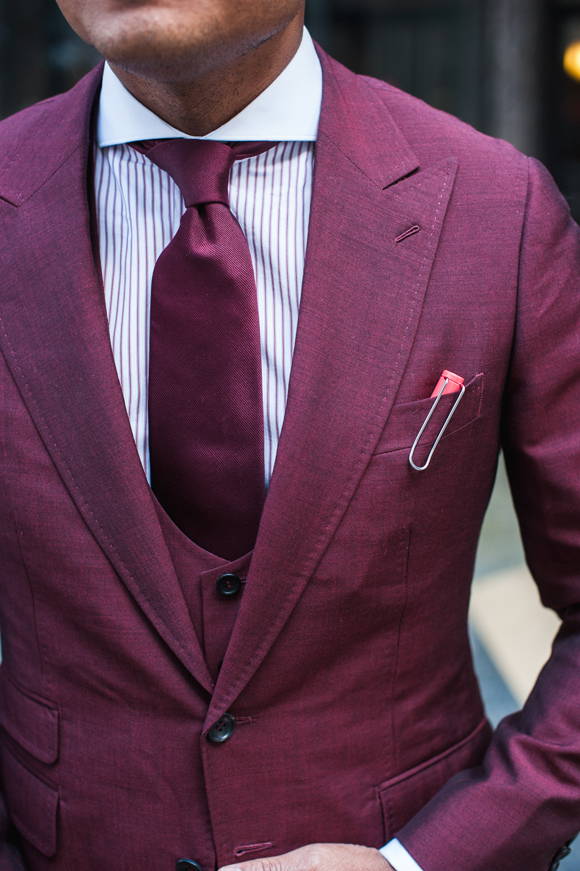 I also really like the lower "scoop" on the waistcoat here, especially for Sox's small frame.
He didn't bring any traditional "hard bottom" shoes on his trip to LA. Instead he stuck to comfortable slip-ons, like these waterproof mocs by Swims. Its ok though, he's no stranger to wearing a formal suit with casual shoes.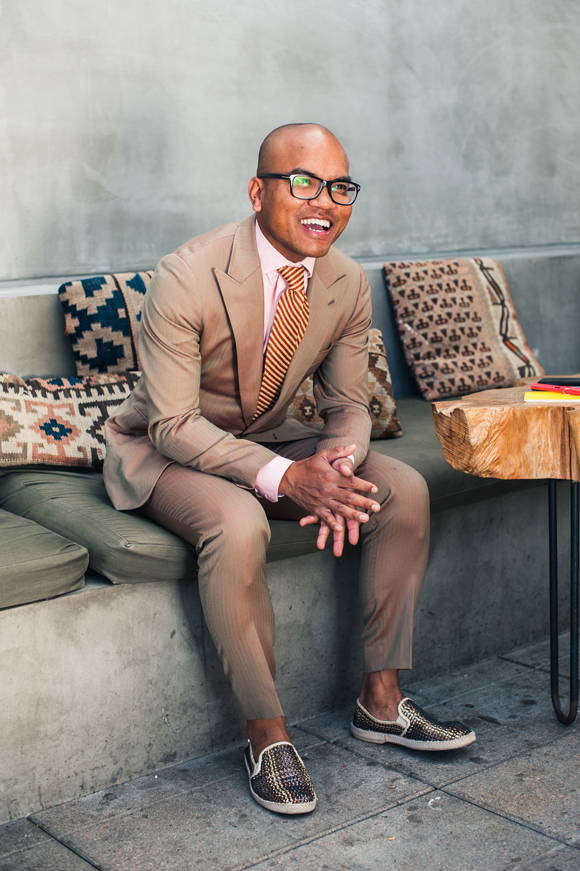 This Solaro fabric by Ariston is having a moment. It's an old-school Italian fabric that is experiencing a major comeback, thanks to influential clothiers like Sox here, and our friend Angel who wore the same fabric in his article on Summertime Tailoring.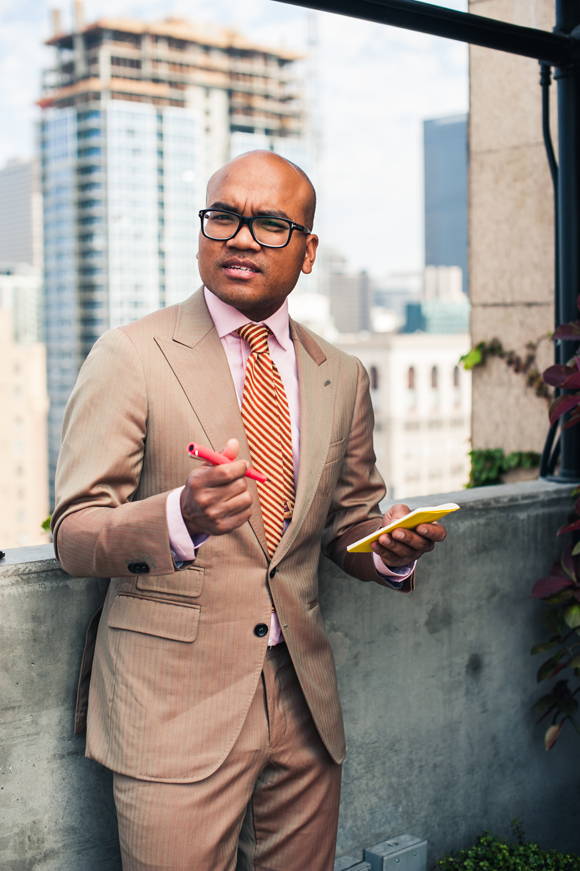 This is a fabric that you need to look very closely at. While from a distance it can look like a traditional khaki herringbone, it's not. The Solaro fabric has a beautiful iridescent sheen that reflects many different colors in the sunlight.
Look closely at the herringbone below to notice the multi-color sheen. In person, the effect is much stronger and more eye-catching.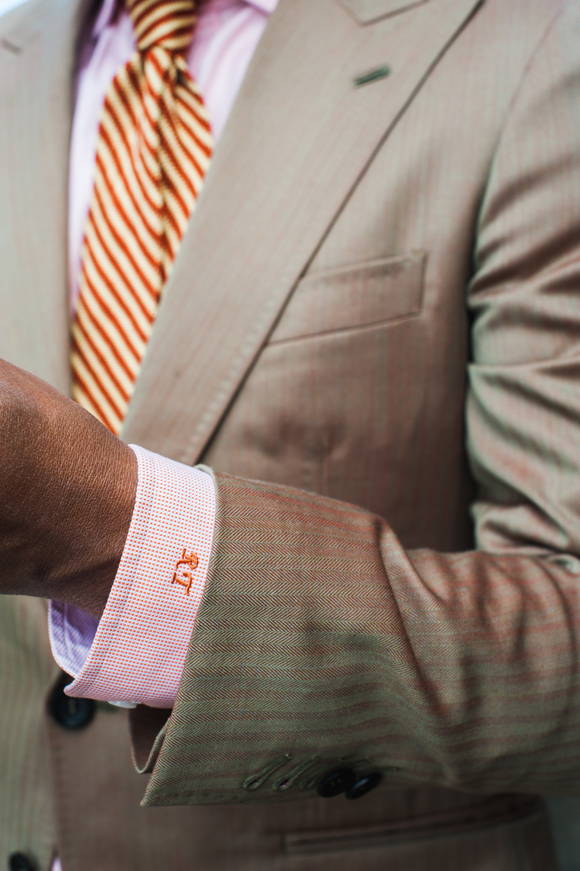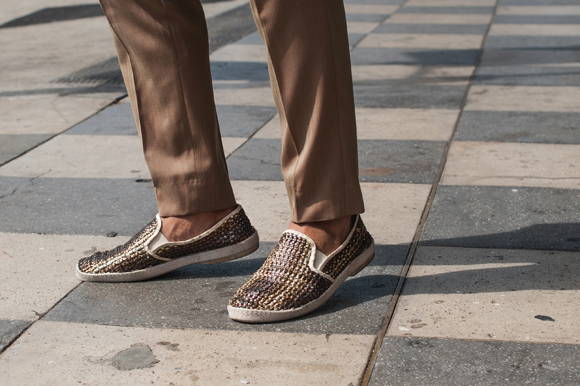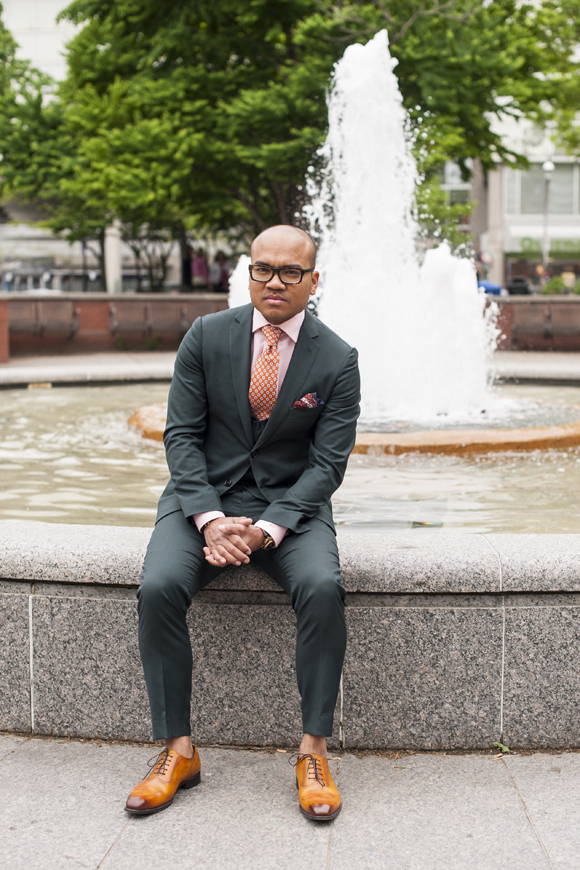 Green has become the new go-to for suit lovers, and it's more versatile than you might think.
I love that Sox wears his forest green with orange - a great color combo, especially given his skin tone.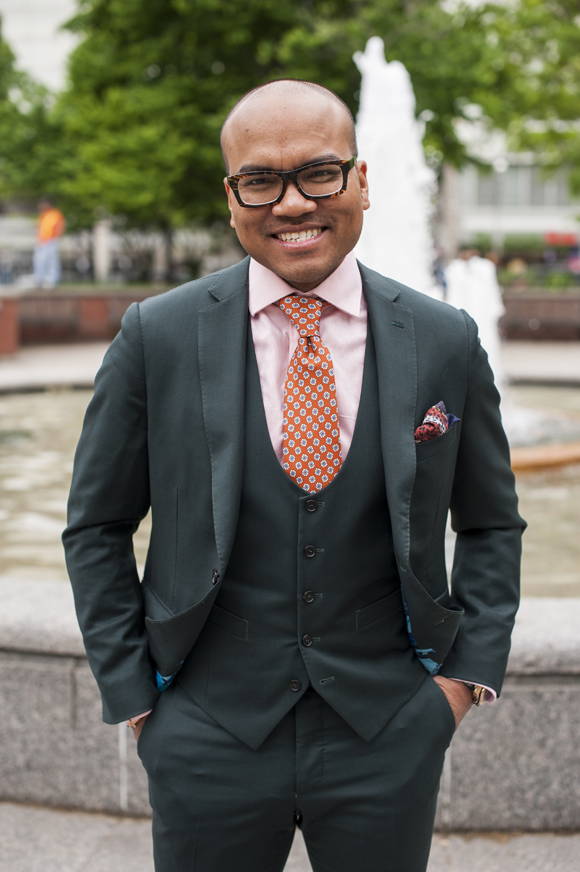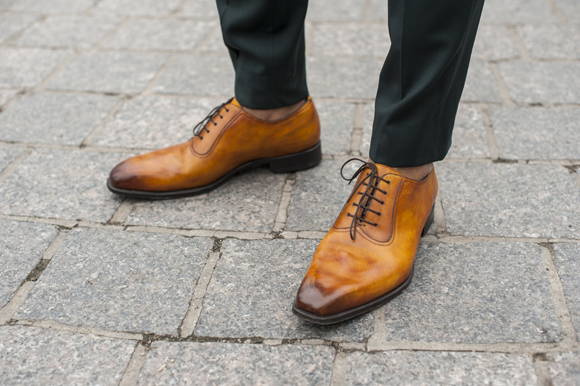 Sox has a crazy sneaker collection that he's been working on for most of his life, but he also has a line-up of beautiful benchmade shoes, like these whole-cut cognac lace-ups that he's rocking sockless.
Thanks for reading, and special thanks to Sox for participating!
Yours in style,
Dan